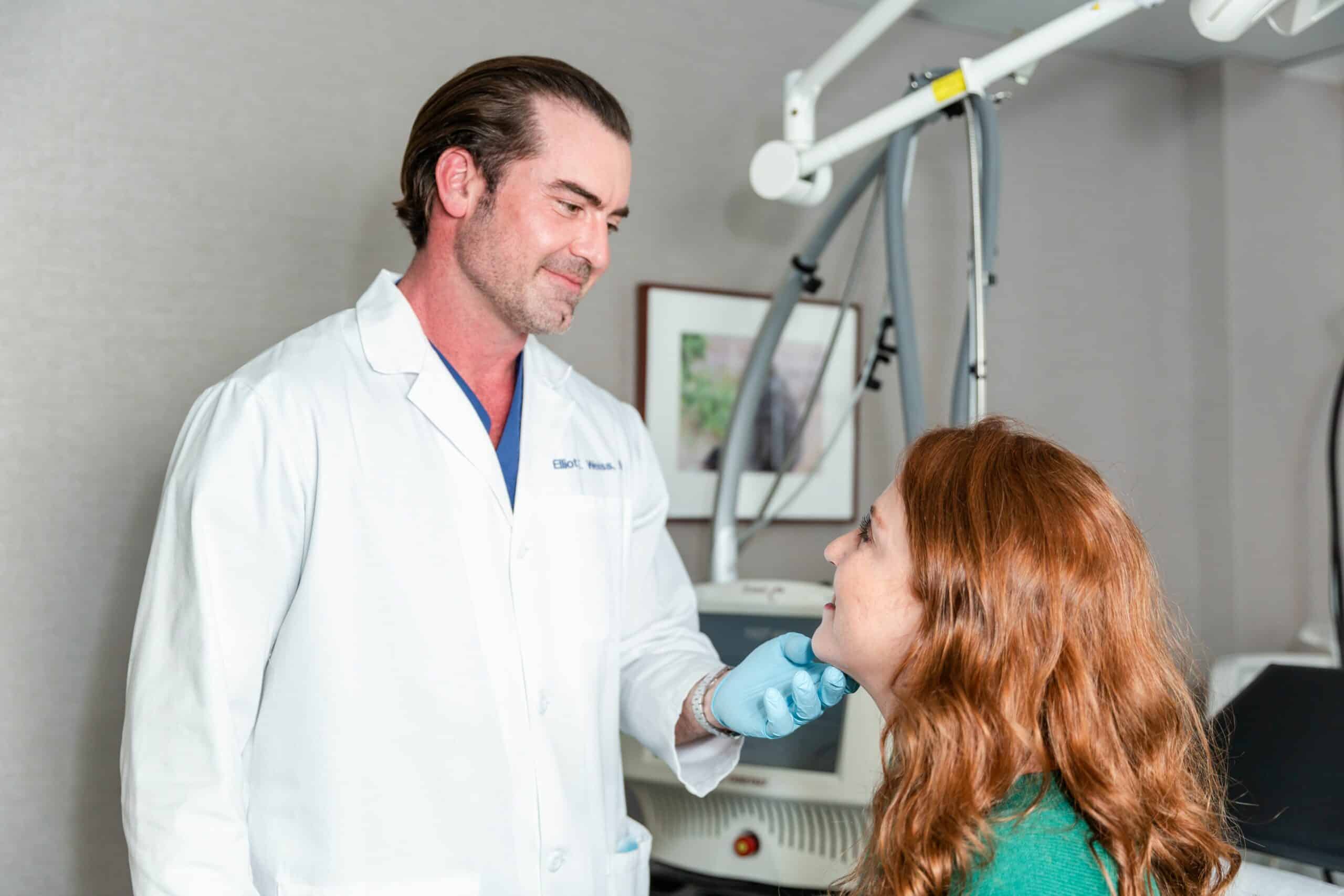 Homepage // Blog / Best Skin Treatments to Book Each Season
Best Skin Treatments to Book Each Season
Whether braving the summer's glaring sun or the winter's nippy weather, your skin is exposed to the elements all year long, and you will need to give it the care it needs through season-appropriate procedures, ranging from injectables and laser therapy to surgical facelifts.
Laser & Skin Surgery Center of New York's board-certified dermatologists are highly acclaimed experts with extensive experience. They perform 100% of the treatments in our Manhattan and Southampton offices, and with over 100 lasers and dozens of injectable treatments available, we are able to treat any skin condition and provide customized surgical options to help patients achieve all their aesthetic goals.
Below, we share the best skin-tightening treatments that will let your skin thrive, no matter the season.
Best Skin Tightening Treatments For Spring
Treatments for tighter, clearer skin in spring prepare your skin for the warm summer months ahead. It's time to get rid of the dull, dry, and lackluster layers of winter skin to reveal vibrant, healthy skin that will be ready to be bared during the summer.
Treatments for spring should focus on skin-tightening, cellulite, stretch marks, and collagen-boosting for maximum results with minimum downtime.
Cellulite treatments we offer:
Stretch mark treatments we offer:
Pulsed Dye Lasers – treat redness associated with stretch marks. Our most popular PDL lasers are Vbeam Perfecta and Vbeam Prima.
Fraxel Dual® – stimulates collagen and remodels the skin.
Genius – is an RF microneedling device that stimulates collagen production.
Laser & Skin Surgery Center of New York has several face skin tightening procedures that enhance collagen production:
Genius & Morpheus8 – are RF microneedling devices that stimulate collagen production to rejuvenate the skin.
Fractional lasers – deliver laser energy into the dermal layers, leaving surrounding skin and tissue intact, to stimulate new collagen production.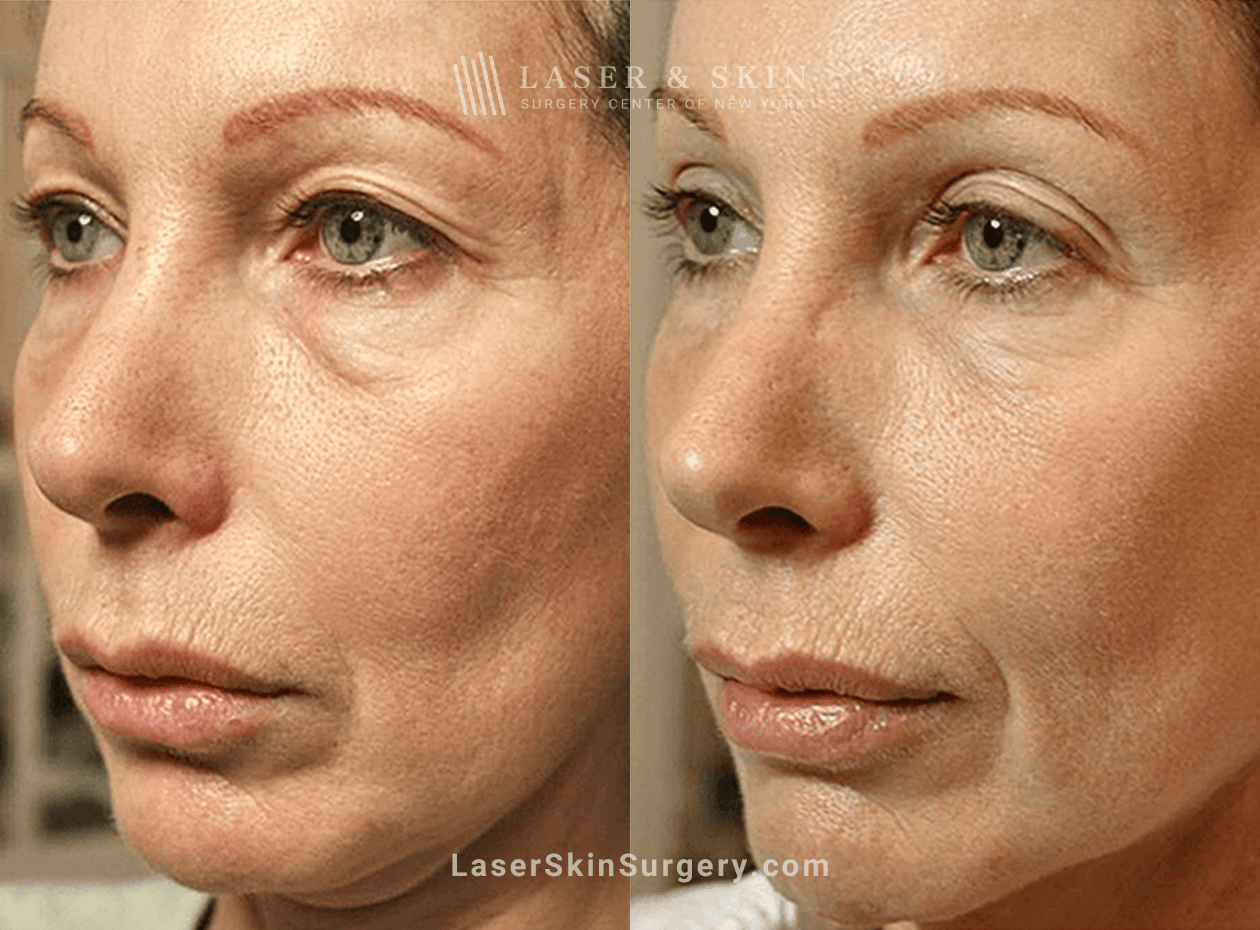 Thermage skin tightening for the face and neck
Best Skin Tightening Treatments For Summer
During the summer, your skin's exposure to the sun and harmful ultraviolet (UV) rays increases. You can focus on maintenance procedures, such as injectables, and acne treatments that won't require you to completely hide from the sun.
Neuromodulators (Botox, Dysport, Xeomin, and soon-to-come Daxxify) are injectable medications that can improve the appearance of dynamic wrinkles, such as those between the eyebrows, crow's feet, and forehead. These treatments soften dynamic lines and provide patients with a natural-looking appearance.
Dermal fillers like Juvederm, Restylane, and RHA, improve volume loss. Fillers effectively improve some signs of aging to refresh and rejuvenate appearance.
Laser & Skin Surgery Center of New York offers several treatment options to improve skin laxity in the face and neck. In addition to fractional resurfacing, Genius, Morpheus8, and injectable fillers, we offer many treatments for skin tightening.
Skin tightening devices stimulate collagen and elastin for a firmer, smoother skin appearance. Examples include:
Along with skin tightening treatments, the board-certified dermatologists at Laser & Skin Surgery Center of New York also offer a unique treatment for acne:
Accure – we are amongst the first in the country and the first in New York to offer the Accure laser for the long-term improvement of acne.

Picosure treatments for acne
Best Skin Tightening Treatments For Fall Months
Fall is an ideal time to tighten your skin, repair, sun damage, and treat melasma to prepare for the cooler months ahead.
At the Laser & Skin Surgery Center of New York, our treatment options include:
Clear + Brilliant® & LaseMD – are non-invasive fractional lasers that remove pigment and rejuvenate skin.
Fraxel Dual® – stimulates collagen and elastin while reducing pigmentation, improving skin tone, quality, and texture.
Pigmentation treatments – harness laser energy to improve the appearance of age spots and brown spots. Our most popular lasers include Ruby Laser, Nd:YAG, Fraxel Dual Laser, LaseMD, Clear & Brilliant, PicoSure, and PicoPlus.
Best Skin Tightening Treatments For Winter
Time indoors during the winter makes it a perfect time for undergoing more aggressive skin-tightening procedures and anti-aging treatments.
Laser skin resurfacing is an effective skin-rejuvenating procedure as it removes skin layer by layer with precision. Lasers like the Fraxel Re:pair, Erbium, Active FX, Deep FX, Profractional, and Contour devices are ablative lasers that create an overall improvement in tone, texture, and quality as well as some tightening of the skin.
When surgery is the best option for patients, our board-certified plastic surgeons offer the following facial and body treatments to address skin laxity:
Facelift – is a surgical procedure that lifts and tightens sagging skin.
Neck Lift – targets signs of aging in the neck, including the loose skin commonly referred to as the "turkey wattle."
Blepharoplasty – is a type of eyelid surgery that removes excess skin of the upper and lower eyelids.
Liposuction – removes unwanted fat through suction.
Breast Augmentation/Breast Lifting & Breast Reduction – increases or reduces the size of the breasts, augments their shape, or lifts the tissue for a more youthful appearance.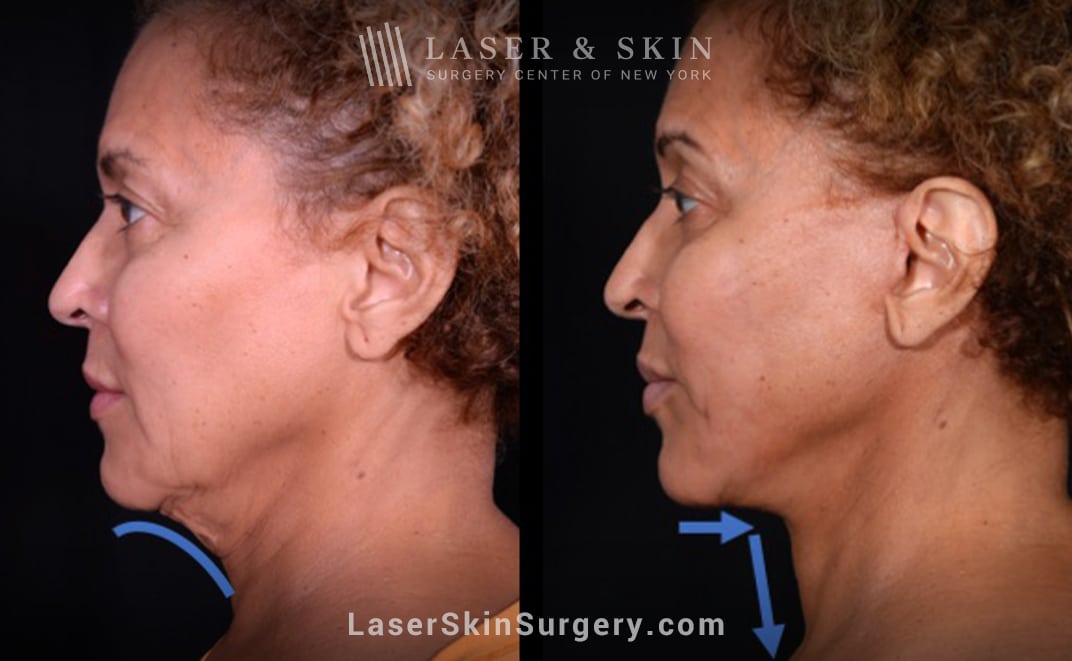 Facelift surgery to lift and tighten the skin
Our 30,000+ sq. foot office in New York is the most comprehensive, state-of-the-art laser and cosmetic skin surgery center in the world. Over the past 30 years, we have contributed to the development of many devices, fillers, and treatments that are now considered the standard of care.
While it may be easier to rely on the same skincare routine throughout the year, your skin will benefit from targeted and tailored skincare depending on the season – this way, your skin can better adapt to changing weather and retain a more youthful glow and appearance.
Our board-certified dermatologists and plastic surgeons can customize a treatment plan to help take care of your skin throughout the year. To learn more about the best skin tightening treatments for the face and body, contact Laser & Skin Surgery Center of New York's Manhattan and Southampton offices today to schedule a consultation.
Homepage // Blog / Is your acne hormonal or bacterial? Expert dermatologists shareAcne can have several different causes, and the best acne treatment depends on determining the type of acne you have. By identifying the acne type and treating its underlying cause, you...
Pay Online for Patients of Drs. Geronemus, Anolik, Bae & Seidenberg
Pay Online for Patients of Drs. Abraham, Bernstein, Krant, Shelton, Stern, Weiss, Hoffman, Shim, Murphy-Rose, Wilson, and Petratos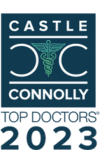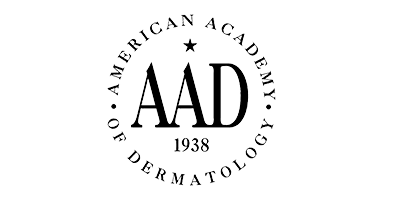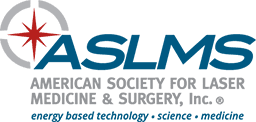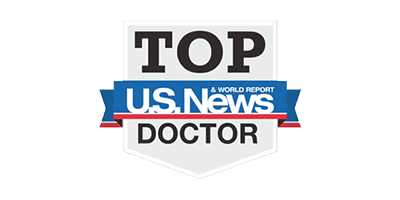 By LASER & SKIN SURGERY CENTER OF NEW YORK® | © 2023 All Rights Reserved. Design & Development by Goldman Marketing Group | Sitemap | Privacy Policy | The information available on this web site is provided for informational purposes only. This information is not intended to replace a medical consultation where a physician's judgment may advise you about specific disorders, conditions and or treatment options. We hope the information will be useful for you to become more educated about your health care decisions. If you are vision-impaired or have some other impairment covered by the Americans with Disabilities Act or a similar law, and you wish to discuss potential accommodations related to using this website, please contact us at (212) 941-5055.
*MDs perform 100% of all medical and cosmetic treatments.