Dark spots on the tongue are telltale signs of pigmentation abnormalities. While many believe these spots to be untreatable, advanced laser technology can restore the tongue's natural appearance with minimal downtime.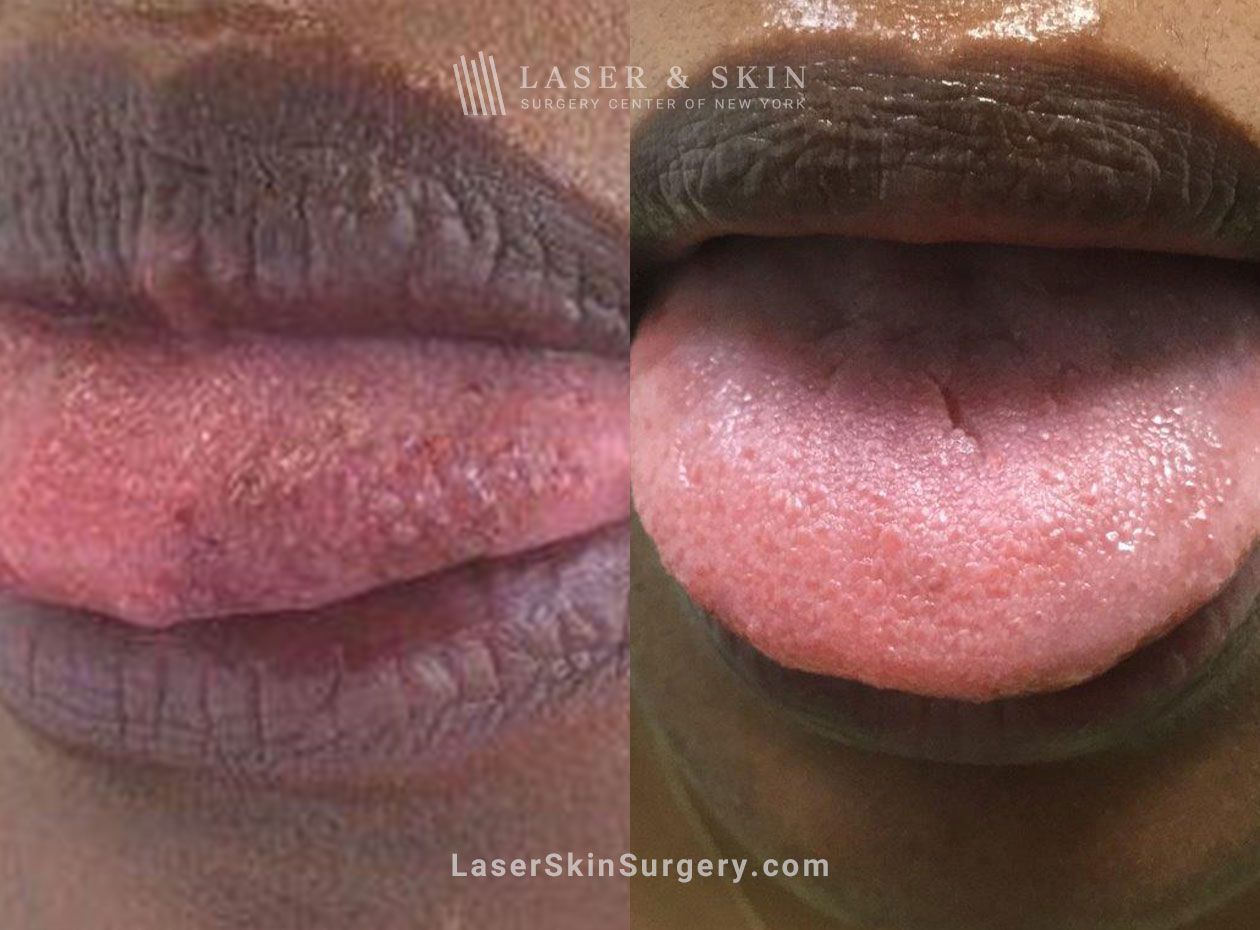 Tongue discoloration is a cosmetic concern for many. While these dark spots and patches are rarely signs of underlying disease, some wish to remove them for cosmetic reasons. The board-certified dermatologists at Laser & Skin Surgery Center of New York specialize in laser treatments for dark spots and discoloration on the tongue. With 100+ lasers and energy-based devices and 17 experienced physicians, Laser & Skin Surgery Center of New York can customize your treatment to ensure an optimal outcome.
What Causes Dark Spots on the Tongue?
Tongue pigmentation, or Pigmented Fungiform Papillae of the Tongue (PPT), causes black spots to appear on the tongue. These spots can be small specks or visible dark patches. While anybody can develop tongue pigmentation, individuals with dark skin tones are more likely to experience this condition than light-skinned people. They also tend to appear during childhood but can develop in adults as well.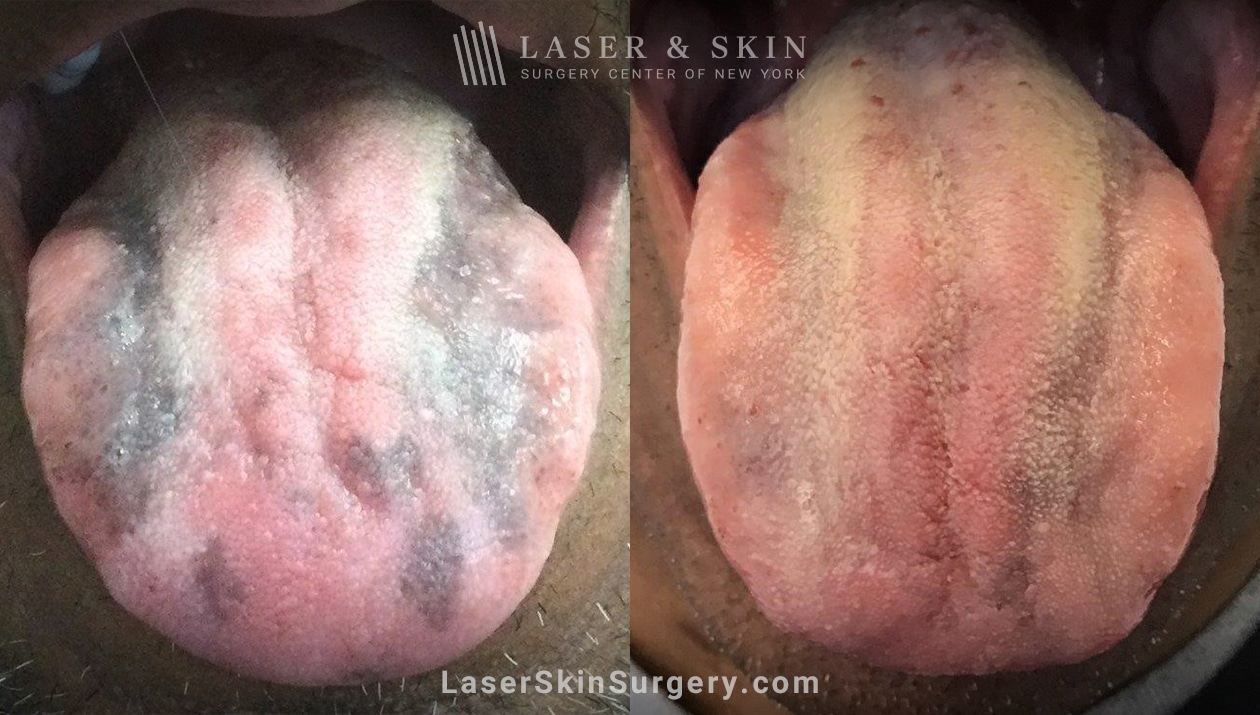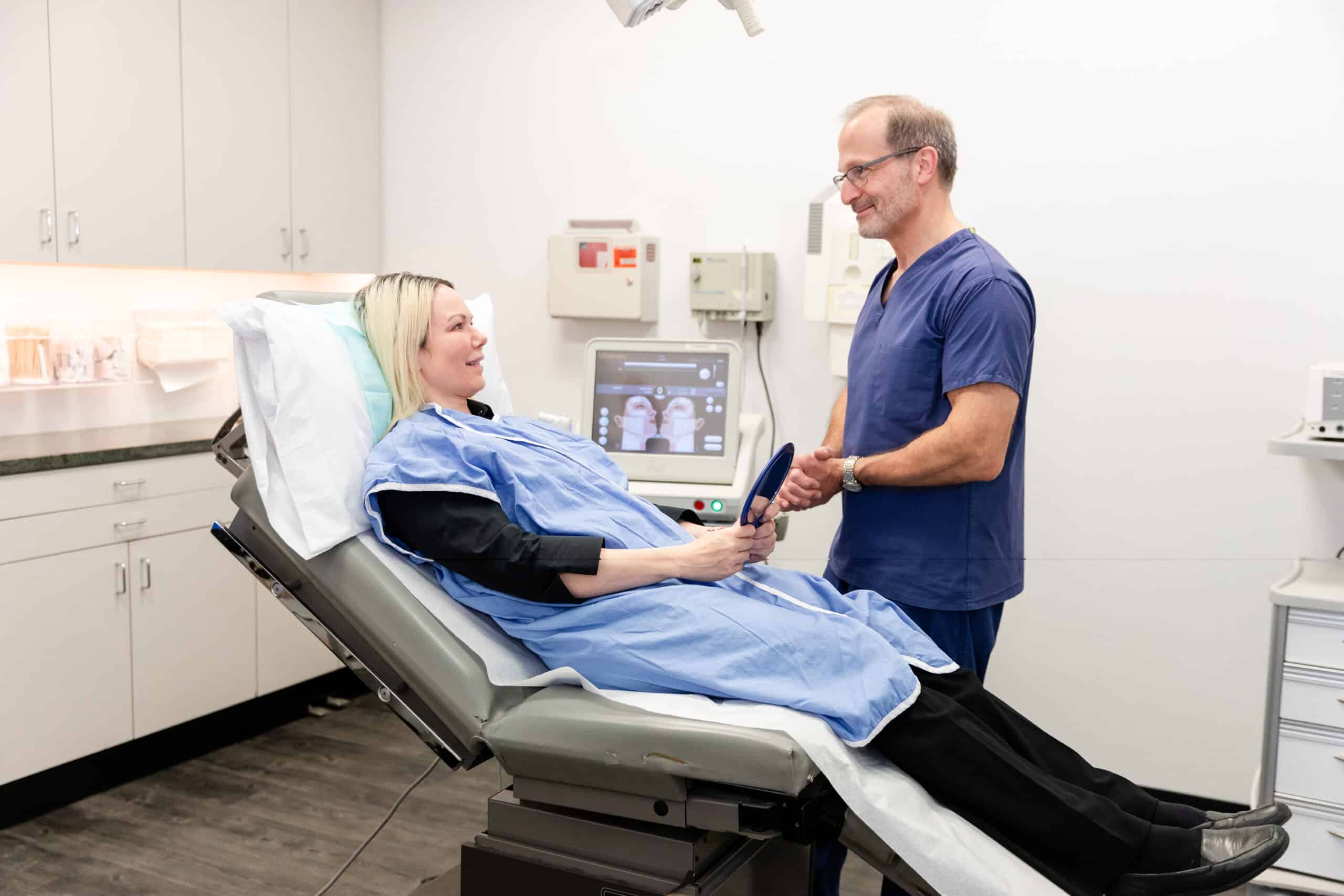 What Do Dark Spots on the Tongue
Look Like?
Papillae look like tiny bumps on the surface of the tongue. There are four types of papillae:
Filiform: Look like threads near the top and mid tongue
Fungiform: Are mushroom-shaped spots toward the front of the tongue
Foliate: Develop on the outer corners of the tongue
Circumvallate: Appear on the top of the tongue toward the back of
the mouth
How Do We Treat Dark Spots on
the Tongue?
Laser & Skin Surgery Center of New York utilizes the most advanced laser technology to treat dark spots on the tongue without scalpels or incisions. Few physicians have the expertise that our dermatologists have to treat dark spots on the tongue. Our team has specialized training to remove this unwanted pigmentation while protecting the surrounding tissues.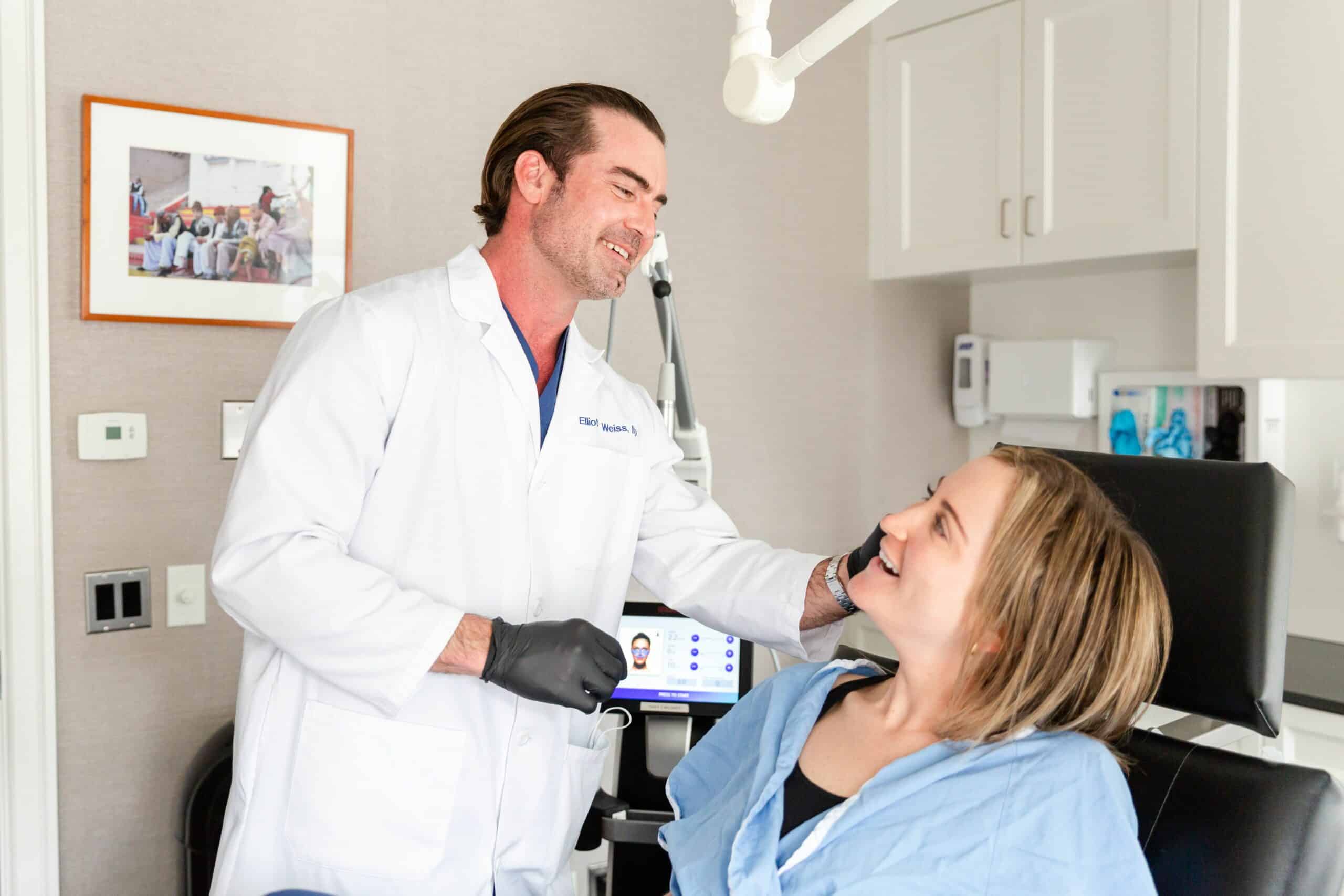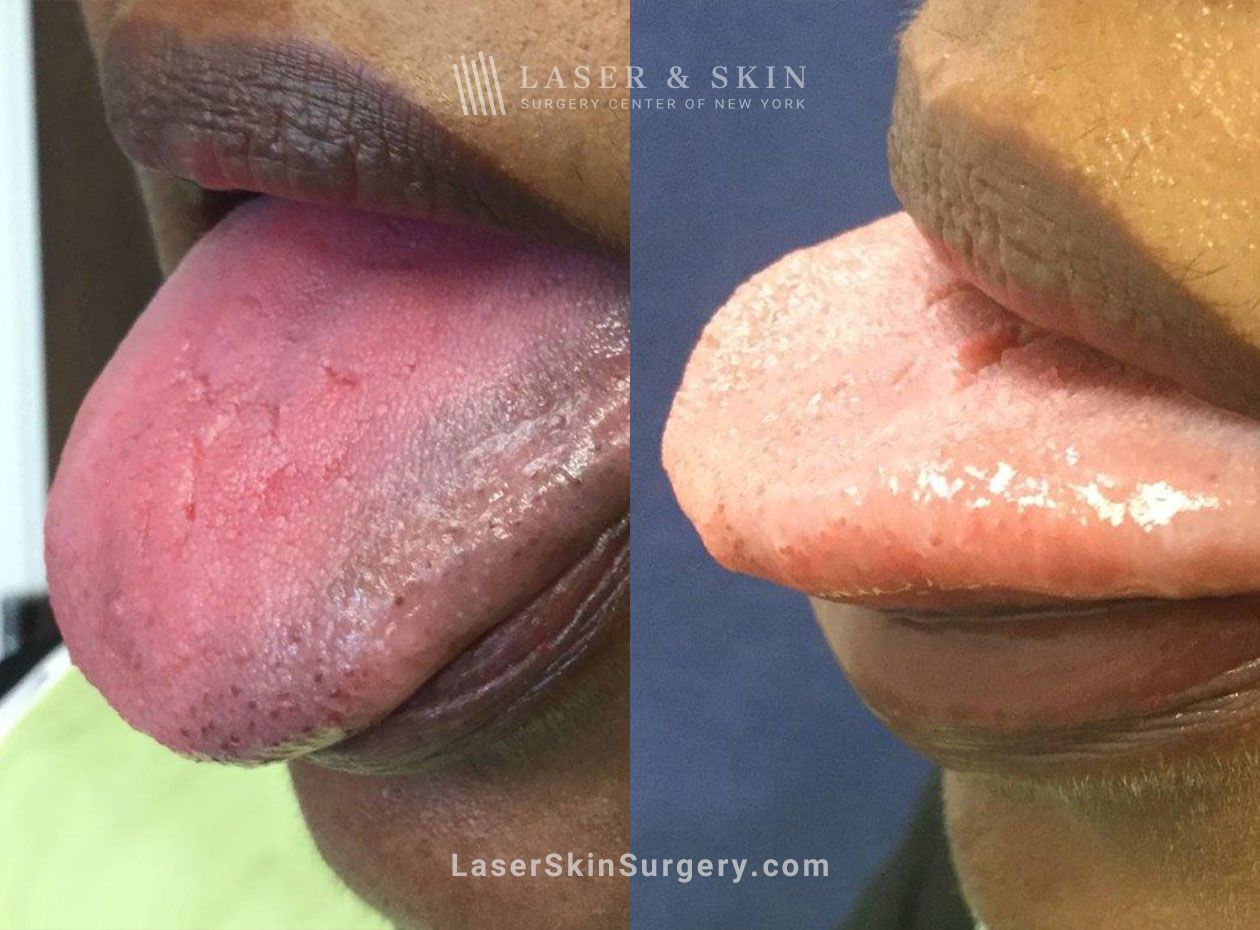 Devices Used to Treat Dark Spots on
the Tongue
The devices we use to remove unwanted pigment from the tongue include:
Ruby Laser
The practice uses the Q-switched Ruby laser, which has a wavelength of 694 nm that breaks up unwanted pigment on the tongue without damaging the surrounding tissue.
The Ruby laser uses a ruby crystal that delivers pulses of a single wavelength of light directly into the tongue's mucosal surface. These short pulses allow the laser to target dark spots with focused, high-intensity beams of light, shattering their pigment.
nd:YAG
The nd:YAG is a Q-switched laser that can effectively remove hyperpigmentation nearly anywhere on the body, including dark spots on the tongue. With rapid pulses, the device shatters pigment while protecting the surrounding tissue.
PicoPlus and PicoSure
Another option for removing dark spots on the tongue is the PicoPlus laser, often used to break up the pigment in tattoo ink. The device is a non-ablative laser that combines nanosecond and picosecond pulse durations to remove pigment while protecting the surrounding tissue from thermal damage.
Meanwhile, the PicoSure is an Alexandrite laser with 755nm. The device comes with Focus Lens Array (FLA), which has been shown to penetrate the deeper layers of tissue without harming the surface.
How Long Do Treatments Take?
Most
laser treatments
for dark spots on the tongue take only a few minutes. After an initial consultation to determine the depth of your dark spots, your dermatologist can better predict the length of your treatment times.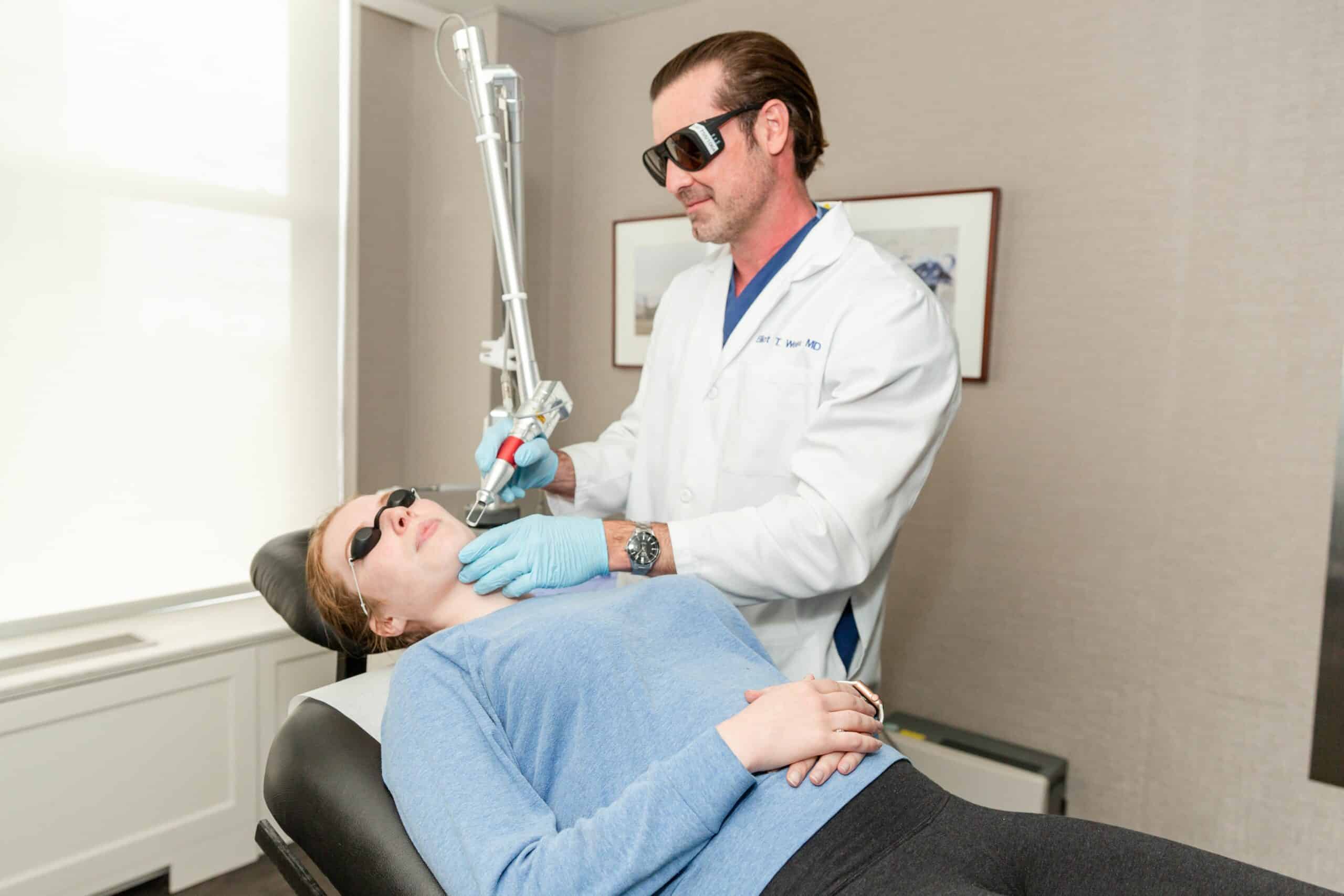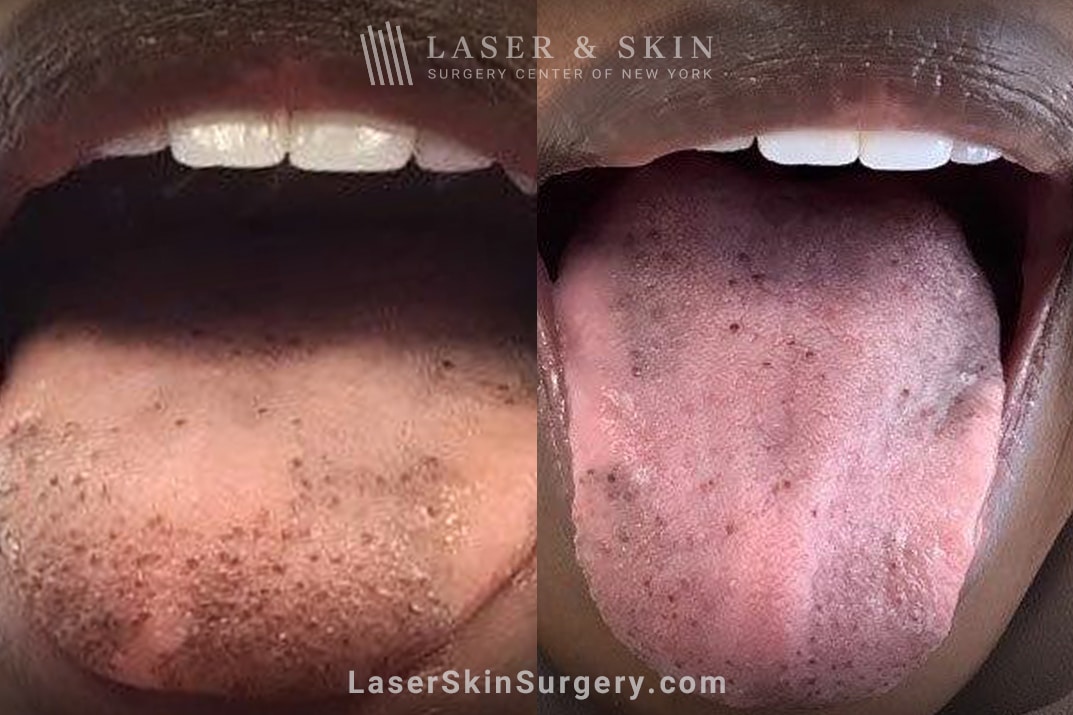 Does Treatment for Dark Spots on the Tongue Hurt?
Laser treatments generally do not cause significant pain. Your dermatologist at Laser & Skin Surgery Center of New York will apply an anesthetic beforehand to numb your tongue and keep you comfortable during treatment. Most patients describe the sensation as similar to a rubber band snapping against the tongue.
While results may vary, most patients need a series of treatments to remove unwanted dark spots from the tongue. Your physician typically schedules one treatment a month until you achieve your desired results. If you have deep pigmentation, you may need additional Ruby laser treatments.
Dark Spots on the Tongue Questions and Answers
Q: Are Laser Treatments Safe for Dark Spots on the Tongue?
A: All laser treatments at our state-of-the-art facility undergo rigorous clinical testing and are FDA-approved. Laser treatment is a safe, non-surgical solution for dark spots on the tongue that involves less pain and downtime than surgical alternatives.
Q: Are There Any Side Effects from Laser Treatments for Dark Spots on the Tongue?
A: Side effects associated with laser treatment are minimal compared to surgery. Most patients experience minor swelling, discomfort, and redness after treatment, but these side effects are temporary.
Q: Who Should Perform Laser Treatments for Dark Spots on the Tongue?
A: Because the tissue on the tongue is highly sensitive, it's important to seek laser treatment from a board-certified dermatologist. The physicians at Laser & Skin Surgery Center of New York are pioneers in laser therapy. Each of our dermatologists has undergone extensive training to ensure your treatment is safe and effective.
Q: Am I A Good Candidate for Laser Treatments for Dark Spots on the Tongue?
A: Our dermatologists can determine if you're a good candidate for laser treatment at your initial consultation. We encourage you to ask questions and share any concerns you may have during this visit.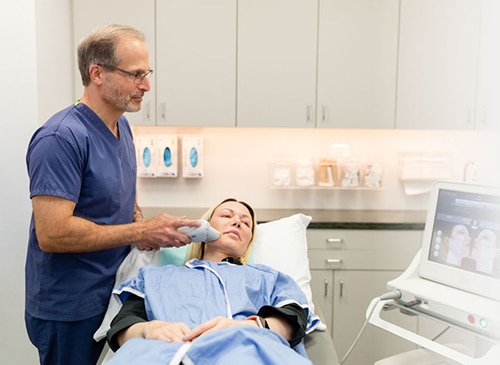 The skin's underlying structure degrades over time, leading to skin laxity and sagging skin. Collagen, the essential protein in our skin, begins to decline as early as our 20s, leaving skin without support from within. Restoring collagen helps to restore the skin's youthful vitality.
Wrinkles are a common and unwanted sign of aging. As you age, your body produces less collagen, creating saggy and wrinkly looking skin. Our customized strategies to combat wrinkles include laser resurfacing, dermal fillers, and wrinkle relaxers.
Age spots and brown spots (also known as sunspots, liver spots, and lentigines) are a consequence of aging and sun exposure. The most effective treatment for eliminating these spots and other skin pigmentation is laser therapy, which usually includes little to no downtime after treatment. 
WHAT you are looking for?
Our 30,000+ sq foot dermatology center in New York is the most comprehensive, state-of-the-art laser and cosmetic skin surgery center in the world. Over the past 30 years we have contributed to the development and testing of many devices, fillers and treatments that are now standard care, so our patients know they are always receiving the most innovative, cutting-edge treatment available.
Pay Online for Patients of Drs. Geronemus, Anolik, Bae & Seidenberg
Pay Online for Patients of Drs. Abraham, Bernstein, Krant, Shelton, Stern, Weiss, Hoffman, Shim, Murphy-Rose, Wilson, and Petratos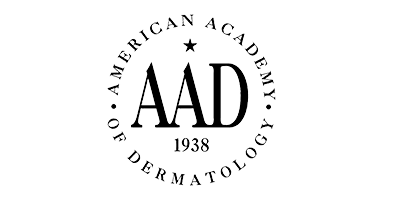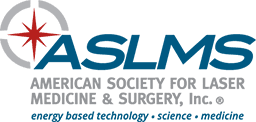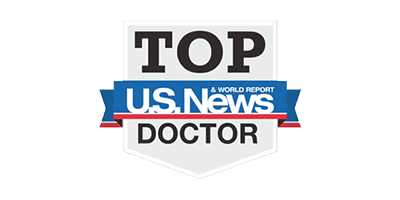 By LASER & SKIN SURGERY CENTER OF NEW YORK® | © 2023 All Rights Reserved. Design & Development by Goldman Marketing Group | Sitemap | Privacy Policy | The information available on this web site is provided for informational purposes only. This information is not intended to replace a medical consultation where a physician's judgment may advise you about specific disorders, conditions and or treatment options. We hope the information will be useful for you to become more educated about your health care decisions. If you are vision-impaired or have some other impairment covered by the Americans with Disabilities Act or a similar law, and you wish to discuss potential accommodations related to using this website, please contact us at (212) 941-5055.
*MDs perform 100% of all medical and cosmetic treatments.
Our board-certified dermatologists in New York City are all fellowship-trained and uniquely trained in lasers and technology, cosmetic and medical dermatology, and skin surgery. Together they are highly acclaimed world experts with thousands of articles published, countless TV and media appearances, and hundreds of years of combined experience.
Our plastic surgeons bring years of experience in helping patients achieve all their aesthetic goals through surgical procedures. Every treatment is fully customized to the precise needs of each patient for results that are natural and beautiful.