This unique short-scar facelift technique produces beautifully natural results with shorter incisions and less scarring than a traditional facelift.
Pain Level: Mild to Moderate
Results Duration: Long Lasting
Treats:
Early signs of aging, including lines, wrinkles, and loss of skin elasticity
Side Effects:
Bruising and swelling after the procedure may persist for up to 2-3 weeks
Location:
Used to address aging symptoms on the mid and lower face
Follow Up:
You will have follow-up visits with Dr. Hoffman so he can monitor your recovery process
How Performed:
Tiny incisions are made at the temple to allow for repositioning of underlying tissue and removal of excess skin
Preparation:
Local anesthesia with sedation is the most common option 
Expected Outcome:
Reduction in aging symptoms like wrinkles and skin laxity, rejuvenated appearance
Onset:
Results visible once recovery is completed, usually within 2-4 weeks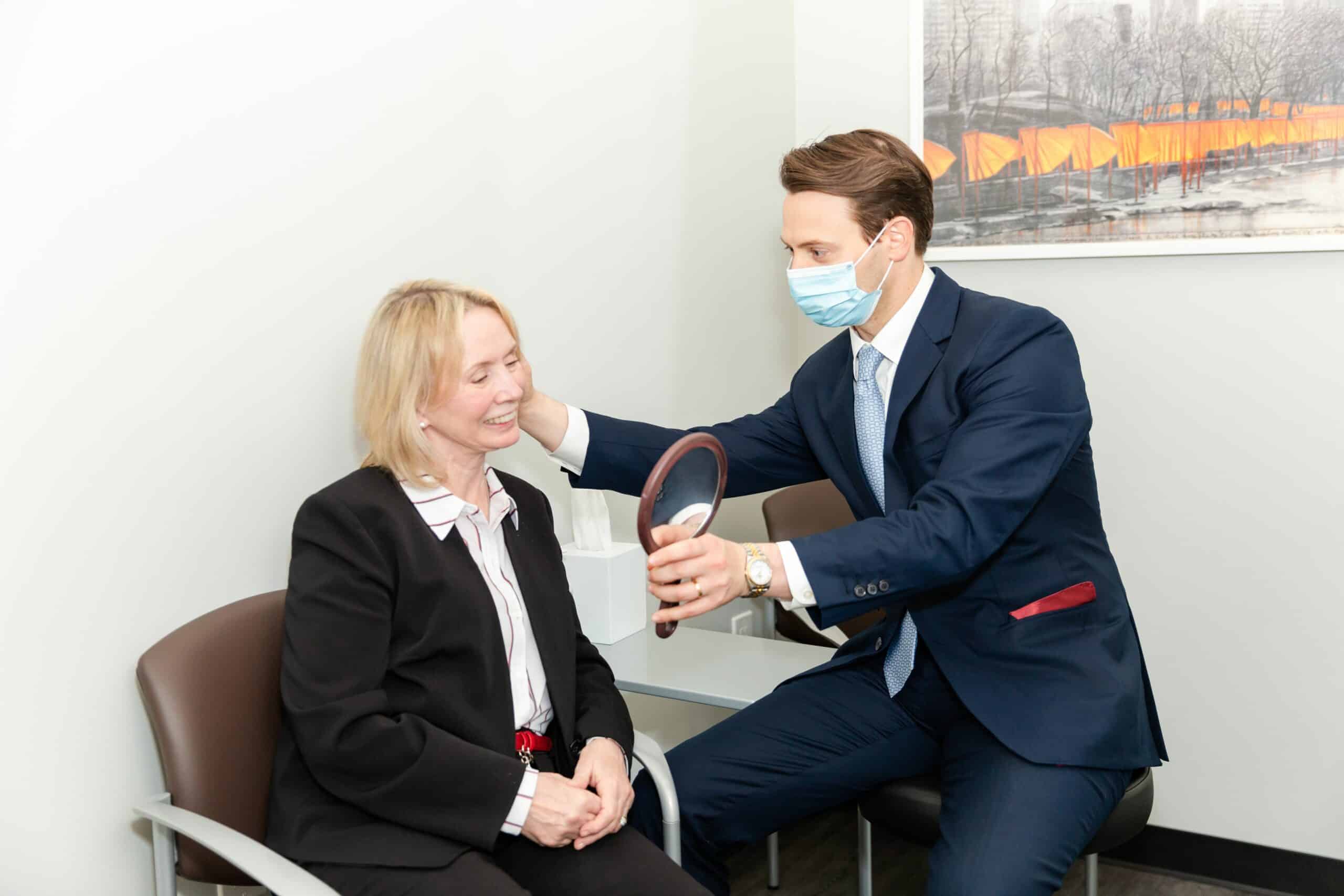 "I believe that facelift patients are the happiest patients we see. Usually, these patients have thought a lot about what bothers them about the facial aging process. It generally comes down to the jowls and the hanging neck. They enter the office with some trepidation over getting pulled too tightly and achieving a 'windswept' appearance. Downtime and anesthesia are also common concerns. We spend a great deal of time discussing these and other pertinent issues." – Dr. Lloyd Hoffman
The MACS facelift technique addresses the primary concern that most women (and men) have in terms of avoiding that windswept pulled look. This elegant, yet simple procedure was developed by Drs. Tonnard and Verpaele in Belgium. In essence, it is a short scar technique, with an upward pull, and minimal undermining of skin. The upward pull, as opposed to up and back, is more natural, as it counteracts the effects of gravity. There is less lifting up of the skin compared to traditional lifts.
While a MACS facelift may be the best plastic surgery option for some patients, it is not for everyone. Your surgeon can discuss with you the pros and cons of the MACS facelift compared to a traditional facelift during your consultation, so you can decide which procedure is right for you.
What does a MACS Facelift treat? 
The MACS facelift is designed to address earlier signs of aging than a traditional facelift procedure. Ideal patients are those that:
Have mild-to-moderate loss of skin elasticity and muscle tone in the face and neck
Have jowls and deep creases between the base of your nose and corners of the mouth
Have moderate to severe wrinkles on the face and neck
Have loose skin and contour around the neck and chin
Have a constant tired or sad-looking facial appearance due to sagging and loose facial skin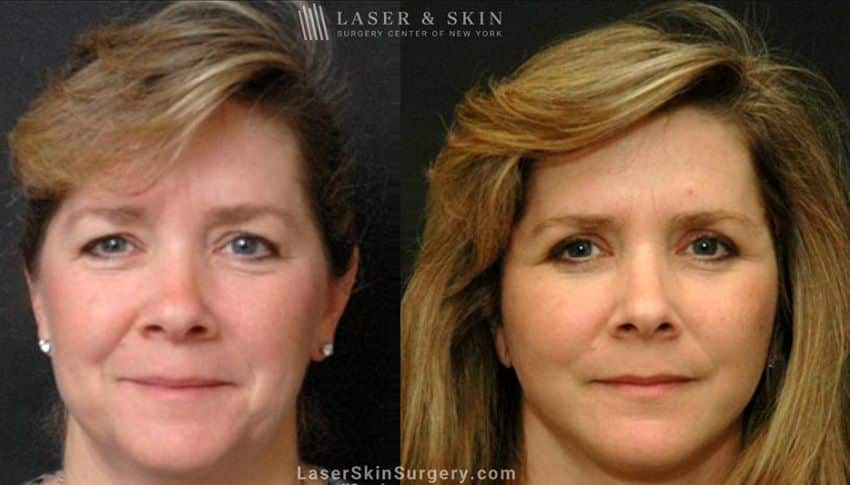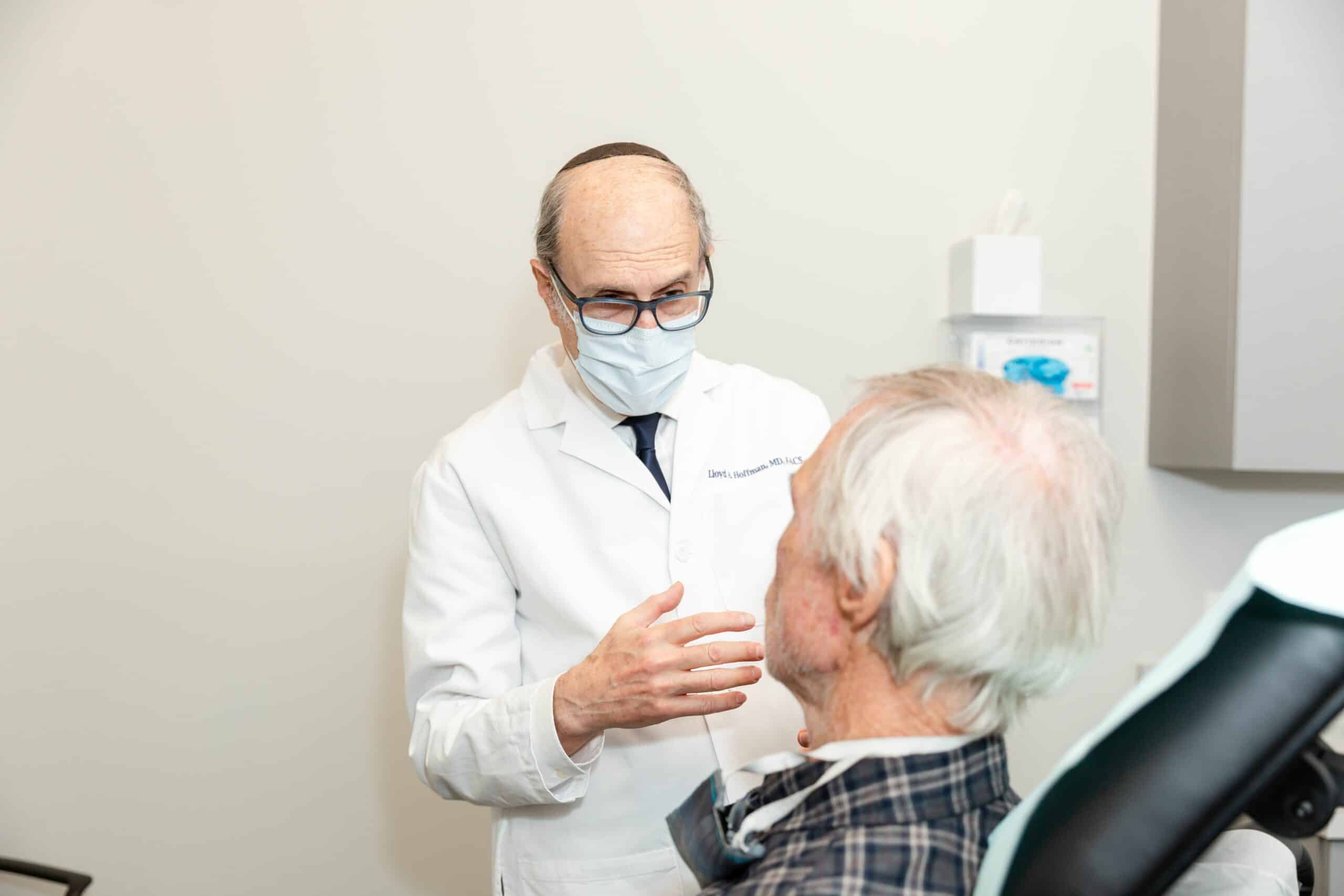 How does a MACS Facelift work?
The MACS facelift addresses sagging tissues in the neck, cheeks, chin, and around the nose. The procedure is performed under local anesthesia with sedation or general anesthesia, whichever the patient prefers. The operation is an outpatient procedure, which takes about 2-3 hours to perform.
The short scar technique allows for a temporal hairline incision, which continues into the ear. It is hidden and does not extend behind the ear, so patients can generally wear their hair pulled back. Shorter incisions also result in a more comfortable, shorter recovery time in most cases. Once this patch of skin is elevated, the tissue underneath is tightened with purse string sutures, in order to provide long-lasting results. 
Patients are generally bruised and swollen for 1 to 2 weeks. The potential complications of bleeding and infection are extremely rare. It is common to return to work and other activities 7-10 days after surgery, hiding the residual bruising under makeup if it is still present. 
What results can I expect? 
Once the swelling and bruising subside, the results of your MACS facelift will become evident. The refreshed, more youthful appearance will likely last for many years. You can extend your benefits by protecting your skin from the sun daily and using medical-grade skincare designed for your precise skin type.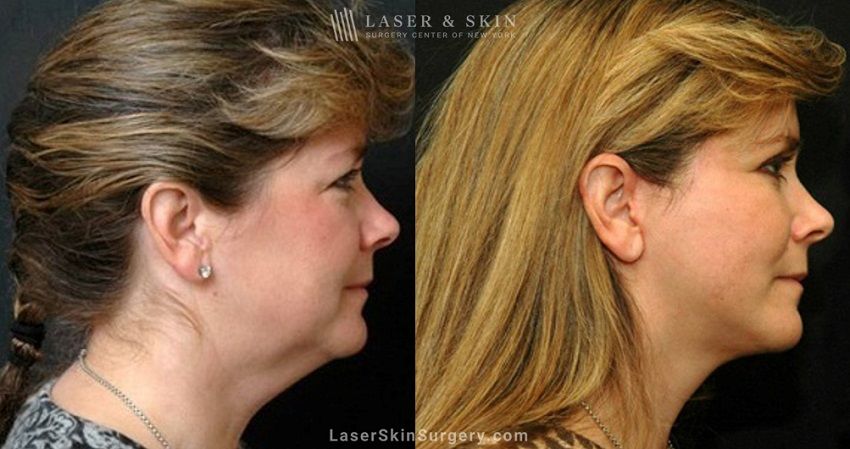 Q: How Does a MACS Facelift Differ From Other Facelift Techniques?
A: The MACS facelift is a proven technique that has been used successfully on thousands of patients across the globe. The procedure is less invasive than a traditional facelift, with smaller incisions that result in less visible scarring and shorter recovery times in many cases. For patients experiencing earlier signs of aging, the MACS facelift offers superior results with minimal disruption to your daily routine. 
Q: What is the Procedure Like?
A: The MACS facelift can often be performed under local anesthesia, with sedation if the patient prefers. Tiny incisions are used to provide access to the underlying tissue, where it can be carefully repositioned to avoid the windswept appearance. Once the tissue is in place, excess skin is excised to create a firmer, smoother outer surface of the skin. 
The MACS facelift can usually be performed more quickly than a traditional facelift, in a matter of a few hours. Patients spend time after surgery resting comfortably in our recovery area before they are released to go home. 
Q: How Long Do Results Last?
A: Although a MACS facelift won't last as long as a traditional procedure, you can expect to enjoy your rejuvenated appearance for many years. You can also extend the benefits by using sunscreen daily and applying medical-grade skincare products to your skin to keep it in top condition. 
Q: What is the Recovery Like?
A: The recovery after a MACS facelift is often a bit shorter and more comfortable than other anti-aging surgeries. Patients will experience some bruising or swelling, which can be managed using oral pain medications and cold compresses. You will be instructed to sleep with your head elevated for the first 2 weeks to reduce swelling. Patients are often back to work within one week and back to their workout routines within 3 weeks. 
Q: Am I A Good Candidate For the MACS Facelift?
A: You are a good candidate for a MACS facelift if you are in good health and do not smoke. This treatment is designed to address mild to moderate signs of aging. If your aging symptoms are more advanced, or if you have significant skin laxity in the neck area, a traditional facelift may produce a better result for you. 
Scars are often unwanted reminders of medical conditions, injuries, trauma, or surgery. When they are noticeable, they can also lead to significant embarrassment and self-esteem. Fortunately, there are ways to treat scars today that do not involve incisions, anesthesia, and downtime.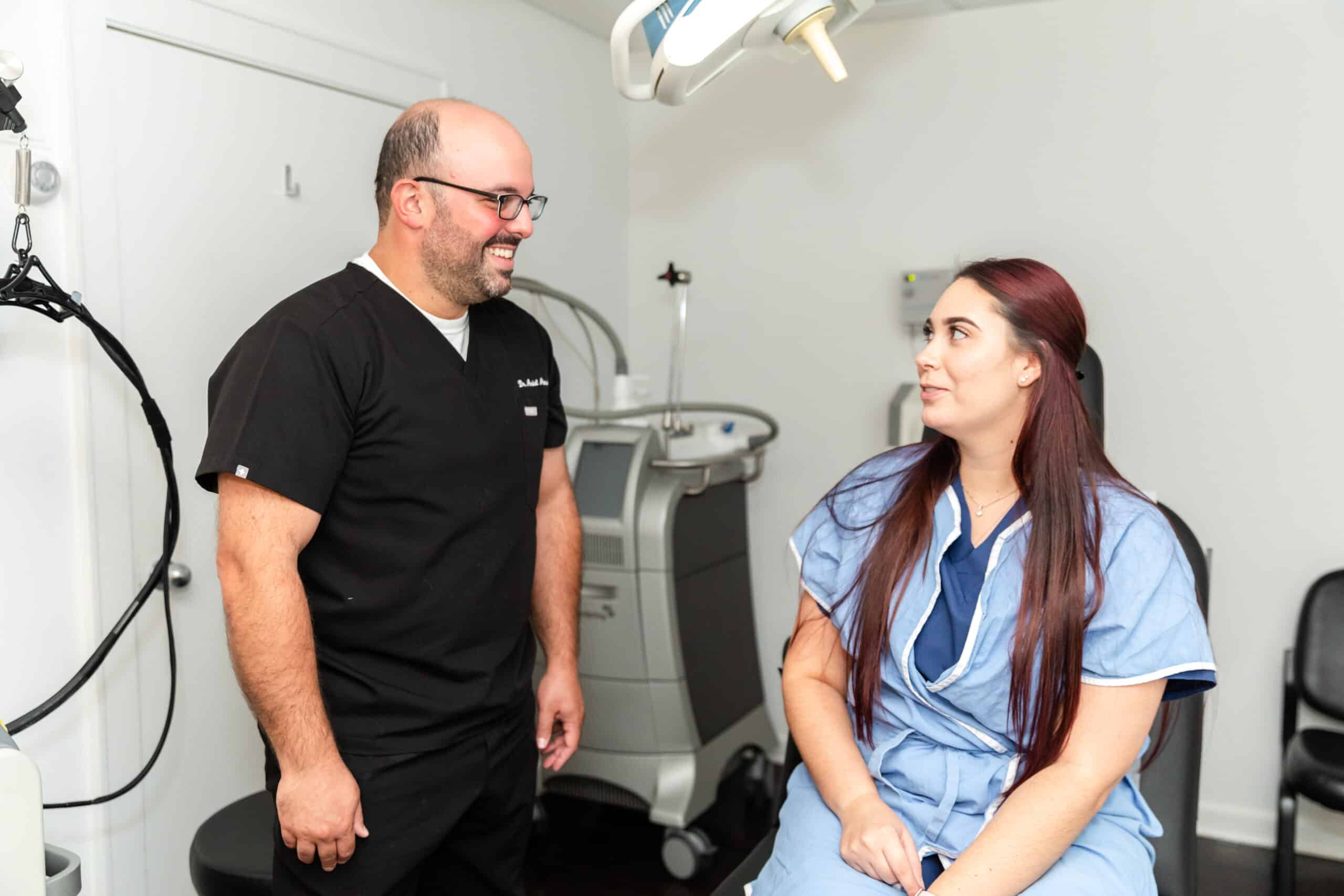 Body contouring addresses stubborn fat, skin laxity, or cellulite. Our board-certified physicians have been involved in clinical trials to develop new technology that provides superior treatment options. We offer treatments for cellulite, skin tightening, and fat reduction.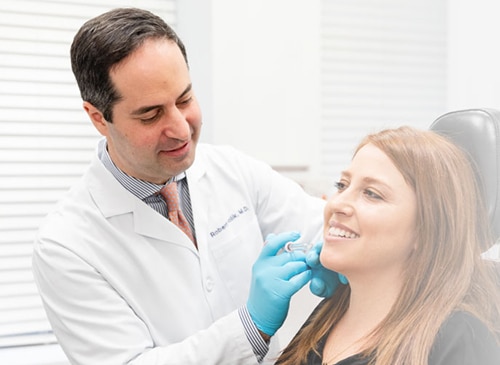 Laser & Skin Surgery Center of New York's filler treatments are always performed by board-certified physicians who have extensive experience with injectables. When you come to us for cosmetic care, you can be confident that you can safely achieve a perfectly natural look.
WHAT you are looking for?
Our 30,000+ sq foot dermatology center in New York is the most comprehensive, state-of-the-art laser and cosmetic skin surgery center in the world. Over the past 30 years we have contributed to the development and testing of many devices, fillers and treatments that are now standard care, so our patients know they are always receiving the most innovative, cutting-edge treatment available.
Pay Online for Patients of Drs. Geronemus, Anolik, Bae & Seidenberg
Pay Online for Patients of Drs. Abraham, Bernstein, Krant, Shelton, Stern, Weiss, Hoffman, Shim, Murphy-Rose, Wilson, and Petratos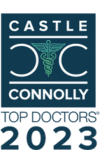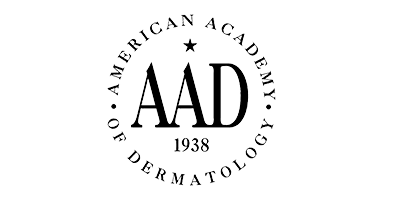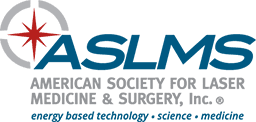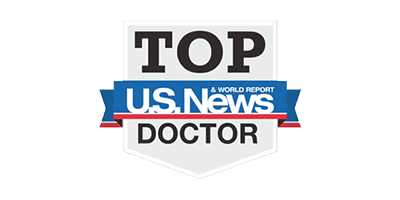 By LASER & SKIN SURGERY CENTER OF NEW YORK® | © 2023 All Rights Reserved. Design & Development by Goldman Marketing Group | Sitemap | Privacy Policy | The information available on this web site is provided for informational purposes only. This information is not intended to replace a medical consultation where a physician's judgment may advise you about specific disorders, conditions and or treatment options. We hope the information will be useful for you to become more educated about your health care decisions. If you are vision-impaired or have some other impairment covered by the Americans with Disabilities Act or a similar law, and you wish to discuss potential accommodations related to using this website, please contact us at (212) 941-5055.
*MDs perform 100% of all medical and cosmetic treatments.