Laser treatments are an effective way to remove permanent
makeup with minimal discomfort and downtime involved.
Results Duration: Long-Lasting
Treats:
Permanent eyeliner, lip liner, and eyebrow tattoos
Side Effects:
Slight redness, swelling, and some crusting and scabbing for a few days following treatment
Location:
Primarily used on the face, but can also be used on various areas of the body
Follow Up:
Patients may need a series of treatment sessions to achieve an optimal outcome
How Performed:
Handpiece is used to deliver laser energy into the ink
Preparation:
Local anesthesia administered prior to treatment
Expected Outcome:
Reduction or elimination of permanent makeup
Onset:
Results completed after final treatment session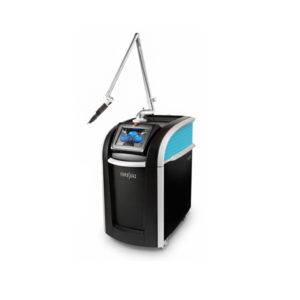 Like tattoos, your desire to have permanent makeup may change over time. People often decide to remove permanent makeup as they age or change their appearance, or because the initial application did not go as planned. Today, permanent makeup can be removed in the same way that tattoos are treated – with innovative laser treatments.
The physicians at the Laser & Skin Surgery Center of New York are among the few physicians that specialize in the removal of permanent makeup like eyeliner, eyebrow and lip liner tattoos. Many of the techniques for the removal of these tattoos were developed at our center. We see patients from around the globe who are seeking the top care and most effective treatments for this highly specialized service.
We offer several different laser devices for this condition including the PicoSure, Q-switched Nd:YAG, Q-switched Ruby, Fraxel Repair, Active FX and the CO2RE lasers. Cosmetic tattoo and permanent makeup removal can be performed safely and effectively over several treatment sessions.
How does Permanent Makeup Removal Work?
Permanent makeup must be addressed the same way we would eliminate tattoos. The right laser device, customized to the unique needs and skin tone of each patient, will shatter the pigment in the makeup to remove the tattoo. Surrounding skin and tissue remains untouched. 
Featuring short pulses with high power and superior absorption, our lasers can remove all types of permanent makeup. Our physicians are also world leaders in the field of tattoo removal and have been involved in the clinical development of many of the technologies used for this purpose.
Healing generally takes place within a week – less once the makeup begins to lighten. Repetitive treatment sessions are usually necessary, at intervals of one to two months. The treatments are comfortable as we typically administer a local anesthetic to minimize any discomfort.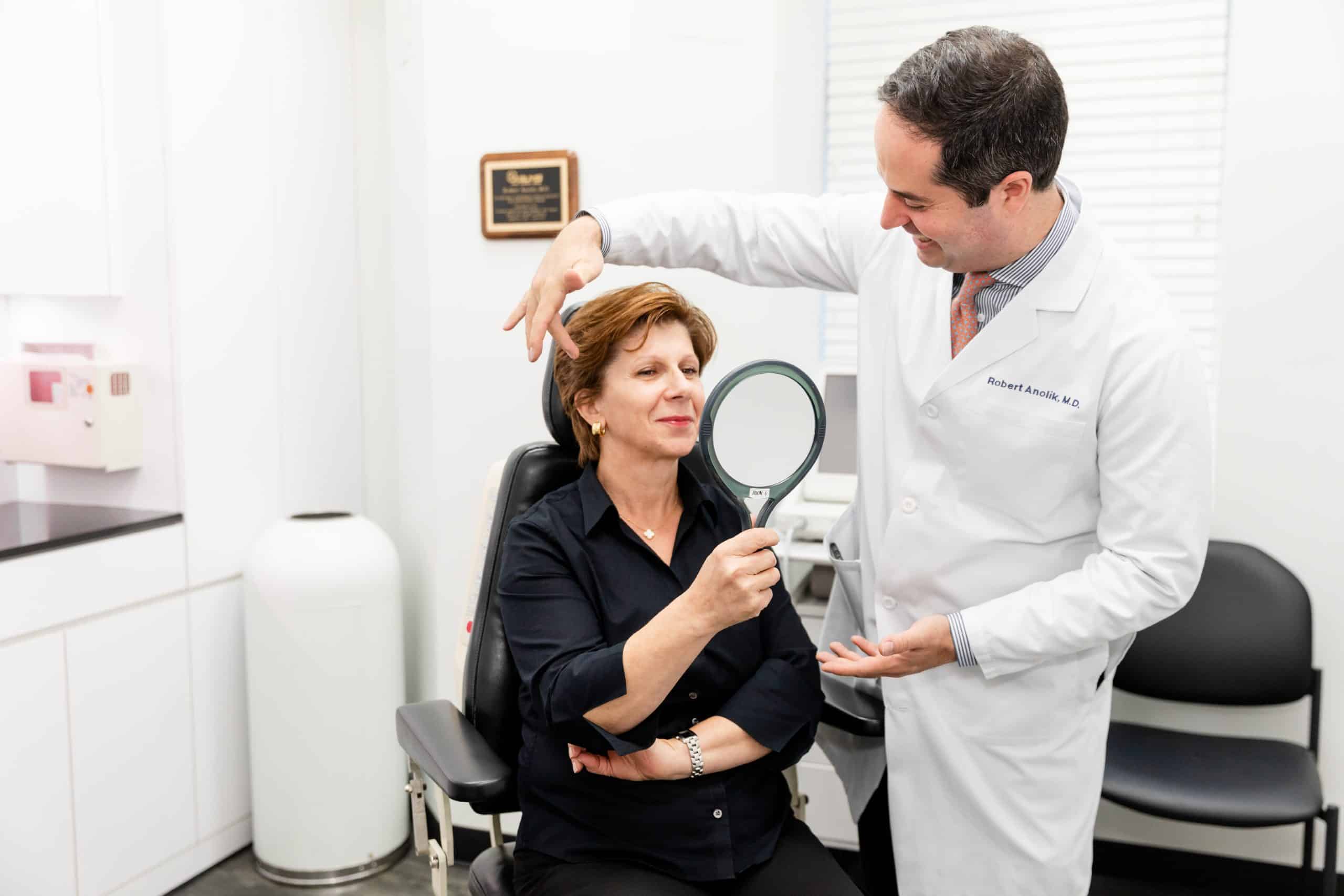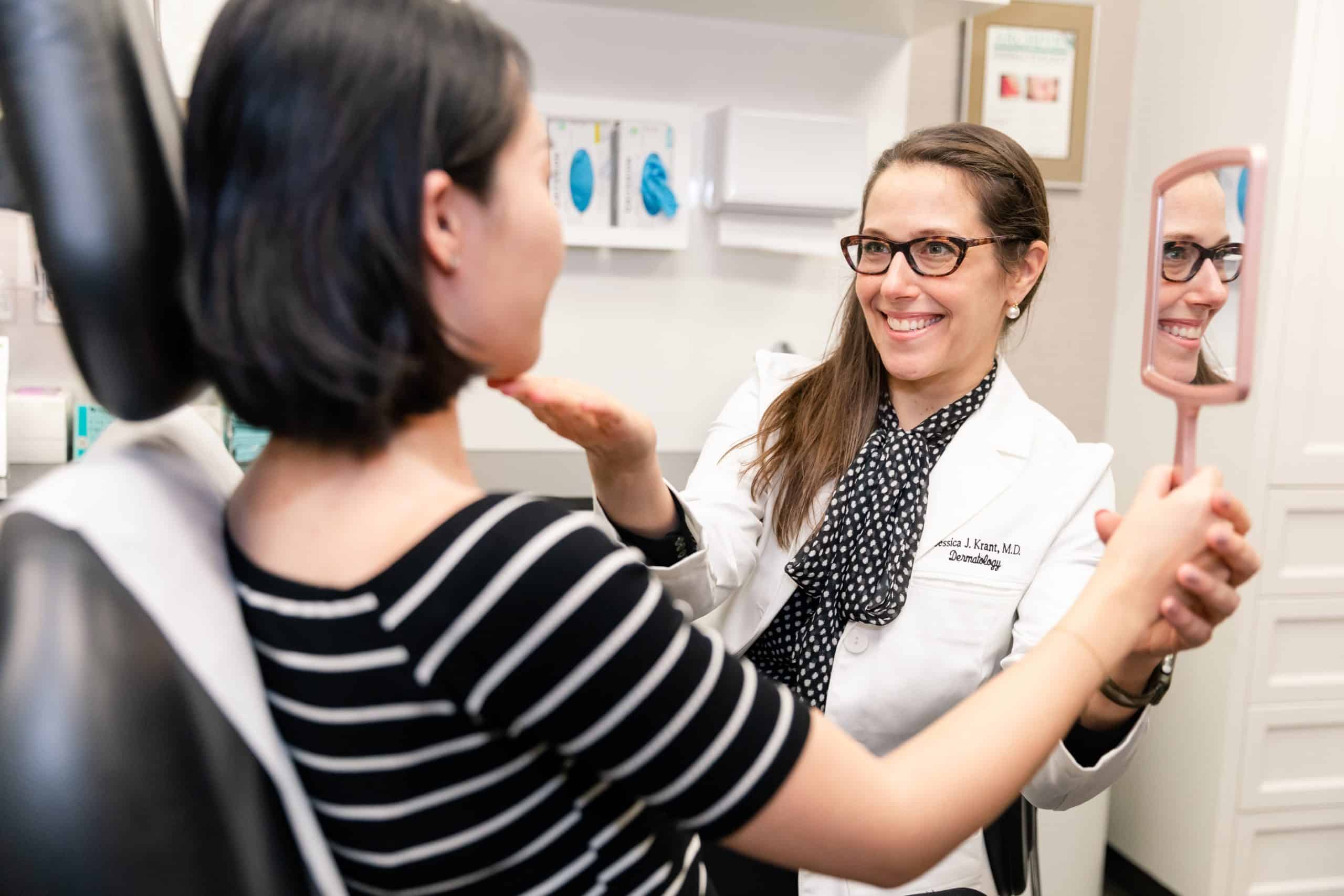 Does Permanent Makeup Removal Hurt?
Permanent makeup removal is a relatively comfortable process, thanks to the application of a topical numbing cream before starting the procedure. You might feel some snaps as the laser is delivered, but the sensation should be quite tolerable. Cooling units also keep the skin at a comfortable temperature throughout treatment.
You should see improvement with each treatment session. Permanent makeup should be completely gone once the last session is completed and the skin has a few days to heal. 
How Long is the Recovery Time After Treatment?
You won't have much downtime after your permanent makeup treatments. You might find your skin is slightly red and tender, similar to a sunburn. You might also experience some crusting and scabbing for a few days after the procedure. It is important to protect your skin from the sun while it heals to prevent permanent damage.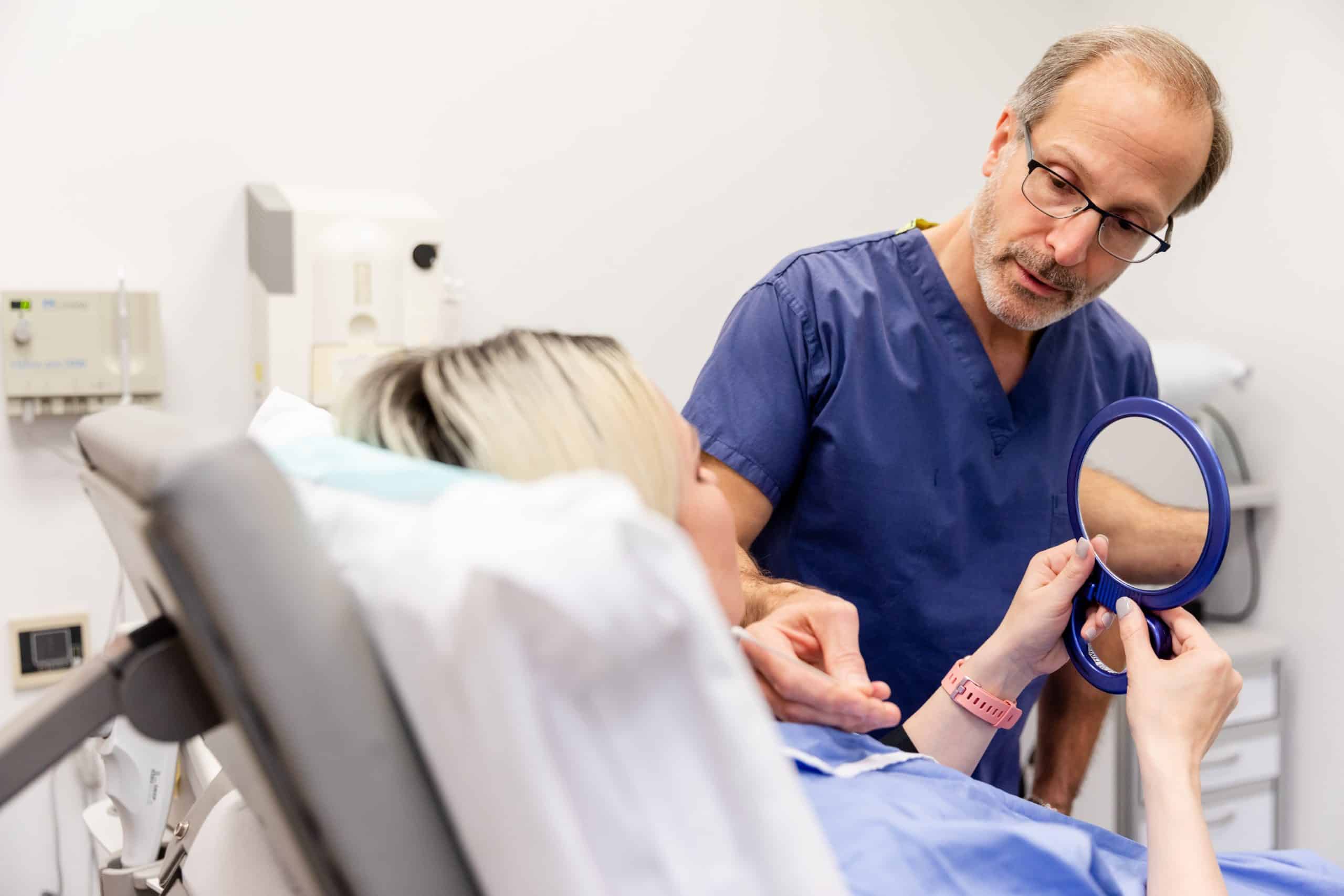 Real Patients Before and After photos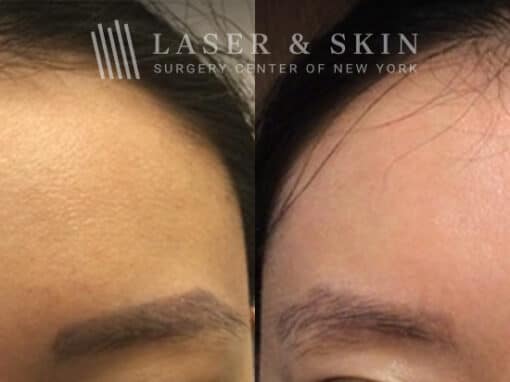 PicoSure laser to remove eyebrow tattoos
Disclaimer: Results may vary from patient to patient. Results are not guaranteed.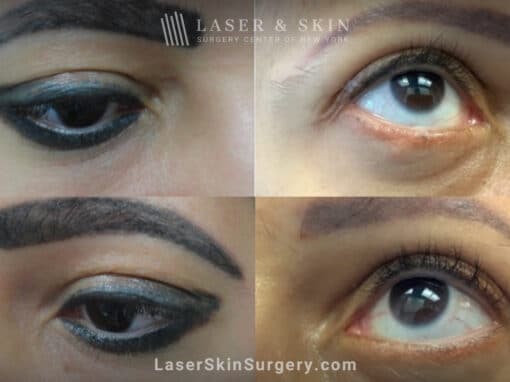 PicoSure laser to remove eyelid tattoo in two treatments
Disclaimer: Results may vary from patient to patient. Results are not guaranteed.
Q: Is Permanent Makeup Removal Safe?
A: Yes, all of the devices we use at the Laser & Skin Surgery Center of New York have FDA approval and have been used extensively for this purpose. Our board-certified dermatologists have the expertise and experience necessary to customize your treatments to ensure they are both safe and successful.
Q: Who Performs Permanent Makeup Removal?
A: Our physicians are world leaders in the field of tattoo and permanent makeup removal and have been involved in the clinical development of many of the technologies used for this purpose. All procedures are performed only by our board-certified dermatologists. To discuss the best combination of treatments and technologies for your treatment plan, please call us for an appointment today. 
Q: Are There Any Side Effects?
A: You might experience some skin redness and tenderness after your laser session. These side effects usually do not last longer than a day or two. It is critical to protect treated, vulnerable skin from sun damage after treatment to prevent potential damage.
Q: What Is Involved In Removing Permanent Makeup?
Q: Is Permanent Makeup Removal Right for Me?
A: You might be a good candidate for permanent makeup removal if you have makeup you would like to eliminate and are prepared to invest in a series of treatment sessions to ensure an optimal outcome.
Scars are often unwanted reminders of medical conditions, injuries, trauma, or surgery. When they are noticeable, they can also lead to significant embarrassment and self-esteem. Fortunately, there are ways to treat scars today that do not involve incisions, anesthesia, and downtime.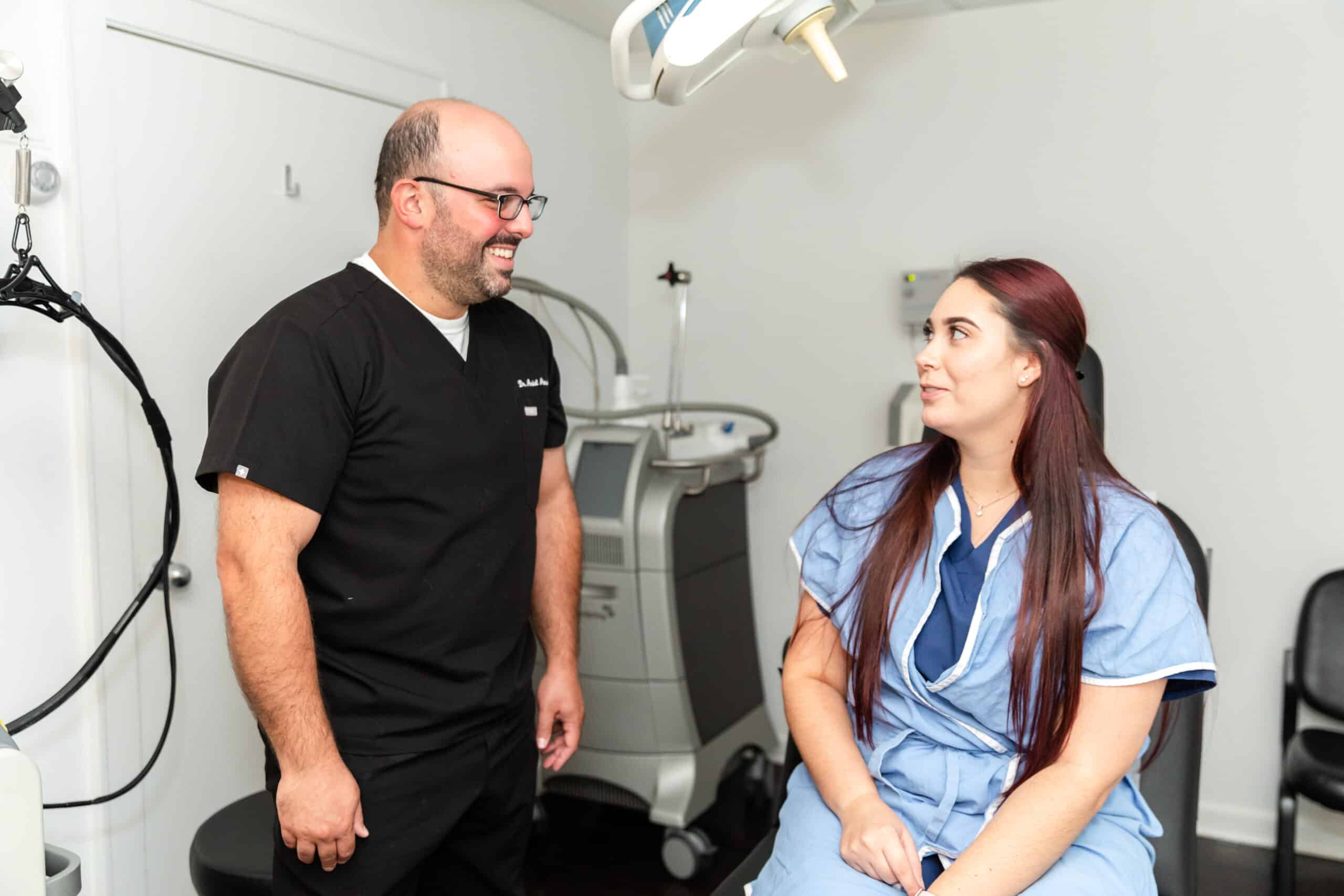 Body contouring addresses stubborn fat, skin laxity, or cellulite. Our board-certified physicians have been involved in clinical trials to develop new technology that provides superior treatment options. We offer treatments for cellulite, skin tightening, and fat reduction.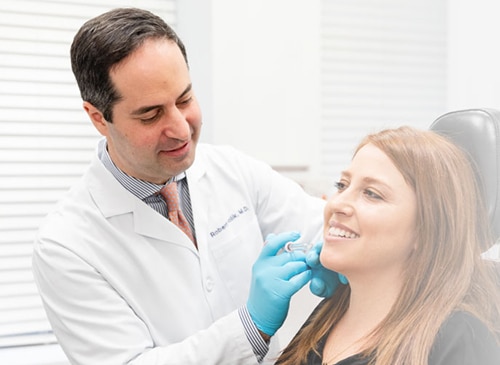 Laser & Skin Surgery Center of New York's filler treatments are always performed by board-certified physicians who have extensive experience with injectables. When you come to us for cosmetic care, you can be confident that you can safely achieve a perfectly natural look.
WHAT you are looking for?
Our 30,000+ sq foot dermatology center in New York is the most comprehensive, state-of-the-art laser and cosmetic skin surgery center in the world. Over the past 30 years we have contributed to the development and testing of many devices, fillers and treatments that are now standard care, so our patients know they are always receiving the most innovative, cutting-edge treatment available.
Pay Online for Patients of Drs. Geronemus, Anolik, Bae & Seidenberg
Pay Online for Patients of Drs. Abraham, Bernstein, Krant, Shelton, Stern, Weiss, Hoffman, Shim, Murphy-Rose, Wilson, and Petratos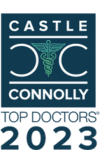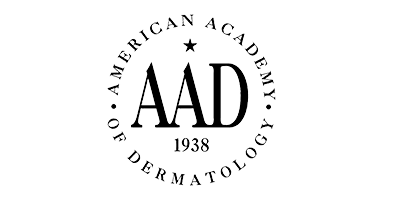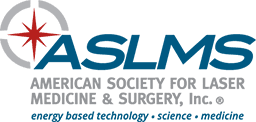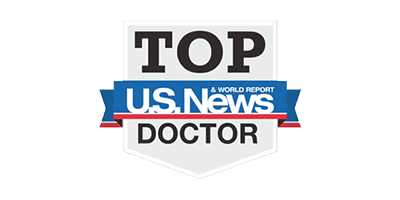 By LASER & SKIN SURGERY CENTER OF NEW YORK® | © 2023 All Rights Reserved. Design & Development by Goldman Marketing Group | Sitemap | Privacy Policy | The information available on this web site is provided for informational purposes only. This information is not intended to replace a medical consultation where a physician's judgment may advise you about specific disorders, conditions and or treatment options. We hope the information will be useful for you to become more educated about your health care decisions. If you are vision-impaired or have some other impairment covered by the Americans with Disabilities Act or a similar law, and you wish to discuss potential accommodations related to using this website, please contact us at (212) 941-5055.
*MDs perform 100% of all medical and cosmetic treatments.