Melasma is unwanted pigmentation on the skin that often develops most commonly in women and typically worsens with sun exposure. It is frequently seen with pregnancy or with the use of birth control pills.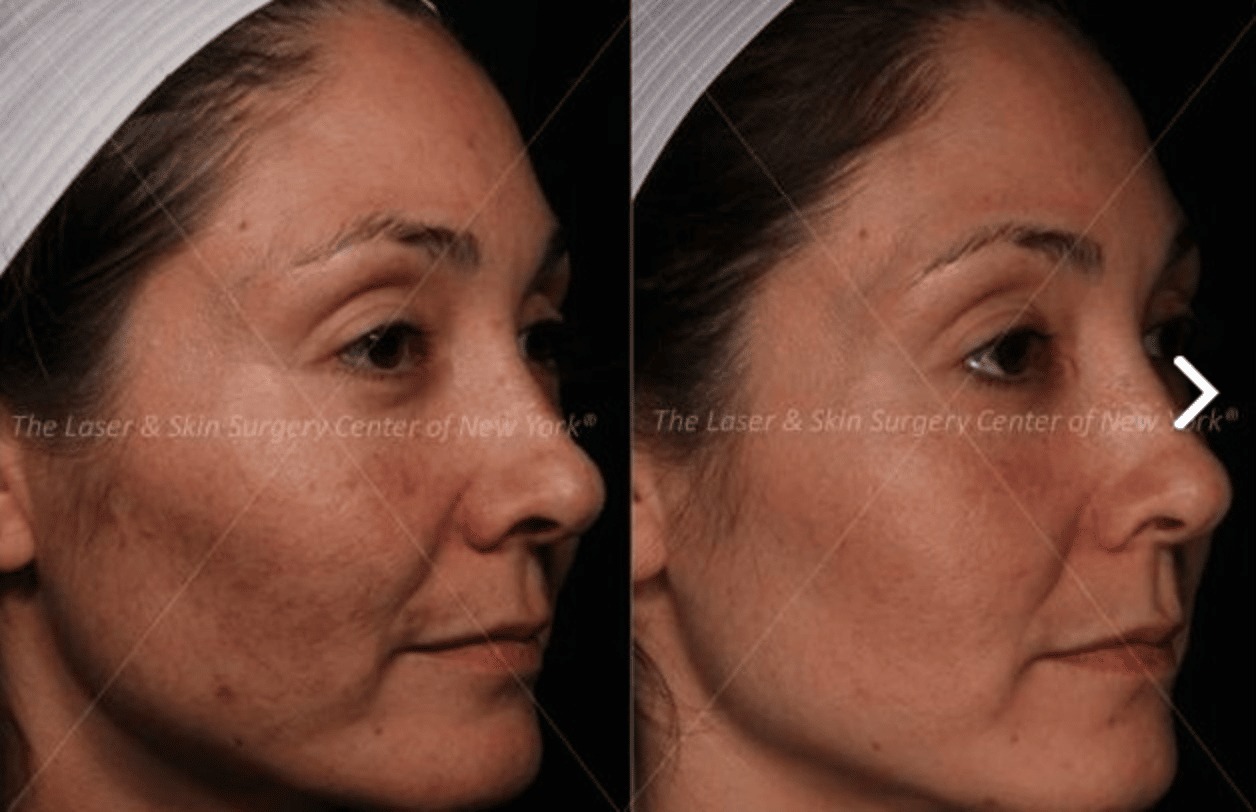 Melasma is sometimes referred to as "the mask of pregnancy." The ideal approach to this condition is a combination of laser therapy, sun protection, and topical bleaching agents. At the Laser & Skin Surgery Center of New York, our laser treatment options include the Clear + Brilliant®, Clear + Brilliant® Permea, Fraxel Dual®, LaseMD, nd:YAG, and PicoSure™ lasers among others. We often combine our laser treatments with topical and/or oral administration of tranexamic acid. With melasma, a cure is not possible, so we strive to achieve as much sustained lightening as possible with our combination regimen.
What are the treatment options?
At the Laser & Skin Surgery Center of New York, our various treatment options for melasma include: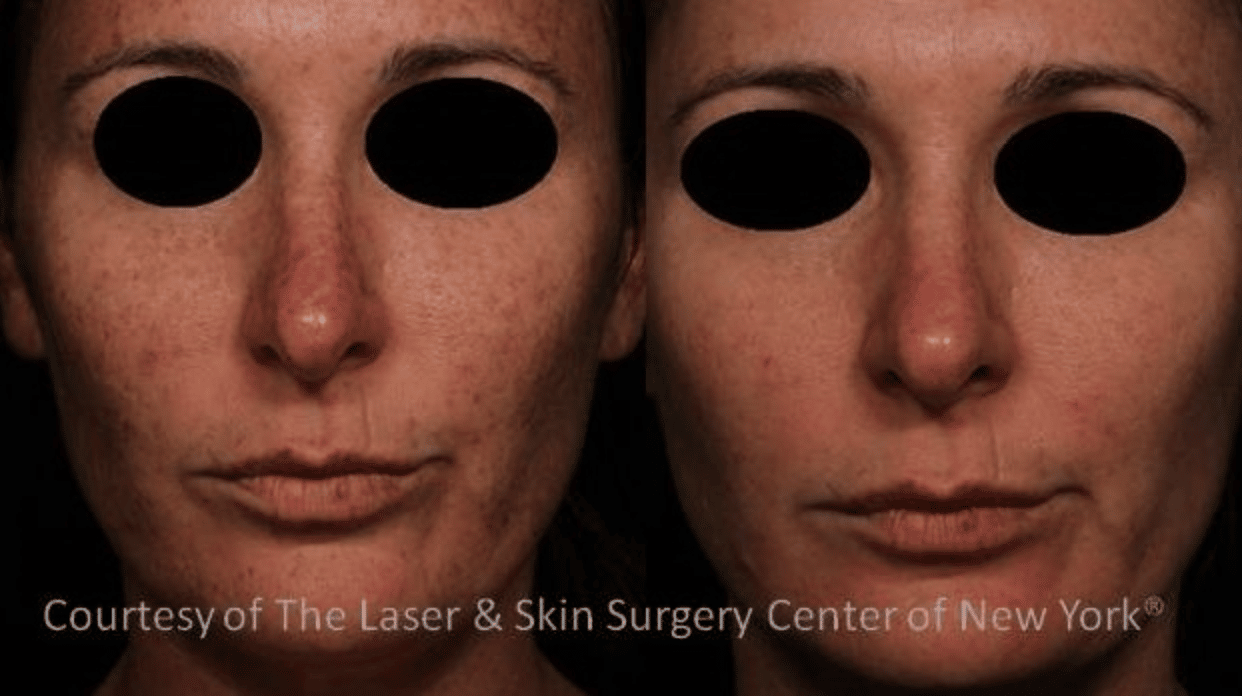 Do Laser Treatments Hurt?
Specific lasers are used based on the condition being treated. The sensation can be compared to a tiny prickling of the skin. Our laser procedures are performed with either topical anesthesia or local anesthesia. For some patients, general anesthesia is provided as an option. The anesthesia helps to subdue the pain of being mild and bearable.
Full results from laser skin resurfacing treatment can be seen approximately 6 months after the treatment when the skin is fully healed.
How Long is the Recovery Time After Treatment?
There is no downtime after a laser treatment. Most of our patients resume their regular routine as soon as they leave our office. Over the course of the following week, there will be changes in pigmentation as the skin starts to peel. Avoid harsh products on the treated areas and use a gentle cleanser and moisturizer. Avoid picking at the skin as it will irritate the skin and prolong the healing process.
"Laser-assisted delivery of tranexamic acid for melasma: Pilot study using a novel 1927 nm fractional thulium fiber laser." J Cosmet Dermatol 2020 Nov 11.
"Dynamic Optical Coherence Tomography of Cutaneous Blood Vessels in Melasma and Vessel Response to Oral Tranexamic Acid." Lasers Surg Med 2020 Nov 8
Retrospective analysis of the treatment of melasma lesions exhibiting increased vascularity with the 595-nm pulsed dye laser combined with the 1927-nm fractional low-powered diode laser. PubMed (2017)
Real Patients Before and After photos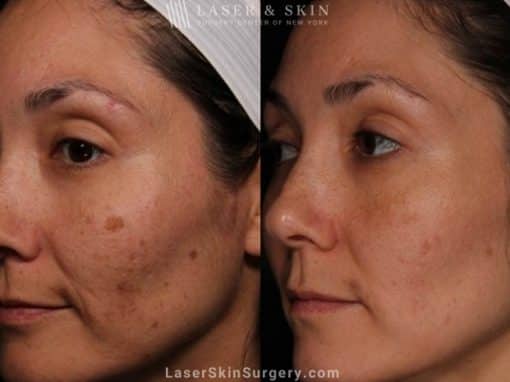 Laser treatment to reduce brown spots from melasma
Disclaimer: Results may vary from patient to patient. Results are not guaranteed.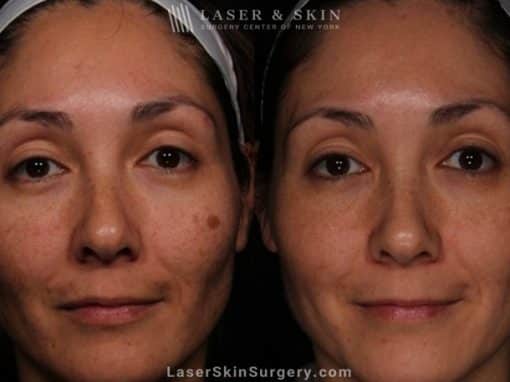 Laser Treatment for Melasma on the Face
Disclaimer: Results may vary from patient to patient. Results are not guaranteed.
Q: What Causes Melasma?
A: Although melasma is much more common in women, men can get it as well. It is not clear what causes melasma, but the condition is often associated with the female hormones estrogen and progesterone. Birth control pills, pregnancy, stress, and sun exposure are all possible causes of the condition.
Q: What Are The Symptoms of Melasma?
A: A change in the color of the skin is the only symptom of melasma. The discolored patches do not physically affect you and tend to appear on the cheeks, forehead, nose, or upper lip.
Q: Can Melasma Be Prevented?
A: It can be difficult to prevent melasma since doctors do not always know what causes it. The best precaution is to use broad-spectrum, high SPF sunscreen daily.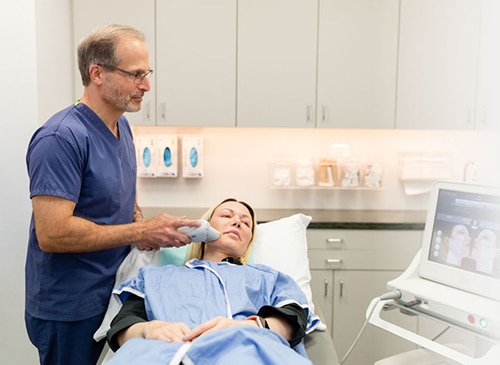 The skin's underlying structure degrades over time, leading to skin laxity and sagging skin. Collagen, the essential protein in our skin, begins to decline as early as our 20s, leaving skin without support from within. Restoring collagen helps to restore the skin's youthful vitality.
Wrinkles are a common and unwanted sign of aging. As you age, your body produces less collagen, creating saggy and wrinkly looking skin. Our customized strategies to combat wrinkles include laser resurfacing, dermal fillers, and wrinkle relaxers.
Age spots and brown spots (also known as sunspots, liver spots, and lentigines) are a consequence of aging and sun exposure. The most effective treatment for eliminating these spots and other skin pigmentation is laser therapy, which usually includes little to no downtime after treatment. 
WHAT you are looking for?
Our 30,000+ sq foot dermatology center in New York is the most comprehensive, state-of-the-art laser and cosmetic skin surgery center in the world. Over the past 30 years we have contributed to the development and testing of many devices, fillers and treatments that are now standard care, so our patients know they are always receiving the most innovative, cutting-edge treatment available.
Pay Online for Patients of Drs. Geronemus, Anolik, Bae & Seidenberg
Pay Online for Patients of Drs. Abraham, Bernstein, Krant, Shelton, Stern, Weiss, Hoffman, Shim, Murphy-Rose, Wilson, and Petratos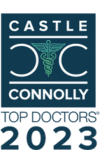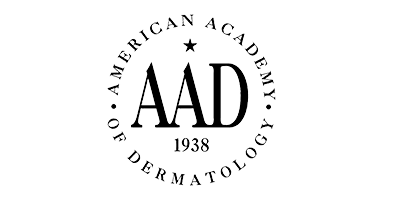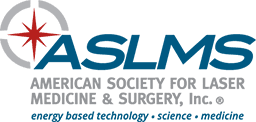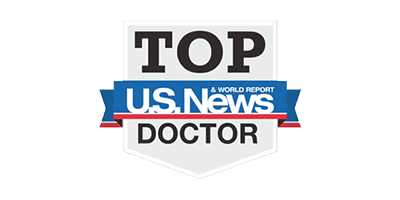 By LASER & SKIN SURGERY CENTER OF NEW YORK® | © 2023 All Rights Reserved. Design & Development by Goldman Marketing Group | Sitemap | Privacy Policy | The information available on this web site is provided for informational purposes only. This information is not intended to replace a medical consultation where a physician's judgment may advise you about specific disorders, conditions and or treatment options. We hope the information will be useful for you to become more educated about your health care decisions. If you are vision-impaired or have some other impairment covered by the Americans with Disabilities Act or a similar law, and you wish to discuss potential accommodations related to using this website, please contact us at (212) 941-5055.
*MDs perform 100% of all medical and cosmetic treatments.