Leg Veins &
Varicose Veins
Superficial leg veins, also known as spider veins, are wispy, red, superficial blood vessels found close to the skin.
leg veins & Varicose Veins

We provide comprehensive treatment at the Laser and Skin Surgery Center of New York. Our physicians specialize in the treatment of superficial leg veins, also known as spider veins, which are fine, red, superficial blood vessels that are close to the skin. Spider veins differ from true varicose veins, which are usually larger in diameter, blue in color, and tend to bulge out in the skin. Additionally, we offer the latest comprehensive treatment of varicose veins.
Popular treatment options for spider and varicose veins on the legs include sclerotherapy, which uses injections of a sclerosing agent to close visible veins. Endovenous laser ablation using the CoolTouch CTEV device involves the insertion of laser heating directly into the vein, collapsing it without damaging surrounding skin, tissue, or vessels. 
What treatments are available?
Our Center offers cutting-edge technologies for the treatment of leg veins and venous disease. The lasers, devices, and treatments for leg veins are as follows:
To learn more about these treatment options, check out our online webinar
What is venous insufficiency?
Veins are blood vessels in the body that return blood from the limbs and organs back to the heart; leg veins contain valves that prevent the backflow of blood. Venous insufficiency occurs when forward flow through the veins is blocked (such as in a blood clot), or if there is backward leakage of blood flow through damaged valves. Venous insufficiency can be caused by a number of disorders, and present as spider veins, varicose veins, and reticular veins.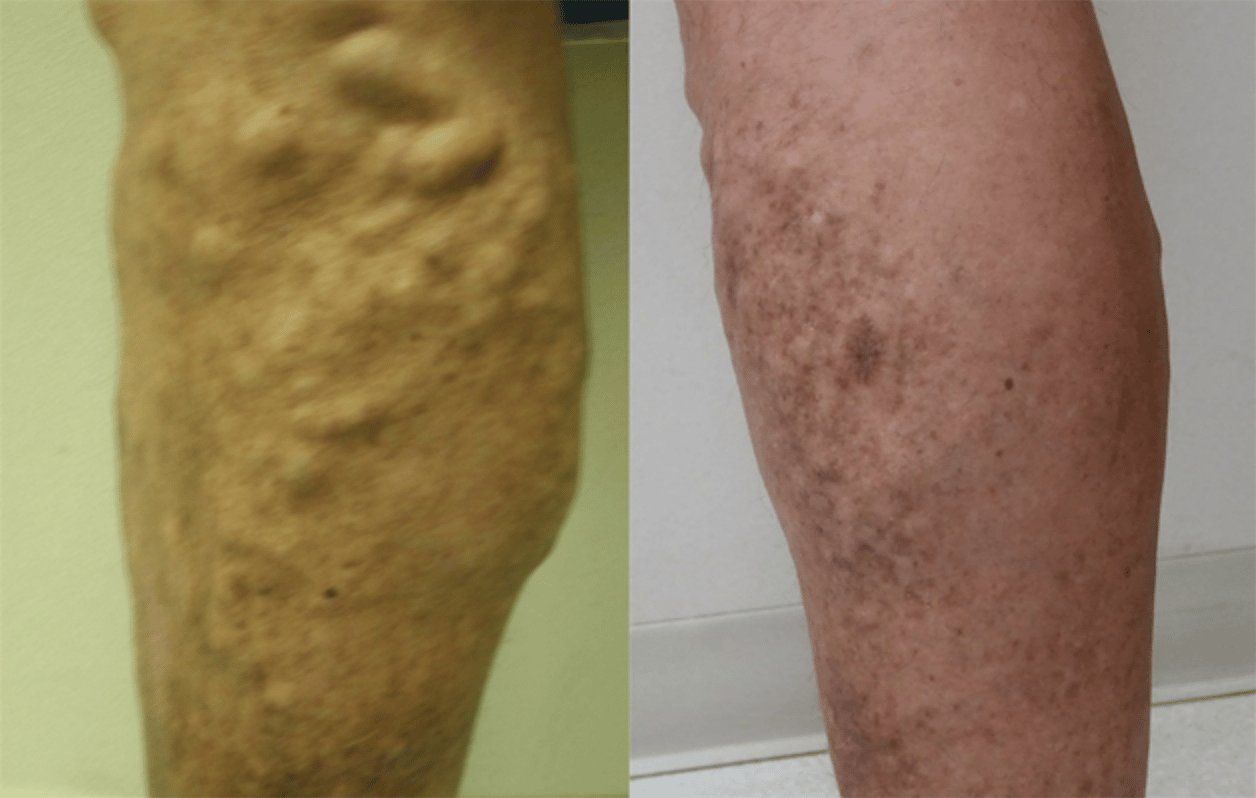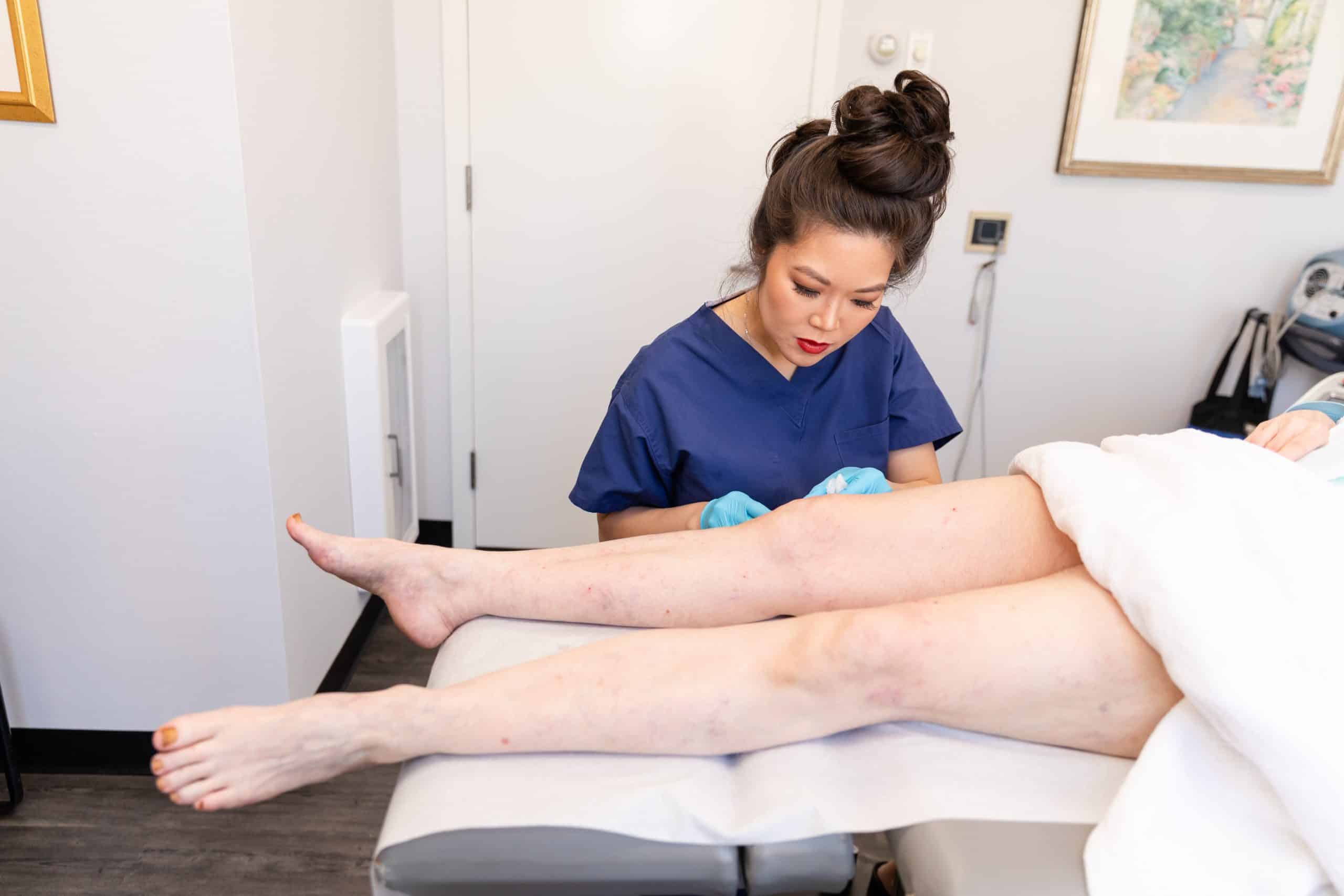 Spider veins, also called telangiectasia, are small, fine veins that exist close to the surface of the skin. These thin veins are connected to the larger venous system but are not needed for normal circulation. Spider veins are often caused by pregnancy, hormonal changes, weight gain, professions or activities that require prolonged sitting or standing, certain medications, or genetics (family history).
What are reticular veins?
Reticular veins are usually blue or purple in color, and lie flat on the skin. They commonly form on the thighs, legs, ankles, and face, causing some patients to be wary of revealing skin where these veins are visible. Additionally, they may cause pain and discomfort in the surrounding area. Reticular veins are considered 'feeder veins' because they supply excess blood to spider veins, filling their dilated venules. Thus, treating reticular veins may subsequently eliminate spider veins in a patient.
Varicose veins are gnarled, enlarged veins, which may be dark purple or blue in color, and have a twisting or bulging cord-like appearance. While they are not usually painful, varicose veins may sometimes cause achy or heavy feeling in the legs, a burning or pain sensation after extended sitting or standing, swelling, or an itching feeling. 
Real Patients Before and After photos
Sclerotherapy to treat leg veins
Disclaimer: Results may vary from patient to patient. Results are not guaranteed.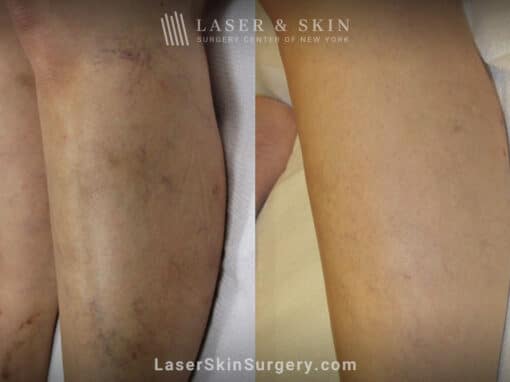 Sclerotherapy to treat leg veins
Disclaimer: Results may vary from patient to patient. Results are not guaranteed.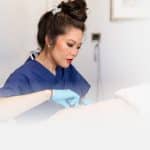 Cindy Bae, M.D., visits Kathie Lee and Hoda to discuss the difference between varicose veins and spider veins.
Leg Veins & varicose veins
Q: What Are The Symptoms of Venous Insufficiency?
Edema (swelling)
Skin color changes
Prominent varicose veins or ropy veins
Skin ulcers
Painful, burning, or throbbing sensations in the legs and feet
Restless legs
Cramps
Leg weakness and fatigue
Q: What Are The Risk Factors For Venous Insufficiency?
Old age
Previous deep vein thrombosis (blood clot)
Family history
Obesity
Immobility
Muscle weakness
Pregnancy
Trauma
Cancer
Q: What Are Alternative Treatment Options?
A: A conservative option to treat venous insufficiency is to wear prescription compression stockings. These special stockings put pressure on the ankle and lower leg and improve venous blood flow and decrease swelling. A board-certified dermatologist will determine the type of compression stocking that is most appropriate. Additional measures may be recommended: exercise is encouraged to improve circulation, weight loss is beneficial in overweight patients, and blood thinners and anticoagulants can alleviate venous insufficiency issues caused by blood clots. However, compression stockings are limited in that they do not eliminate venous insufficiency, but are used as an adjunct to treatment.
Q: How Can Venous Insufficiency Be Prevented?
Maintain a healthy body weight and exercise regularly
Do not smoke, as it is harmful to the circulation
Avoid standing or sitting in one place or position for extended periods of time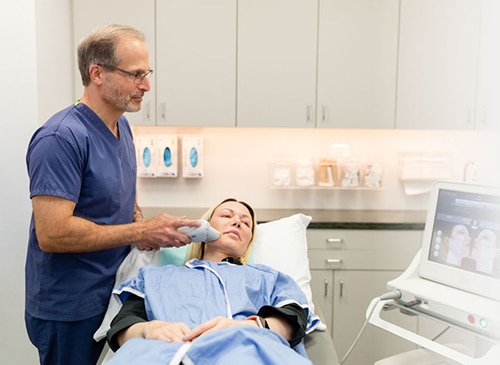 The skin's underlying structure degrades over time, leading to skin laxity and sagging skin. Collagen, the essential protein in our skin, begins to decline as early as our 20s, leaving skin without support from within. Restoring collagen helps to restore the skin's youthful vitality.
Wrinkles are a common and unwanted sign of aging. As you age, your body produces less collagen, creating saggy and wrinkly looking skin. Our customized strategies to combat wrinkles include laser resurfacing, dermal fillers, and wrinkle relaxers.
Age spots and brown spots (also known as sunspots, liver spots, and lentigines) are a consequence of aging and sun exposure. The most effective treatment for eliminating these spots and other skin pigmentation is laser therapy, which usually includes little to no downtime after treatment. 
WHAT you are looking for?
Our 30,000+ sq foot dermatology center in New York is the most comprehensive, state-of-the-art laser and cosmetic skin surgery center in the world. Over the past 30 years we have contributed to the development and testing of many devices, fillers and treatments that are now standard care, so our patients know they are always receiving the most innovative, cutting-edge treatment available.
Pay Online for Patients of Drs. Geronemus, Anolik, Bae & Seidenberg
Pay Online for Patients of Drs. Abraham, Bernstein, Krant, Shelton, Stern, Weiss, Hoffman, Shim, Murphy-Rose, Wilson, and Petratos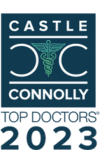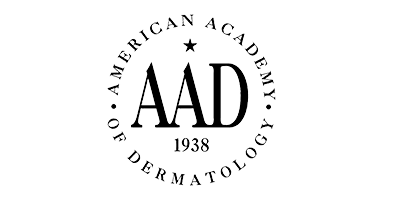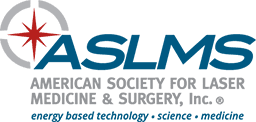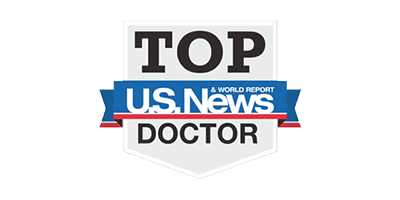 By LASER & SKIN SURGERY CENTER OF NEW YORK® | © 2023 All Rights Reserved. Design & Development by Goldman Marketing Group | Sitemap | Privacy Policy | The information available on this web site is provided for informational purposes only. This information is not intended to replace a medical consultation where a physician's judgment may advise you about specific disorders, conditions and or treatment options. We hope the information will be useful for you to become more educated about your health care decisions. If you are vision-impaired or have some other impairment covered by the Americans with Disabilities Act or a similar law, and you wish to discuss potential accommodations related to using this website, please contact us at (212) 941-5055.
*MDs perform 100% of all medical and cosmetic treatments.