Excessive or unwanted hair can grow in undesirable places.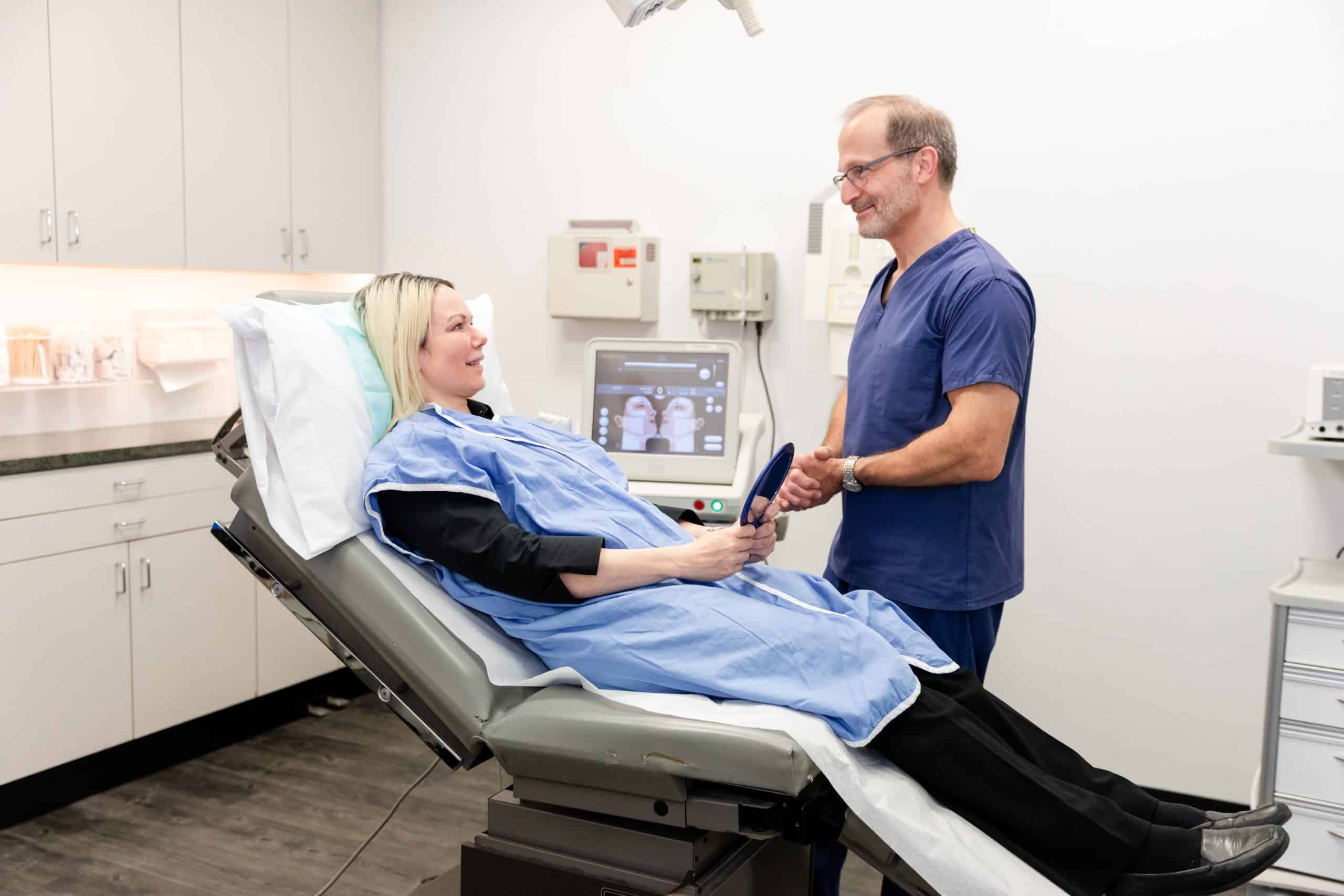 The physicians at the Laser & Skin Surgery Center of New York are pioneers in the development and testing of lasers in the area of long-term hair removal. To achieve optimal results for all skin types, we have a wide variety of laser technology including the newest laser, which combines both the alexandrite and Nd:YAG lasers (GentleMax and Clarity lasers). We also constantly evaluate new laser systems in order to provide the best and latest technology.
In addition to hair removal, these devices treat ingrown hairs and folliculitis safely and effectively. They are also capably of treating a wide range of skin tones, including skin of color. Many practices are unable to offer this service to patients with darker skin tones because they don't have the most up-to-date technology for laser hair removal. 
What are the treatment options?
At the Laser & Skin Surgery Center of New York, all laser hair removal procedures are performed by board-certified, fellowship-trained dermatologists. Our physicians have been involved with the clinical development of the lasers presently used for hair removal. We offer a variety of laser treatments to accommodate all skin colors. 
The devices used to treat this condition include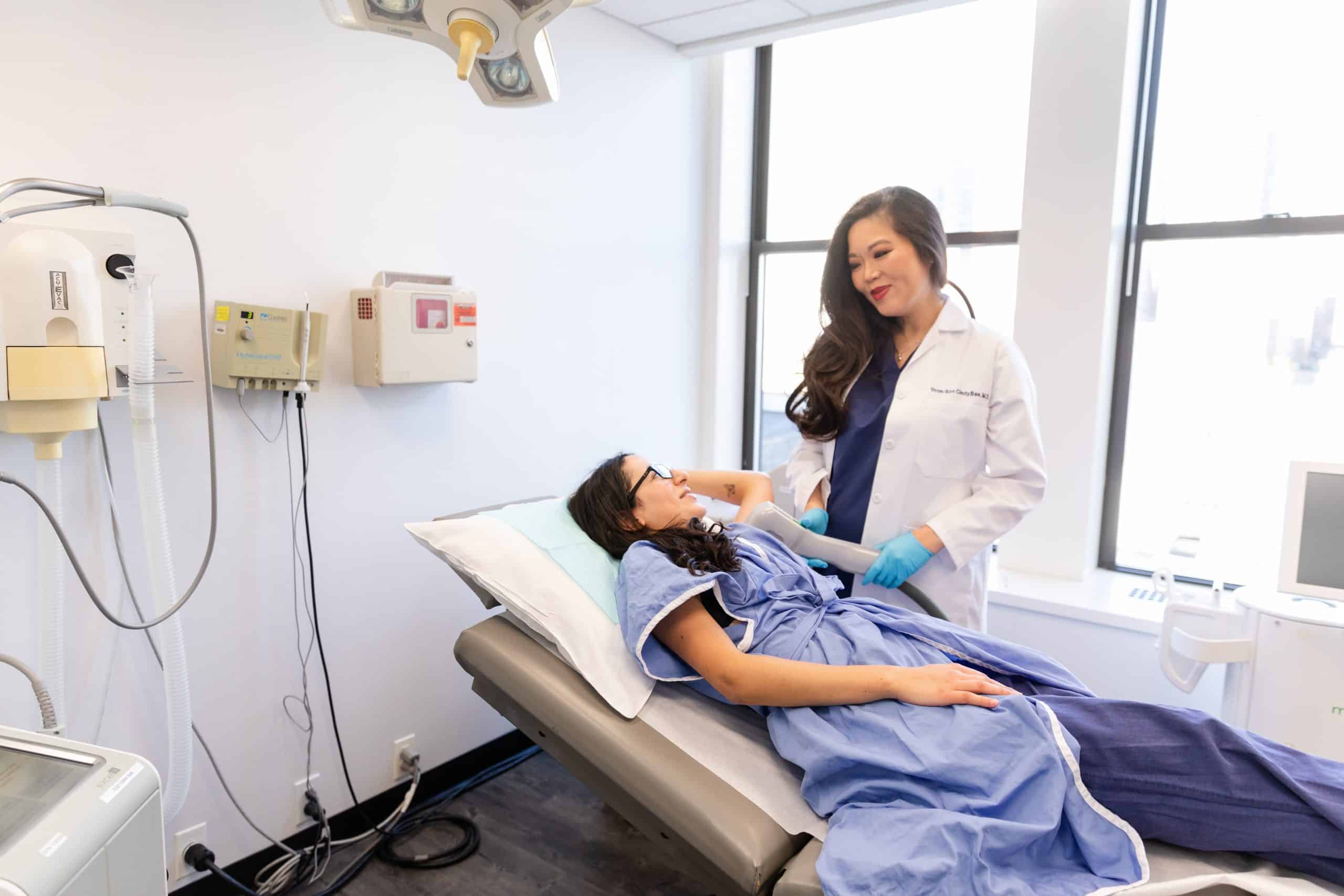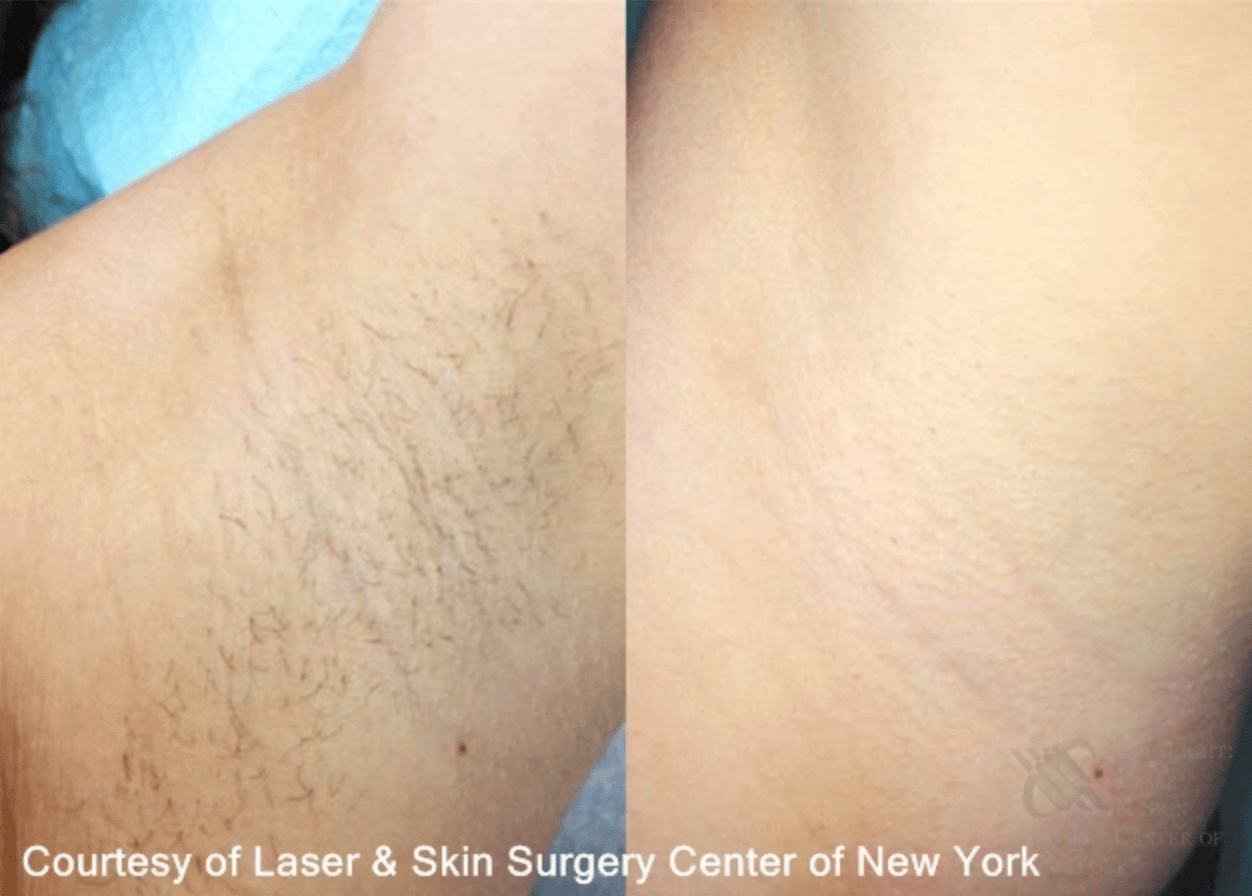 Where can i get hair removed and how often?
Laser hair removal is safe to use on all areas of the body. Most people require several treatment sessions to produce long-lasting hair removal in a given area. Treatment sessions are usually performed at one to two-month intervals, depending on the area of skin being treated.
You may start to see improvement in the days following your procedure as the hair starts falling out about ten to fourteen days after treatment. Results become more noticeable after each treatment. The number of treatments necessary is between 6-8 depending on the body part and area.
How Long is the Recovery Time After Treatment?
Patients may experience redness and swelling for the first few hours after laser hair removal, but this resolves quickly. Discomfort can be reduced by applying ice to the treated area. It is important to avoid direct sun exposure and to wear sunscreen afterward.
Q: Am I A Good Candidate for Laser Hair Removal?
A: The ideal candidate for laser hair removal is a fair person with dark, coarse hair. Specific hair and skin types make a difference in the effectiveness of laser hair removal. The contrast between light skin and dark hair allows the melanin to be easily targeted. 
Q: Is It Safe?
A: Laser hair removal is safe and tolerated well. There have not been any long term health risks associated with the treatment.
Q: Are There Any Side Effects?
A: Some patients may experience minor side effects after the procedure such as redness, irritation, and crusting. These symptoms are short-lived and can be resolved with ice packs and consistent moisturizing of the treated area. Skin exposed to the sun should always be protected with at least SPF 30 sunscreen. 
Q: How Do I Prepare For A Laser Hair Removal Treatment?
A: The treatment area should be shaved the day prior to treatment. Avoid waxing, plucking, epilating, or anything that may disrupt the hair follicle. 
Q: How Long Do Results Last?
A: Laser hair removal is not always permanent. It is unlikely to permanently remove every hair follicle because hair follicles that were not damaged can grow back over time. Multiple treatments may lead to long term hair removal, but it may take as many as three to eight sessions to ensure all hair follicles have been removed. 
A: Is The Procedure Uncomfortable?
A: There can be some discomfort during the procedure. For sensitive areas, such as the bikini line or the underarms, or for the treatment of large areas such as the full legs or back, patients can elect to have topical anesthetic cream applied before treatment. Most patients treating smaller areas of skin do not require an anesthetic cream. 
Q: Are There Any Other Reasons To Get Laser Hair Removal?
A: In addition to the general removal of unwanted hair, laser hair removal has been proven to be very effective for the specific removal of hair that causes irritation, such as in ingrown hair, razor bumps (pseudofolliculitis barbae), or pilonidal cysts, excess hair associated with birthmarks or after surgical procedures (grafts).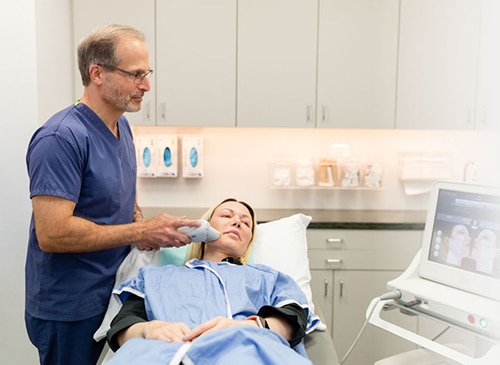 The skin's underlying structure degrades over time, leading to skin laxity and sagging skin. Collagen, the essential protein in our skin, begins to decline as early as our 20s, leaving skin without support from within. Restoring collagen helps to restore the skin's youthful vitality.
Wrinkles are a common and unwanted sign of aging. As you age, your body produces less collagen, creating saggy and wrinkly looking skin. Our customized strategies to combat wrinkles include laser resurfacing, dermal fillers, and wrinkle relaxers.
Age spots and brown spots (also known as sunspots, liver spots, and lentigines) are a consequence of aging and sun exposure. The most effective treatment for eliminating these spots and other skin pigmentation is laser therapy, which usually includes little to no downtime after treatment. 
WHAT you are looking for?
Our 30,000+ sq foot dermatology center in New York is the most comprehensive, state-of-the-art laser and cosmetic skin surgery center in the world. Over the past 30 years we have contributed to the development and testing of many devices, fillers and treatments that are now standard care, so our patients know they are always receiving the most innovative, cutting-edge treatment available.
Pay Online for Patients of Drs. Geronemus, Anolik, Bae & Seidenberg
Pay Online for Patients of Drs. Abraham, Bernstein, Krant, Shelton, Stern, Weiss, Hoffman, Shim, Murphy-Rose, Wilson, and Petratos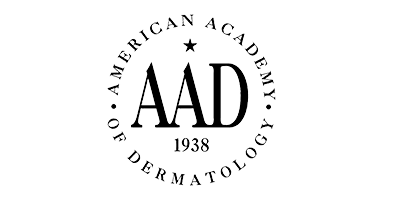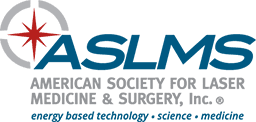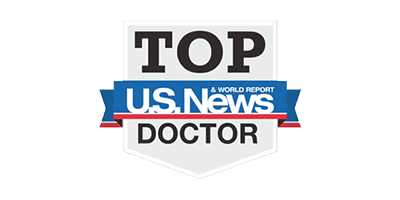 By LASER & SKIN SURGERY CENTER OF NEW YORK® | © 2023 All Rights Reserved. Design & Development by Goldman Marketing Group | Sitemap | Privacy Policy | The information available on this web site is provided for informational purposes only. This information is not intended to replace a medical consultation where a physician's judgment may advise you about specific disorders, conditions and or treatment options. We hope the information will be useful for you to become more educated about your health care decisions. If you are vision-impaired or have some other impairment covered by the Americans with Disabilities Act or a similar law, and you wish to discuss potential accommodations related to using this website, please contact us at (212) 941-5055.
*MDs perform 100% of all medical and cosmetic treatments.
Our board-certified dermatologists in New York City are all fellowship-trained and uniquely trained in lasers and technology, cosmetic and medical dermatology, and skin surgery. Together they are highly acclaimed world experts with thousands of articles published, countless TV and media appearances, and hundreds of years of combined experience.
Our plastic surgeons bring years of experience in helping patients achieve all their aesthetic goals through surgical procedures. Every treatment is fully customized to the precise needs of each patient for results that are natural and beautiful.