Board-certified dermatologist
"My greatest reward as a physician is when my patients leave smiling."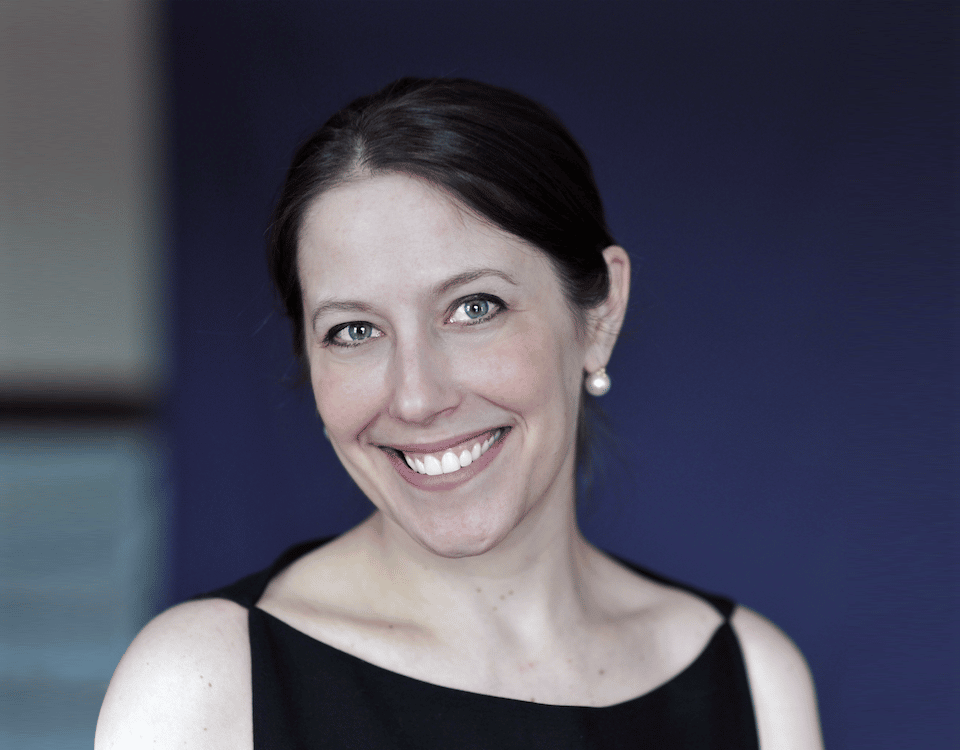 ABOUT
| | |
| --- | --- |
| | Jessica Krant, M.D., MPH is a board-certified cosmetic, laser, surgical, and medical dermatologist, Fellow of the American Academy of Dermatology, American Society for Dermatologic Surgery, and American College of Mohs Surgery as well as being certified in Lifestyle Medicine.  A proud recipient of Castle Connolly and coveted New York Magazine Top Doctor status for many years, Dr. Krant also frequents the New York SuperDoctors listings and was named a Westchester County Top Doctor as well as receiving the Best of Manhattan Award in Dermatology. After graduating from Harvard College magna cum laude and going on to Columbia University College of Physicians & Surgeons where she received both her M.D. (with Alpha Omega Alpha National Medical Honors Society recognition) and her Master's Degree in Public Health, Dr. Krant went on to complete internship at Lenox Hill Hospital, dermatology residency at SUNY Downstate Medical Center, and a formal American College of Mohs Surgery fellowship. |
Every dermatologist has access to the same products and treatments, but it takes a true artist, with skill and empathy, to create beautiful, natural-looking results.
In addition to private practice, Dr. Krant has also enjoyed teaching dermatology residents for the past 17 years as Assistant Clinical Professor of Dermatology at SUNY Downstate Medical Center, where she earned the Dermatology Teaching Award.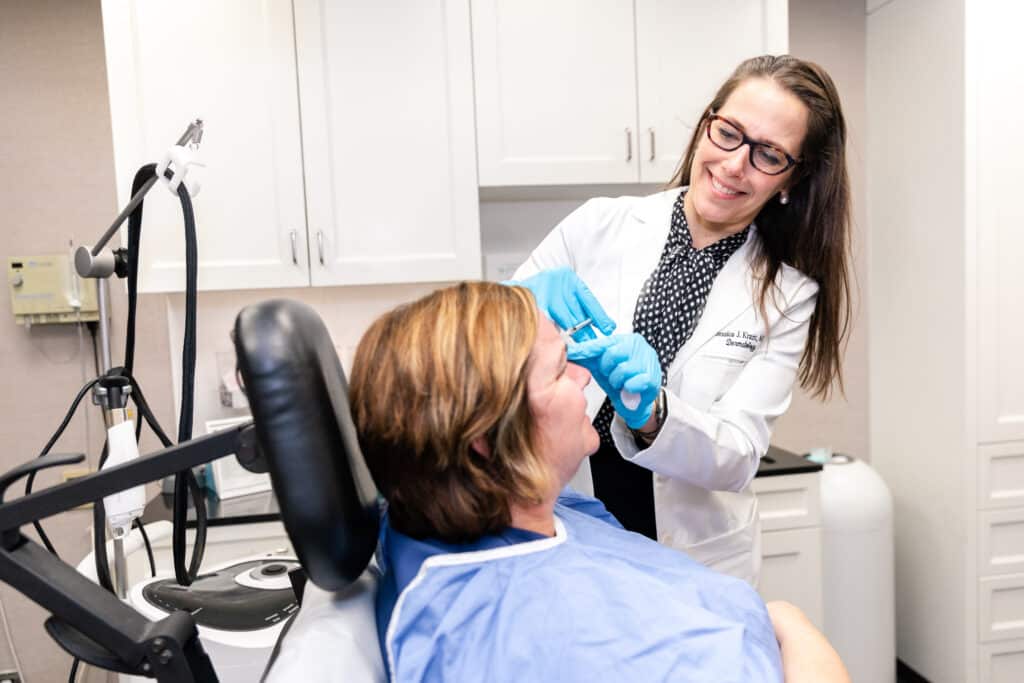 Outside the clinical setting, Dr. Krant is highly involved in public health education, having served as the only dermatologist on Consumer Reports' Medical Advisory Board and as a spokesperson for the Skin Cancer Foundation, as well as through her work as Delegate to the American Medical Association representing Dermatologic Surgeons and their patients nationwide. At the AMA, Dr. Krant proudly serves on the Surgical Caucus Executive Committee, working with physicians nationwide to protect quality healthcare access for patients.
Dr. Krant is Secretary of the Board of the New York County Medical Society and a former member of the Board of the Westchester County Medical Society, the AAD's Congressional Policy and State Policy Committees, and the Professional Conduct Committee of the American Society for Dermatologic Surgery, where she personally updated the organization's ethics guidelines for dermatologists nationwide. She regularly travels to Albany and Washington to speak to legislators about health reform and the protection of access to safe, quality care.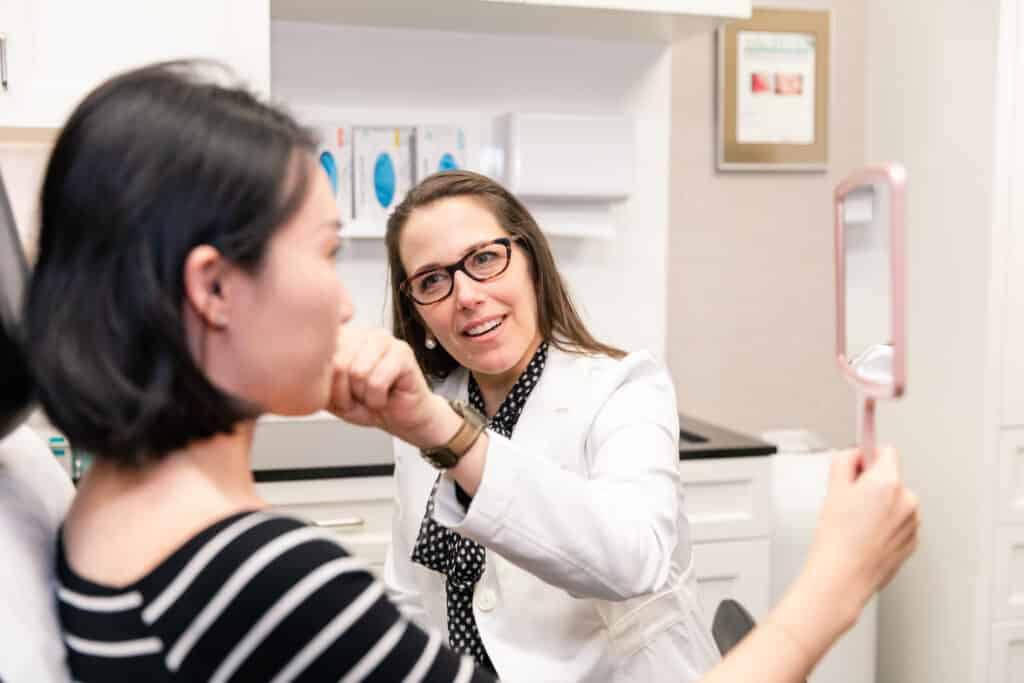 In recent years, in addition to enjoying a robust practice in laser, cosmetic, and medical dermatology, Dr. Krant has been studying integrative dermatology as well as nutrition and lifestyle practices and how they impact our whole well-being from our inside parts to our skin in terms of disease, health, and anti-aging. In pursuit of this knowledge, Dr. Krant was certified by the American Board of Lifestyle Medicine and enjoys serving on the Medical Advisory Board of Plant Powered Metro New York.
But above all, Dr. Krant is most proud of being a caring, comprehensive physician who takes the time to listen and sends her patients home with a smile.
EDUCATION
LICENSURE

Fellow, American Academy of Dermatology

Fellow, American Society for Dermatologic Surgery

Fellow, American College of Mohs Surgery

Residency:
Dermatology Residency, SUNY Downstate Medical Center, New York, New York. Chair: Alan Shalita, M.D. 1999 – 2002
Internship:
Internal Medicine Internship, Lenox Hill Hospital, New York, New York. 1998 – 1999
Medical:
Columbia University College of Physicians and Surgeons, M.D. (A.O.A. National Medical Honors Society), New York, New York, 1993 – 1998
Pre-Medical:
Harvard University, A.B. magna cum laude, Visual and Environmental Studies. Cambridge, Massachusetts, 1989 – 1993
AWARDS
2021- New York Super Doctors Award
2014- Member, Board of Directors, New York County Medical Society
2014 – Castle Connolly Top Doctors- Dermatology, NY Metro Area
2014 – New York Super Doctors Award
2014 – Angie's List Super Service Award
2014 – Best of Manhattan Award, Art of Dermatology/Dermatologist
2010- present Real Self Top Doctor Awards
2014 – present Congressional Policy Committee, AAD
2013- present SkinPAC Advisory Board, AAD Jessica J. Krant, M.D.
2012- present Consumer Reports Medical Advisory Board: Sole Dermatologist on the Board
2012- present Fellow, American College of Mohs Surgery
2012 – present Delegate to AMA representing ASDS, Dermatology Section Council
2011 – present State Policy Committee, AAD
2008 – 2010 Chair, Young Physicians Committee, Westchester County Medical Society
2007 – present Member, Blade and Light Society, volunteer Mohs surgery missions
2005 – 2012 Alternate Delegate to American Medical Association House of Delegates, for the American Society for Dermatologic Surgery.
2003 – present American Academy of Dermatology Association, annual Washington Conference, lobbying Congress for health care reform.
2003 – 2004 Membership Committee, American Academy of Dermatology. Successfully suggested new policies that have since been implemented.
December 2003 Member, American College of Mohs Surgery
December 2002 Diplomate, American Board of Dermatology Fellow, American Academy of
Dermatology 2003 Member, American Society for Dermatologic Surgery
2001 Resident Educational Award, sponsored by Ortho Dermatological and the Skin Disease Education Foundation
1998 Election to Alpha Omega Alpha National Medical Honors Society
1989 National Merit Scholarship Winner, sponsor Rockefeller University
1989 U.S. Army educational grant recipient, Computer-Related Engineering and Science Studies (CRESS) Intensive Summer Program
1996 – present International Society for Technology Assessment in Health Care
1999 – present Member, American Academy of Dermatology
ACADEMIC PUBLICATIONS
J. Krant and J. Carucci. "Lipomas and Cysts, Including Pilonidal Cysts", chapter 47, Surgery of the Skin. Robinson, Hanke, Siegel, Sengelmann, eds. Elsevier: 2005.
J. Krant and Y. Lynfield, "Photoclinic: Rheumatoid Nodules", Consultant. Cliggott Publishing: Boston, Vol. 41, No. 12: October 2001. Republished March 2004.
D. Cohen and J. Krant. "Occupational skin diseases associated with cabinetmakers", Chapter in Handbook of Occupational Dermatology. Kanerva L, Elsner P, Wahlberg JE, Maibach HI, eds. Springer Verlag: New York, 2000.
M. Vitale, J. Krant, R. Arons, D. Heitjan, A. Gelijns, E. Flatow, L. Bigliani. "Geographic Variations in the Rates of Operative Procedures Involving the Shoulder, Including Total Shoulder Replacement, Humeral Head Replacement, and Rotator Cuff Repair", Journal of Bone and Joint Surgery. 81-A (6) 763-72, Jun 1999.
J. Krant, "Dermatopathology", Handbook of Subspecialties in Dermatology. Perry Robins MD, ed. 2001.
PRESENTATIONS AND SPECIAL HONORS
January 2005 AAD Leadership Forum. Attended as one of 40 young dermatologists selected for demonstrated promise in future leadership in the field.
October 2003 "Recessive Dystrophic Epidermolysis Bullosa and Malignant Fibrous Histiocytoma: An Unusual Juxtaposition", Poster presented at the Combined Annual ASDS/ACMMSCO Meeting, New Orleans, LA.
February 2002 "A Case of Self-Healing Collodion Baby", Poster Presentation at the 60th Annual AAD Meeting in New Orleans, LA.
2002 – present AAD Washington Conference annual delegate. Lobby Congress on issues including tort reform and Medicare reform. Was the one of the first residents invited to attend, started a trend of others following through active involvement.
February 2001 Hawaii Dermatology Seminar, Resident Educational Award Recipient, Case Presentation as one of 15 resident award recipients from around the U.S.
Healthy Skin Lifestyle & Popular Cosmetic Procedures Anyone Can Start With | LSSCNY Webinar
A Harvard Trained Dermatologist Gives Us Lifestyle Tips On How to Achieve Glowing Skin
Pay Online for Patients of Drs. Geronemus, Anolik, Bae & Seidenberg
Pay Online for Patients of Drs. Abraham, Bernstein, Krant, Shelton, Stern, Weiss, Hoffman, Shim, Murphy-Rose, Wilson, and Petratos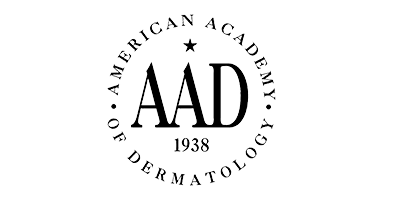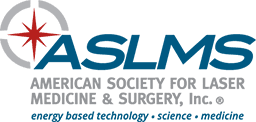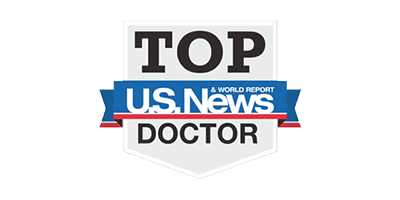 By LASER & SKIN SURGERY CENTER OF NEW YORK® | © 2023 All Rights Reserved. Design & Development by Goldman Marketing Group | Sitemap | Privacy Policy | The information available on this web site is provided for informational purposes only. This information is not intended to replace a medical consultation where a physician's judgment may advise you about specific disorders, conditions and or treatment options. We hope the information will be useful for you to become more educated about your health care decisions. If you are vision-impaired or have some other impairment covered by the Americans with Disabilities Act or a similar law, and you wish to discuss potential accommodations related to using this website, please contact us at (212) 941-5055.
*MDs perform 100% of all medical and cosmetic treatments.
Our board-certified dermatologists in New York City are all fellowship-trained and uniquely trained in lasers and technology, cosmetic and medical dermatology, and skin surgery. Together they are highly acclaimed world experts with thousands of articles published, countless TV and media appearances, and hundreds of years of combined experience.
Our plastic surgeons bring years of experience in helping patients achieve all their aesthetic goals through surgical procedures. Every treatment is fully customized to the precise needs of each patient for results that are natural and beautiful.