Facial Spider Veins
Removal in NYC
Spider veins on the face are thin, damaged veins that connect to the venous system and appear close to the skin's surface. The veins usually do not cause pain but are highly visible due to their red, blue, or purple coloring. The facial veins appear like a web with tiny lines protruding from a vessel.
Laser & Skin Surgery Center of New York specializes in spider veins and has comprehensive treatments to reduce their appearance. With more than 100 lasers and devices, our team of fellowship-trained, board-certified dermatologists and experienced plastic surgeons can treat nearly any skin concern.
Facial Vein Treatments at Laser & Skin Surgery Center of New York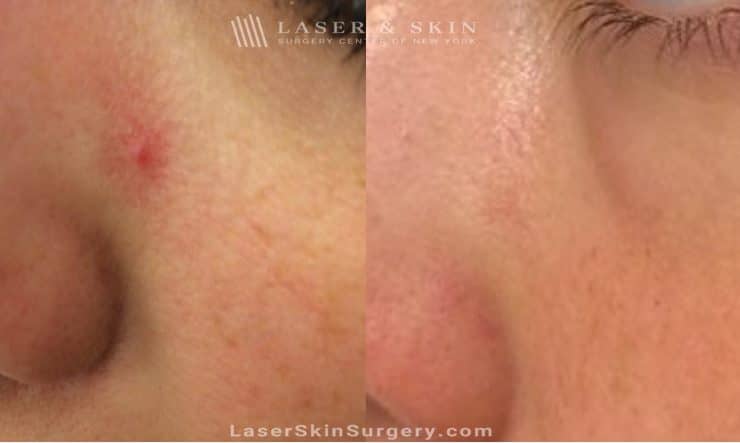 Laser & Skin Surgery Center of New York has several safe and effective treatment options for facial spider veins. We customize treatments to ensure each patient has natural and beautiful results. Some popular options for facial vein removal include:
Excel V laser: Cutera Excel is a vascular laser that can treat facial spider veins. The device has two lasers and multiple treatment settings to personalize treatments for different conditions and skin tones. The laser targets the blood in the spider veins making it coagulate or turn to a more solid state, so the vein collapses from the surface and reabsorbs into the body.
Nd:YAG laser: This Q-switched laser treats different aging symptoms, including vascular lesions. The laser targets the tiny veins without damaging the surrounding skin so it can be reabsorbed into the body.
Vbeam Prima:  Vbeam is a pulsed-dye laser that can reduce the appearance of spider veins. The laser treats the blood inside the vein without harming the skin and tissue. The second wavelength treats blue veins and fine lines, making it a popular and efficient treatment.
Vbeam Perfecta: The pulsed-dye laser uses a cooling spray to minimize discomfort. The laser is a safe treatment for facial spider veins and requires only minimal downtime.
Derma V: This laser delivers the optimal wavelength with the best pulse width for the specific concern being treated. The built-in cooling system keeps the skin protected and outcomes optimal.
Spider Veins on Face Removal Before and After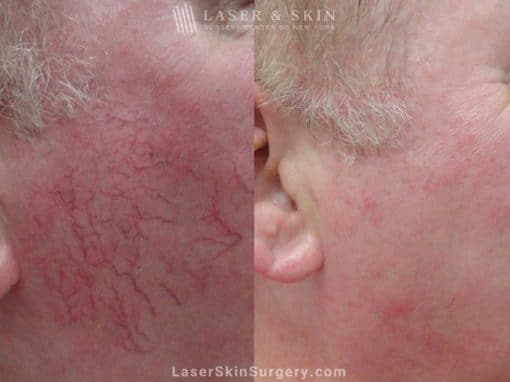 Vascular laser used to treat visible vessels on the cheek
Disclaimer: Results may vary from patient to patient. Results are not guaranteed.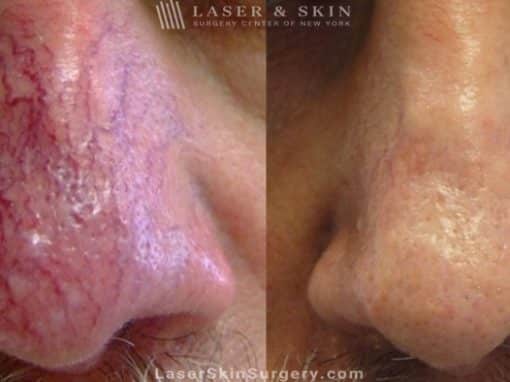 Vascular laser to treat broken or enlarged blood vessels on patient's nose
Disclaimer: Results may vary from patient to patient. Results are not guaranteed.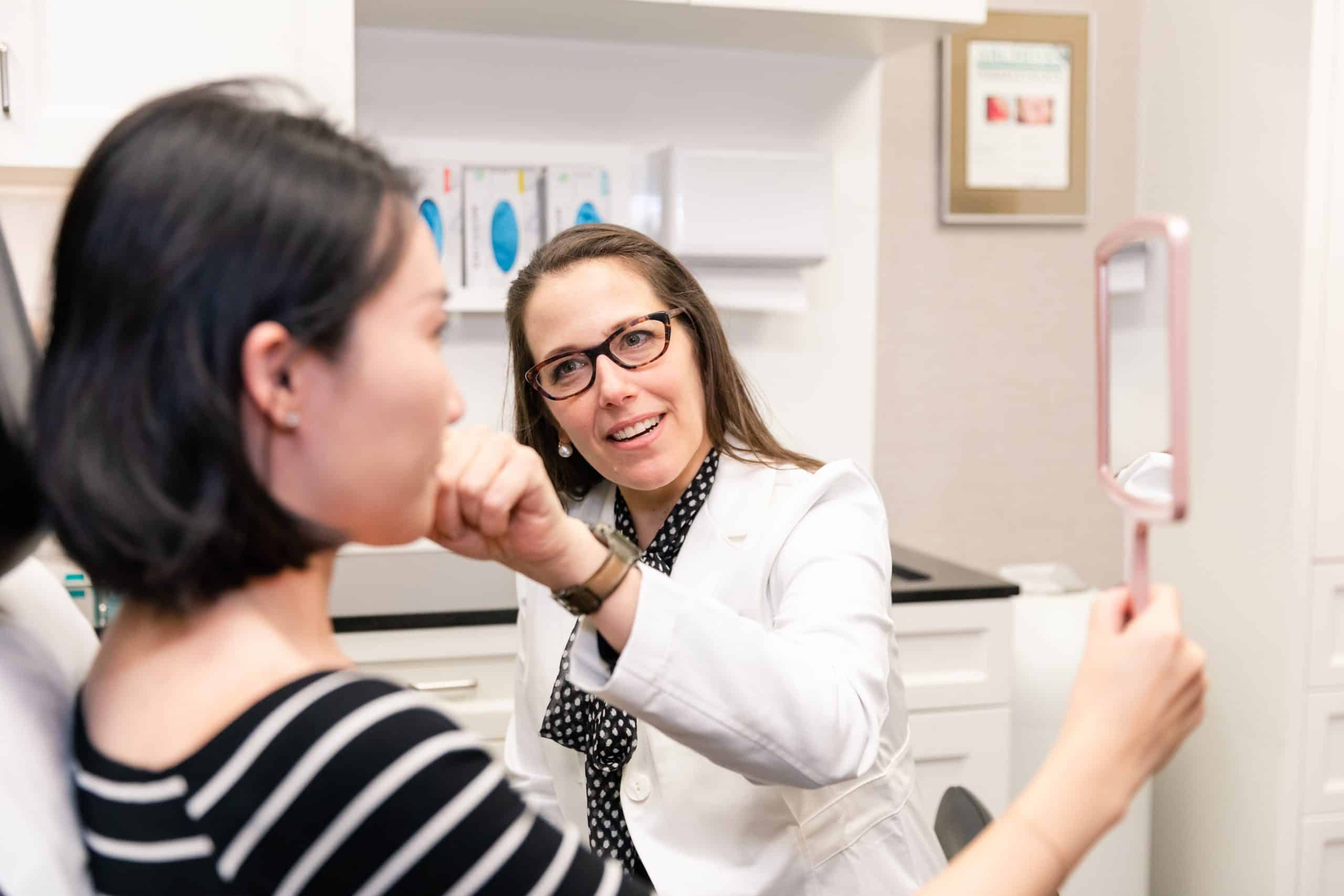 Why Choose Us for Removal of Facial Spider Veins in New York
Laser & Skin Surgery Center of New York is a prestigious practice with highly trained and board-certified dermatologists and experienced plastic surgeons. Our team of experts has access to an extensive range of lasers and devices that allow us to customize treatment plans. Our team is also involved with the latest research and technology developments that help bring lasers, like Vbeam Perfecta, to patients nationwide.
With experience and expertise, our physicians work closely with patients to understand their needs and concerns to treat nearly any skin condition. Facial spider veins are prominent and require precise treatments for beautiful results with minimal downtime and recovery. You can trust our experts for facial spider vein removal in New York.
Q: What Causes Face Veins?
A: Facial spider veins are a common skin condition in many aging men and women. While visible blood vessels can develop at any time, it is more common with age. Common causes of face veins include:
Pregnancy or hormonal changes
Weight gain
Genetics
Some medications
Prolonged sitting or standing
Poor blood circulation
Sun exposure and sun damage
Sudden pressure changes
Head trauma or injuries
Q: What Are the Most Common Areas for Spider Veins to Appear?
A: Spider veins can appear in many areas, but some common locations for spider veins include:
Legs
Face
Chest and abdomen
Hands
Q: Do Facial Spider Vein Treatments Hurt?
A: The lasers used for face vein removal have a topical anesthetic applied before spider vein treatment to minimize discomfort.
Q: How Long Does It Take To See Results?
A: Some patients may see visible results soon after a treatment session, but it is common for complete results to develop within one to two weeks.
Q: How Long Will My Facial Veins Removal Appointment Take?
A: Facial vein removal sessions depend on the severity of the condition and the size of the treatment area. Patients can expect most sessions to take less than an hour, making it an easy treatment during your lunch break.
Q: How Long is the Recovery After Treatment?
A: Downtime after a face vein treatment is minimal, and most patients can immediately return to normal daily activities. Some patients may experience slight side effects such as swelling, redness, or bruising that should dissipate within one to two days.
Q: Am I A Good Candidate for Facial Vein Removal?
A: Men and women in good health with visible facial veins may be a candidate for facial vein removal.
Q: How Long Will Results Last?
A: Results depend on the laser used, but many treatments have long-lasting improvements. Patients can see results for six months to a year.
Q: How Can I Prevent Facial Spider Veins?
A: Patients can prevent facial spider veins by:
Maintaining a healthy weight
Moving throughout the day to promote blood flow
Compression socks or leg elevation
Sun protection like sunscreen, hats, and glasses
Limiting exposure to high temperatures like saunas and hot tubs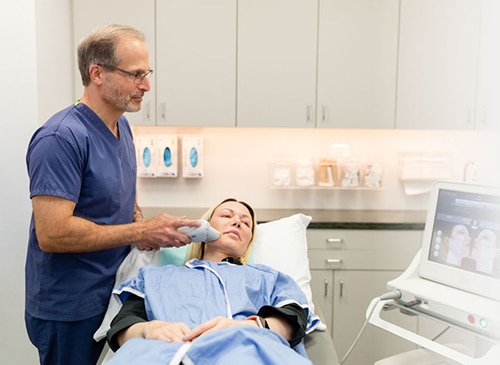 The skin's underlying structure degrades over time, leading to skin laxity and sagging skin. Collagen, the essential protein in our skin, begins to decline as early as our 20s, leaving skin without support from within. Restoring collagen helps to restore the skin's youthful vitality.
Wrinkles are a common and unwanted sign of aging. As you age, your body produces less collagen, creating saggy and wrinkly looking skin. Our customized strategies to combat wrinkles include laser resurfacing, dermal fillers, and wrinkle relaxers.
Age spots and brown spots (also known as sunspots, liver spots, and lentigines) are a consequence of aging and sun exposure. The most effective treatment for eliminating these spots and other skin pigmentation is laser therapy, which usually includes little to no downtime after treatment. 
WHAT you are looking for?
Our 30,000+ sq foot dermatology center in New York is the most comprehensive, state-of-the-art laser and cosmetic skin surgery center in the world. Over the past 30 years we have contributed to the development and testing of many devices, fillers and treatments that are now standard care, so our patients know they are always receiving the most innovative, cutting-edge treatment available.
Pay Online for Patients of Drs. Geronemus, Anolik, Bae & Seidenberg
Pay Online for Patients of Drs. Abraham, Bernstein, Krant, Shelton, Stern, Weiss, Hoffman, Shim, Murphy-Rose, Wilson, and Petratos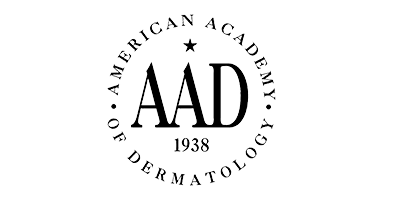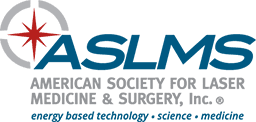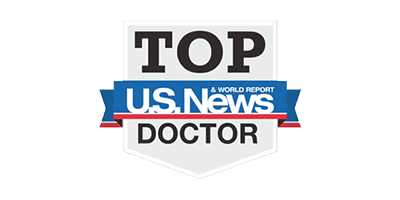 By LASER & SKIN SURGERY CENTER OF NEW YORK® | © 2023 All Rights Reserved. Design & Development by Goldman Marketing Group | Sitemap | Privacy Policy | The information available on this web site is provided for informational purposes only. This information is not intended to replace a medical consultation where a physician's judgment may advise you about specific disorders, conditions and or treatment options. We hope the information will be useful for you to become more educated about your health care decisions. If you are vision-impaired or have some other impairment covered by the Americans with Disabilities Act or a similar law, and you wish to discuss potential accommodations related to using this website, please contact us at (212) 941-5055.
*MDs perform 100% of all medical and cosmetic treatments.
Our board-certified dermatologists in New York City are all fellowship-trained and uniquely trained in lasers and technology, cosmetic and medical dermatology, and skin surgery. Together they are highly acclaimed world experts with thousands of articles published, countless TV and media appearances, and hundreds of years of combined experience.
Our plastic surgeons bring years of experience in helping patients achieve all their aesthetic goals through surgical procedures. Every treatment is fully customized to the precise needs of each patient for results that are natural and beautiful.