Laser & Skin Surgery Center of New York is proud to offer a revolutionary laser acne treatment that utilizes both the Excel V and the Q-switched Nd:YAG laser to produce an optimal outcome with minimal discomfort and downtime. The Isolaz laser is also an effective acne treatment.
Results Duration: Long Lasting
Treats:
Active acne, inflammatory acne, and acne scarring
Side Effects:
Slight redness and swelling for a few days after treatment
Location:
Primarily used on the face, chest and back
Follow Up:
Several treatments may be required to achieve an optimal outcome
How Performed:
Lasers send targeted energy into the dermal layers to address breakouts, bacteria production, and scarring
Preparation:
Topical anesthetic available
Expected Outcome:
Breakouts are treated and future breakouts prevented, while there is a visible reduction in acne scarring
Onset:
Will see improvement after one treatment, full results visible after treatment series is completed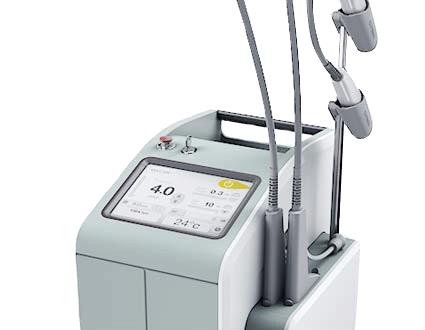 Acne vulgaris is a skin condition with many manifestations including clogged pores, large inflammatory papules, and recurrent cysts. Acne can occur at all ages. A variety of medical and laser treatment options can improve this condition. We are pleased to offer a new treatment for inflammatory acne and acne scarring simultaneously. This new technique which utilizes both the Excel V and Q-switched Nd:YAG laser is a safe and effective treatment with minimal discomfort and downtime.
Other laser options include the Smoothbeam laser, which targets oil glands and clogged pores. The Isolaze device applies suction and light to clean pores as well as treat acne-causing bacteria. Photodynamic therapy can also improve acne. Photodynamic therapy involves applying a topical solution that moves through the pores to target acne-causing bacteria. The light source is then applied to the photosensitive product to kill the bacteria and shrink pores.
Several treatments are usually required to improve acne, but the results can be long-lasting. All of these treatments are well tolerated with few side effects.
How does Laser Acne Treatment Work?
The devices we use to address active acne and acne scarring work deep into the dermal structure to treat the bacteria that is the source of the breakouts. By destroying the bacteria and minimizing pore size, we can effectively stop the process that leads to the formation of pimples, nodules, and inflammation. As the bacteria are significantly reduced, we can achieve long-term results from these treatment sessions.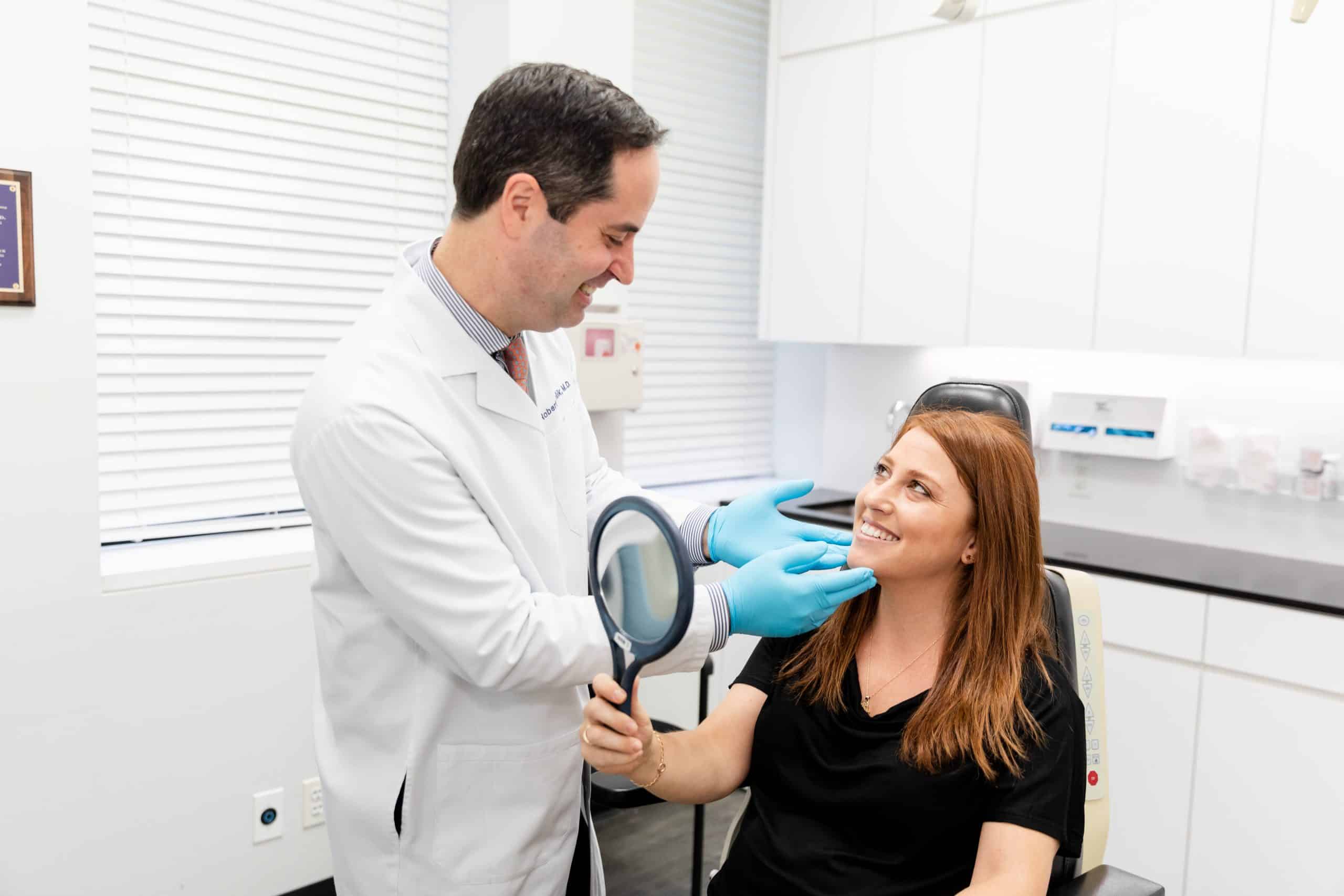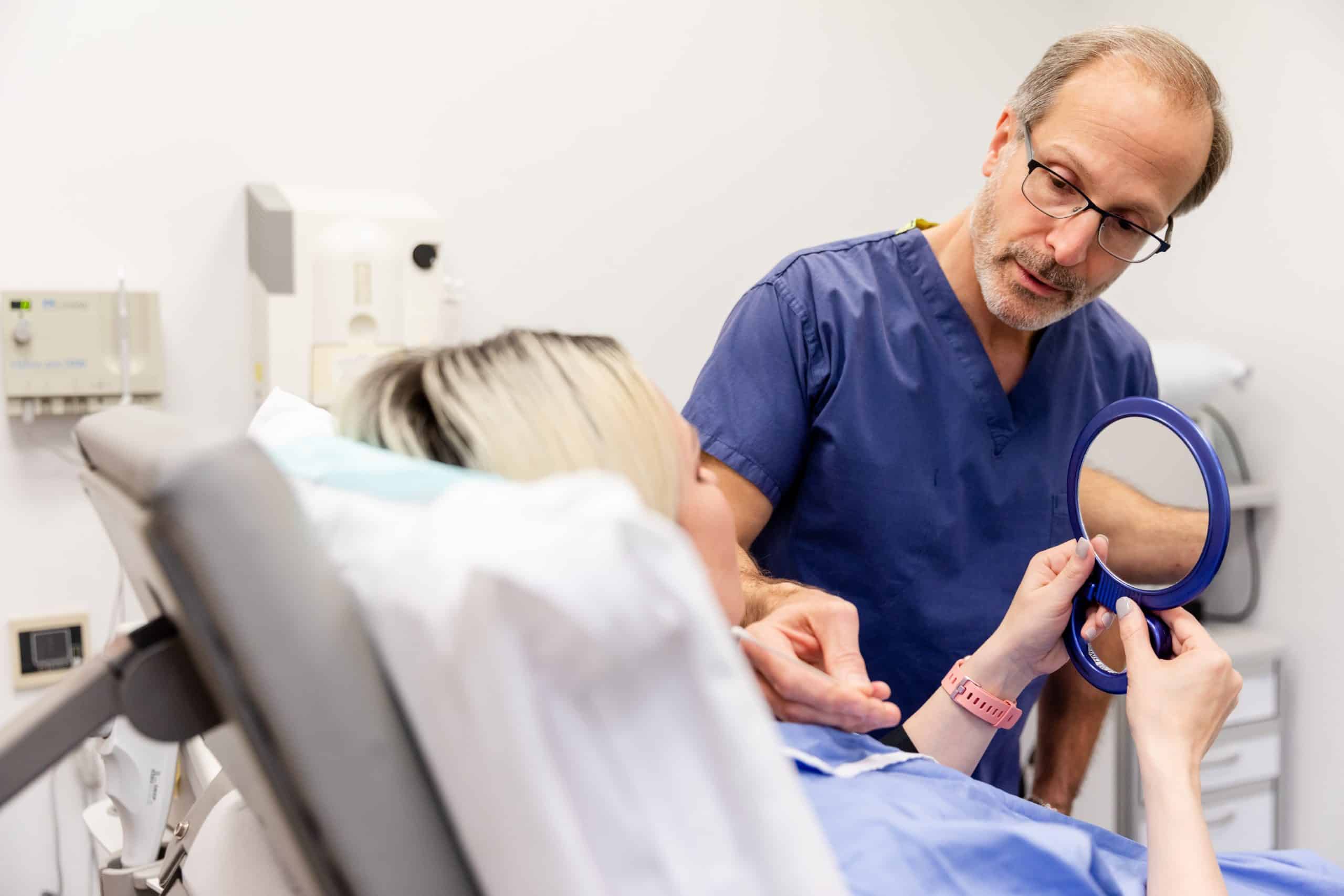 Does Laser Acne Treatment Hurt?
All of the acne treatments we perform are relatively comfortable and require minimal downtime afterward. When appropriate, we will apply a topical numbing cream prior to treatment to reduce potential discomfort during the procedure. 
Acne treatments generally involve a combination of treatments as well as a series of treatment sessions to achieve the best possible outcome. While you will likely see improvement throughout the process, full results will become apparent once your initial treatment plan is completed. 
How Long is the Recovery Time After Treatment?
Specific recovery times may vary from procedure to procedure. However, all of the treatments we offer for acne involve minimal discomfort and downtime overall. Your doctor will let you know what you can expect during and after your treatment and provide you with post-treatment instructions to care for your skin and ensure proper healing when appropriate.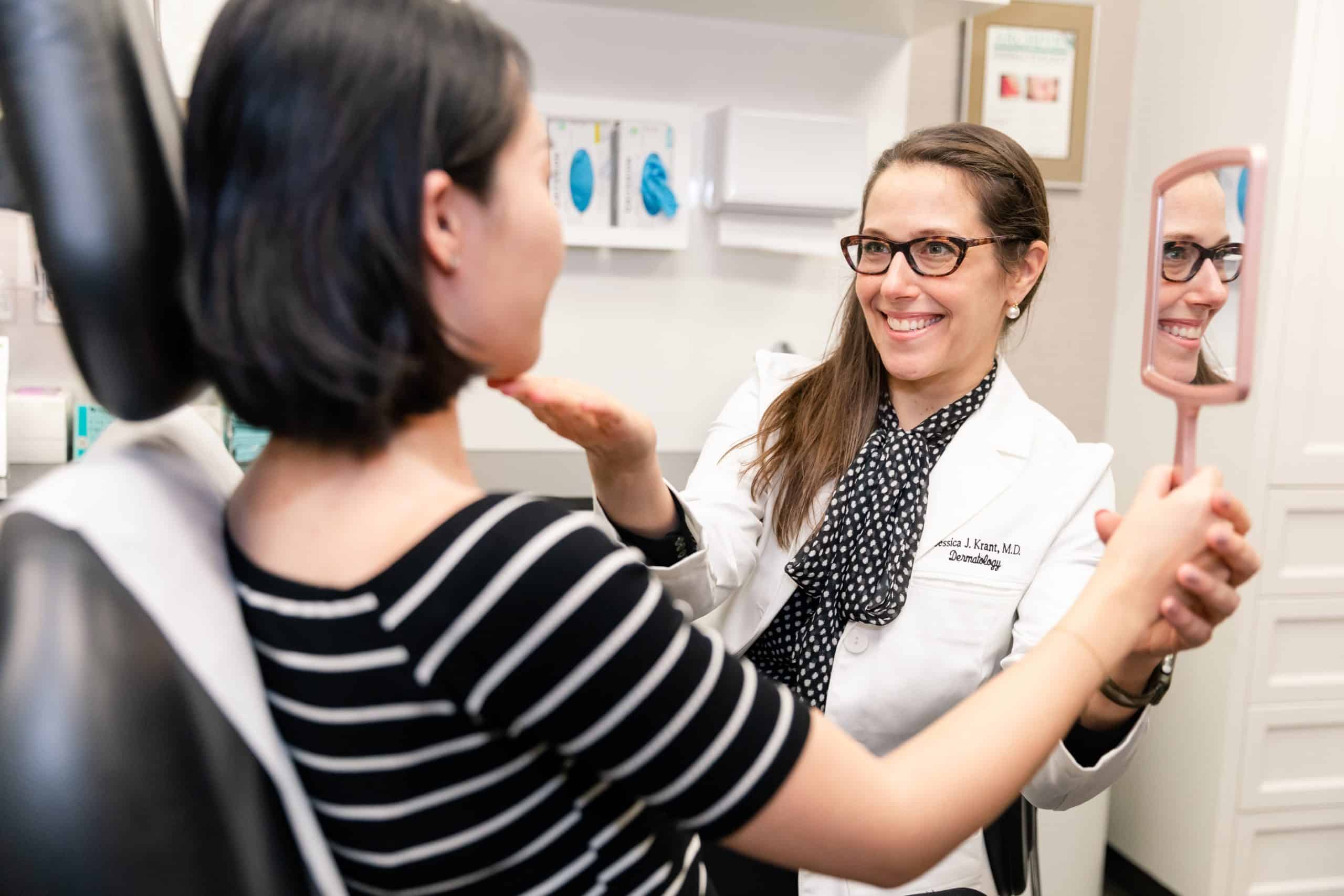 Publications
"Treatment of Atropic Facial Acne Scars with the 1064nm Q-switched Nd:YAG Laser." Arch Dermatol. 2004 Nov.
"Treatment of Atrophic Facial Acne Scars With Microneedling Followed by Polymethylmethacrylate-Collagen Gel Dermal Filler." Dermatologic Surgery, 2019 Dec.
"Acne scarring: A review of available therapeutic lasers." Lasers in Surgery and Medicine, 2016 Feb.
"Use of a picosecond pulse duration laser with specialized optic for treatment of facial acne scarring." JAMA Dermatology, 2015 March.
"Successful Treatment of Acneiform Scarring with CO2 Ablative Fractional Resurfacing." Lasers in Surgery and Medicine, 2008 August.
"Ablative Fractional Resurfacing of Acne Scars." Lasers Surg. Med. 2008.
"Treatment of Atropic Facial Acne Scars with the 1064nm Q-switched Nd:YAG Laser." Arch Dermatol. 2004 Nov. 
Real Patients Before and After photos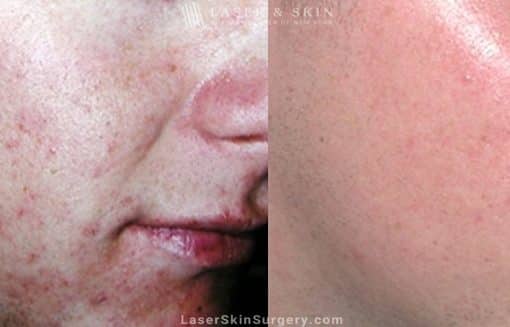 Laser to reduce appearance of acne scarring
Disclaimer: Results may vary from patient to patient. Results are not guaranteed.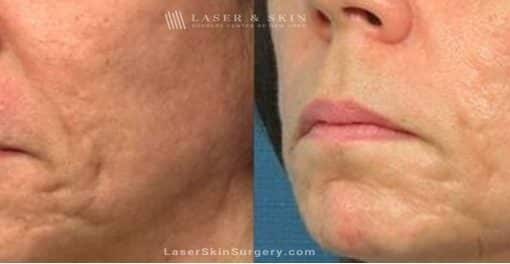 Fraxel Laser Treatment For Facial Acne Scarring
Disclaimer: Results may vary from patient to patient. Results are not guaranteed.
Laser Acne Treatment In The News
Do Men Receive Laser Acne Treatment?
Yes. Men benefit from all types of laser treatments, just like women do. According to the American Society of Plastic Surgeons, more than 75,000 men received laser skin resurfacing treatments in 2018. Since more men are prone to acne conditions during the teen years than women, we treat many male patients using our revolutionary program. Our doctors have the ability to customize treatments not just to the precise condition, but also to the unique properties of male skin, to achieve the best possible results.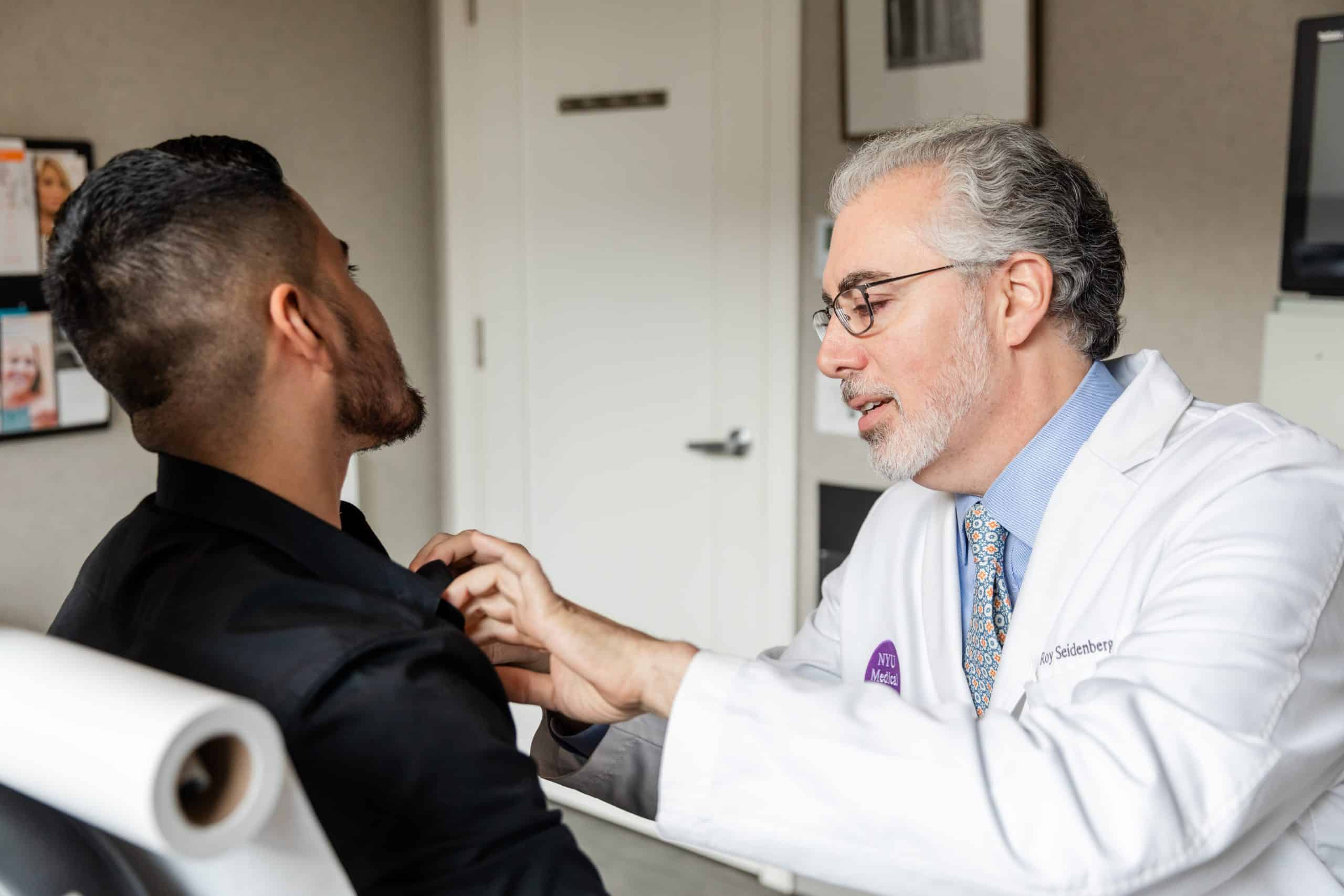 Q: What Devices Do You Use For Laser Acne Treatment?
A: The 2 devices we frequently use together to treat acne and acne scarring are the Excel V laser and the Q-switched nd:YAG laser. This has proven to be a safe and effective acne treatment with minimal discomfort and downtime. Other procedures that we might add to your acne treatment plan include photodynamic therapy, the Isolaze, and the Smoothbeam laser. If redness is also a problem, we might add the Vbeam Perfecta to your treatment regimen.
Q: What Is The Excel V?
A: With a powerful 532 nm KTP laser and two 1064 nm nd:YAG laser modes, the Cutera Excel V™ system offers the ability to treat a wide range of vascular conditions in a single system, along with efficient cooling and excellent visibility of the treatment area.
Q: What Is The Q-switched Nd:YAG laser?
Q: Are There Any Side Effects?
A: Side effects will vary slightly from device to device. Rest assured that all of the treatments we offer for acne and acne scarring feature minimal risk and side effects. If you do experience symptoms after your procedure, they are likely to be mild and temporary. 
Q: What Is The Recovery Time After Laser Acne Treatment?
A: Recovery time also varies from device to device. However, none of the treatments we use to treat acne requires much downtime afterward. In most cases, you will be able to return to your regular activities right away. Keep in mind that laser treatments do leave the skin more vulnerable to sun damage, so be sure to protect your skin consistently to avoid potential complications. 
Scars are often unwanted reminders of medical conditions, injuries, trauma, or surgery. When they are noticeable, they can also lead to significant embarrassment and self-esteem. Fortunately, there are ways to treat scars today that do not involve incisions, anesthesia, and downtime.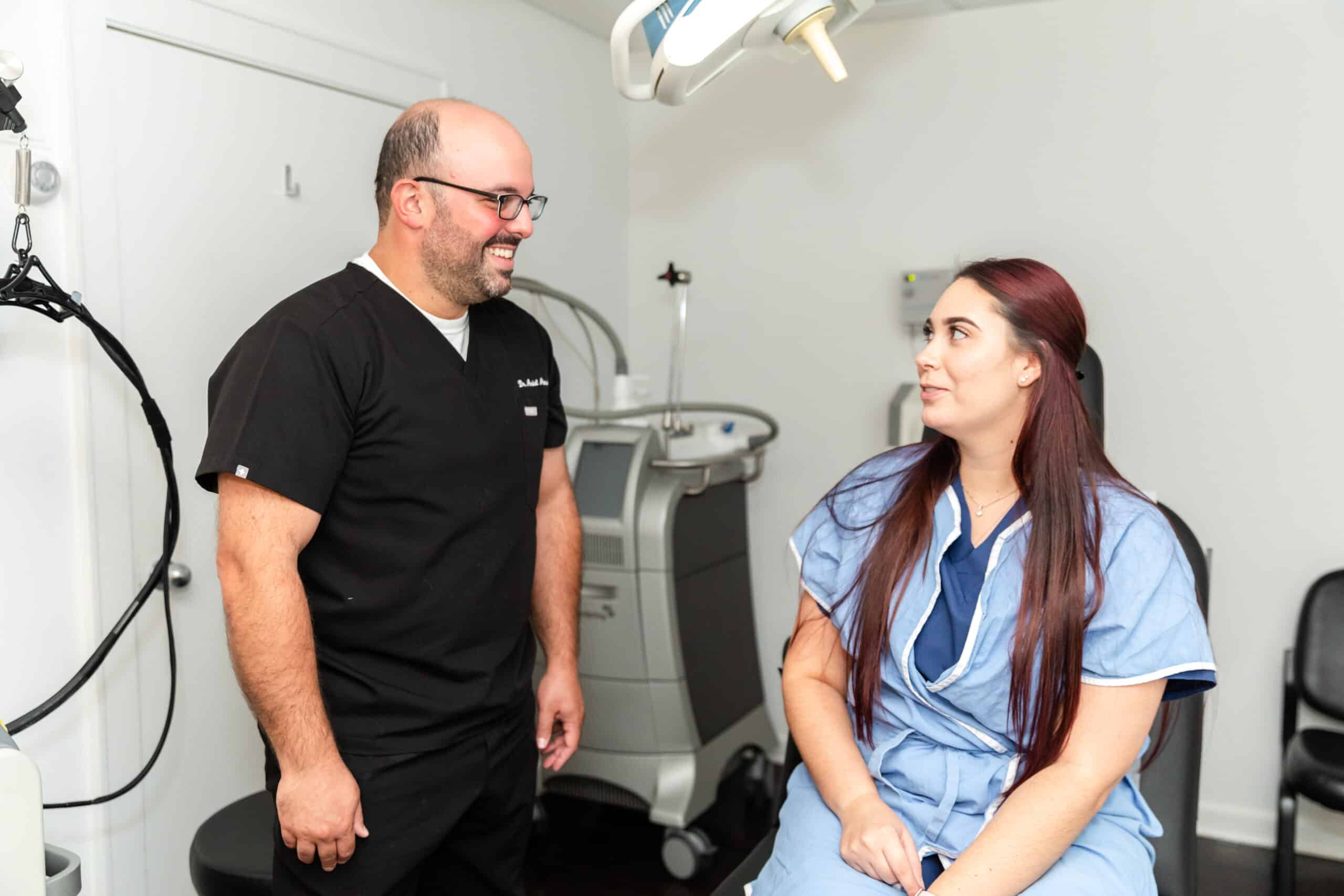 Body contouring addresses stubborn fat, skin laxity, or cellulite. Our board-certified physicians have been involved in clinical trials to develop new technology that provides superior treatment options. We offer treatments for cellulite, skin tightening, and fat reduction.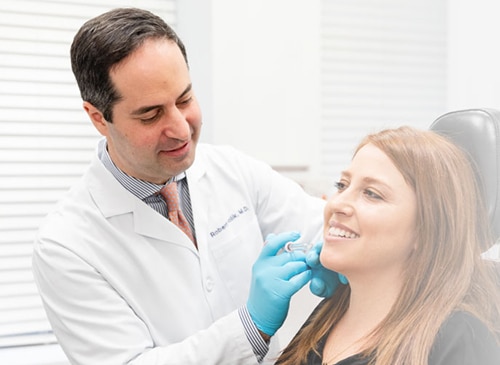 Laser & Skin Surgery Center of New York's filler treatments are always performed by board-certified physicians who have extensive experience with injectables. When you come to us for cosmetic care, you can be confident that you can safely achieve a perfectly natural look.
WHAT you are looking for?
Our 30,000+ sq foot dermatology center in New York is the most comprehensive, state-of-the-art laser and cosmetic skin surgery center in the world. Over the past 30 years we have contributed to the development and testing of many devices, fillers and treatments that are now standard care, so our patients know they are always receiving the most innovative, cutting-edge treatment available.
Pay Online for Patients of Drs. Geronemus, Anolik, Bae & Seidenberg
Pay Online for Patients of Drs. Abraham, Bernstein, Krant, Shelton, Stern, Weiss, Hoffman, Shim, Murphy-Rose, Wilson, and Petratos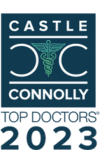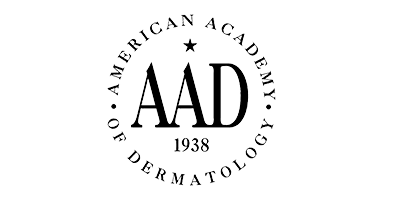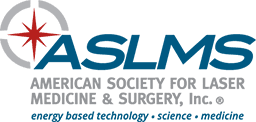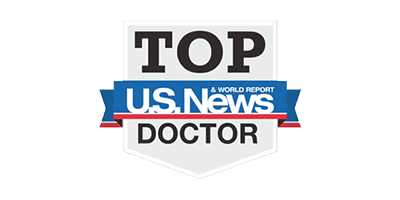 By LASER & SKIN SURGERY CENTER OF NEW YORK® | © 2023 All Rights Reserved. Design & Development by Goldman Marketing Group | Sitemap | Privacy Policy | The information available on this web site is provided for informational purposes only. This information is not intended to replace a medical consultation where a physician's judgment may advise you about specific disorders, conditions and or treatment options. We hope the information will be useful for you to become more educated about your health care decisions. If you are vision-impaired or have some other impairment covered by the Americans with Disabilities Act or a similar law, and you wish to discuss potential accommodations related to using this website, please contact us at (212) 941-5055.
*MDs perform 100% of all medical and cosmetic treatments.