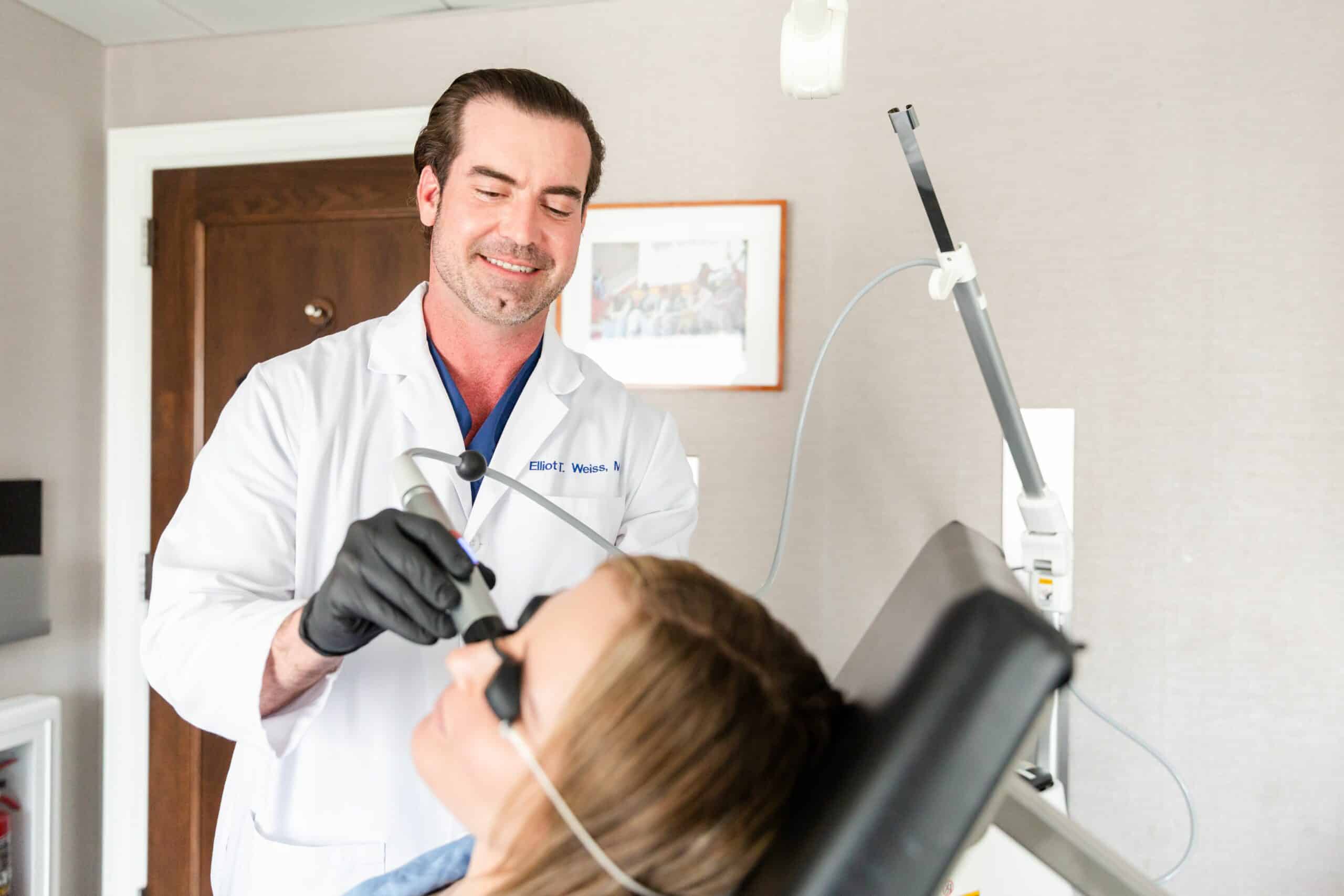 Homepage // Blog / The Ultimate Guide to Laser Treatment for Shrinking Pores
The Ultimate Guide to Laser Treatment for Shrinking Pores
Laser treatments can effectively address many skin concerns, including the appearance of large pores. Let's explore various laser treatments to help shrink pores on the face and give you smoother, more youthful-looking skin. Whether you have acne, oily skin or want to improve the texture and tone of your complexion, laser treatments may be the solution for your cosmetic concerns.
Laser & Skin Surgery Center of New York is a world-class dermatology and plastic surgery center with advanced, fellowship-trained physicians. The facility has more than 100 lasers and devices to treat nearly every skin condition and help patients gain confidence in their appearance.
Types of Lasers for Minimizing Pores
When it comes to laser treatments designed to shrink pores, there are a few options to consider:
Fraxel: Fractional lasers like Fraxel re:store and re:pair work in the dermal layer of skin to increase collagen and elastin production. These proteins are vital for skin structure and healthy cells. Fraxel lasers disperse energy in a gridlike pattern to treat small sections. The laser stimulates the body's natural healing process, producing healthy cells and improved skin texture. Initial improvements are typically visible within one week and can last for up to one year with proper care.
Nd:YAG: This Q-switched laser has multiple wavelength options, making it ideal for large pores and pigmentation irregularities. The rapid pulses break up melanin and other impurities in the skin without damaging surrounding tissue. Some patients need multiple sessions, but the results are long-lasting and visible within one week.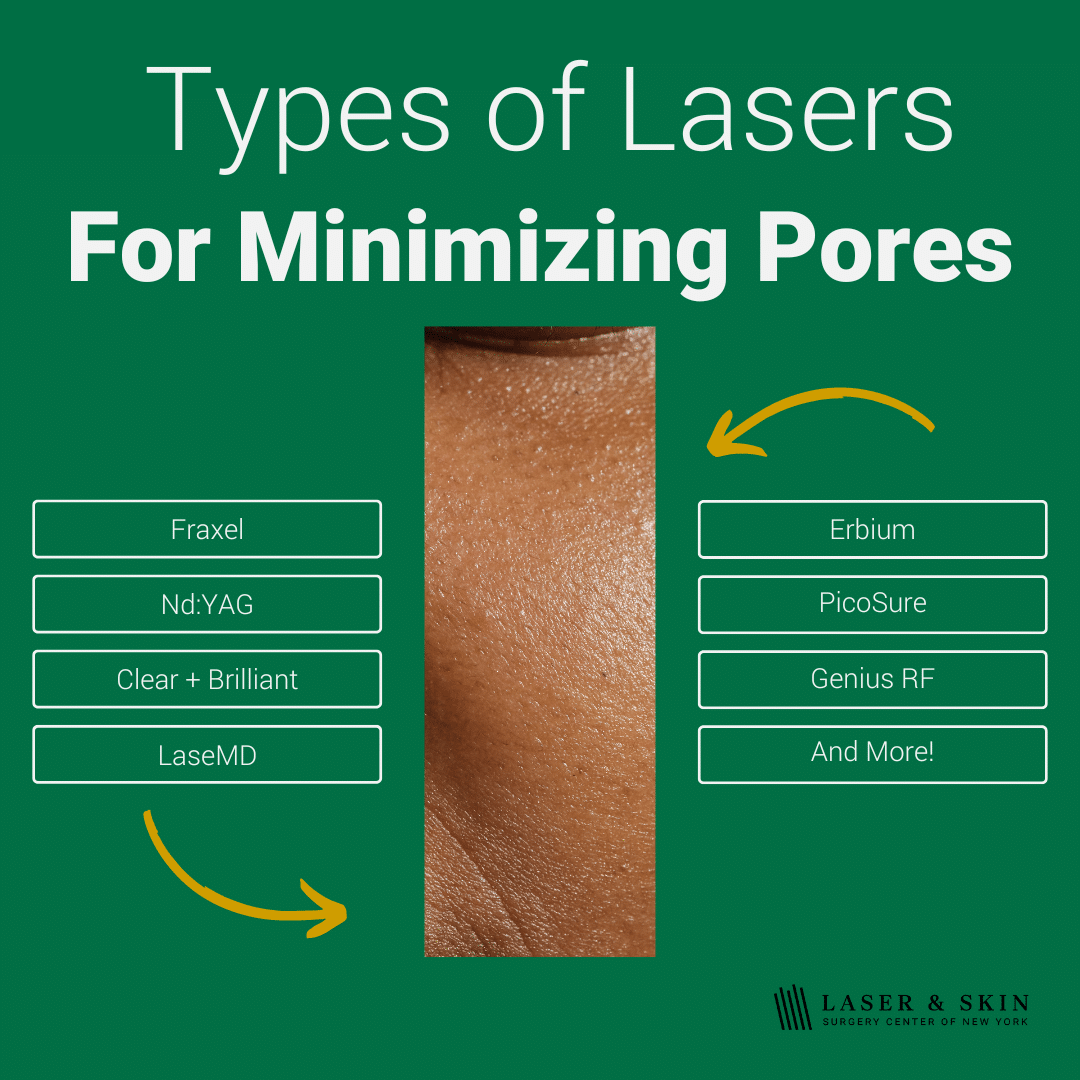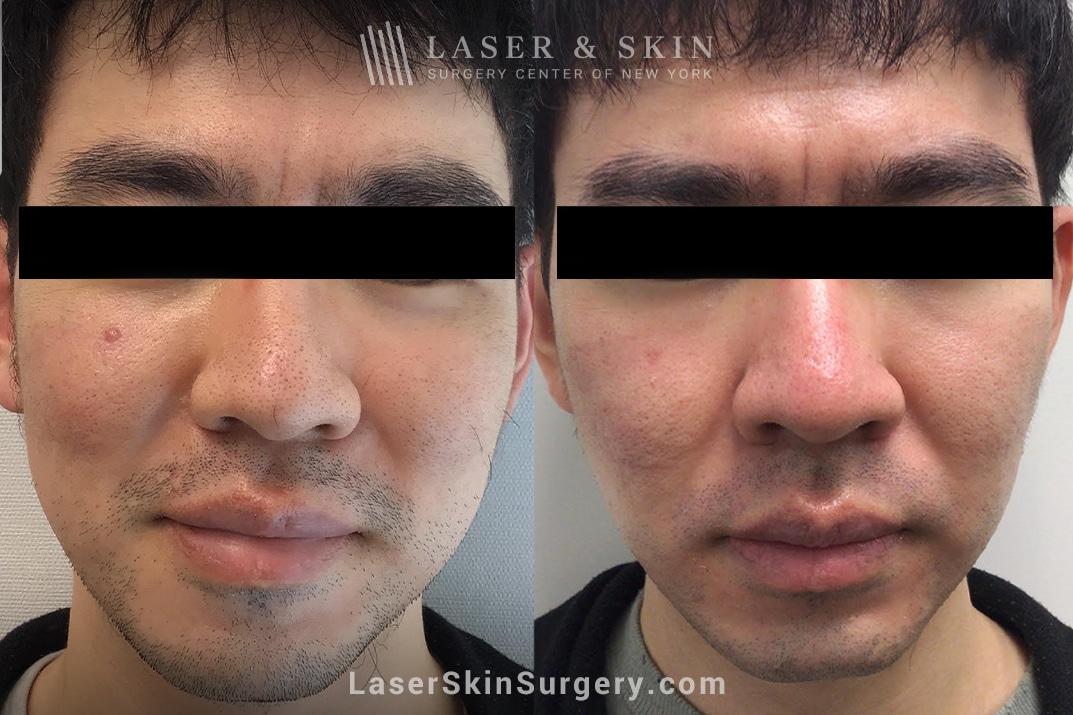 Clear + Brilliant: This fractional laser has two wavelength options to target fine lines, dull skin, and pigmentation concerns. It treats microscopic zones to replace damaged cells in the upper skin layers, producing healthy cells and smaller pores. It is ideal for men and women looking for minimal downtime and mild side effects, like redness and inflammation. Results are visible soon after treatment and improve as the skin heals for a brighter complexion and even tone.
LaseMD: Another fractional laser, LaseMD works on a cellular level to kickstart the skin's natural healing and increase cell turnover. The non-ablative laser creates microchannels in the skin, spurring collagen production deep in the dermal with minimal discomfort. Your skin may look red after treatment for several days, but improvements develop quickly.
Erbium: This laser works by vaporizing water in the skin cells and removing micro-layers of the skin. The fractional laser makes microchannels to stimulate collagen production and produce a more youthful complexion and visible improvement in pore size, lines, and scarring. Initial improvements are visible as collagen increases, with complete results in a few weeks. Healing can take 1-2 weeks, depending on the intensity of the treatment.
PicoSure: This innovative laser uses short energy bursts to treat acne scarring, pigmentation, and skin texture. As the skin heals, the complexion will appear brighter with smaller pores, and side effects are minimal, allowing patients to return to daily activities.
Genius RF: This laser microneedling combination delivers radiofrequency energy into micro-wounds in the skin to trigger the skin's natural healing response in the dermal layers. The healing process boosts collagen production, and as the skin recovers, new cells make the skin smoother and firmer. Results are visible within 3-6 months with minimal downtime and side effects.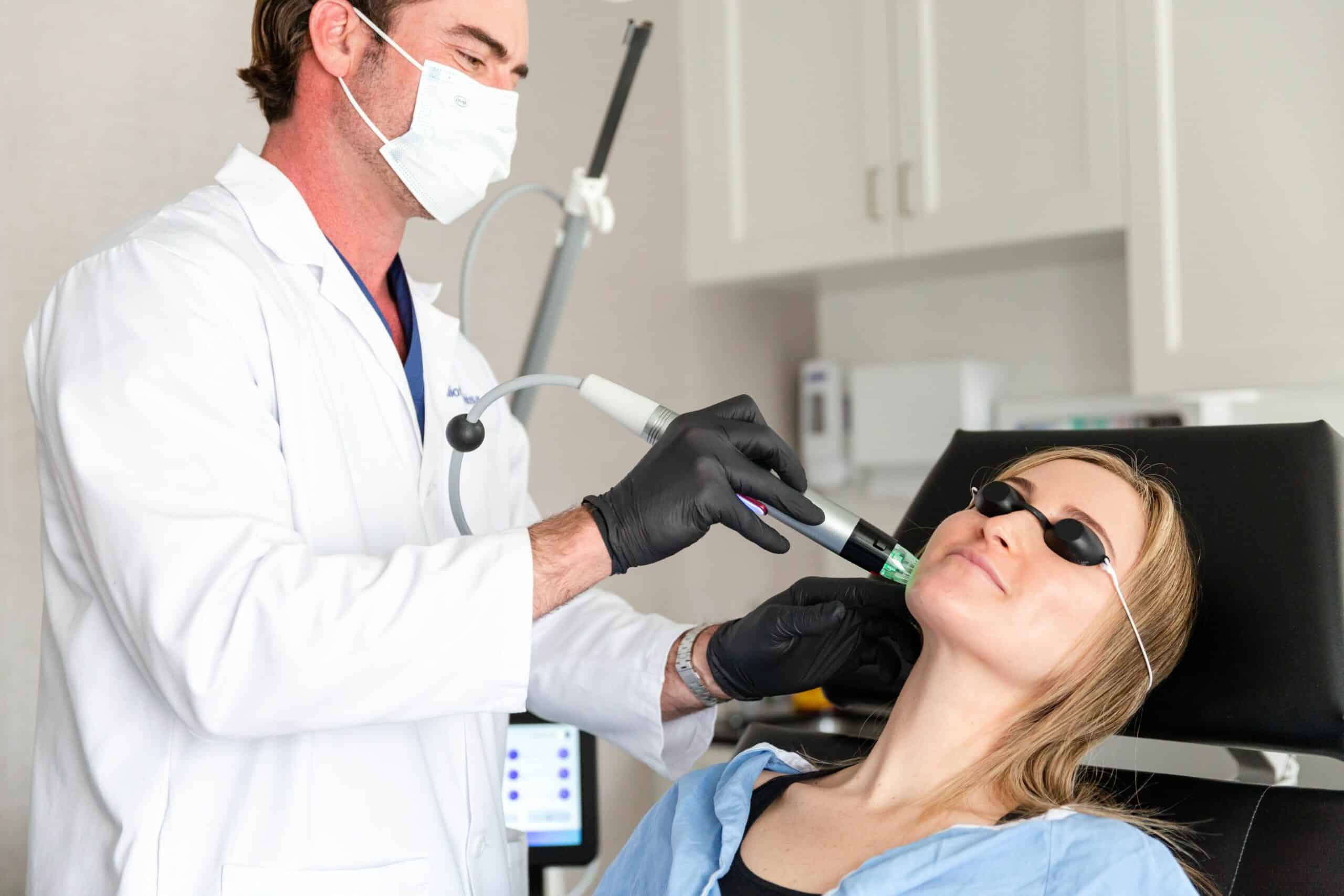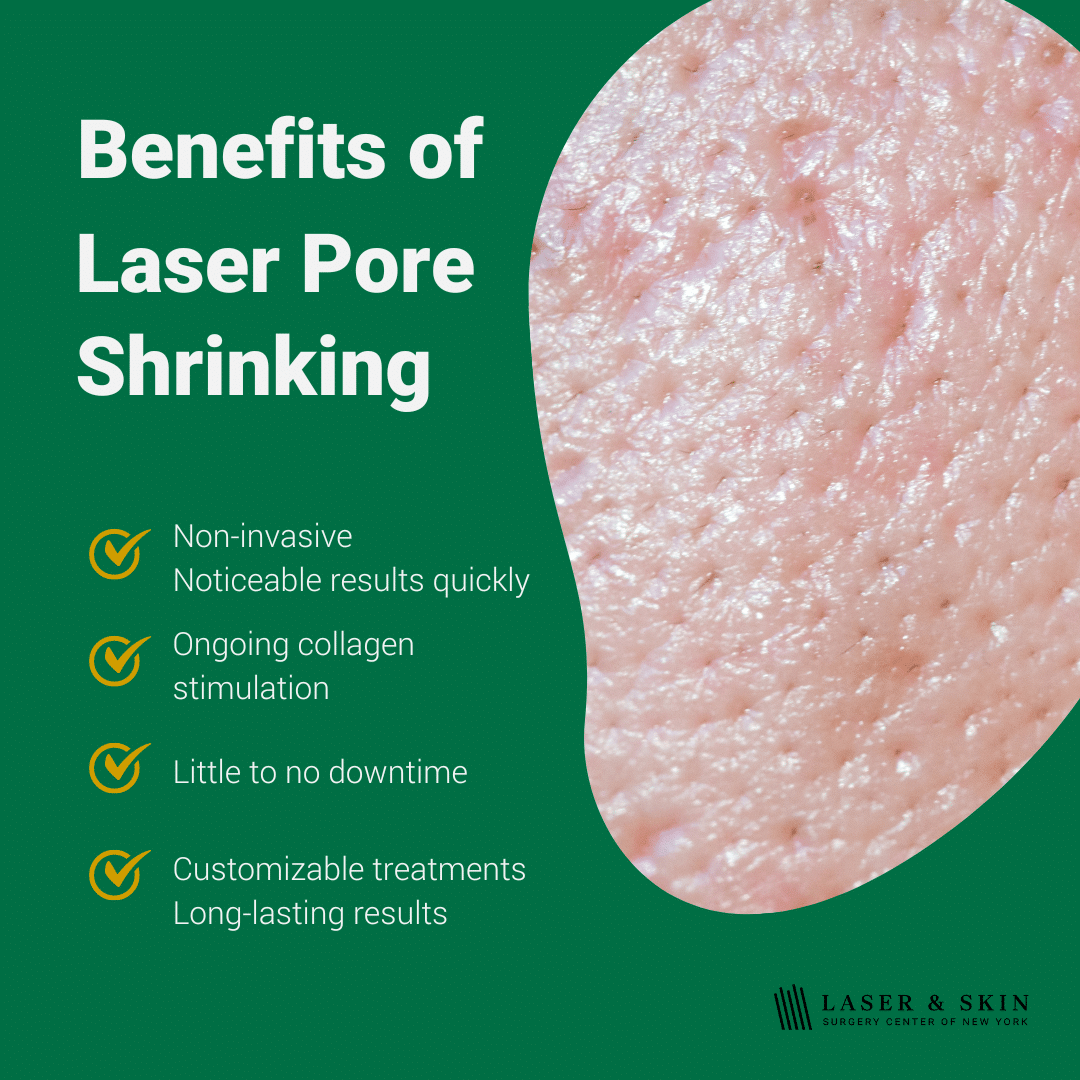 Pros and Cons of Using Lasers to Shrink Pores
Pros

Cons

Non-invasive
Noticeable results with only a few treatments
Ongoing collagen stimulation
Minimal to no downtime
Customizable treatments that can be tailored to your specific skin type and needs
Potential long-lasting results with proper maintenance

Potential scarring or hyperpigmentation when performed by an inexperienced provider
Possible infection if aftercare instructions aren't followed
May require multiple treatments
It is crucial to choose a board-certified dermatologist who can properly assess your skin type and determine the best course of treatment. It is also essential to follow all pre and post-treatment instructions carefully to minimize potential risks or poor results.
Laser Treatment for Specific Skin Types
Lasers are safe and effective treatments for all skin types. Describing your skin type and discussing specific concerns can help your dermatologist recommend the best laser for your needs. Skin type is important when determining treatment because patients with oily skin can be more prone to larger pores and can maintain results with regular laser sessions.
Alternatives to Laser Treatment for Pores
In addition to laser treatments, there are alternative treatment options to consider for shrinking pores. One popular method is chemical peels, which involve applying a chemical solution to exfoliate and rejuvenate the complexion. Another option is microneedling, which uses tiny needles to create micro-injuries in the skin, stimulating collagen and elastin production. In some cases, topical treatments like retinoids can also help improve the appearance of pores.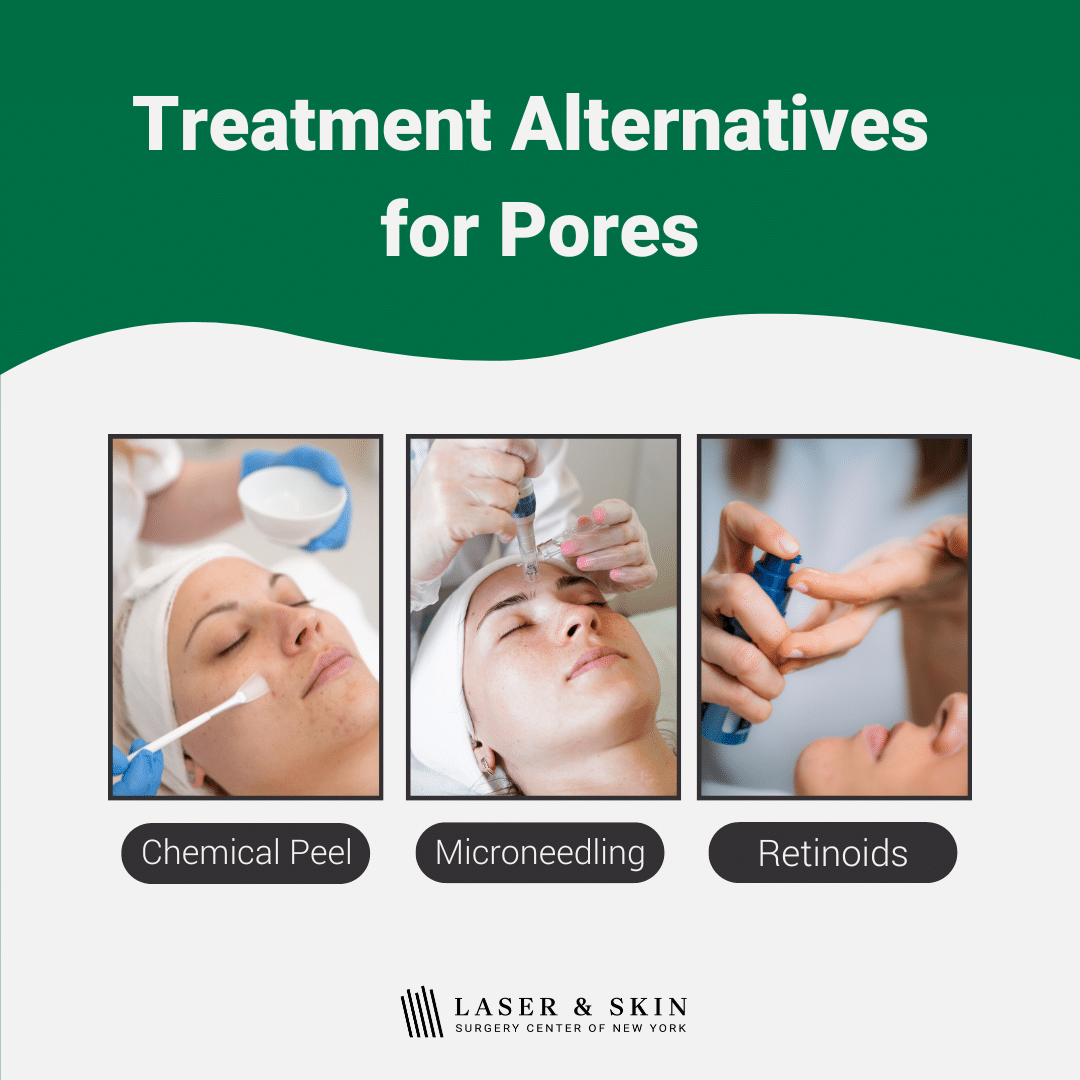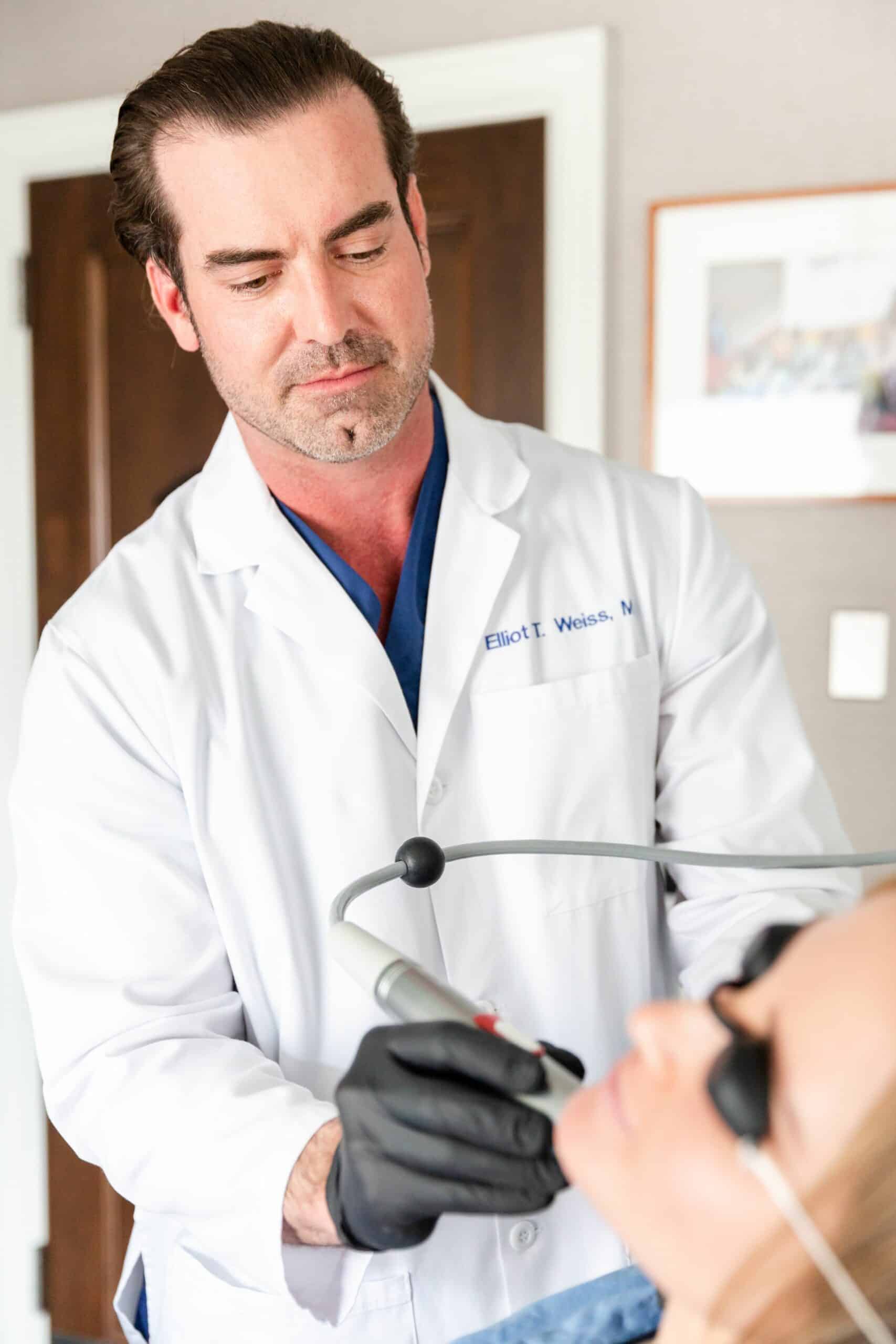 What to Expect During Laser Pore Treatment?
Initial Consultation
Our board-certified dermatologists evaluate your skin's condition, discuss your expectations, and explore potential treatment options that align with your goals.
Pre-treatment Preparation
We provide individualized guidance on preparing your skin for the procedure, helping to minimize potential side effects and ensure optimal results.
The Treatment
Using advanced laser technology, our skilled doctors precisely target your pores. You may feel a mild tingling or snapping sensation. To enhance your comfort, your dermatologist may administer a local anesthetic or apply a topical numbing cream. The duration of the treatment varies based on factors such as the device employed, the specific pores treated, and your skin type.
Aftercare Instructions
Following your treatment session, you'll receive detailed instructions for post-treatment care. These guidelines are designed to facilitate optimal healing and maximize the effectiveness of the procedure.
Ongoing Monitoring
Regular follow-up appointments are scheduled to monitor your skin's progress. This proactive approach allows us to make any necessary adjustments to your treatment plan, ensuring that you're on track to achieve your desired outcome.
Potential Risks and Complications
Side effects may include the following:
Redness
Swelling
Blistering
In rare cases, scarring or hyperpigmentation can occur, but you can minimize these effects by partnering with an experienced dermatologist for your laser treatments.
Schedule Your Pore Shrinking Laser Treatment in New York
Laser & Skin Surgery Center of New York in Manhattan and Southampton is a leading skin treatment center with board-certified dermatologists specially trained in lasers and energy-based devices.
Contact us to schedule a consultation and learn more about a custom treatment plan to minimize pores.
Homepage // Blog / Expert dermatologists answer the most popular questions about laser skin resurfacingLaser skin resurfacing procedures can seem overwhelming for first-time patients. With various lasers and devices, brands, potential side effects, and treatment...
Pay Online for Patients of Drs. Geronemus, Anolik, Bae & Seidenberg
Pay Online for Patients of Drs. Abraham, Bernstein, Krant, Shelton, Stern, Weiss, Hoffman, Shim, Murphy-Rose, Wilson, and Petratos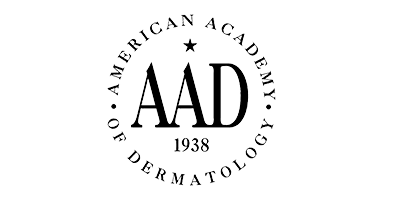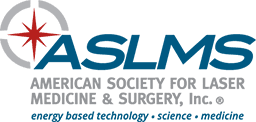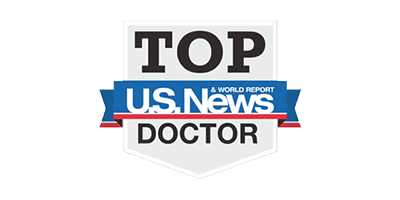 By LASER & SKIN SURGERY CENTER OF NEW YORK® | © 2023 All Rights Reserved. Design & Development by Goldman Marketing Group | Sitemap | Privacy Policy | The information available on this web site is provided for informational purposes only. This information is not intended to replace a medical consultation where a physician's judgment may advise you about specific disorders, conditions and or treatment options. We hope the information will be useful for you to become more educated about your health care decisions. If you are vision-impaired or have some other impairment covered by the Americans with Disabilities Act or a similar law, and you wish to discuss potential accommodations related to using this website, please contact us at (212) 941-5055.
*MDs perform 100% of all medical and cosmetic treatments.
Our board-certified dermatologists in New York City are all fellowship-trained and uniquely trained in lasers and technology, cosmetic and medical dermatology, and skin surgery. Together they are highly acclaimed world experts with thousands of articles published, countless TV and media appearances, and hundreds of years of combined experience.
Our plastic surgeons bring years of experience in helping patients achieve all their aesthetic goals through surgical procedures. Every treatment is fully customized to the precise needs of each patient for results that are natural and beautiful.