SculpSure is a nonsurgical method of body contouring that uses laser energy to eliminate unwanted fat cells and create a smoother, leaner contour.
Results Duration: Long-Lasting
Treats:
Unwanted fat from various areas of the body, including under the chin, abdomen, love handles, back, and thighs
Side Effects:
Swelling in the treatment area
Location:
Areas of the body where unwanted pockets of fat form
Follow Up:
Some patients may choose a second treatment session to further enhance results
How Performed:
Applicator delivers focused laser energy to heat the area and destroy unwanted fat cells
Preparation:
Topical anesthetic applied prior to treatment
Expected Outcome:
Reduced fat and a slimmer contour in targeted treatment areas
Onset:
Results visible in 6-12 weeks
SculpSure® is an innovative, FDA-approved, non-invasive laser treatment that's used to reduce stubborn fat in places on the body like the abdomen and the flanks. The treatment uses targeted laser energy to gently heat the treatment area, destroying fat cells while leaving the surrounding skin and tissue intact. The body eliminates the treated cells through natural processes, creating a leaner, sleeker body contour over time.
Each treatment takes just 25 minutes, involves minimal discomfort and requires no downtime, so patients can return to normal activities right away. SculpSure is a body contouring method that is appropriate for all skin types, providing a safe and effective treatment option for removing body fat without surgery. For individuals who are looking to target hard-to-remove fat in a simple, effective treatment option, it can be a great choice.
SculpSure uses light-based technology to heat the treatment area, disrupting the fat cells, while leaving the surrounding skin and tissue untouched. The body can eliminate the treated fat cells via natural processes, producing a leaner, sleeker contour over time. Each noninvasive treatment is short and comfortable. You can conveniently complete your treatment sessions on your lunch break, but the results can be both dramatic and long-lasting.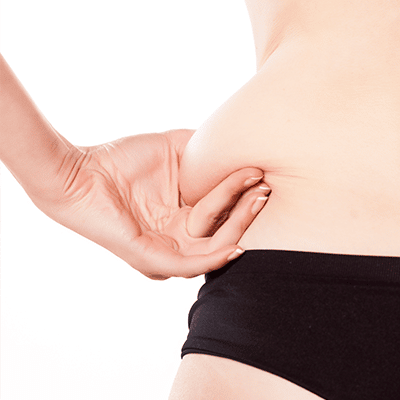 Does a SculpSure Treatment Hurt?
SculpSure is a noninvasive treatment that does not require any anesthesia. The applicator that delivers the laser energy never penetrates the skin, which eliminates the risk for significant discomfort. Patients report they experience the sensation of heat and mild tingling throughout the treatment, which is well tolerated by most.
Many patients start to see results as early as six weeks following treatment as the body begins to evacuate the destroyed fat cells, with optimal results usually seen at 12 weeks.
How Long is the Recovery Time After Treatment?
There is no downtime with SculpSure, so you can have the treatment during your lunch hour and return to work immediately. You might experience some mild swelling and tenderness for a day or two after your procedure, but it should not be severe enough to keep you from all your regular activities.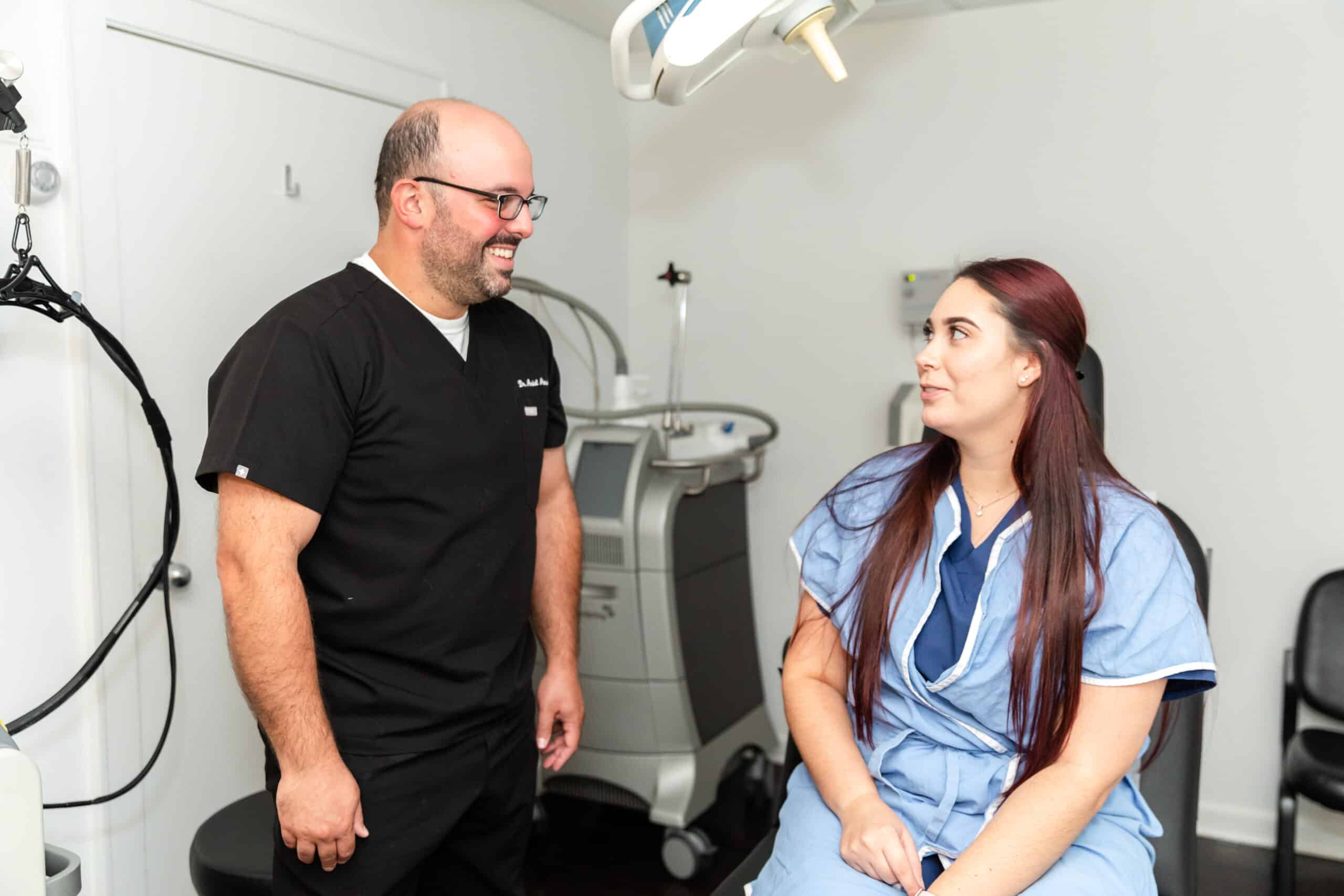 Do Men Get SculpSure Treatments?
SculpSure works equally well on both male and female patients. Men can use this treatment to reduce the spare tire around the midsection or love handles on the hips. This treatment can also be used to reduce unwanted fat in the chest that can contribute to the appearance of "man boobs."
Treatment between men and women vary in terms of specific concerns and the goals of our patients. Our dedicated dermatologists take these real differences into account during every treatment to ensure all our patients enjoy satisfying results.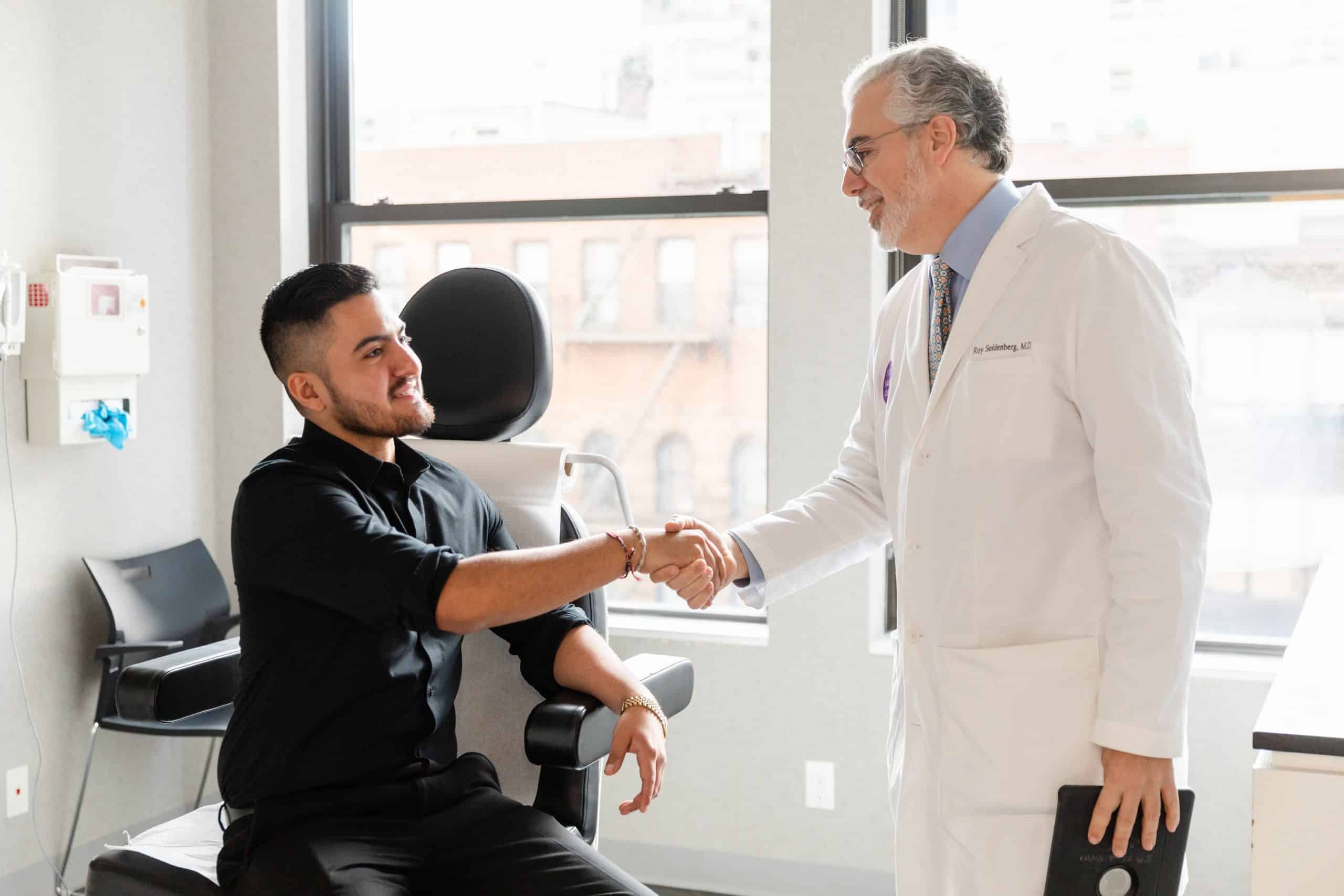 Q: Is SculpSure Safe?
A: Yes. The FDA approved the SculpSure device in 2015 for the nonsurgical elimination of unwanted body fat. Since that time, the treatment has been performed on thousands of patients with few reported side effects. This is a noninvasive treatment that targets fat cells without damaging surrounding skin, cells and tissue. When administered by an experienced, board-certified physician, you should enjoy positive results without significant risk of adverse effects.
Q: How Long Do Results Last?
A: Results from SculpSure take some time to develop, as the treated fat cells are flushed out of the body gradually. Your final results should be apparent within 6-12 weeks. Since the treated fat cells are eliminated, the results are permanent as long as you maintain a healthy weight. If you gain weight, you might find that remaining fat cells enlarge to alter your results.
Q: What Should I Expect During The Treatment?
A: Most patients feel a tingling sensation intermittently throughout the treatment which is generally well-tolerated.
Q: Are There Any Side Effects?
A: SculpSure is a noninvasive treatment that involves few if any, side effects. Some patients might experience some mild swelling and tenderness after the procedure, which should subside without intervention within a day or two. You can undergo treatment on your lunch hour and return to the office right away without any evidence you had a cosmetic procedure performed.
Q: How Many Treatments Will I Need?
A: Most patients see results with as little as one treatment. However, you may wish to have additional treatments based on your desired results. Ask your treatment provider about the best treatment plan for you.
Q: What Is The Difference Between Fat Loss And Weight Loss?
A: The number of fat cells stored in our bodies typically remain constant throughout adult life. After the SculpSure treatment, the destroyed fat cells will never return. However, as we lose weight, the size of fat cells become smaller, but typically do not decrease in number. Even with diet and exercise, many people have difficulty losing weight in these trouble areas.
Scars are often unwanted reminders of medical conditions, injuries, trauma, or surgery. When they are noticeable, they can also lead to significant embarrassment and self-esteem. Fortunately, there are ways to treat scars today that do not involve incisions, anesthesia, and downtime.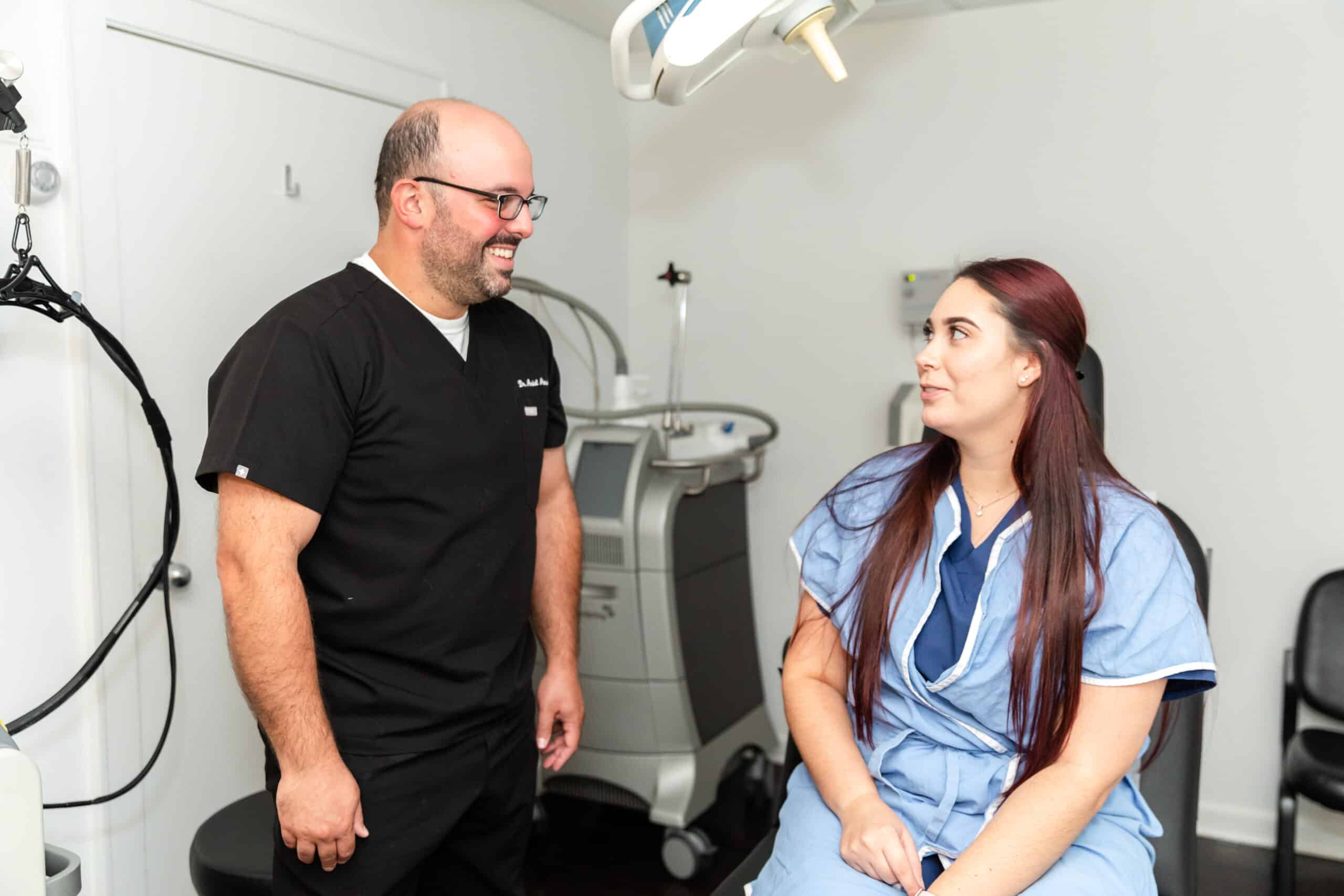 Body contouring addresses stubborn fat, skin laxity, or cellulite. Our board-certified physicians have been involved in clinical trials to develop new technology that provides superior treatment options. We offer treatments for cellulite, skin tightening, and fat reduction.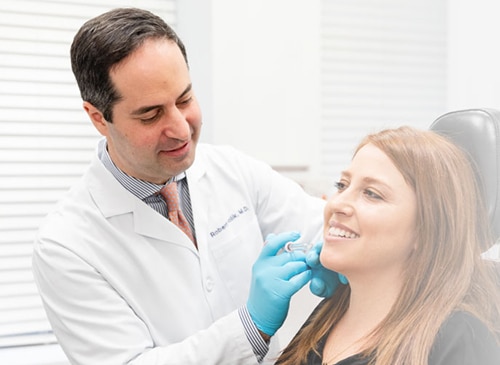 Laser & Skin Surgery Center of New York's filler treatments are always performed by board-certified physicians who have extensive experience with injectables. When you come to us for cosmetic care, you can be confident that you can safely achieve a perfectly natural look.
WHAT you are looking for?
Our 30,000+ sq foot dermatology center in New York is the most comprehensive, state-of-the-art laser and cosmetic skin surgery center in the world. Over the past 30 years we have contributed to the development and testing of many devices, fillers and treatments that are now standard care, so our patients know they are always receiving the most innovative, cutting-edge treatment available.
Pay Online for Patients of Drs. Geronemus, Anolik, Bae & Seidenberg
Pay Online for Patients of Drs. Abraham, Bernstein, Krant, Shelton, Stern, Weiss, Hoffman, Shim, Murphy-Rose, Wilson, and Petratos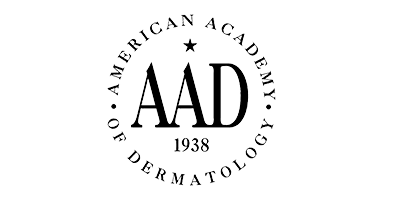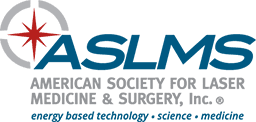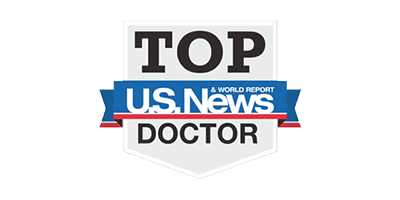 By LASER & SKIN SURGERY CENTER OF NEW YORK® | © 2023 All Rights Reserved. Design & Development by Goldman Marketing Group | Sitemap | Privacy Policy | The information available on this web site is provided for informational purposes only. This information is not intended to replace a medical consultation where a physician's judgment may advise you about specific disorders, conditions and or treatment options. We hope the information will be useful for you to become more educated about your health care decisions. If you are vision-impaired or have some other impairment covered by the Americans with Disabilities Act or a similar law, and you wish to discuss potential accommodations related to using this website, please contact us at (212) 941-5055.
*MDs perform 100% of all medical and cosmetic treatments.