Early detection is critical to successful skin cancer treatment. The Laser & Skin Surgery Center of New York features the most advanced technology in skin cancer screening, allowing us to discover even the smallest changes in skin lesions so treatment can begin as soon as possible. 
Duration: Regular screenings recommended
Assesses:
Both cancerous and pre-cancerous lesions and conditions
Side Effects:
Patients typically have no side effects after screenings unless a biopsy is performed
Location:
Skin cancer screenings are performed on every area of the skin
Follow Up:
Follow-up visits may be scheduled for suspicious lesions
How Performed:
Screenings are non-invasive and use devices that allow the doctor to see even subtle changes for fast treatment
Expected Outcome:
Early detection of skin cancer for the most effective treatment and best possible prognosis
Results:
Results are determined right away, further assessment may be needed for suspicious areas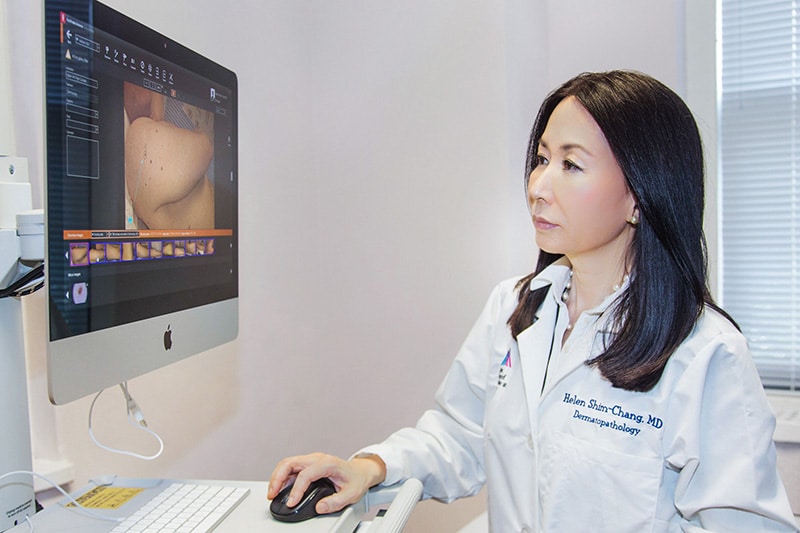 Skin cancer is the most common type of cancer in the U.S. today. Nonmelanoma cancers, which include basal cell and squamous cell carcinoma comprise most skin cancer diagnoses. Melanoma is much more rare, but it is also more deadly. The American Cancer Society estimates that around 6,850 people will lose their lives to melanoma this year. 
Skin Cancer screenings are visual examinations to detect potential skin cancer. Some exams are performed using devices that make it easier to detect even subtle changes that could indicate a malignancy. The earlier a malignancy is found and treated, the more successful the treatment and the better the prognosis for the patient. Dr. Shim at the Laser & Skin Surgery Center of New York uses the most advanced equipment for skin cancer screening. In addition, Dr. Shim performs detailed visual screenings that are appropriate for high-risk patients or those that have many moles and lesions to examine. 
Skin cancer screenings can detect basal cell carcinoma, squamous cell carcinoma, and melanoma. Merkel cell carcinoma, an extremely rare and sometimes dangerous form of skin cancer, can also be found during a skin cancer screening. 
It is beneficial to remain alert to any changes to your skin. Many potential cancers are found during skin cancer self-checks, followed up by a visit to the dermatologist. While annual screenings with a doctor are also a good idea for most people, you may schedule an additional screening at any time if you notice symptoms during a skin cancer self check such as: 
A sore that does not heal within a couple of weeks

Moles that change color, size, or shape

Any mole that bleeds or becomes crusty on the surface

Bumps that are shiny and pink, white, red or translucent

A mole or bump that becomes painful to the touch
Skin cancer screenings are also critical to patients that are at higher risk, including those with fair skin, light-colored hair and eyes,a history of sunburns or skin cancer, many moles, or those who spend a substantial amount of time in the sun. To learn more about how we screen for skin cancer, check out our recent webinar.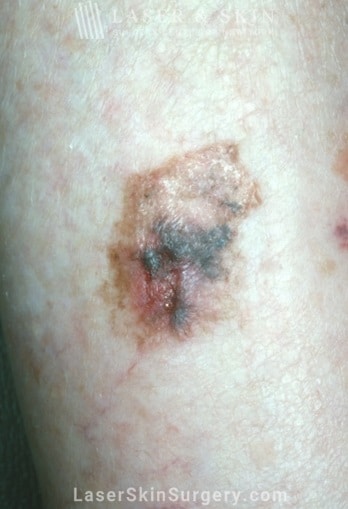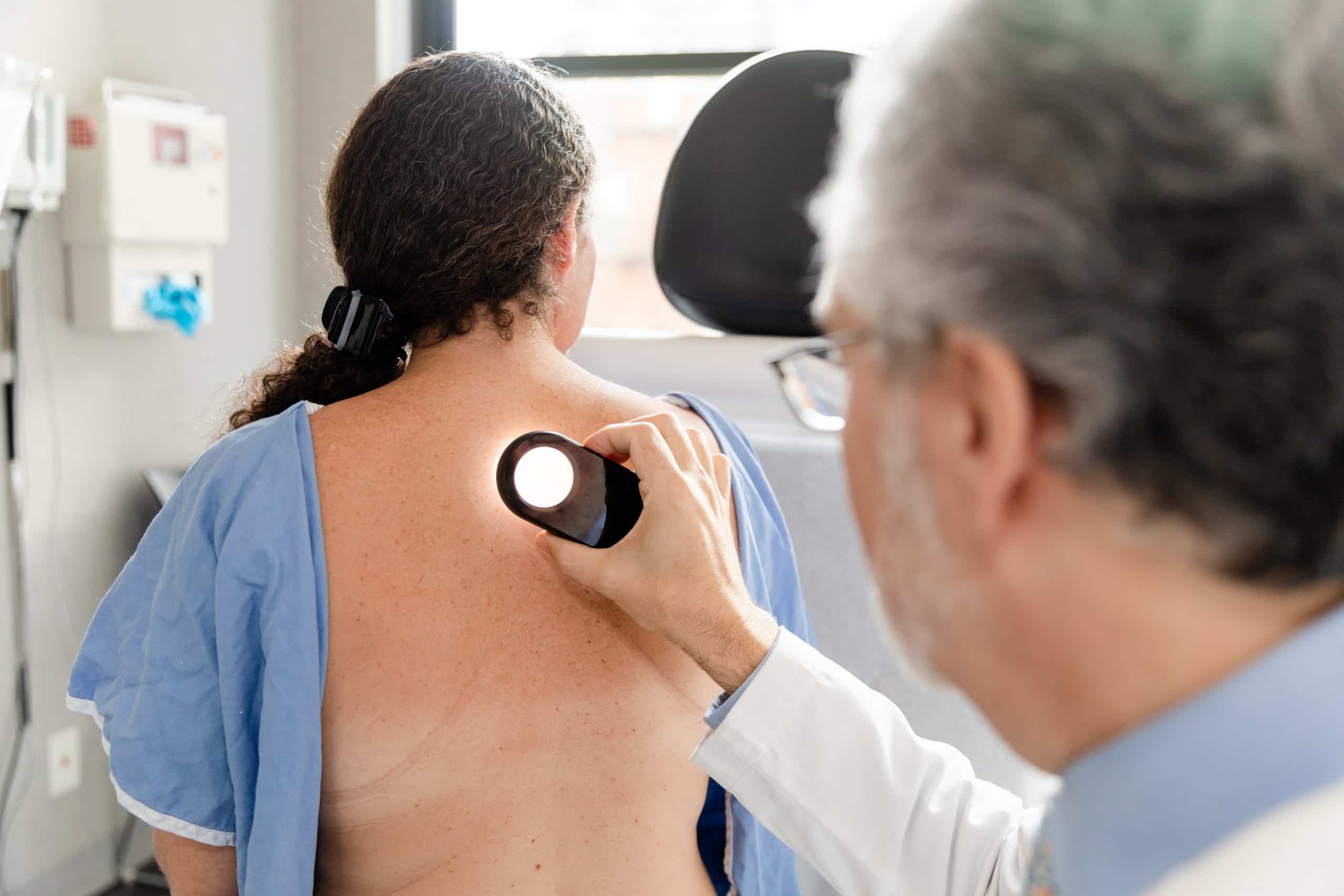 Statistics indicate that early detection can make a significant impact on a patient's prognosis after a skin cancer diagnosis. When melanoma is detected early, the 5-year survival rate is 99%, according to the Skin Cancer Foundation. If the disease spreads to the lymph nodes, the survival rate goes down to 65%. When it metastasizes to distant organs, the rate goes down to 25%.
When skin cancer is diagnosed early, it also allows for a better cosmetic result after treatment. Even non-melanoma skin cancer, like basal cell carcinoma and squamous cell carcinoma can grow quite large, even if they are not as deadly. By removing the cancer in the early stage, there is significantly less scarring left behind in many cases. 
Skin Analysis without the Biopsy
Regular screenings are essential to ensure early detection of any type of skin cancer. If something suspicious is found during the screening, a biopsy may need to be performed to assess the skin lesion under a microscope. However, Dr. Shim has introduced new technology to our practice that reduces the number of biopsies that must be performed.
The VivaScope imaging system is a confocal microscope that allows visualization of the epidermis down to the papillary dermis. The deeper scope provides detailed information about skin lesions without the need for a biopsy in some cases. It also provides the most accurate visual assessment of moles and lesions for a higher level of screening for potential skin cancers and other conditions.
The procedure is noninvasive, does not require any anesthesia or downtime, and leaves no visible scarring behind. When appropriate, this screening may be performed in place of a biopsy for some patients. However, a surgical biopsy is still necessary when the tissue must be examined under a microscope.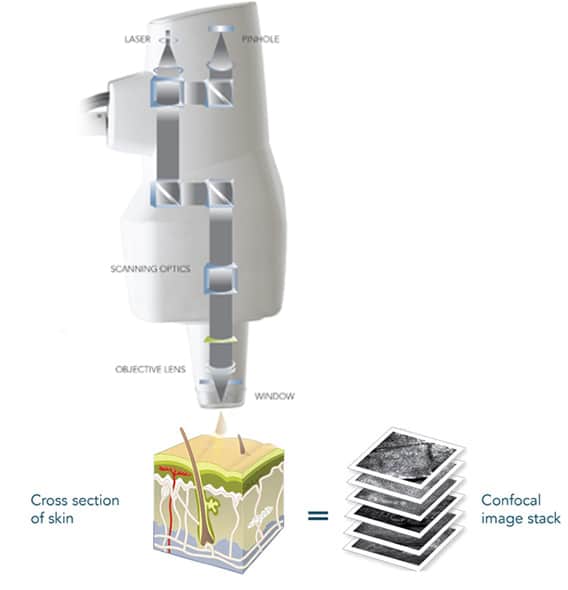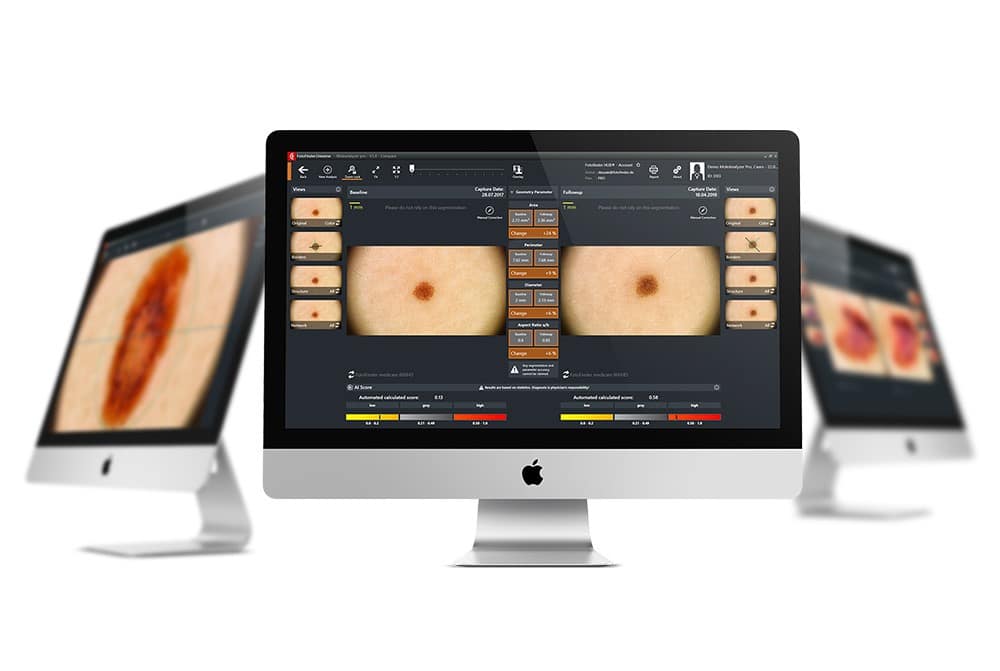 Total Body Photography and Sequential Dermoscopy
Total body photography and sequential dermoscopy is an advanced technology that stores digital images of moles and lesions to be compared to images taken at a later date. The images are so precise that even the most subtle changes to size, shape, and color are detected. This ensures biopsies are performed promptly while reducing the number of biopsies done after a single assessment. 
This technology is only available through a few practices nationwide today. Dr. Helen Shim offers our patients at Laser & Surgery Center of New York the FotoFinder system to provide the most precise and accurate skin cancer screenings available. The technology is noninvasive and has been shown to detect skin changes earlier than nearly any other technology today. 
Q: What is squamous cell carcinoma?
A: Squamous cell carcinoma is the second most common type of skin cancer and typically appears on areas of skin that are exposed to the sun. Squamous cell carcinoma can be completely removed most of the time. However, if they are left unchecked, they can grow deeper into the skin tissue, making them more challenging to treat. 
Q: What does the early stages of skin cancer look like?
A: When examining skin for potential signs of skin cancer, it is helpful to keep the ABCDE rule in mind: 
A

symmetry – look for moles that are not symmetrical (one side is different from the other)

B

order – an undefined border could indicate malignancy

C

olor – moles that have uneven color could be cause for concern

D

iameter – have moles larger than a pencil eraser checked 

E

volution – moles that change in any way should always be evaluated by a dermatologist
Q: When should I start getting my skin checked by a doctor?
A: It's never too early to begin skin cancer screenings, particularly if you are considered at higher risk. The American Cancer Society recommends screenings every 3 years from age 20-40 and annually after age 40. 
Q: What is considered early detection for melanoma?
A: Early detection might occur when any of the criteria listed above is met and the mole is evaluated for malignancy. In addition to providing a better prognosis, treating melanomas as early as possible also offers a better cosmetic result. 
Q: Can you die from skin cancer?
A: Nonmelanoma skin cancer is rarely fatal. However, when melanoma or some other rare forms of skin cancer, such as Merkel cell carcinoma, are left unchecked, they can be deadly for some patients. This is why early detection and treatment are so critical for a positive prognosis.
Scars are often unwanted reminders of medical conditions, injuries, trauma, or surgery. When they are noticeable, they can also lead to significant embarrassment and self-esteem. Fortunately, there are ways to treat scars today that do not involve incisions, anesthesia, and downtime.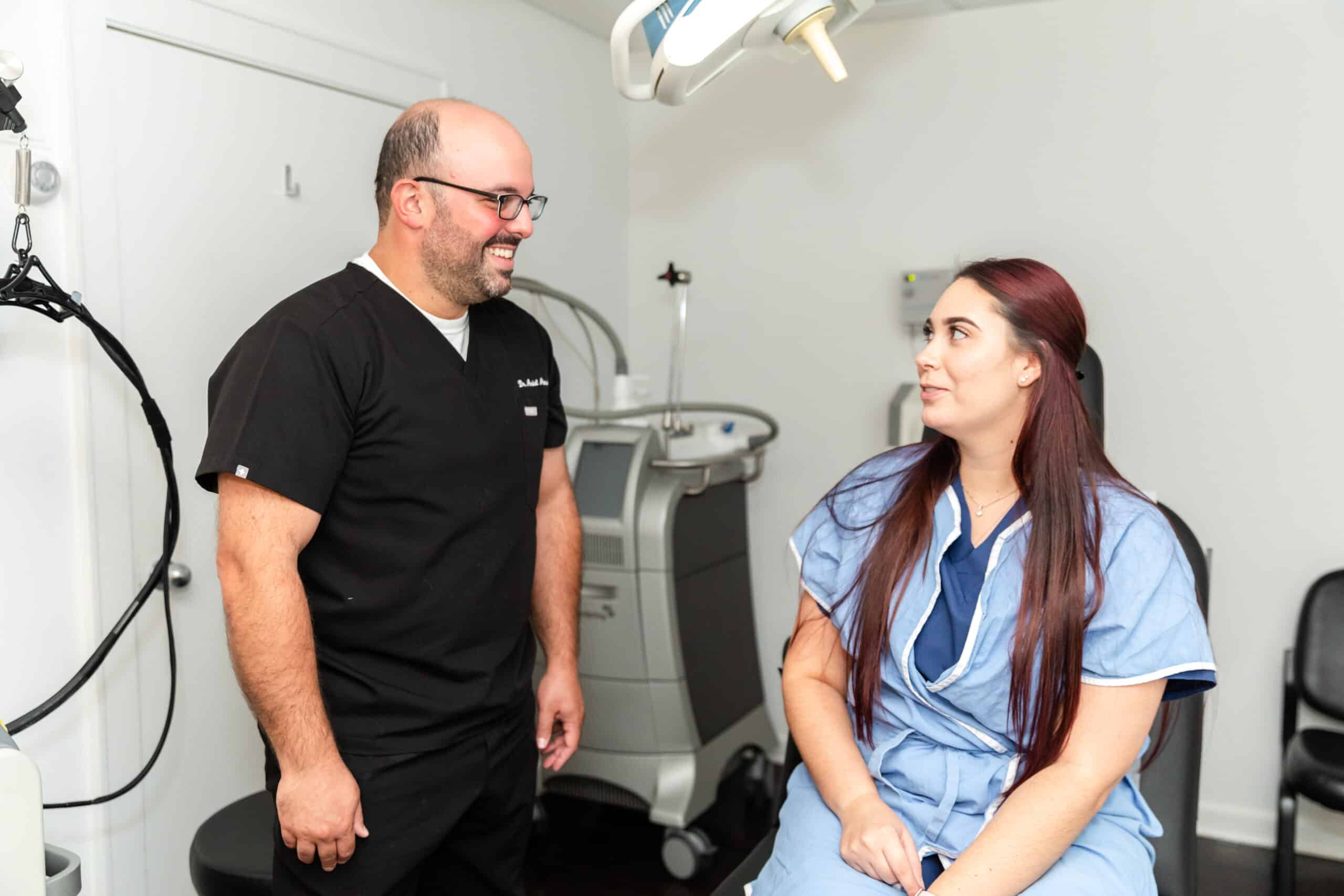 Body contouring addresses stubborn fat, skin laxity, or cellulite. Our board-certified physicians have been involved in clinical trials to develop new technology that provides superior treatment options. We offer treatments for cellulite, skin tightening, and fat reduction.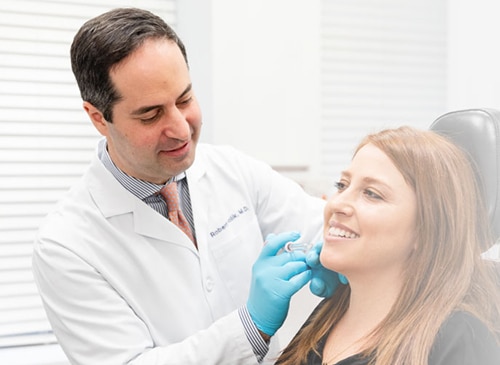 Laser & Skin Surgery Center of New York's filler treatments are always performed by board-certified physicians who have extensive experience with injectables. When you come to us for cosmetic care, you can be confident that you can safely achieve a perfectly natural look.
WHAT you are looking for?
Our 30,000+ sq foot dermatology center in New York is the most comprehensive, state-of-the-art laser and cosmetic skin surgery center in the world. Over the past 30 years we have contributed to the development and testing of many devices, fillers and treatments that are now standard care, so our patients know they are always receiving the most innovative, cutting-edge treatment available.
Pay Online for Patients of Drs. Geronemus, Anolik, Bae & Seidenberg
Pay Online for Patients of Drs. Abraham, Bernstein, Krant, Shelton, Stern, Weiss, Hoffman, Shim, Murphy-Rose, Wilson, and Petratos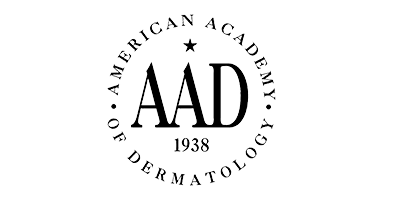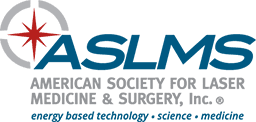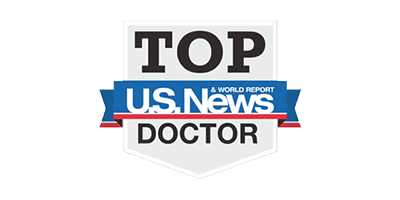 By LASER & SKIN SURGERY CENTER OF NEW YORK® | © 2023 All Rights Reserved. Design & Development by Goldman Marketing Group | Sitemap | Privacy Policy | The information available on this web site is provided for informational purposes only. This information is not intended to replace a medical consultation where a physician's judgment may advise you about specific disorders, conditions and or treatment options. We hope the information will be useful for you to become more educated about your health care decisions. If you are vision-impaired or have some other impairment covered by the Americans with Disabilities Act or a similar law, and you wish to discuss potential accommodations related to using this website, please contact us at (212) 941-5055.
*MDs perform 100% of all medical and cosmetic treatments.
Our board-certified dermatologists in New York City are all fellowship-trained and uniquely trained in lasers and technology, cosmetic and medical dermatology, and skin surgery. Together they are highly acclaimed world experts with thousands of articles published, countless TV and media appearances, and hundreds of years of combined experience.
Our plastic surgeons bring years of experience in helping patients achieve all their aesthetic goals through surgical procedures. Every treatment is fully customized to the precise needs of each patient for results that are natural and beautiful.