Removal of Unwanted Tattoos
Laser devices are an effective way to remove unwanted body ink without anesthesia and with minimal downtime afterward. Our New York tattoo removal service uses the most technologically advanced techniques to remove unwanted tattoos.
Results Duration: Permanent
Treats:
Unwanted tattoo ink on the body
Side Effects:
Redness and scabbing after treatment, side effects become less intense as ink becomes lighter with subsequent treatments
Location:
Primarily used on the body
Follow Up:
A series of sessions is required to achieve an optimal outcome
How Performed:
Handheld applicator delivers laser energy into the dermis, shattering the tattoo ink
Preparation:
Topical anesthetic applied prior to treatment to ensure patient comfort
Expected Outcome:
Body ink is substantially reduced or eliminated entirely
Onset:
Improvements continue with each treatment session until tattoo is gone
New York's #1 Choice for Tattoo Removal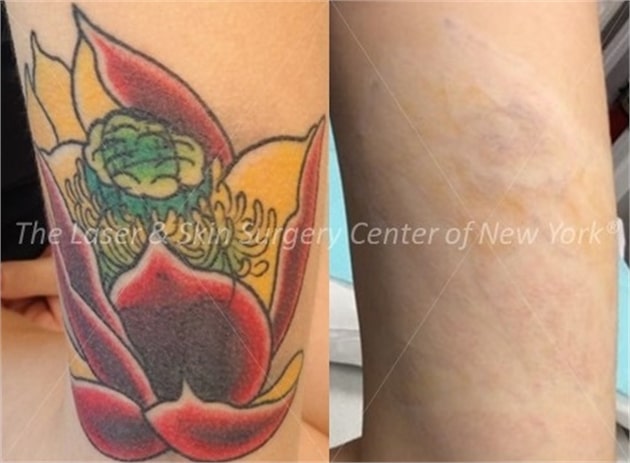 New York Magazine recognized the Laser & Skin Surgery Center as offering "The Best Tattoo Removal in NYC," thanks to our specialized expertise, technology, and training.
Tattoo regret is a very real phenomenon as people might tire of their body ink due to changing professions, relationships or personal style. Laser tattoo removal is an effective way to eliminate unwanted tattoos, leaving clear skin behind. This approach requires a series of treatment sessions, but the procedure is comfortable and does not involve downtime, so it is easy to fit into your daily schedule.
Our New York board-certified dermatologists are among the most experienced in the field of tattoo removal service, having helped develop most of the lasers presently used for laser tattoo removal. We have eleven different types of lasers specially designed for tattoo removal, including the "R0" multiple treatments per session technique, which was developed at our tattoo removal service clinic. With our expert knowledge and expansive range of devices, we tailor each laser tattoo removal treatment to the skin type of each patient and can treat all tattoo colors with the best possible results.
How does Laser Tattoo Removal Work?
Featuring short pulses with high power and superior absorption our lasers can remove complex tattoos without damaging the surrounding skin. Our physicians are also world leaders in the field of tattoo removal service and have been involved in the clinical development of many of the technologies used for this purpose.
Different color inks require different laser for optimal benefit. Many times we mix and match our many lasers with various ink colors to maximize success. It is not uncommon to use multiple lasers on a tattoo during a single treatment session.
Healing generally takes place within a week and shorter once the tattoo begins to lighten. Most recently, we have developed techniques that remove blue, green and yellow ink rapidly were previously removal was difficult. Repetitive treatment sessions are usually necessary, at intervals of one to two months.
We also specialize in the treatment of cosmetic tattoos on the eyelids, eyebrows, and lips, as well as "road burn" injuries and radiation tattoos. The treatments are comfortable as we typically administer a local anesthetic to minimize any discomfort.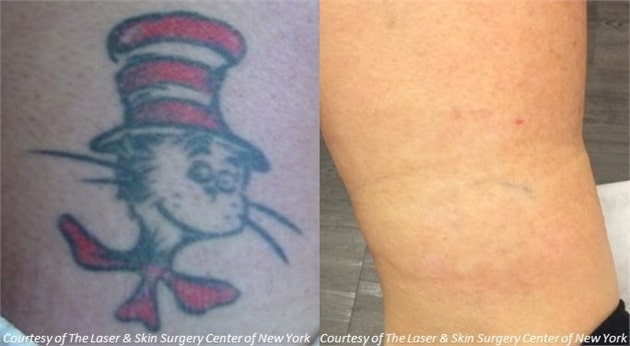 what treatment options are available at your tattoo removal service?
At the Laser and Skin Surgery Center of New York, we use multiple devices to treat this condition. Certain lasers are "fractional" lasers, while others can treat specific pigments in tattoos:
nd:YAG
PicoPlus®
PicoSure™
Ruby
Fraxel Re:pair®
Fraxel Re:store Dual®
All of our patients receive local anesthetic before their treatment to ensure their comfort throughout. This step sets us apart from MedSpas and other tattoo removal services, providing our patients a superior treatment experience. We can use our devices to treat gradient tattoos, cosmetic tattoos, and decorative tattoos on any location of the body. We also specialize in the removal of permanent makeup, including eyebrows, lips, and eyeliner.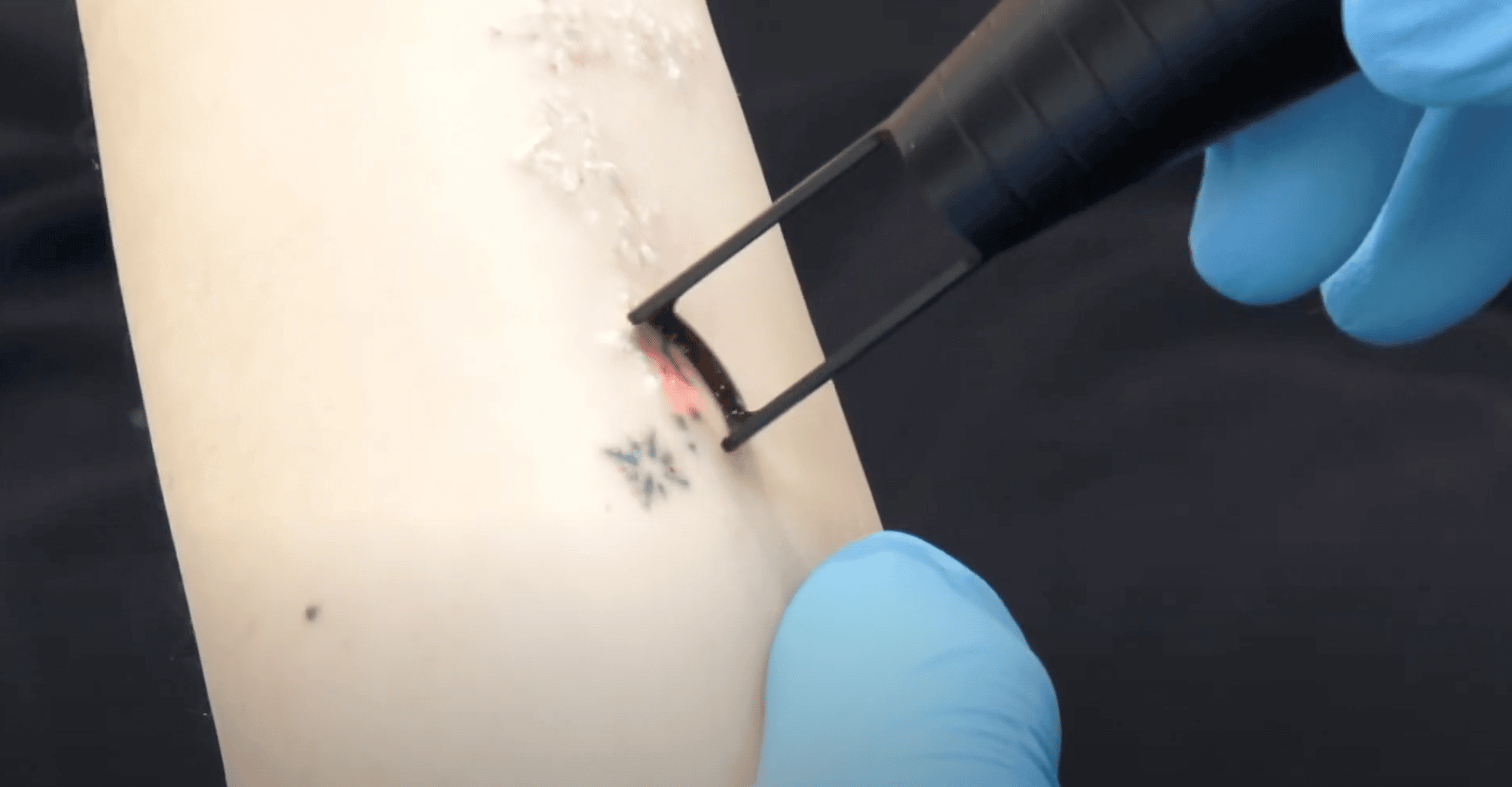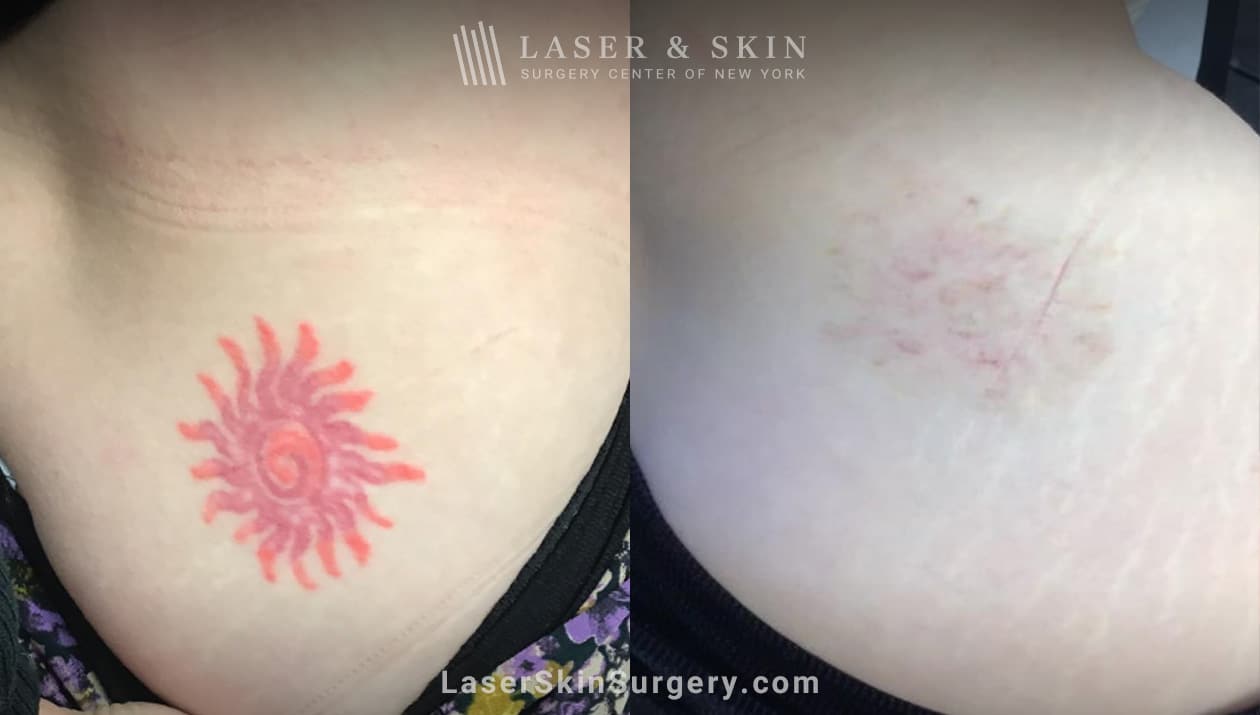 What Will My Treatment Be Like?
Your physician will evaluate your tattoo and choose the best laser or lasers to most effectively treat your tattoo. We have many different lasers that are used for tattoo removal, and the decision is based on the colors of the tattoo ink and the tone of your skin. To begin your laser tattoo treatment, your doctor will review all of the options to make you comfortable during your treatment. Most of our patients receive local anesthesia, however, with very large tattoos we sometimes offer intravenous anesthesia with an anesthesiologist present to apply a topical numbing medicine to keep you comfortable during your session. Once the treatment area is numb, we use the appropriate lasers to target the ink in the tattoo without affecting the surrounding skin and tissue. The time it takes to complete a tattoo treatment session will vary based on the size of the tattoo and the number of passes and lasers utilized.
Our physicians at the Laser & Skin Surgery Center of New York led a study on the use of topical perfluorodecalin during the treatment to shorten the amount of time between passes. This step has significantly reduced the length of time patients need to spend in our office for laser tattoo removal.
How Tattoo Removal Works for Different Skin Tones
Not all laser devices are safe for all skin tones. This leaves patients with brown or black skin wondering if laser tattoo removal can work for them. At Laser & Skin Surgery Center of New York, we work with more than 100 laser and light devices. With so many to choose from, and the expertise of our fellowship trained, board-certified dermatologists, we can safely remove tattoos from a wide range of skin tones. Keep in mind that darker skin tones may require more treatments to achieve the best result with minimal side effects.
Potential Side Effects of Laser Tattoo Removal
Some of the common side effects associated with laser tattoo removal include:
Redness
Swelling
Blistering
Bruising
Tenderness
Scabbing
Pigmentation irregularities
Most of these side effects subside within a day or two, although blistering, scabbing, and bruising can last up to one week or more.



Does Laser Tattoo Removal Hurt?
Laser tattoo removal is a comfortable process. We use local anesthesia for almost all tattoos. Patients with extremely large tattoos sometimes choose intravenous sedation provided by a board certified anesthesiologist in our accredited facility.
Post Laser Tattoo Removal Treatment
After treatment, you should be able to resume your normal activities. Your skin may be red and tender, similar to if you had a sunburn. Make sure to protect vulnerable skin from direct sun exposure while it is healing, to prevent the possibility of permanent damage. 
We advise that you keep the treatment area clean and apply topical Aquaphor healing ointment to facilitate healing. Crusting and occasional blistering may occur after the first few treatments. Tanning between tattoo removal sessions is discouraged.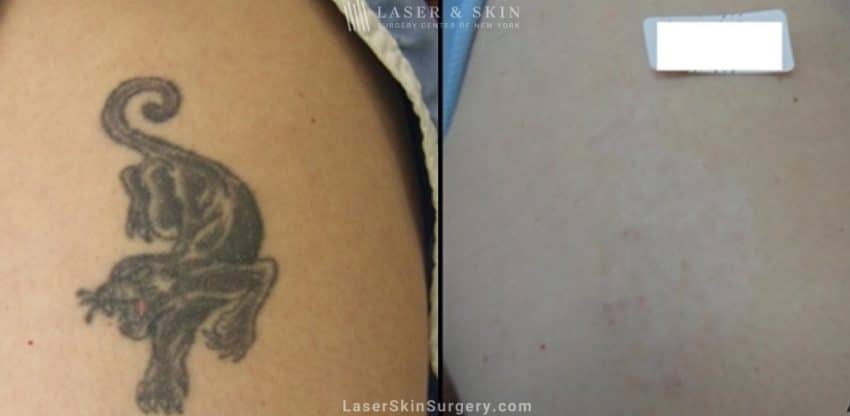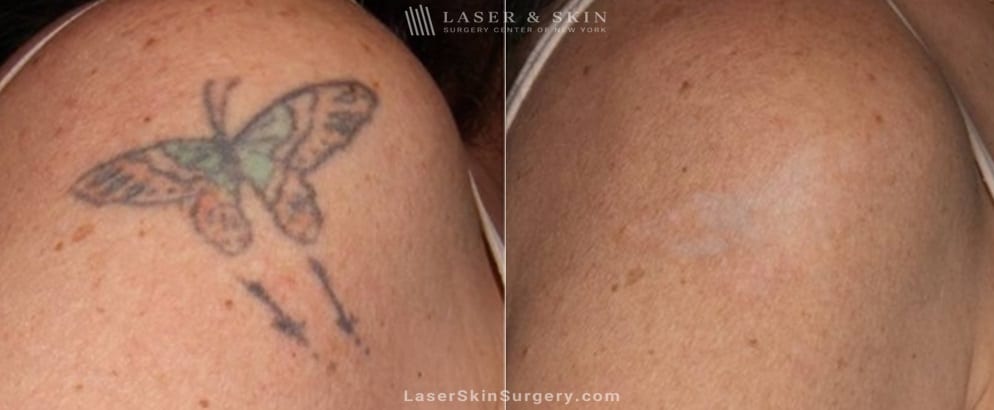 Full tattoo removal will typically take 6-12 laser sessions, depending on the size of the tattoo, color of ink, how deep the ink is, and how old the tattoo is. We typically see lightening of the tattoo after your first appointment. Sessions are typically scheduled at least one month apart to give the skin time to heal between treatments.
Publications
"Application of cooled hydrogel dressing to minimize dyspigmentation from laser tattoo removal." Journal of the American Academy of Dermatology, 2019 Sept.
"Safety of a Perfluorodecalin-Infused Silicone Patch in Picosecond Laser-Assisted Tattoo Removal: A Retrospective Review." Dermatologic Surgery, 2019 April.
"Clearance of yellow tattoo ink with a novel 532-nm picosecond laser." Lasers Surg. Med. 2015 April.
"Topical perfluorodecalin resolves immediate whitening reactions and allows rapid effective multiple pass treatment of tattoos." Lasers Surg Med. 2013 Feb.
"Laser treatment of Cosmetic Tattoos." JAAD. 2003.
"Tattoo darkening and non-response after laser treatment: A possible role for titanium dioxide." Arch Dermatol. 2001 Jan.
"Surgical Pearl: Q-switched Nd:YAG laser removal of eyeliner tattoo." J Am Acad Derm 35:101-102, 1996.
"Q-switched ruby vs. Q-switched Nd:YAG laser in treatment of tattoos."  Cutis. 1995.
"Cosmetic tattoo ink darkening.  A complication of Q-switched and pulsed dye laser treatment."  Arch Dermatol. 1993.
"The Q-switched ruby laser in the treatment of traumatic tattoos."  Plast Reconst Surg. 1993. 
Real Patients Before and After photos
Tattoo Removal In The News
Can Men Undergo Laser Tattoo Removal?
Yes. Men commonly undergo laser tattoo removal at the Laser & Skin Surgery Center of New York. Because we offer multiple devices for this purpose, our board-certified physicians can customize each treatment to the unique needs, skin type, and skin tone of each of our patients. There are also different approaches when treating men versus women, and our dedicated dermatologists take these real differences into account during every treatment.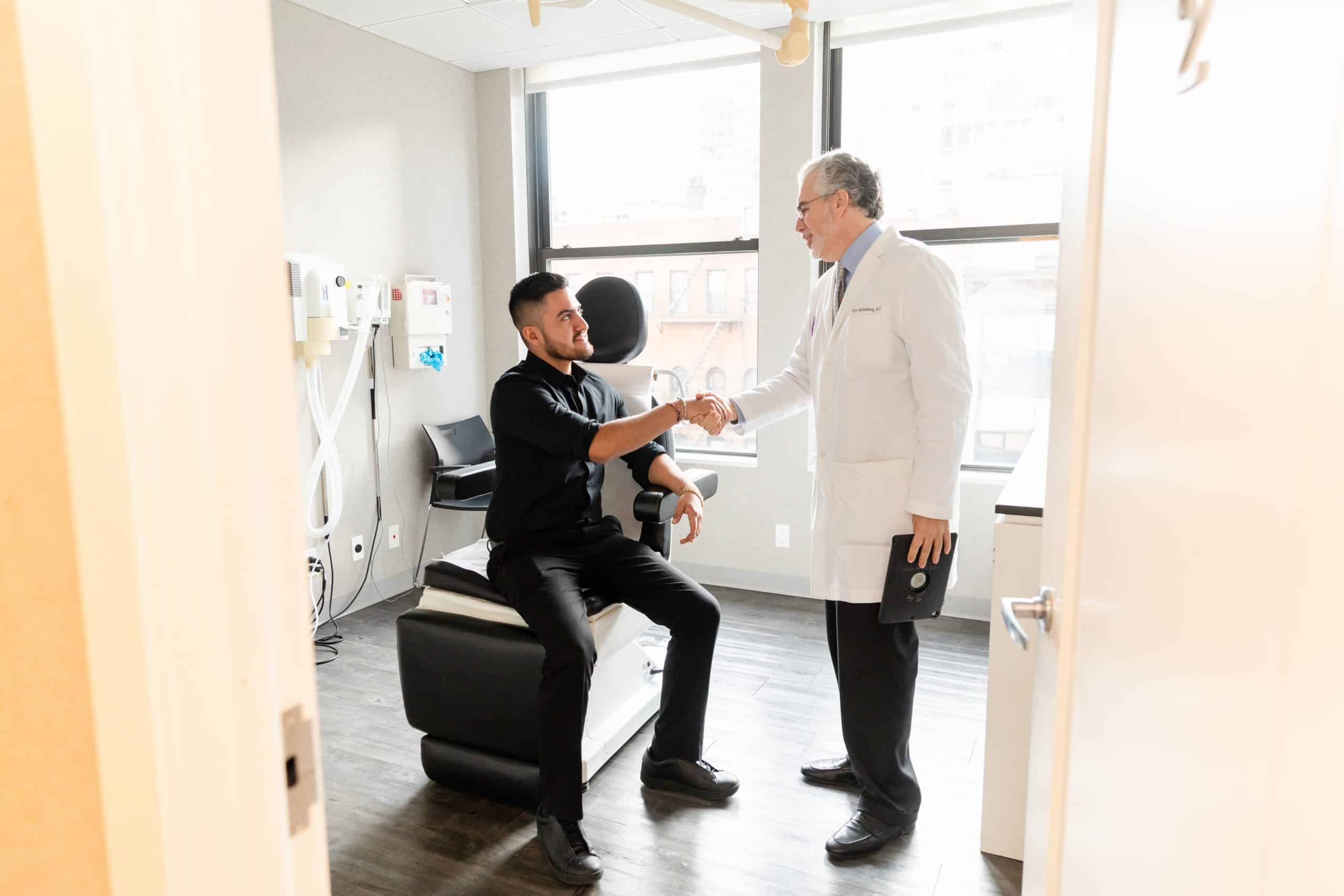 Q: Is Laser Tattoo Removal Safe?
A: Yes, all of the devices we use at the Laser & Skin Surgery Center of New York have FDA approval and have been used extensively for this purpose. Our board-certified dermatologists have the expertise and experience necessary to customize your treatments to ensure they are both safe and successful.
Q: Who Performs the Tattoo Removal Treatments?
A: Our physicians are world leaders in the field of tattoo removal and have been involved in the clinical development of many of the technologies used for this purpose. All tattoo procedures are performed only by our board-certified dermatologists. To discuss the best combination of treatments and technologies for your tattoo removal, please call us for an appointment today. 
Q: Why choose Laser Skin Surgery of New York to remove my tattoo?
A: New York Magazine recognized Laser Skin & Surgery Center of New York as the "Best Tattoo Removal in New York." This distinction comes from our specialized expertise and training in this particular procedure. Our physicians have been involved with the clinical development of most of the lasers that are used for tattoo removal and have published many articles in the medical literature on the various tattoo removal treatment options. We have been involved with the development of the q-switched ruby, Q-switched Nd:YAG laser, picosecond lasers, and the resurfacing lasers. Our physicians were the first to publish on using lasers to remove red, yellow, green, and blue inks. Our team of physicians treats a variety of tattoos including decorative, traumatic (road rash), radiation, and cosmetic (eyeliner and eyebrow). We also use a variety of anesthetic techniques to make sure that each patient is comfortable during the treatment session. All laser treatments are performed by highly experienced, board-certified dermatologists.
Q: Are There Any Side Effects?
A: You might experience some skin redness and tenderness after your laser tattoo removal session. These side effects usually do not last longer than a day or two. It is critical to protect treated, vulnerable skin from sun damage after treatment to prevent potential damage. 
Q: What Is Involved In Removing A Tattoo?
Q: Is Laser Tattoo Removal Right for Me?
A: You might be a good candidate for laser tattoo removal if you have body ink you would like to eliminate and are prepared to invest in a series of treatment sessions to ensure an optimal outcome.
New York Magazine recognized the Laser Skin Surgery Center of New York "The best tattoo removal in NYC".
Q: Will Your New York Tattoo Removal Service Fully Remove My Tattoo?
A: In most cases, yes. Most tattoos are able to be fully removed, but the size, color, location and age of the tattoo are all factors in whether it can fully be removed or not.
Q: How many treatments will I need?
A: Laser tattoo removal is rarely completed with a single treatment. A series of sessions is required to eliminate all the ink. You will also need to wait a prescribed amount of time before undergoing another treatment to give the skin ample time to heal. The number of treatments can vary based on the size of the tattoo, how long you've had it, and the tattoo colors. Most patients will need a minimum of 6 sessions to achieve the desired result. Some ink colors such as blue and green may require fewer treatment sessions. The same is true of eyeliner and eyebrow tattoos.
Q: How long is a tattoo removal session?
A: Laser tattoo removal can take anywhere from a few minutes to one hour to complete, depending on the size of the tattoo. This includes the time it takes to administer the local anesthetic.
Q: What will I look like after treatment?
A: The skin in the treatment area will be red and tender, similar to a sunburn. In the days following, blisters can appear over the ink, which will go down within about one week. Patients with darker skin tones might see some pigmentation changes following treatment, but those are typically temporary. As long as you protect your skin from direct sun exposure, you should not see any lasting side effects once the skin heals.
Q: What's the largest tattoo you can remove?
A: We can remove tattoos of any size, but the larger the area, the longer it will take to treat. At your initial consultation, we will examine your tattoo in greater detail so we can determine what your customized treatment plan might entail.
Scars are often unwanted reminders of medical conditions, injuries, trauma, or surgery. When they are noticeable, they can also lead to significant embarrassment and self-esteem. Fortunately, there are ways to treat scars today that do not involve incisions, anesthesia, and downtime.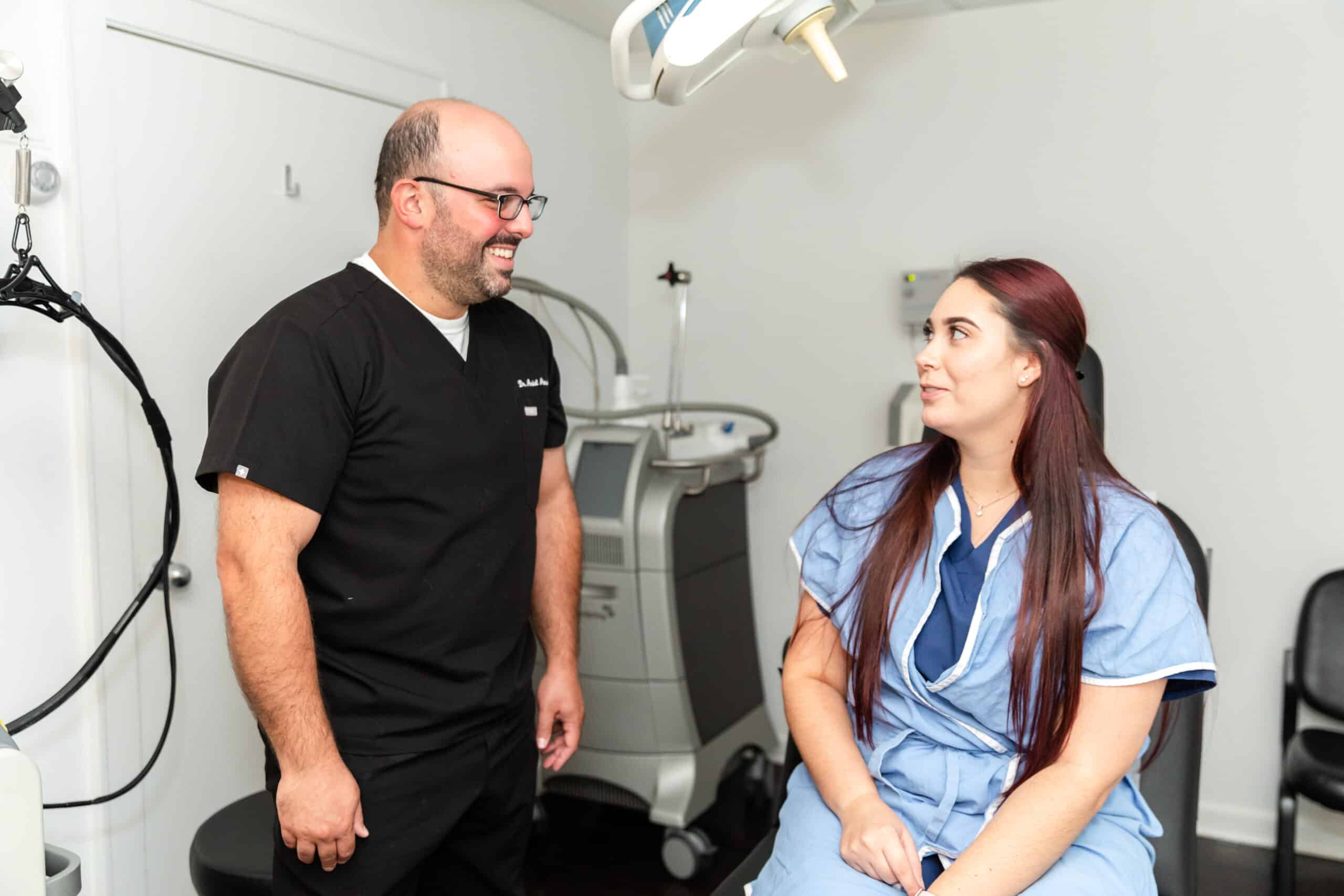 Body contouring addresses stubborn fat, skin laxity, or cellulite. Our board-certified physicians have been involved in clinical trials to develop new technology that provides superior treatment options. We offer treatments for cellulite, skin tightening, and fat reduction.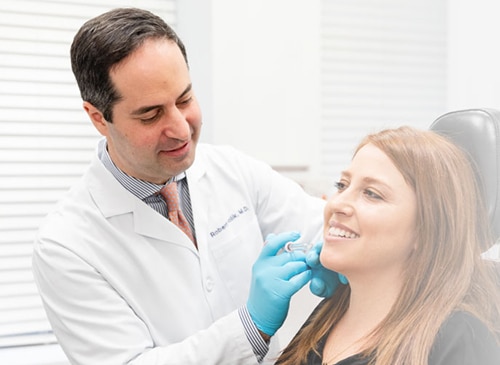 Laser & Skin Surgery Center of New York's filler treatments are always performed by board-certified physicians who have extensive experience with injectables. When you come to us for cosmetic care, you can be confident that you can safely achieve a perfectly natural look.
WHAT you are looking for?
Our 30,000+ sq foot dermatology center in New York is the most comprehensive, state-of-the-art laser and cosmetic skin surgery center in the world. Over the past 30 years we have contributed to the development and testing of many devices, fillers and treatments that are now standard care, so our patients know they are always receiving the most innovative, cutting-edge treatment available.
Pay Online for Patients of Drs. Geronemus, Anolik, Bae & Seidenberg
Pay Online for Patients of Drs. Abraham, Bernstein, Krant, Shelton, Stern, Weiss, Hoffman, Shim, Murphy-Rose, Wilson, and Petratos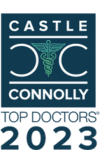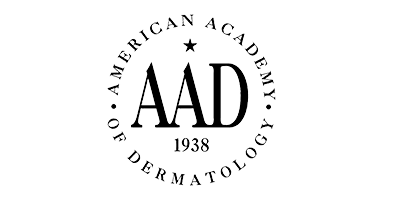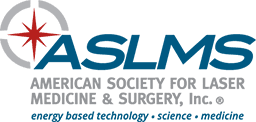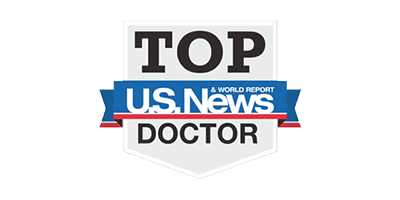 By LASER & SKIN SURGERY CENTER OF NEW YORK® | © 2023 All Rights Reserved. Design & Development by Goldman Marketing Group | Sitemap | Privacy Policy | The information available on this web site is provided for informational purposes only. This information is not intended to replace a medical consultation where a physician's judgment may advise you about specific disorders, conditions and or treatment options. We hope the information will be useful for you to become more educated about your health care decisions. If you are vision-impaired or have some other impairment covered by the Americans with Disabilities Act or a similar law, and you wish to discuss potential accommodations related to using this website, please contact us at (212) 941-5055.
*MDs perform 100% of all medical and cosmetic treatments.