Homepage // Blog / Non Surgical Face and Neck Lifts
Non Surgical Face and Neck Lifts
While a surgical facelift or neck lift are considered the gold standard for anyone battling the signs of aging, some patients might prefer to pursue a less invasive path towards facial and neck rejuvenation. Thanks to nonsurgical skin-tightening procedures, physicians can still turn back the clock on the skin, helping patients refresh their appearance and postpone the need for surgery.
While these treatments do not replace surgical facelifts, they can offer noticeable rejuvenation results without anesthesia or the recovery process associated with surgery.
Ronald Shelton, MD, a board-certified dermatologist at the Laser & Skin Surgery Center of New York, hosted a webinar that explains the various ways a patient can undergo a nonsurgical facelift or neck lift to tighten the skin. In our Manhattan and Southampton offices, we offer 100+ lasers for different skin types and conditions, along with an array of injectables to make aging optional for our patients. Below, we share the highlights of the webinar that discusses what causes the skin to sag and how we can reverse it without having to go under the knife.
When a Surgical Facelift isn't the Best Choice
Facelifts are not for everyone. While the reality is that a surgical facelift will produce the most dramatic results, non-surgical procedures are still an effective alternative. These treatments can reduce the appearance of wrinkles and neck folds, improve skin tone and texture, and contour the face and neck for a more youthful look. Reasons a patient might opt for a non-surgical option include:
Concern over anesthesia

Medical conditions that make surgery unsafe

Higher cost of surgery

Desire to postpone surgery until a later time

Too much downtime afterward

Desire for the most natural results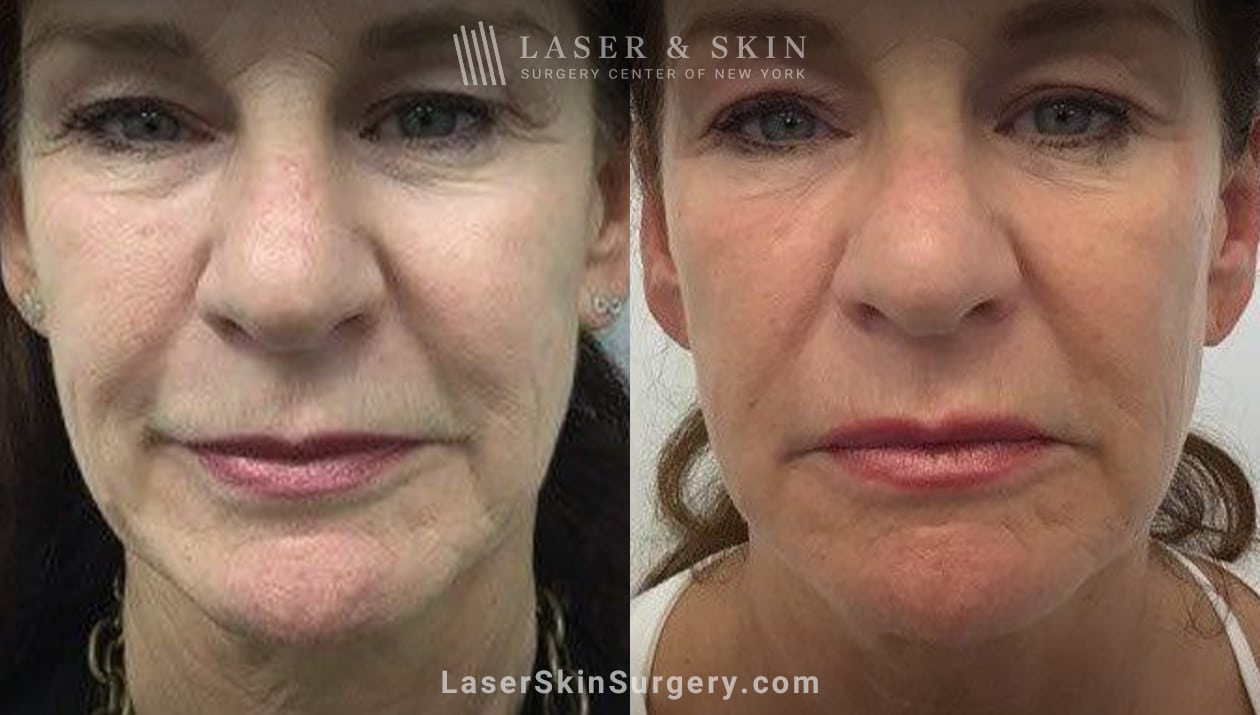 How and Why Does the Face Age?
To understand the best ways to improve the appearance of sagging skin, it is helpful to first understand how and why the face ages in the first place. Lines, wrinkles, folds, and loose skin are all obvious signs of aging but are actually due to certain structural changes going on behind the scenes.
Collagen and Elastin
As you age, you may notice your skin doesn't exactly bounce back like it used to. 
Collagen and elastin are the two key players that help with skin elasticity and give the skin its smooth and plump look. Collagen is a protein that serves as a building block for supporting fibers in the skin's dermal infrastructure. It essentially "cements" every connecting and supporting tissue in the skin. 
Elastin, on the other hand, is another protein that gives skin cells their structure. It allows the skin's connective tissue to stretch, contract, and resume shape. Sun damage, heavy alcohol intake, smoking, diseases, the natural aging process, and other environmental factors break down collagen and elastin.The more we lose collagen and elastin, the more lines, wrinkles, and sagging appear.
Loss of Bone and Fat
Facial aging is the result of the cumulative effects of time, genetics, and lifestyle factors and may include decreased skin elasticity, redistribution of fat, and progressive bone resorption. Fat pads under the muscle, which give our face its shape and structure, diminish and sag over time. As we lose facial volume, we lose our rounded convex features such as the "apple of the cheek", contributing to an aged appearance. 
The bony structure of the mouth also recedes, affecting chin and jawline definition. As facial fat recedes, the excess length of the flattened cheek skin causes the hanging bulge we know as jowls. 
The Nonsurgical Lift: How Does it Work?
A nonsurgical lift involves treatments that can tighten the skin naturally by stimulating collagen and elastin production. In essence, we are aiming to improve the skin's foundation. In addition to collagen and elastin formation, reducing submental fat and enhancing facial contours with fillers will help lift and tighten the skin without surgery.
Best methods for creating new collagen and elastin: 
Tretinoin/Retinols – These topicals, along with Vitamins C and E, reduce lines and wrinkles by stimulating the skin to increase collagen production.

ALASTIN Skincare® – TriHex Technology® is the primary ingredient in these products. The proprietary blend of active peptides and botanicals is specifically engineered to work with the skin to eliminate old, damaged skin while supporting the skin's natural ability to produce new collagen and elastin.

Medium to Deep Chemical Peels – The exfoliative effect of peels stimulates epidermal growth and collagen production.

Microneedling – This treatment creates micro-channels that trigger the body's healing processes while boosting collagen levels over time, rejuvenating the skin at a cellular level.
Laser resurfacing procedures remove damaged superficial layers of skin while allowing new collagen and skin to form as well. While they can be extremely effective, there are also devices that don't need to damage the skin to rejuvenate it. Most devices that use heat and energy will target the skin's deeper layers to promote collagen and elastin formation without disrupting the outer dermal tissue. 
Radiofrequency (RF) and ultrasound energy are effective heating treatments that boost collagen and elastin production. Examples are:
ThermiSmooth

Thermage 

Ultherapy

and

SofWave 

ThermiTight  vs. FaceTite

Microneedling with RF (Infini, Genius, Morpheus)
Injectable Treatments to Restore Volume
Injectable facial fillers don't just "fill" in areas to restore lost volume, but they create a lifting effect too. Fillers can also effectively soften facial creases, enhance shallow contours, remove wrinkles, and create a tighter, smoother, and more lifted appearance. Examples of dermal fillers used for this purpose include:
Fat grafting (fat harvested from the abdomen or thighs) is another option for restoring volume to the face.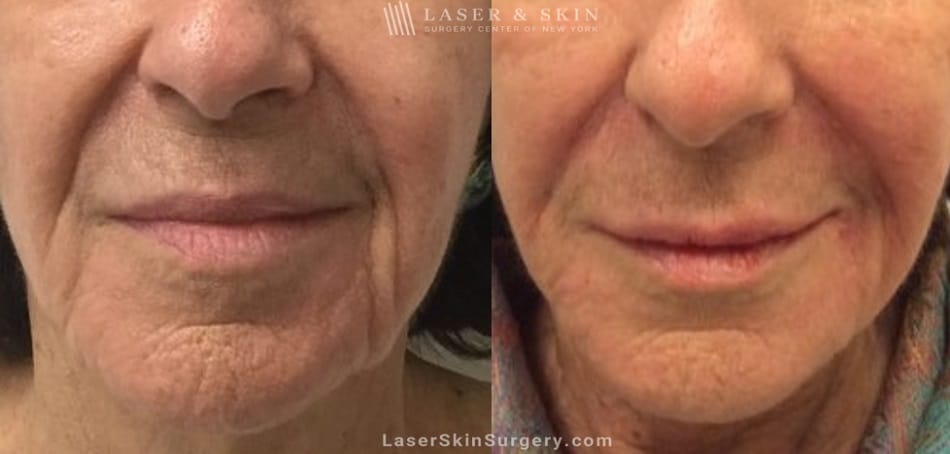 Physical Lifting with Thread Lifts
A thread lift uses temporary medical-grade sutures to produce a subtle but visible lift in the skin. Unlike a surgical facelift that removes the patient's loose facial skin, a surgeon will only suspend the skin during a thread lift. By tightening the thread, the skin is pulled up to create a tighter, more lifted appearance. 
These threads or sutures (e.g., InstaLift Silhouette or Nova Threads) not only provide support, but also induce collagen formation when they dissolve. The 1-1 ½ hour procedure produces results that last for 1-2+ years.
Reducing the Double Chin
There are several options available to remove your submental fat (double chin) for a slimmer and more contoured jawline: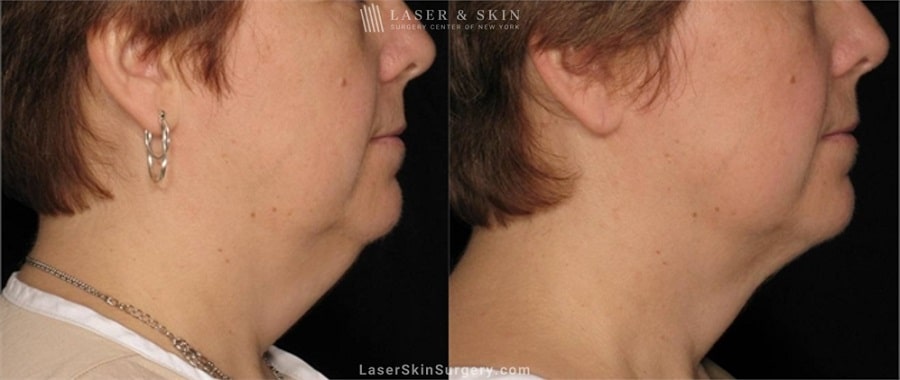 Who is a Good Candidate for Noninvasive Lifting? (And Who Isn't?) 
Those with mild to moderate lines, wrinkles, sagging skin, and other signs of aging may be good candidates for noninvasive lifting. 
While noninvasive tightening and lifting can achieve excellent results without requiring surgery and its associated downtime, these minimally invasive treatments cannot achieve the same dramatic results as a surgical facelift would. Noninvasive lifting is not recommended for those with:
Significant skin sagging

Advanced jowl formation 

Deep smile and marionette folds

Low hanging neck muscle bands
It's never too early to begin the journey to healthy, youthful skin. Prejuvenation refers to the proactive approach to caring for the skin and warding off early signs of aging. It's all about staying ahead of the aging process and enhancing the skin in the most natural way possible. Laser & Skin Surgery Center of New York can help you with your 
Why Laser & Skin Surgery Center of New York is Your Best Choice for Nonsurgical Lift Procedures
Treating over 230,000 patients, the Laser & Skin Surgery Center of New York is one of the most renowned and prestigious dermatology practices in New York City and beyond. We provide excellent medical and cosmetic solutions to a wide variety of skin conditions and aesthetic concerns, including a comprehensive range of procedures for skin rejuvenation. 
All of our treatments are performed by our board-certified dermatologists and plastic surgeons who use the most advanced methods in research, diagnosis, and aesthetic procedures. We specialize in a multi-disciplinary approach to managing the aging face, including injectables, lasers, and topical therapy. With our ability to personalize treatments, we can help patients achieve their cosmetic goals with results that are beautiful, natural-looking, and long-lasting.
Stop the Clock on Aging the Nonsurgical Way
Aging is inevitable, but there are many nonsurgical anti-aging treatment options available to refresh your appearance. Contact the Laser & Skin Surgery Center of New York today to schedule your consultation at either our Manhattan or Southampton office and find out how you can look like the best version of yourself.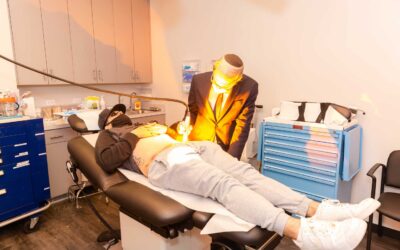 Homepage // Blog / Best treatments for all types of scars explainedOnce a scar forms, it becomes a lasting mark on your skin. Fortunately, the world of cosmetic treatments offers a range of powerful lasers and solutions to minimize their appearance. Selecting the...
Pay Online for Patients of Drs. Geronemus, Anolik, Bae & Seidenberg
Pay Online for Patients of Drs. Abraham, Bernstein, Krant, Shelton, Stern, Weiss, Hoffman, Shim, Murphy-Rose, Wilson, and Petratos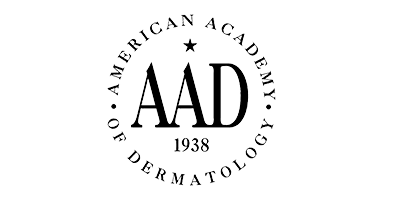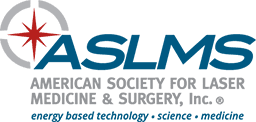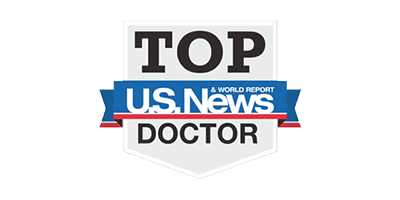 By LASER & SKIN SURGERY CENTER OF NEW YORK® | © 2023 All Rights Reserved. Design & Development by Goldman Marketing Group | Sitemap | Privacy Policy | The information available on this web site is provided for informational purposes only. This information is not intended to replace a medical consultation where a physician's judgment may advise you about specific disorders, conditions and or treatment options. We hope the information will be useful for you to become more educated about your health care decisions. If you are vision-impaired or have some other impairment covered by the Americans with Disabilities Act or a similar law, and you wish to discuss potential accommodations related to using this website, please contact us at (212) 941-5055.
*MDs perform 100% of all medical and cosmetic treatments.
Our board-certified dermatologists in New York City are all fellowship-trained and uniquely trained in lasers and technology, cosmetic and medical dermatology, and skin surgery. Together they are highly acclaimed world experts with thousands of articles published, countless TV and media appearances, and hundreds of years of combined experience.
Our plastic surgeons bring years of experience in helping patients achieve all their aesthetic goals through surgical procedures. Every treatment is fully customized to the precise needs of each patient for results that are natural and beautiful.