Kybella is an injectable treatment designed to remove submental fat from underneath the chin.
Results Duration: May be Permanent
Treats:
Submental fat that forms underneath the chin, giving the appearance of a double chin
Side Effects:
Mild swelling, bruising, pain, numbness, and redness following each treatment – laser and topical treatments available to minimize bruising
Location:
Primarily used underneath the chin
How Performed:
Medication is injected to the desired areas using tiny needles
Preparation:
Topical anesthetic applied, nitrous oxide also available
Expected Outcome:
Reduction of submental fat under the chin, better definition along the jawline
Onset:
Results visible in weeks to months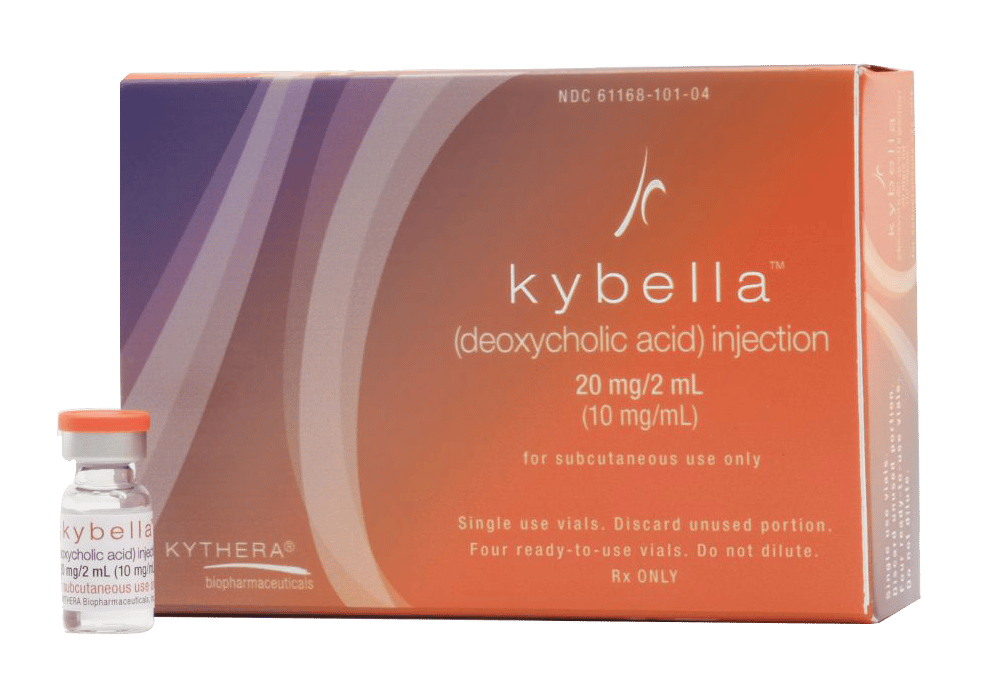 Kybella is a nonsurgical treatment, developed by Kythera Biopharmaceuticals, to address submental fullness underneath the chin. It is the first and only FDA-approved injectable designed for contouring and reducing fat in the neck. The physicians at the Laser & Skin Surgery Center of New York® participated in the clinical trials of Kybella leading to its FDA approval. We are one of the leading centers in the U.S. to offer this revolutionary treatment. Our private patients and patients from our clinical trials have been very satisfied with their results, with improved chin profile and minimal downtime following the procedure. 
All of our physicians at the Laser & Skin Surgery Center of New York have extensive experience with various injectable treatments. We are leaders in the field of cosmetic dermatology and one of the largest users of injectables in the world. Our board-certified doctors also offer surgical options to treat double chins, including liposuction.
Kybella is a synthetic preparation of deoxycholic acid, a naturally forming substance in the body that helps break down and absorb dietary fat. When injected into subcutaneous fat under the chin, Kybella promotes the destruction of adipocytes (fat cells). Once destroyed, those cells are unable to store or accumulate fat, leading to a slimmer jawline.
Kybella is administered by injections into the fat cells under the chin, personalized to the treatment goals of the patient. Each in-office treatment session takes approximately 15-20 minutes.
Click here to learn more about Kybella injectables.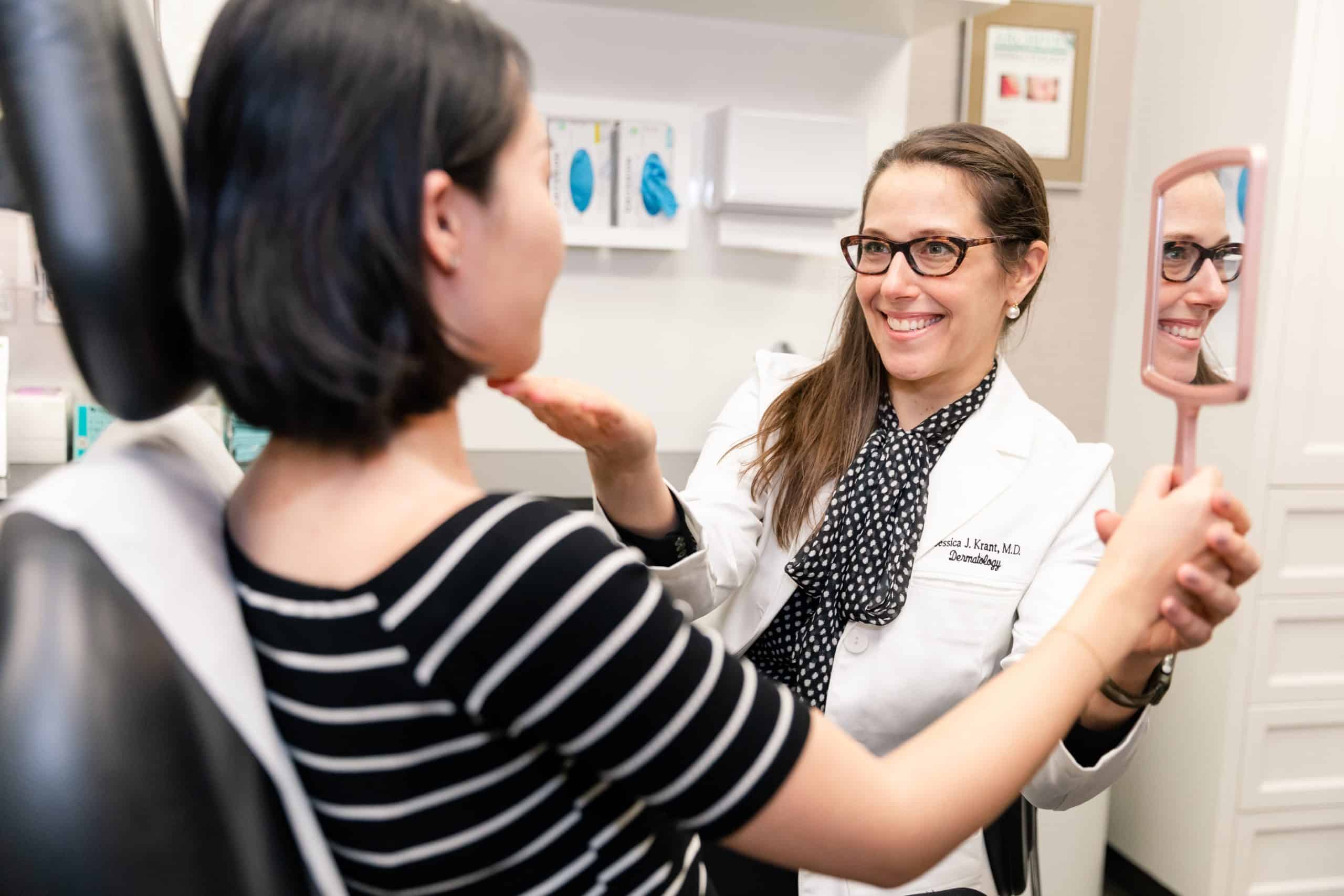 Do Kybella Injections Hurt?
This is a common concern for patients when they realize they will be getting multiple injections in the treatment area during each session. Rest assured we will take every necessary step to ensure your comfort during your procedure. Patients will receive a topical numbing cream or ice before the procedure starts, to reduce pain and create a positive experience. 
Generally, results appear within weeks to months of treatment. Although the deoxycholic acid destroys the fat cells quickly, it takes time for the body to flush them out naturally and create a slimmer, smoother facial profile.
How Long is the Recovery Time After Treatment?
After treatment, you should be able to resume your normal activities. Keep in mind that you could have some swelling and bruising after your treatment. Plan social and professional activities accordingly in case you require some social downtime to allow those side effects to subside. Our doctors offer topical and laser treatments to minimize bruising after this procedure.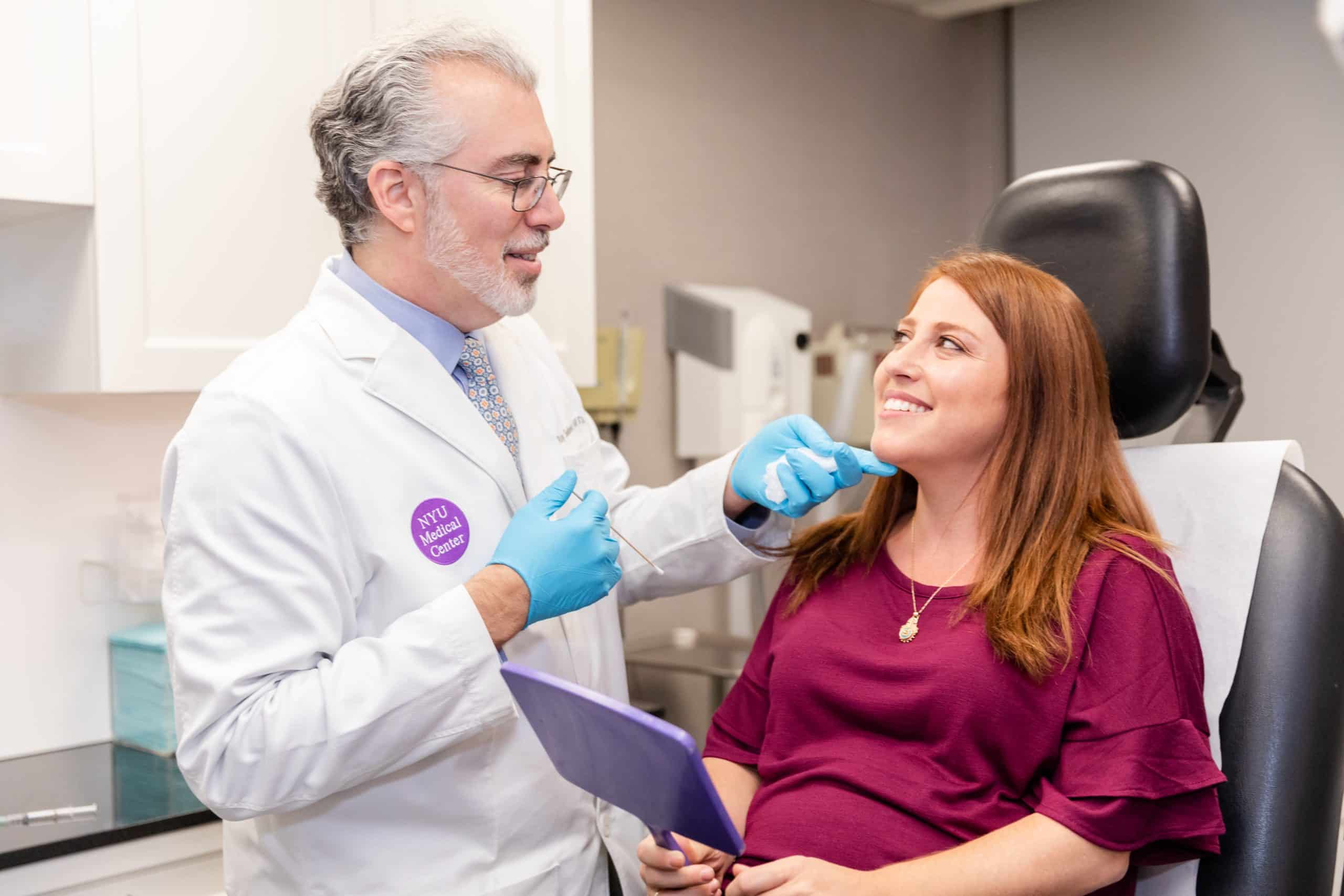 Questions about kybella treatments? Contact us at Laser & Skin Surgery Center of New York Today!
If you have any questions or are unsure if Kybella is right for you, contact our board-certified dermatologists at Laser & Skin Surgery Center of New York today.
Real Patients Before and After photos

Kybella Injections for Double Chin Treatment
Disclaimer: Results may vary from patient to patient. Results are not guaranteed.

Kybella Injections for Double Chin Treatment
Disclaimer: Results may vary from patient to patient. Results are not guaranteed.
Do Men Get Kybella Treatments?
Yes. Kybella and other injectable treatments are a popular option among men and we treat male patients routinely at the Laser & Skin Surgery Center of New York. According to the American Society for Aesthetic Plastic Surgery, more than 63,000 patients received Kybella injections in the US in 2018. A significant proportion of those patients were men. 
For men, the double chin appearance can be even more concerning, since it detracts from the strong jawline most men find attractive. The gradual results achieved with Kybella are also attractive to men since it isn't obvious they had a cosmetic procedure performed. Our dermatologists have the expertise and experience to ensure both male and female patients achieve results that look natural while improving the appearance.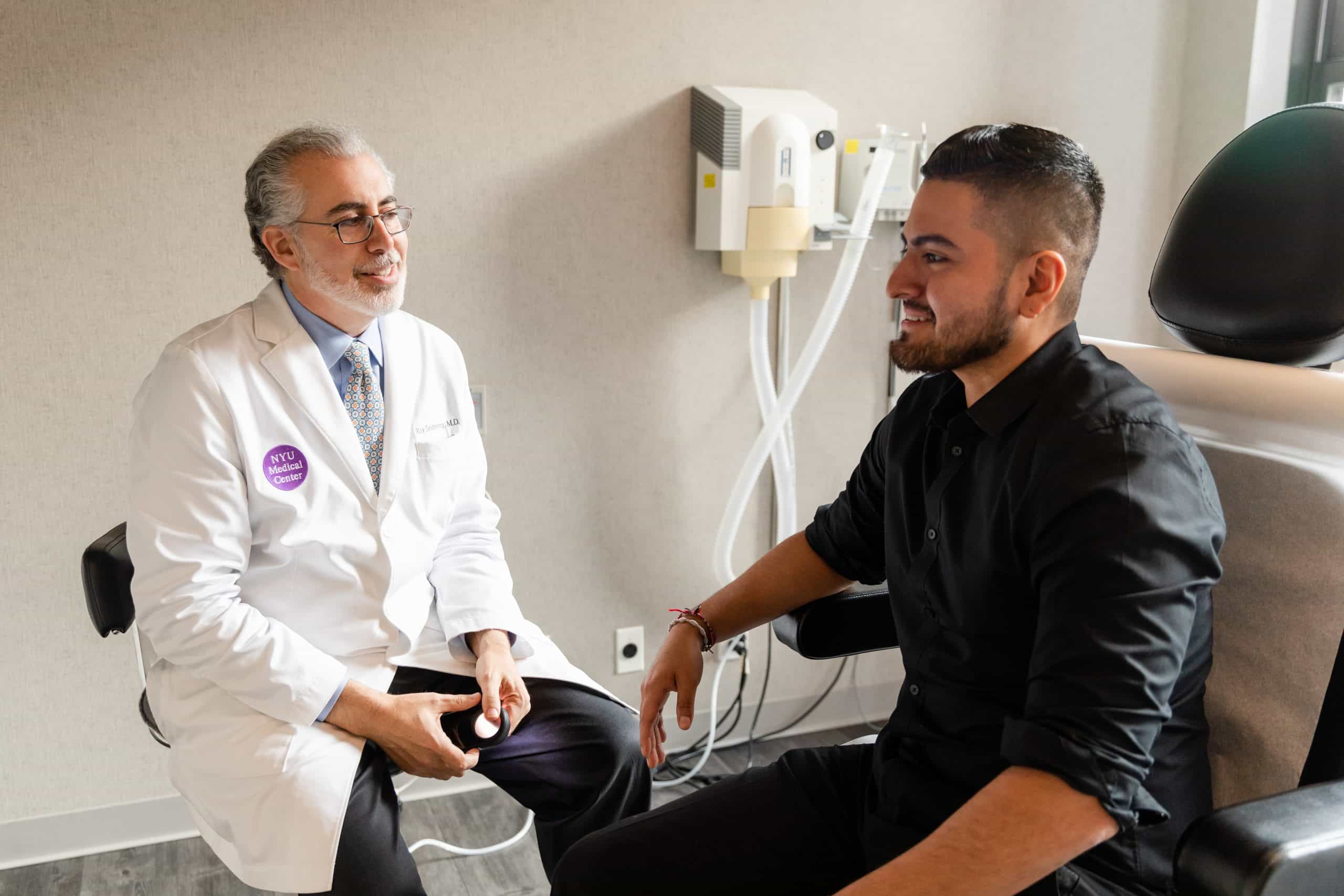 Q: Is Kybella Safe?
A: Yes, Kybella has a proven track record of safety and success. The FDA approved Kybella in 2015 as a safe and effective nonsurgical treatment for submental fat. In 2018, more than 63,000 people had treatments using injection lipolysis, such as Kybella.
Q: How Long Do Results Last?
A: Kybella is a relatively new product and follow-ups with clinical trial patients need to be conducted. Nevertheless, it is expected that patients would not need retreatment once the aesthetic response is achieved as long as diet and lifestyle factors were maintained.
Q: How Many Treatments Are Necessary?
A: Most patients see a response after two treatments although some patients may require additional sessions depending on the amount of fat that is present.
Q: Are There Any Side Effects?
A: The most common side effects were associated with the injection site and included mild edema (swelling), hematoma (bruising), pain, numbness, and redness following each treatment session.
Q: What If I Gain Weight After My Kybella Treatment?
A: Patients in the clinical trials who gained weight after treatment did not show the return of their submental fullness. However, Kybella is a new product and follow-ups with more patients will provide insight on this topic.
Q: Are There Contraindications For Kybella?
A: Kybella is not to be used in patients with a history of dysphagia (difficulty swallowing), bleeding abnormalities, or those currently taking blood thinner medication.
Scars are often unwanted reminders of medical conditions, injuries, trauma, or surgery. When they are noticeable, they can also lead to significant embarrassment and self-esteem. Fortunately, there are ways to treat scars today that do not involve incisions, anesthesia, and downtime.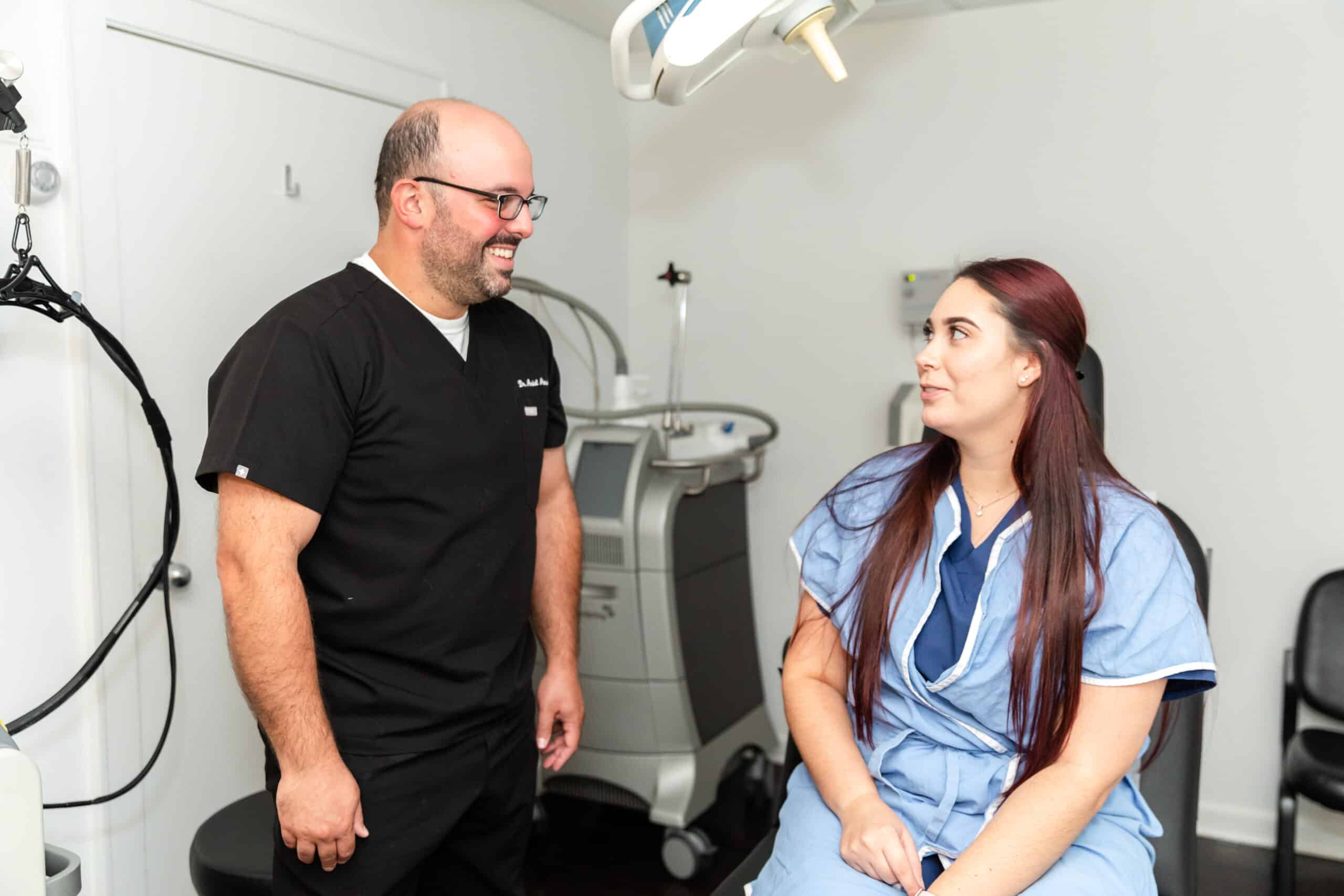 Body contouring addresses stubborn fat, skin laxity, or cellulite. Our board-certified physicians have been involved in clinical trials to develop new technology that provides superior treatment options. We offer treatments for cellulite, skin tightening, and fat reduction.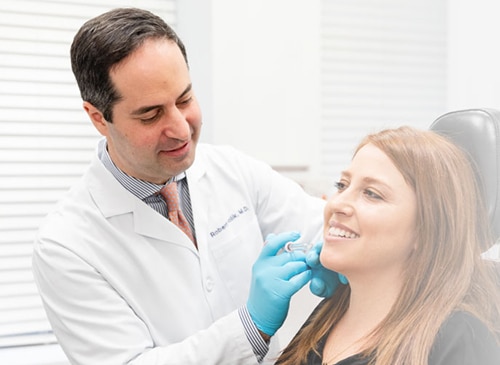 Laser & Skin Surgery Center of New York's filler treatments are always performed by board-certified physicians who have extensive experience with injectables. When you come to us for cosmetic care, you can be confident that you can safely achieve a perfectly natural look.
WHAT you are looking for?
Our 30,000+ sq foot dermatology center in New York is the most comprehensive, state-of-the-art laser and cosmetic skin surgery center in the world. Over the past 30 years we have contributed to the development and testing of many devices, fillers and treatments that are now standard care, so our patients know they are always receiving the most innovative, cutting-edge treatment available.
Pay Online for Patients of Drs. Geronemus, Anolik, Bae & Seidenberg
Pay Online for Patients of Drs. Abraham, Bernstein, Krant, Shelton, Stern, Weiss, Hoffman, Shim, Murphy-Rose, Wilson, and Petratos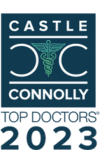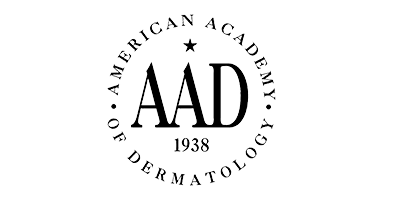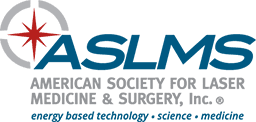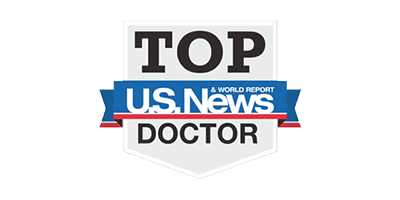 By LASER & SKIN SURGERY CENTER OF NEW YORK® | © 2023 All Rights Reserved. Design & Development by Goldman Marketing Group | Sitemap | Privacy Policy | The information available on this web site is provided for informational purposes only. This information is not intended to replace a medical consultation where a physician's judgment may advise you about specific disorders, conditions and or treatment options. We hope the information will be useful for you to become more educated about your health care decisions. If you are vision-impaired or have some other impairment covered by the Americans with Disabilities Act or a similar law, and you wish to discuss potential accommodations related to using this website, please contact us at (212) 941-5055.
*MDs perform 100% of all medical and cosmetic treatments.