Sclerotherapy and endovenous laser procedures can be used to remove visible leg veins without surgery or downtime.
Results Duration: Long-Lasting
Treats:
Visible spider and smaller varicose veins on the legs
Side Effects:
Redness, tenderness, bruising and swelling 
Location:
Primarily used on the legs
Follow Up:
Additional treatment sessions may be necessary to achieve an optimal outcome
How Performed:
Medication is injected to the visible veins, laser energy can also be delivered directly into the vein so it collapses and disappears from view
Preparation:
Topical anesthetic applied prior to treatment 
Procedure Type:
Injectable/Endovenous Laser
Expected Outcome:
Elimination of visible veins on the leg
Onset:
Results appear in days following treatment 
Leg Vein Treatment in new york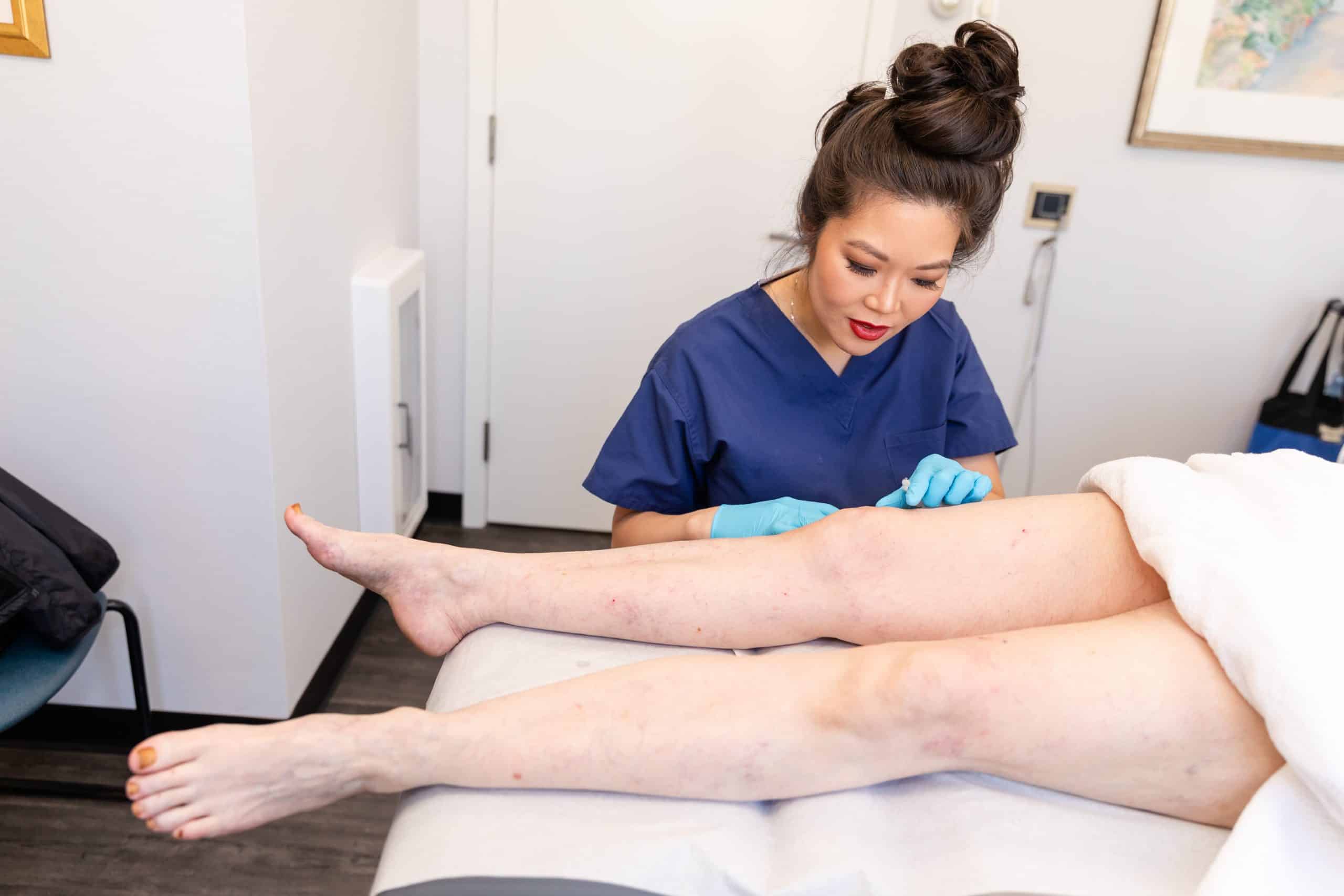 Visible veins on the legs are not usually a serious medical concern, but they can be a cosmetic nuisance. Today, a variety of nonsurgical treatments are available to remove unwanted veins with minimal discomfort and downtime.
The board-certified doctors at the Laser & Skin Surgery Center of New York commonly treat leg veins with an injectable procedure known as sclerotherapy. Treatment involves a series of essentially painless injections directly into the unwanted vessels causing them to collapse and ultimately get reabsorbed by the body. Sclerotherapy is considered the gold standard in spider vein treatment and it can also be used to eliminate some smaller varicose veins. Asclera® (polidocanol) recently received FDA clearance and we have added this very safe and effective medication to our therapeutic approach.
We can also use endovenous laser ablation to remove larger varicose veins. This procedure uses a narrow fiber, inserted into the vein, to heat the vessel so it collapses. Endovenous ablation is a good option for veins that protrude above the skin's surface. 
How does Leg Vein Treatment Work?
Visible veins can be eliminated by coagulating the vessel so it seals closed and collapses. Sclerotherapy does this by administering a sclerosing agent into the vein that seals the walls of the vein. CoolTouch CTEV delivers gentle heating into the vein via a narrow fiber to produce a similar effect. Treated veins collapse and the body reabsorbs them. The treated vein cannot return, producing permanent improvement for patients. Blood flow reroutes naturally through healthy veins nearby.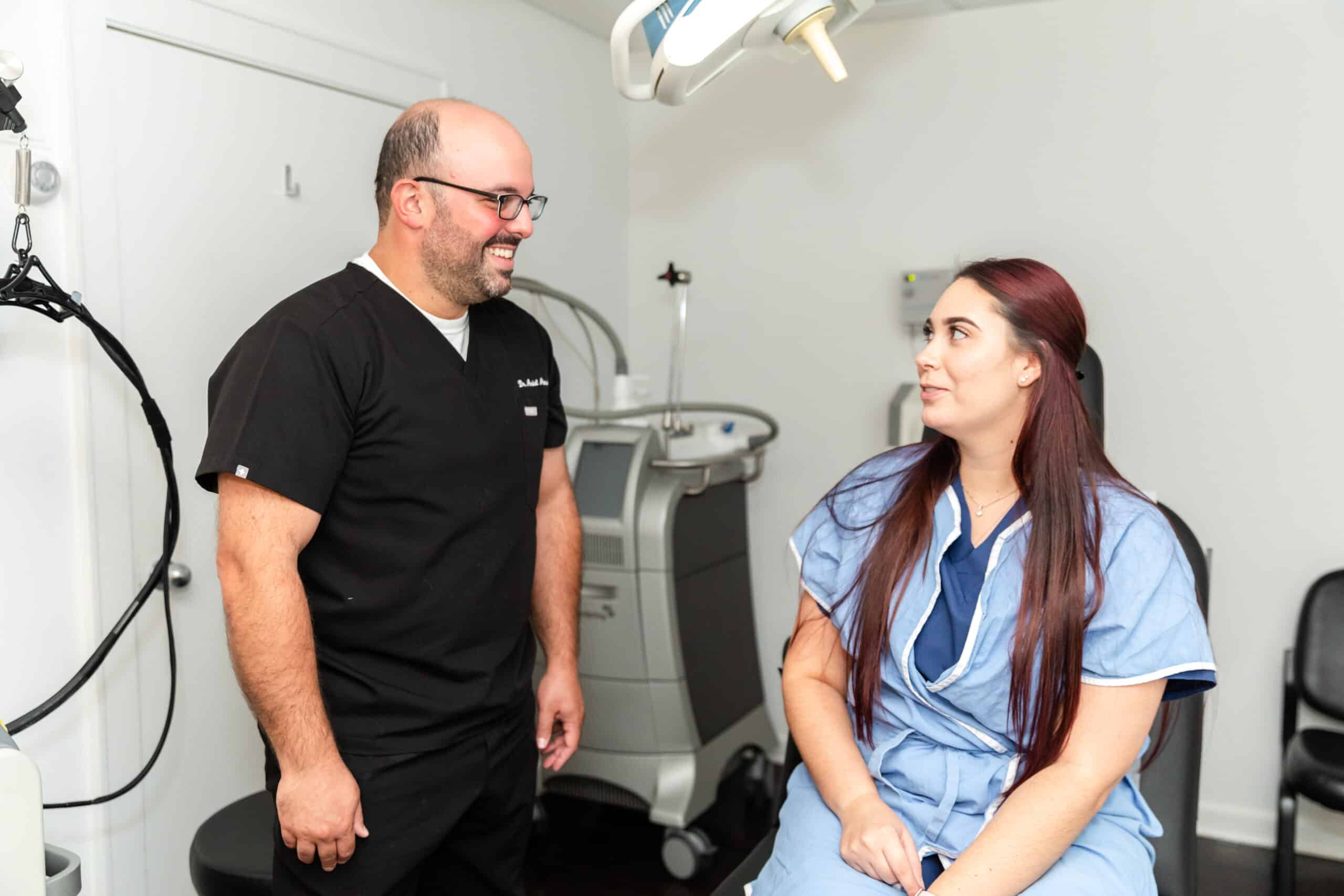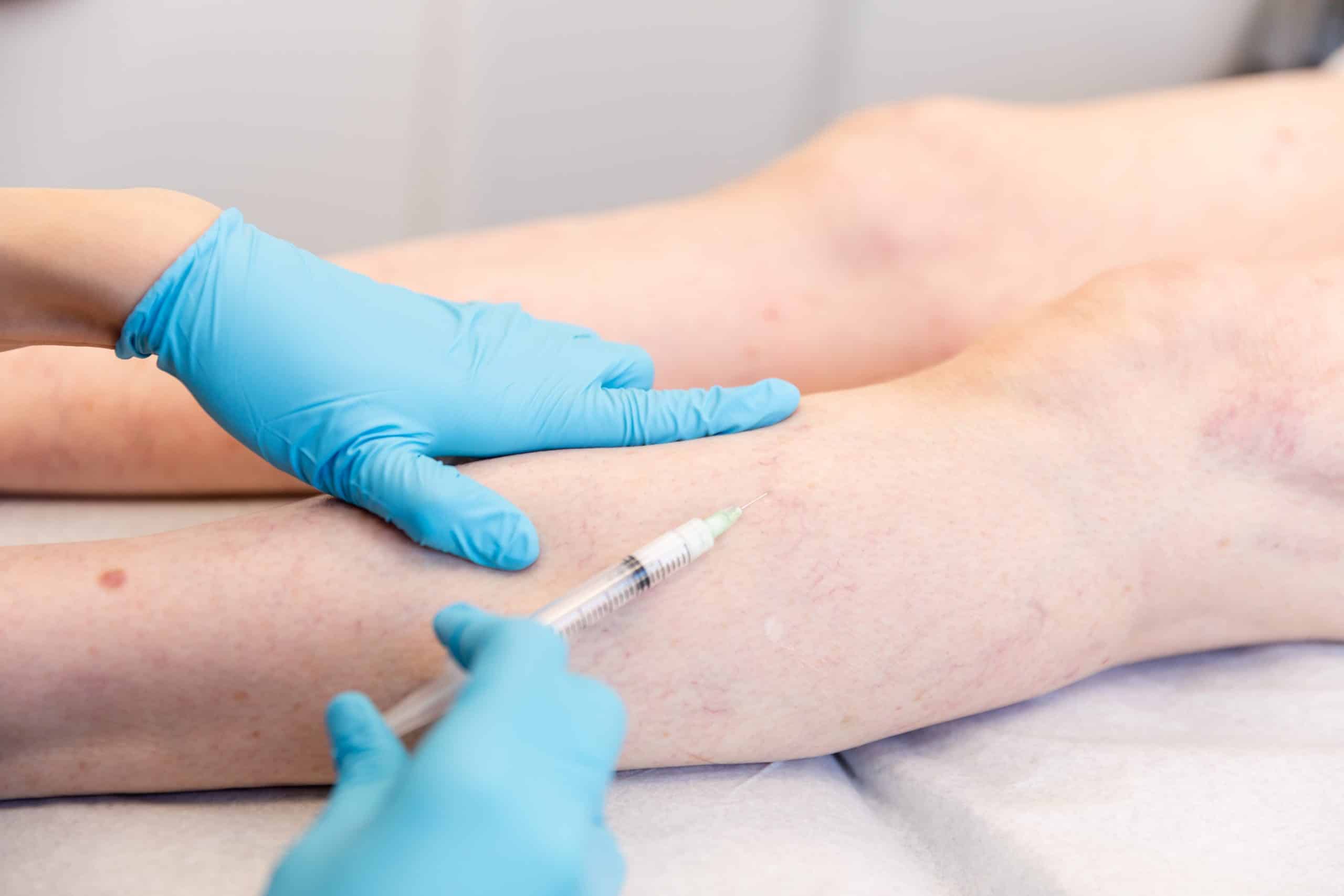 Does Leg Vein Treatment Hurt?
Most patients in New York report little or no discomfort with sclerotherapy or laser vein treatments. Some feel a slight burning and the sclerosing agent goes into the vessel, but the sensation only lasts a minute or so. Laser treatments are often compared to a rubber band snapping against the skin. Topical numbing cream is available for patients that are concerned about their comfort level during the procedure, but it is rarely necessary.
Most patients will see positive results in the weeks following their treatment, with full improvement in about 4-6 weeks. Larger veins may take up to 4 months to disappear completely. Once the vein is gone, it cannot return.
How Long is the Recovery Time After Treatment?
You will be able to return to regular activities immediately following your leg vein treatment. Patients typically wear compression socks for a week or two after the procedure to promote healthy blood flow and healing in the area.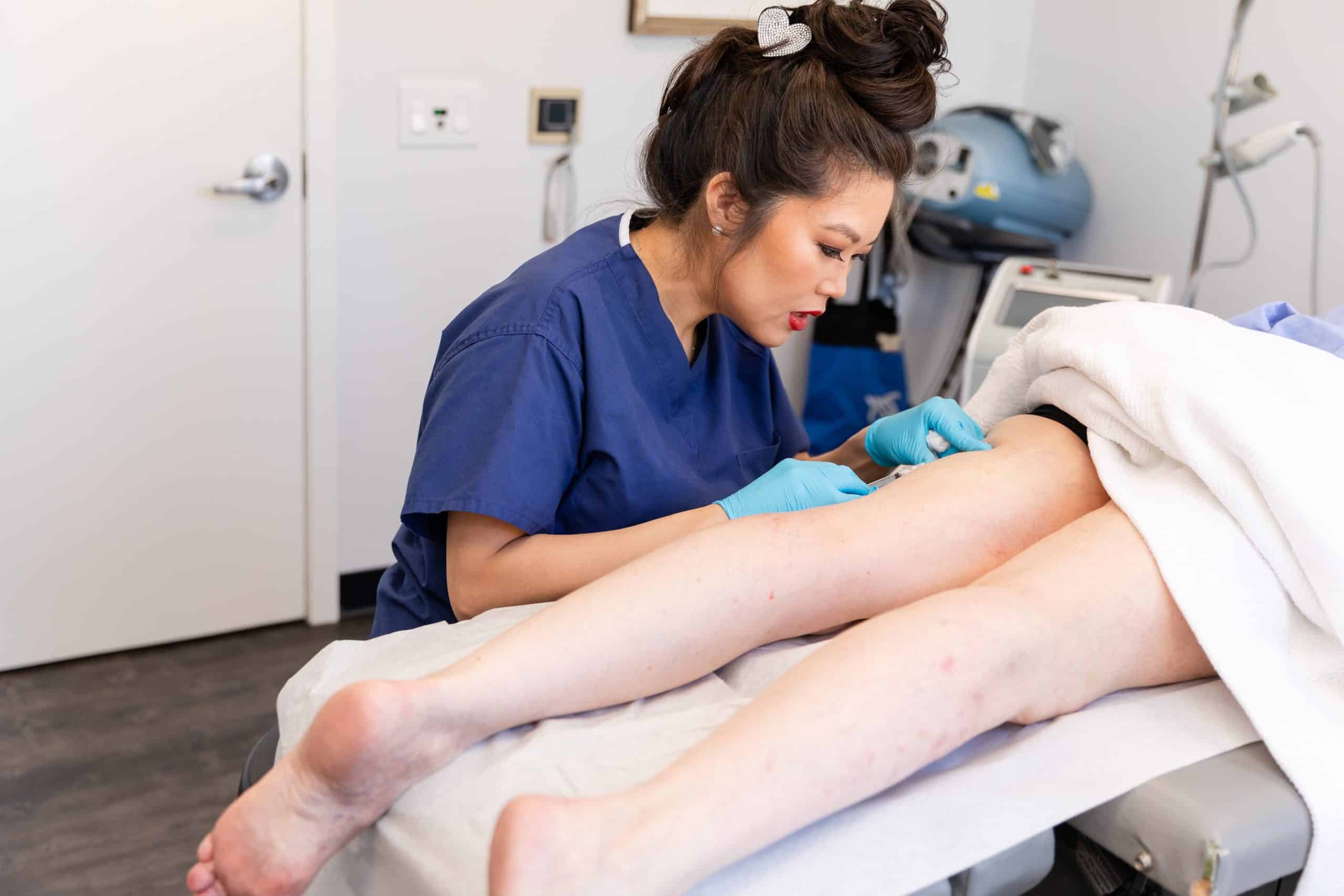 Real Patients Before and After photos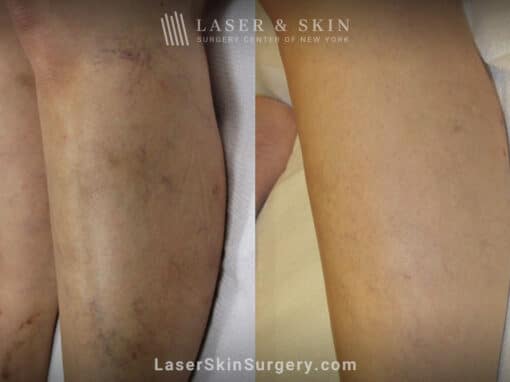 Sclerotherapy to treat leg veins
Disclaimer: Results may vary from patient to patient. Results are not guaranteed.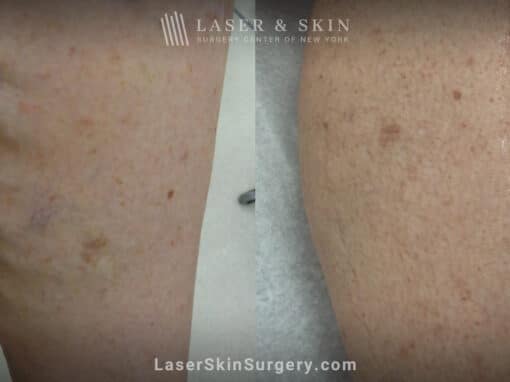 Sclerotherapy to treat leg veins
Disclaimer: Results may vary from patient to patient. Results are not guaranteed.
Leg Vein Treatment In The News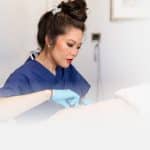 Cindy Bae, M.D., visits Kathie Lee and Hoda to discuss the difference between varicose veins and spider veins.
Do Men Receive Leg Vein Treatments?
Yes. We treat men routinely at the Laser & Skin Surgery Center of New York, using both sclerotherapy and laser vein treatments. According to the American Society for Aesthetic Plastic Surgery, nearly 30,000 men had laser veins treatments in 2018, and another 4,500 underwent sclerotherapy. Both of those numbers showed an increase from 2017.
Men and women require different approaches when undergoing any cosmetic procedure, including leg vein treatment. Our board-certified doctors have the experience and expertise to ensure optimal outcomes for all of our patients, regardless of gender.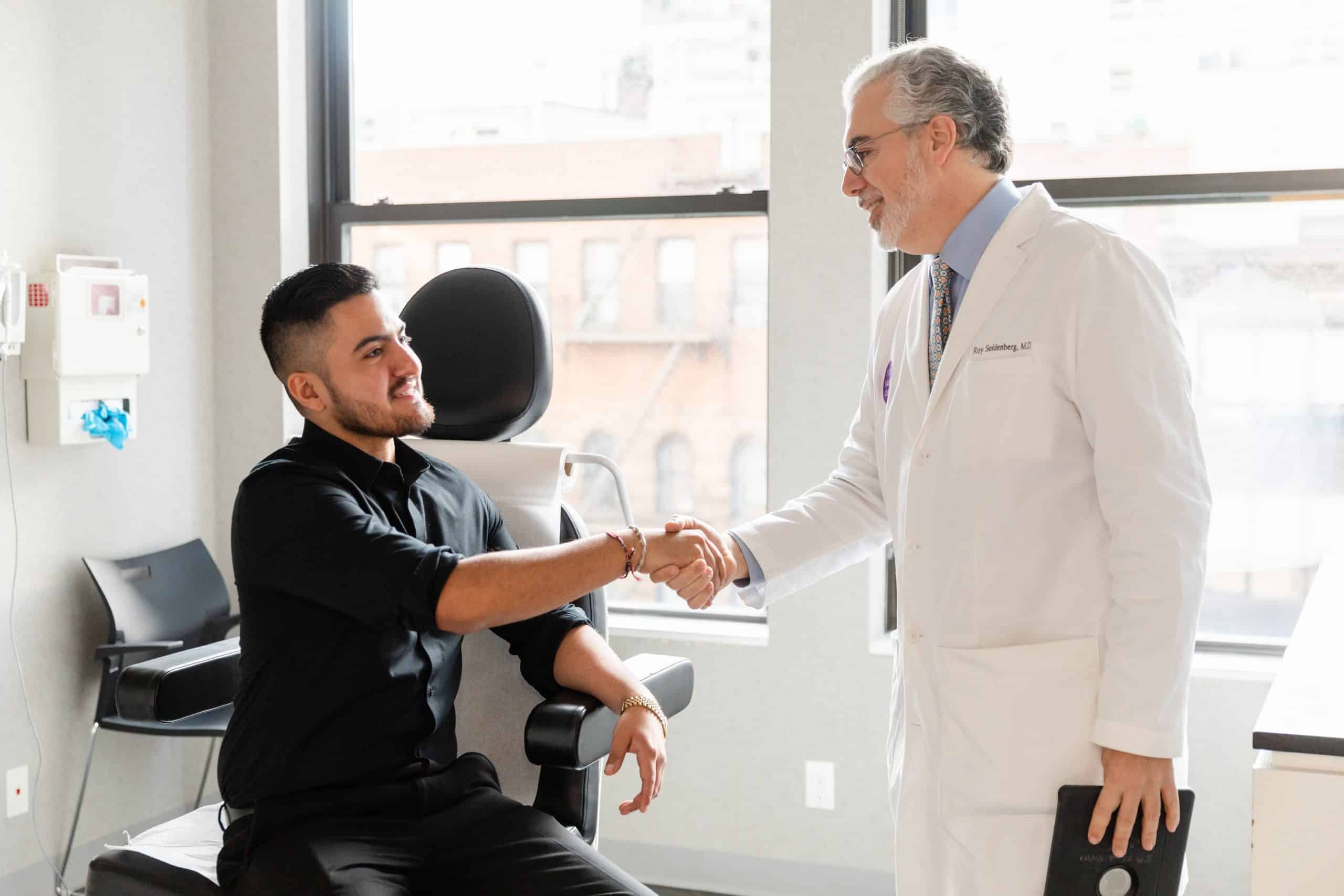 Q: Is Leg Vein Treatment Safe?
A: Yes. Sclerotherapy has a long track record of safety and success. The FDA has approved numerous sclerosing agents over the years, allowing doctors some flexibility in how they perform their vein treatments. Most recently, the FDA approved the sclerosing medication Asclera in 2010, for the treatment of varicose veins. All of the laser devices we use for vein treatments are also FDA approved and have a history of safety and efficacy for our patients looking to eliminate visible veins from the legs.  
Q: How Long Do Results Last?
A: Since treated veins are reabsorbed by the body, they cannot return. However, other veins in the area may become visible over time, particularly if there is an underlying condition like chronic venous insufficiency present. If you continue to see spider or varicose veins develop, it is a good idea to schedule an assessment with a vein specialist who can diagnose your condition and determine whether additional treatment might be needed. 
Q: Are There Any Side Effects?
A: There can be some mild side effects after a sclerotherapy treatment, including inflammation, tenderness and mild swelling around the injection sites. Blood clots can be a risk after treatment, which is why we prescribe compression stockings to our patients to promote healthy blood flow. 
Q: How Many Treatments Will I Need?
A: While some patients achieve full results in a single treatment session, it is not unusual to require a series of sessions to eliminate all the visible veins in an area. Our board-certified doctors have extensive experience in leg vein treatments and will be able to advise you on the best treatment plan for you.
Q: Is Sclerotherapy Right for Me?
A: You might be a good candidate for sclerotherapy if you have visible spider veins or smaller varicose veins you would like to eliminate. The treatment is appropriate for any skin type and tone and can be performed on adults of all ages.
Scars are often unwanted reminders of medical conditions, injuries, trauma, or surgery. When they are noticeable, they can also lead to significant embarrassment and self-esteem. Fortunately, there are ways to treat scars today that do not involve incisions, anesthesia, and downtime.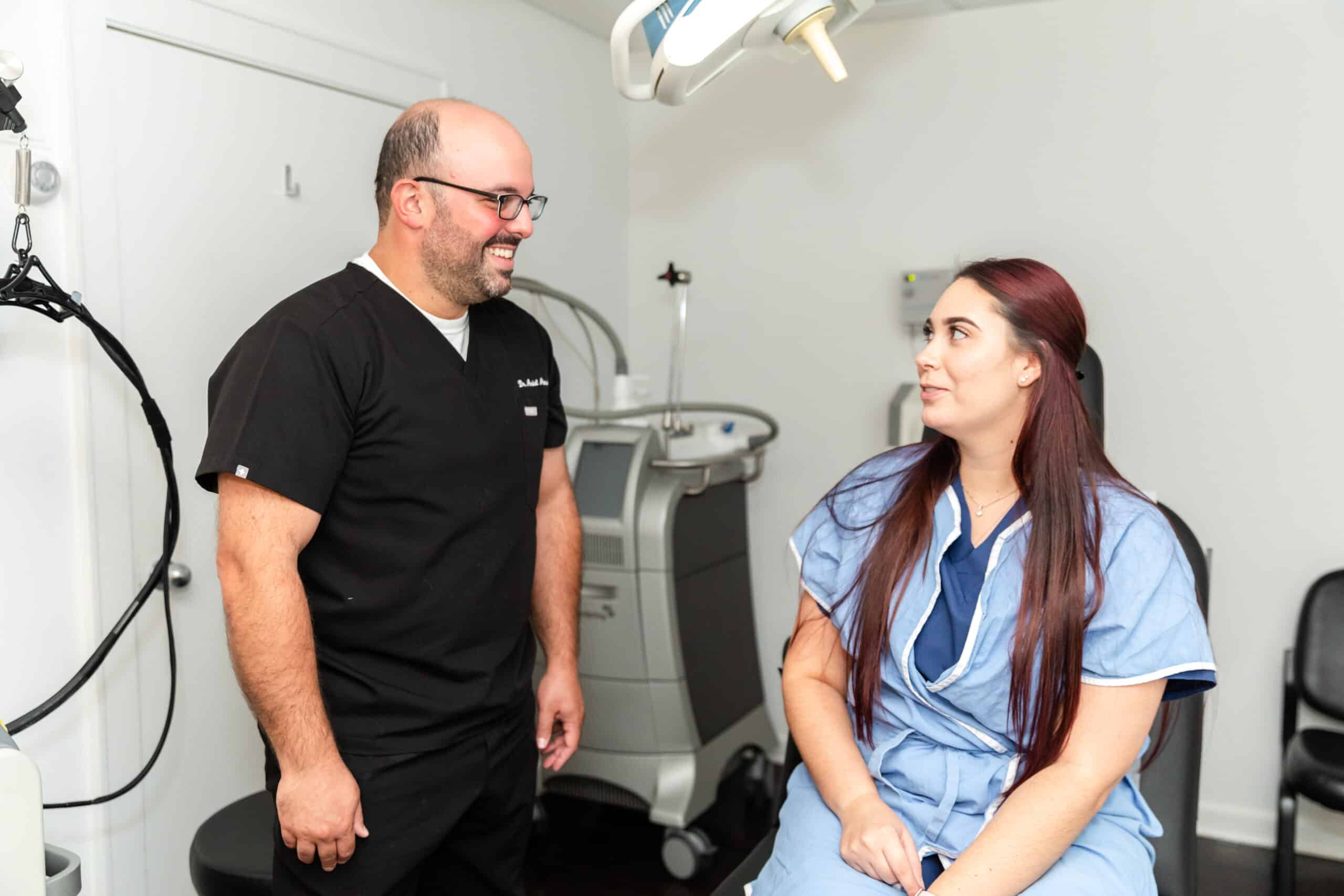 Body contouring addresses stubborn fat, skin laxity, or cellulite. Our board-certified physicians have been involved in clinical trials to develop new technology that provides superior treatment options. We offer treatments for cellulite, skin tightening, and fat reduction.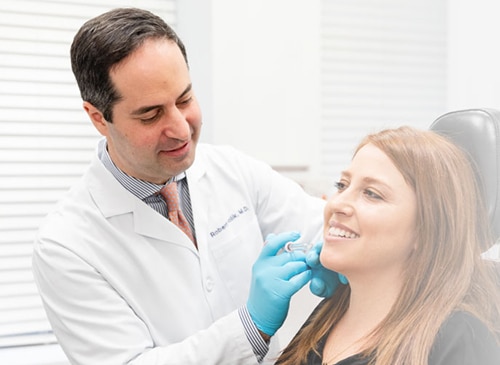 Laser & Skin Surgery Center of New York's filler treatments are always performed by board-certified physicians who have extensive experience with injectables. When you come to us for cosmetic care, you can be confident that you can safely achieve a perfectly natural look.
WHAT you are looking for?
Our 30,000+ sq foot dermatology center in New York is the most comprehensive, state-of-the-art laser and cosmetic skin surgery center in the world. Over the past 30 years we have contributed to the development and testing of many devices, fillers and treatments that are now standard care, so our patients know they are always receiving the most innovative, cutting-edge treatment available.
Pay Online for Patients of Drs. Geronemus, Anolik, Bae & Seidenberg
Pay Online for Patients of Drs. Abraham, Bernstein, Krant, Shelton, Stern, Weiss, Hoffman, Shim, Murphy-Rose, Wilson, and Petratos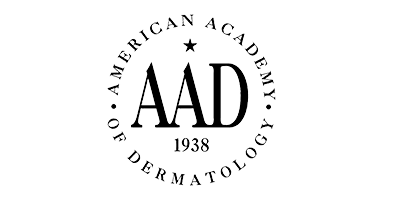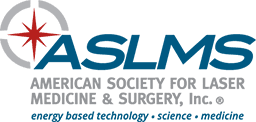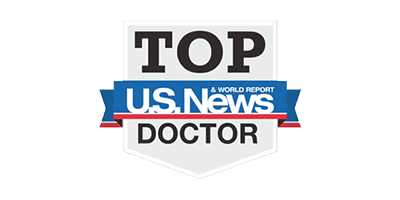 By LASER & SKIN SURGERY CENTER OF NEW YORK® | © 2023 All Rights Reserved. Design & Development by Goldman Marketing Group | Sitemap | Privacy Policy | The information available on this web site is provided for informational purposes only. This information is not intended to replace a medical consultation where a physician's judgment may advise you about specific disorders, conditions and or treatment options. We hope the information will be useful for you to become more educated about your health care decisions. If you are vision-impaired or have some other impairment covered by the Americans with Disabilities Act or a similar law, and you wish to discuss potential accommodations related to using this website, please contact us at (212) 941-5055.
*MDs perform 100% of all medical and cosmetic treatments.
Our board-certified dermatologists in New York City are all fellowship-trained and uniquely trained in lasers and technology, cosmetic and medical dermatology, and skin surgery. Together they are highly acclaimed world experts with thousands of articles published, countless TV and media appearances, and hundreds of years of combined experience.
Our plastic surgeons bring years of experience in helping patients achieve all their aesthetic goals through surgical procedures. Every treatment is fully customized to the precise needs of each patient for results that are natural and beautiful.