A tummy tuck is a surgical process that removes excess skin and fat from the midsection to create a more aesthetically-pleasing body contour.
Results Duration: Very Long Lasting
Treats:
Isolated fat, skin laxity, and separated abdominal muscles 
Side Effects:
Swelling, bruising, and tenderness around the incision site
Location:
Targets excess fat and loose skin around the midsection
Follow Up:
You will have multiple follow-up visits to carefully monitor your recovery process
How Performed:
Fat is surgically removed and excess skin excised to improve the abdomen
Preparation:
Performed under general anesthesia
Expected Outcome:
Smoother, flatter abdomen
Onset:
Results evident once area heals completely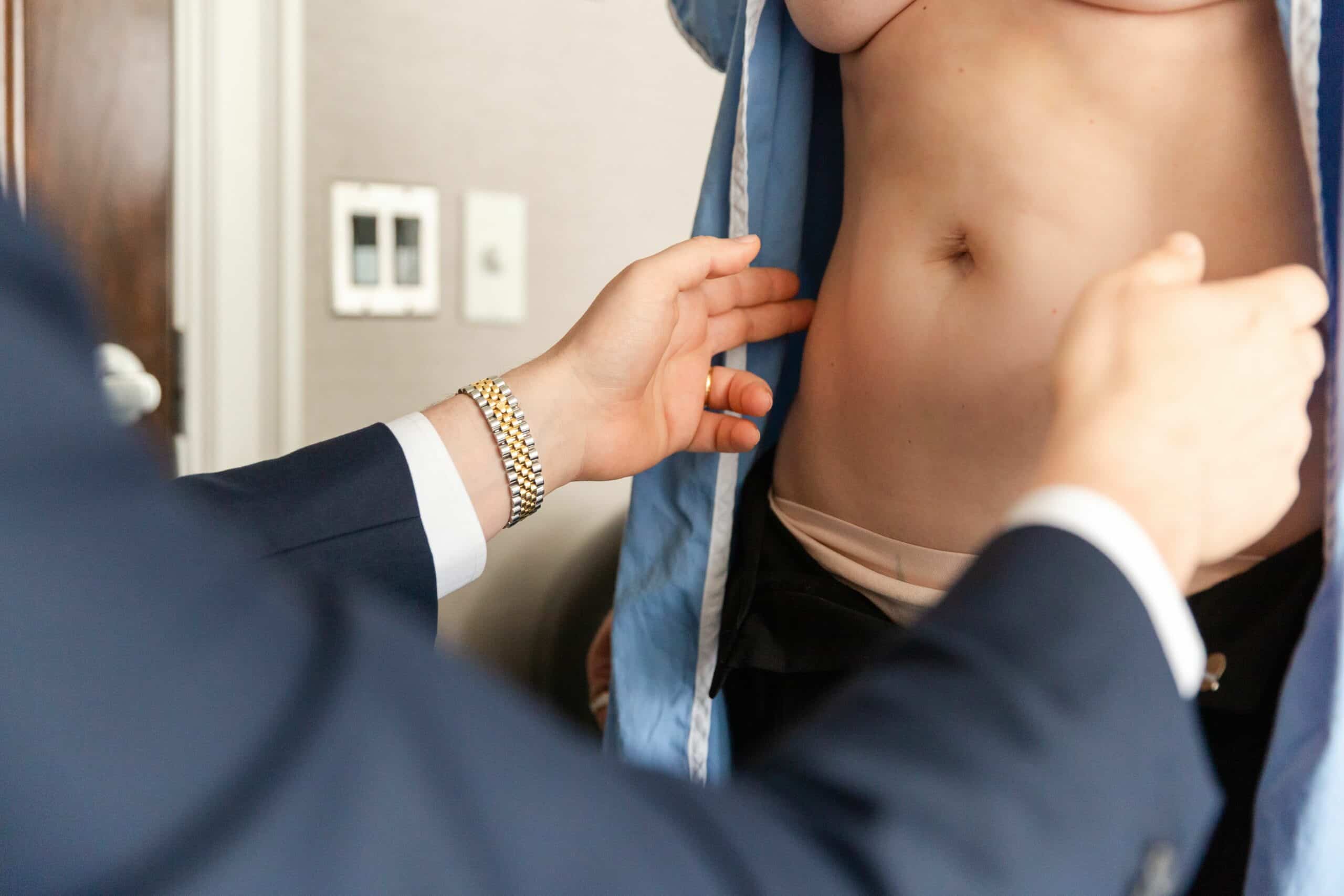 A tummy tuck, also known as abdominoplasty, removes excess fat and skin from the abdomen. The procedure, performed by our experienced plastic surgeons like Dr. Hoffman, also helps to flatten the abdomen by tightening the surrounding muscles. If you are in generally good physical shape but are concerned about abdominal fat deposits or loose skin that does not respond to diet and exercise, the procedure can potentially reduce or even eliminate a protruding abdomen.
A partial tummy tuck is similar to abdominoplasty except a shorter incision is made and the skin is only lifted to the navel, which does not have to be moved.
We take the time during every pre-operative consultation to learn what our patients want to achieve from a tummy tuck both for their bodies and for their self-confidence. By listening to what patients have to say and closely examining them, rather than performing a one-size-fits-all procedure on every person, we provide patients with a completely customized treatment that takes into account their specific goals. This is our approach to every plastic surgery procedure performed at the Laser & Skin Surgery Center of New York.
Who is a good candidate for a tummy tuck?
The best candidates for abdominoplasty are in good physical condition with pockets of fat or loose skin that haven't responded well to diet and exercise. We can also help older, slightly obese people whose skin has lost some of its elasticity.
A tummy tuck can also be useful for women with stretched skin and muscles from pregnancy. Results from the tummy tuck procedure will likely diminish if women continue to bear children, so we advise patients who plan to become pregnant to delay their surgery until they are finished having children. To learn more about how a tummy tuck can be useful for women after pregnancy, check out or webinar.
We also encourage patients who intend to lose a lot of weight to wait before undergoing the procedure, since skin in the abdominal area typically loosens after substantial weight loss.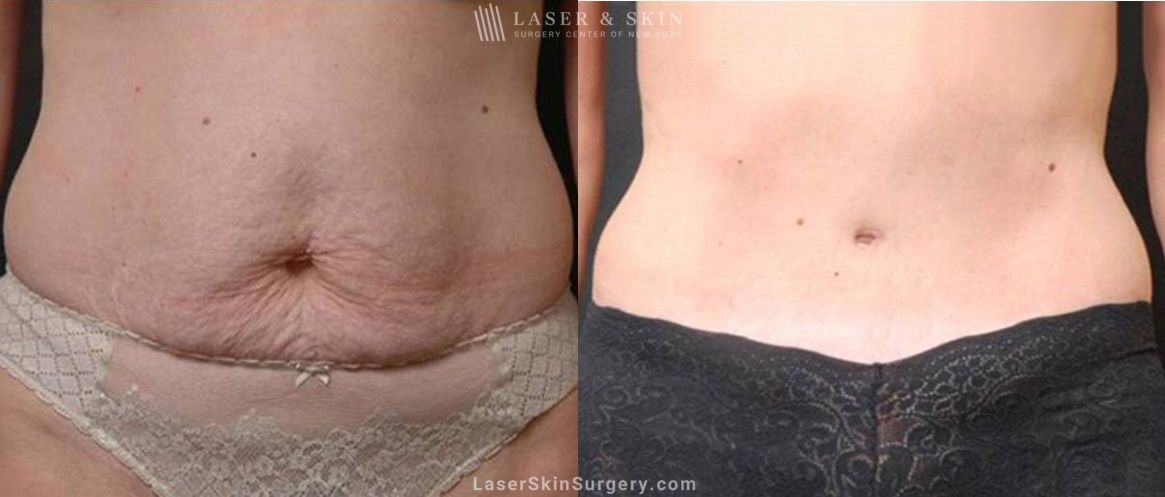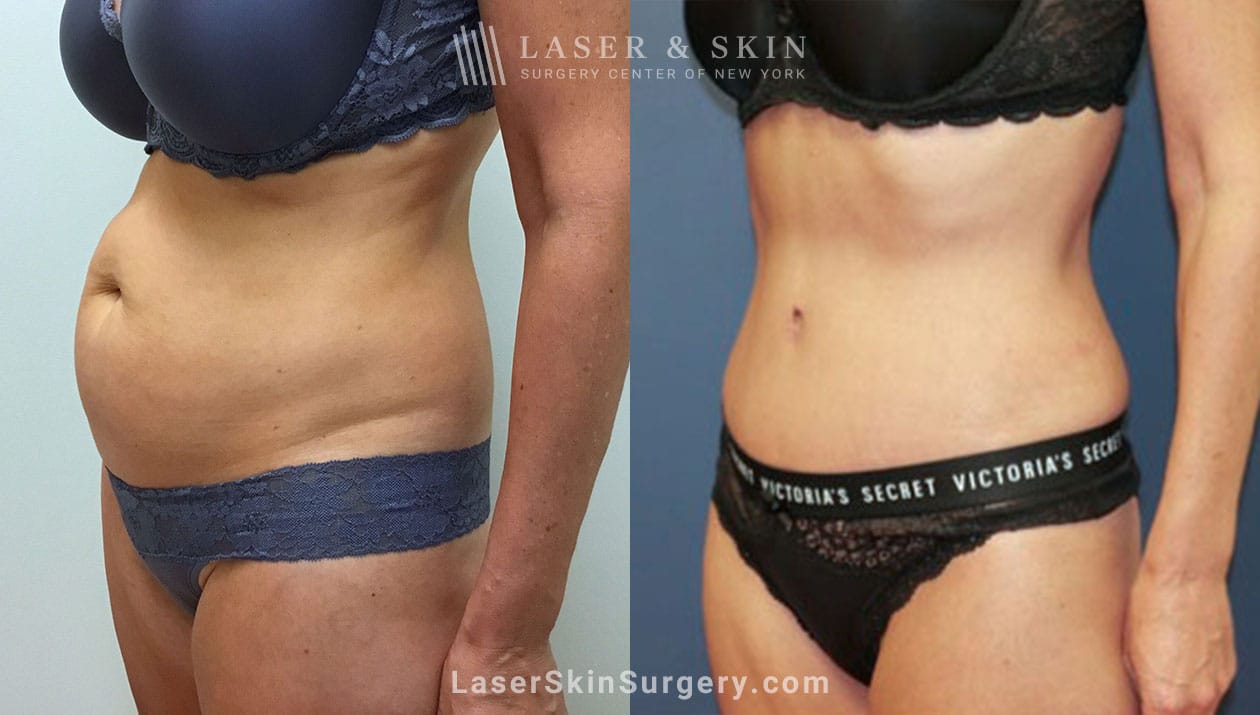 How does a tummy tuck work?
A tummy tuck takes approximately 2-5 hours under general anesthesia. Your surgeon will make two incisions: one from hipbone to hipbone close to the pubic area, and another around the navel. The skin will be separated from the abdominal muscles, which are then pulled together and stitched into place for a firmer abdomen and narrower waist. Next, the skin flap is stretched down and over the newly tightened muscles, remove excess skin, and reattach the navel in a natural position. Finally, your surgeon will close the incisions and apply sterile surgical dressings over the sutured areas.
Though rare, post-operative complications from surgery are possible. They may include infection, blood clots, and poor healing, which may require further surgery.
Patients who have had previous tummy tuck surgery should know that their old scars could be raised, stretched, or more noticeable after the procedure. A scar revision procedure after your tummy tuck may minimize the appearance of an unsightly scar.
How Long is Recovery after Treatment? 
A temporary tube may be inserted to drain excess fluid from the surgical site. Compression garments are usually recommended to reduce swelling and prevent blood clots. Recovery time ranges from two weeks to a few months. Most patients are back to work and other activities within 2-4 weeks.
You won't see the full results of your tummy tuck right away as it takes some time for the body to heal after this procedure. Over the following months, your swelling will subside and the incision will start to heal and become less prominent. A tummy tuck will leave a scar spanning the lower abdomen from hip to hip. Your surgeon will take care to make the incision low enough for even a bikini to conceal the scar.
Within 6 months to one year, your final outcome should become evident. Those results will be very long-lasting as long as you maintain a healthy weight after your surgery.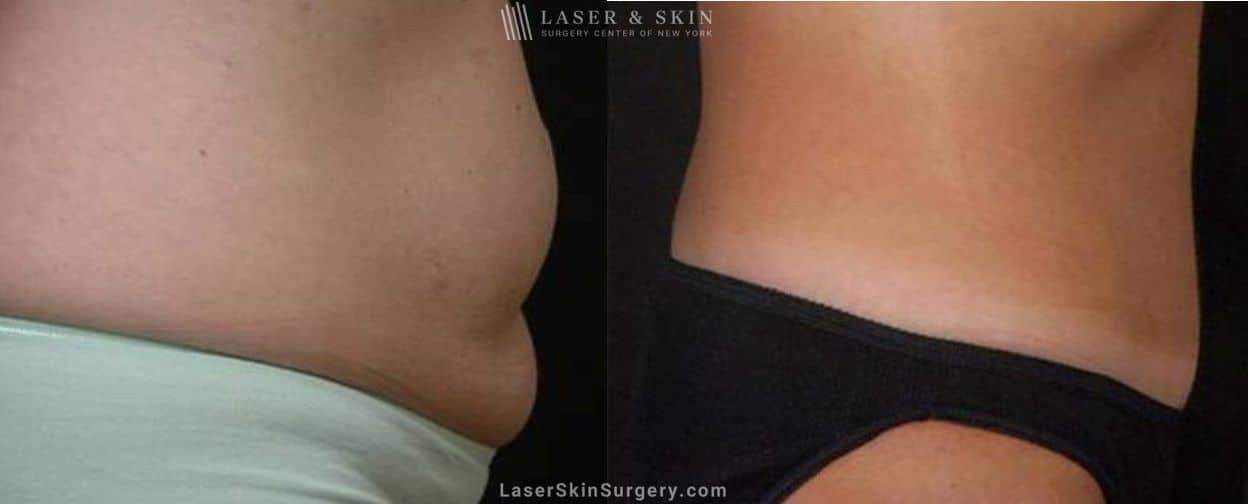 Real Patients Before and After photos
Abdominoplasty to Sculpt Midsection
Disclaimer: Results may vary from patient to patient. Results are not guaranteed.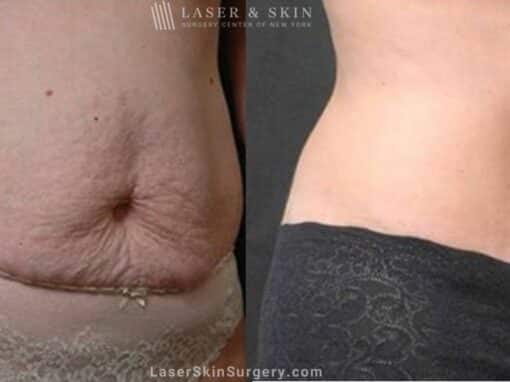 Abdominoplasty to Sculpt Midsection
Disclaimer: Results may vary from patient to patient. Results are not guaranteed.
Q: Should I Have Liposuction Or A Tummy Tuck?
A: Liposuction is a minimally-invasive procedure that targets isolated areas of fat. The procedure does not address loose skin and produces minimal results compared to what a surgical abdominoplasty can do. Your surgeon will consider your specific situation and aesthetic goals to recommend the best treatment for you.
Q: What Type Of Anesthesia Is Used For A Tummy Tuck?
A: Tummy tucks are performed under general anesthesia, so you will be comfortably asleep throughout your procedure. Most of these surgeries take about 4-5 hours to perform. You may be able to go home the same day as your surgery, although some patients spend the night in the hospital before going home to recover.
Q: What Kind Of Incision Will I Have?
A: The incision for traditional abdominoplasty runs from hip bone to hip bone, just below the panty line. Another incision is typically made around the belly button. Your surgeon will instruct you on proper wound care after your surgery to ensure your incision heals cleanly to minimize scar visibility.
Q: Will I Have A Drain After My Surgery?
A: Our surgeons do use surgical drains for a few days after this procedure. The drain ensures there is no fluid buildup in the wound that could affect the healing process.
Q: Does A Tummy Tuck Eliminate Stretch Marks?
A: If your stretch marks are located in the lower portion of your abdomen, a tummy tuck will eliminate or at least greatly reduce their appearance. 
Scars are often unwanted reminders of medical conditions, injuries, trauma, or surgery. When they are noticeable, they can also lead to significant embarrassment and self-esteem. Fortunately, there are ways to treat scars today that do not involve incisions, anesthesia, and downtime.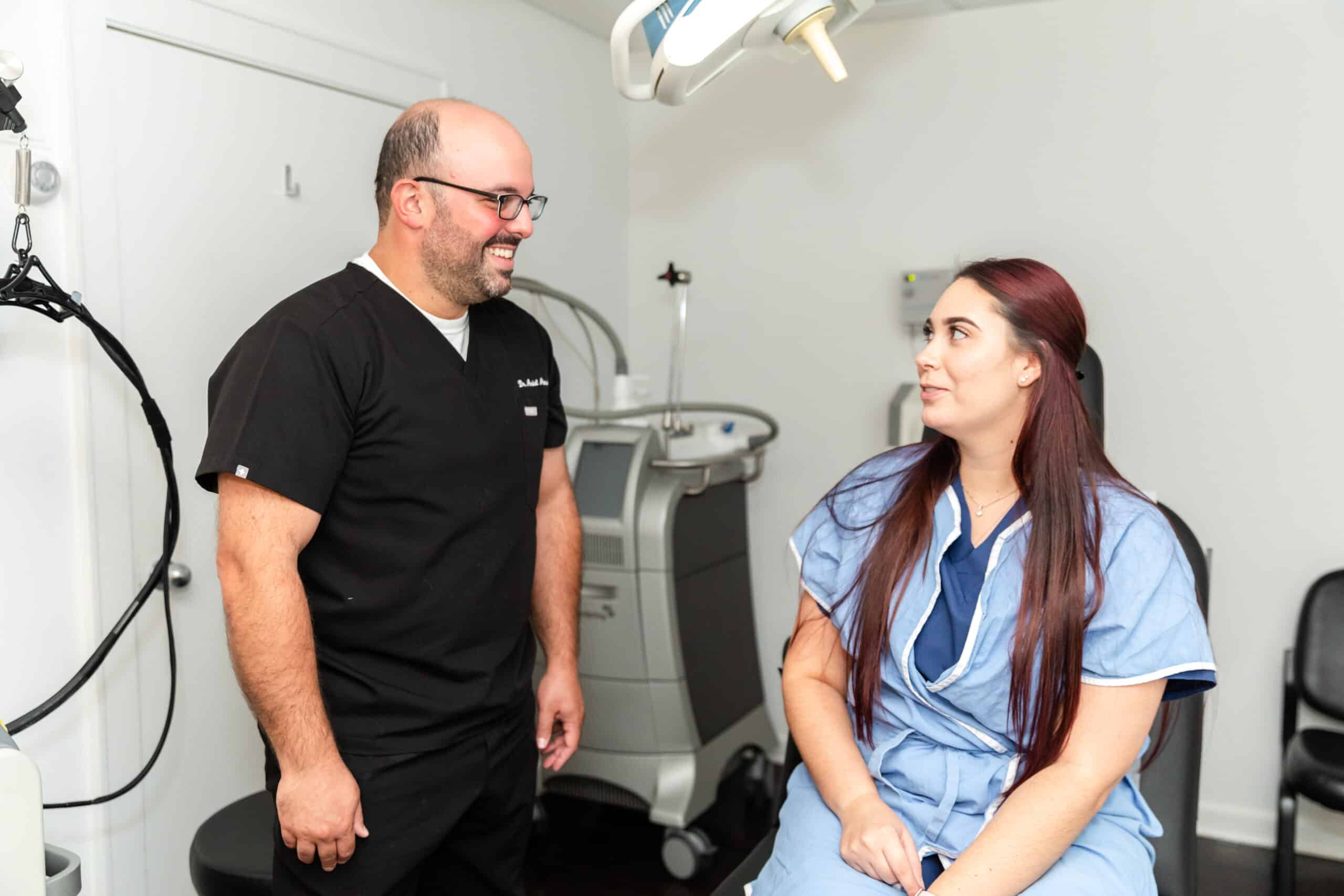 Body contouring addresses stubborn fat, skin laxity, or cellulite. Our board-certified physicians have been involved in clinical trials to develop new technology that provides superior treatment options. We offer treatments for cellulite, skin tightening, and fat reduction.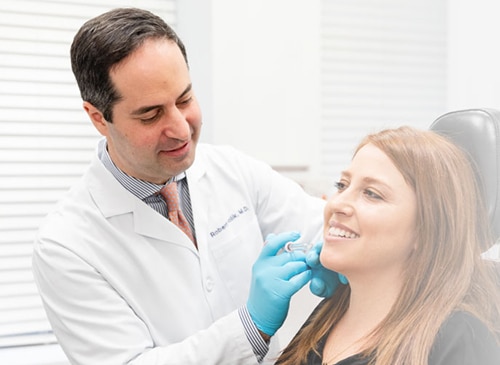 Laser & Skin Surgery Center of New York's filler treatments are always performed by board-certified physicians who have extensive experience with injectables. When you come to us for cosmetic care, you can be confident that you can safely achieve a perfectly natural look.
WHAT you are looking for?
Our 30,000+ sq foot dermatology center in New York is the most comprehensive, state-of-the-art laser and cosmetic skin surgery center in the world. Over the past 30 years we have contributed to the development and testing of many devices, fillers and treatments that are now standard care, so our patients know they are always receiving the most innovative, cutting-edge treatment available.
Pay Online for Patients of Drs. Geronemus, Anolik, Bae & Seidenberg
Pay Online for Patients of Drs. Abraham, Bernstein, Krant, Shelton, Stern, Weiss, Hoffman, Shim, Murphy-Rose, Wilson, and Petratos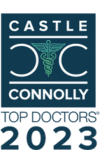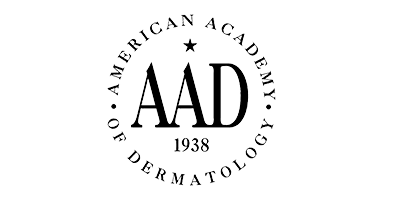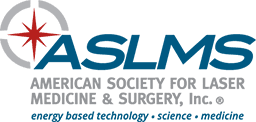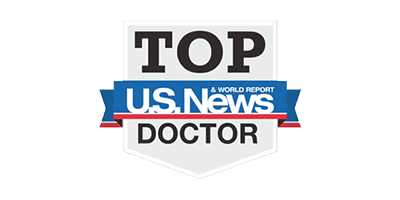 By LASER & SKIN SURGERY CENTER OF NEW YORK® | © 2023 All Rights Reserved. Design & Development by Goldman Marketing Group | Sitemap | Privacy Policy | The information available on this web site is provided for informational purposes only. This information is not intended to replace a medical consultation where a physician's judgment may advise you about specific disorders, conditions and or treatment options. We hope the information will be useful for you to become more educated about your health care decisions. If you are vision-impaired or have some other impairment covered by the Americans with Disabilities Act or a similar law, and you wish to discuss potential accommodations related to using this website, please contact us at (212) 941-5055.
*MDs perform 100% of all medical and cosmetic treatments.