Homepage // Blog / Why You Should Come To Us For Tattoo Removal
Why You Should Come To Us For Tattoo Removal
Celebrities known for their body art are now getting press for their decision to remove their ink. Fortunately, tattoo removal is a non-surgical option today that involves less discomfort and downtime. If you have ink you would like to say goodbye to, the Laser & Skin Surgery Center of New York is a premier location in the city for laser tattoo removal.
New York Magazine has recognized our skin care clinic as offering the "Best Tattoo Removal in New York."
Only board-certified dermatologists perform our laser tattoo removal treatments in New York City. Our doctors have pioneered the field of laser tattoo removal with numerous research studies and publications on the subject. With the expertise and experience to customize your treatment to your precise needs and skin tone, you can rest assured your procedure will be both safe and effective.
Tattoo Regret: A Real Concern Today
Approximately 3 in 10 people in the US have at least one tattoo, an increase of 21% of people with a tattoo in 2012. As tattoos have become more the norm, some employers are even relaxing their dress codes to include body ink. Despite greater acceptance, tattoo regret continues to be a genuine concern.
Depending on the survey you look at, tattoo regret may range from 23-78% of people with at least one tattoo. While some choose to remove their ink for professional reasons (not all employers are allowing them), other causes of tattoo regret might include:
The tattoo was not well done
Dislike of the design
Tattoo no longer holds significance
The tattoo represents a broken relationship
Negative professional or social impact
Ink no longer fits a person's lifestyle
Role model considerations with children
What You Need to Know About Laser Tattoo Removal
If you do experience tattoo regret, laser tattoo removal is your best and safest treatment option. This procedure uses focused beams of laser energy to eliminate the ink over time. As lasers have become faster and more adept at tattoo removal, people are finding they can achieve nearly full elimination of most types of body art today. 
One critical factor in the success of laser tattoo removal is the ability to customize treatments to the precise ink and skin tone of each patient. We work with more than 100 laser and light devices, allowing us to tailor tattoo removal to ensure the safest and most thorough elimination of ink in the fewest number of sessions.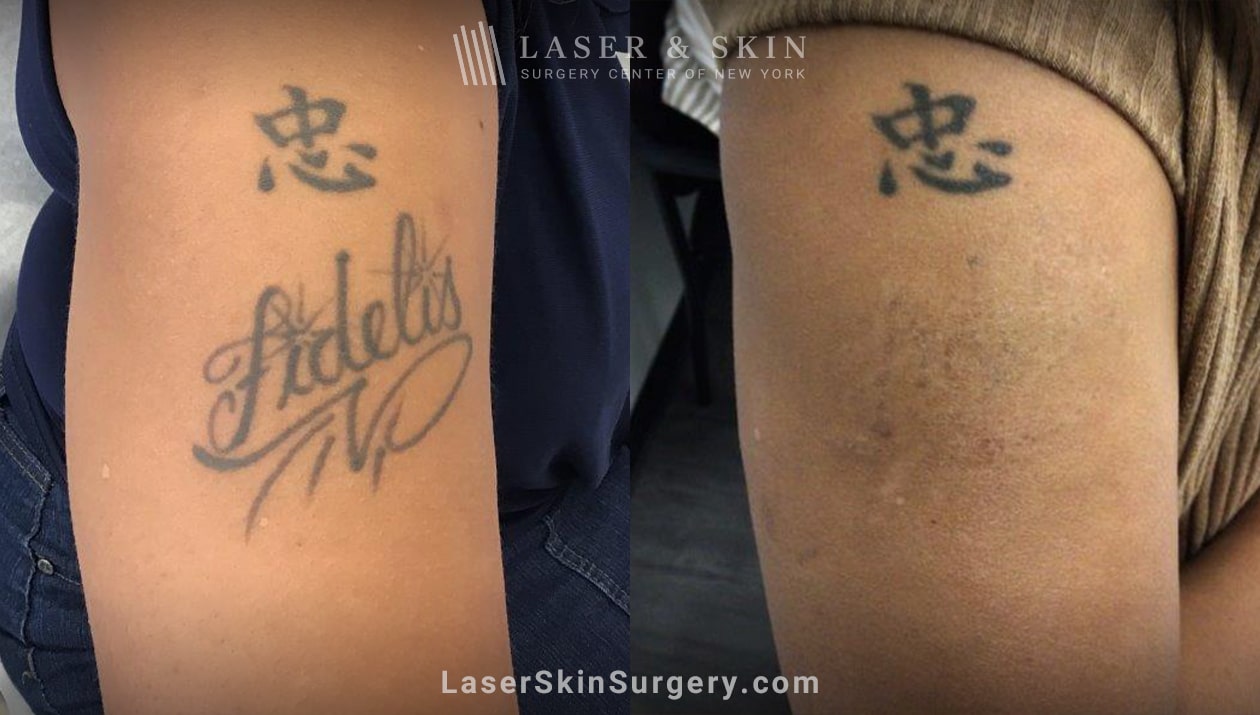 How does laser tattoo removal work?
Laser devices used for tattoo removal feature very rapid pulses of energy that effectively shatter the ink's pigment without damaging surrounding skin and tissue. The procedure takes just a few minutes or longer depending on the size. The skin will take some time to heal after the procedure, and patients will need a series of treatment sessions to achieve the full result.
At Laser & Skin Surgery Center of New York, we might use the following lasers for tattoo removal:
In some cases, a combination of lasers offers the fastest and most thorough results.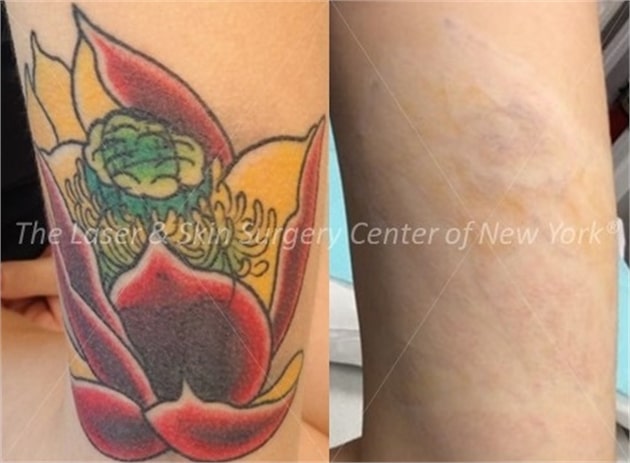 The good news is that laser tattoo removal is not painful. The doctors at our NYC skin care clinic provide a variety of options for comfortable treatments including topical numbing, local anestheia and ProNox (nitrous oxide) before treatment to keep patients comfortable during the procedure. After treatment, patients may experience some redness, tenderness, swelling, and scabbing as the skin heals.
How many treatments will I need?
Optimal removal requires multiple treatment sessions, typically spaced 4-8 weeks apart to allow the skin to fully heal between procedures. The number of sessions needed will vary, depending on the size and location of the tattoo, ink colors and quality, and the patient's skin tone. We remove most tattoos in 6-12 treatment sessions. Your doctor will be able to give you a better estimate of how many sessions you will need at your in-person consultation.
Does laser tattoo removal leave a scar?
Scarring is very unusual, as long as you care for the treatment area properly after your procedure. The biggest risk is leaving some lightening of your natural skin color. Post-treatment instructions include protecting skin from direct sun exposure and using a topical ointment daily to accelerate the healing process.
Can I remove just a portion of my tattoo?
It is not unusual for patients to come to us asking to remove a part of a tattoo, while leaving the rest of the design intact. Thanks to the precision of our lasers, we can easily eliminate even the smallest details without affecting the rest of your body art. For example, patients often want to remove a name from a design, but leave the rest of the image for a touch-up by their artist later on.
Get Your Laser Tattoo Removal From Our Skin Care Clinic
There are many places that offer laser tattoo removal in New York City, but not all will provide the level of expertise, experience, and patient care you will receive at Laser & Skin Surgery Center of New York. We have a full range of laser devices that treat all tattoo colors.  Because all of our treatments are performed by our board-certified dermatologists, patients can rest assured they will receive a safe and effective procedure with every treatment session. If you have body art you would like to remove, schedule your treatments at Laser & Skin Surgery Center today.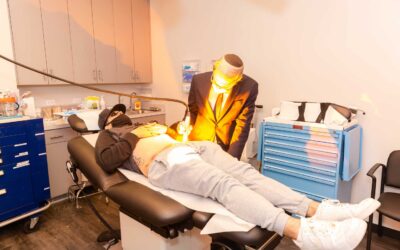 Homepage // Blog / Best treatments for all types of scars explainedOnce a scar forms, it becomes a lasting mark on your skin. Fortunately, the world of cosmetic treatments offers a range of powerful lasers and solutions to minimize their appearance. Selecting the...