Homepage // Blog / "Neckvember" Treatments Can Rejuvenate Your Aging Neck
"Neckvember" Treatments Can Rejuvenate Your Aging Neck
The holidays may look a little different this year as everyone is staying safe at home. The extra quiet time provides the perfect opportunity to do something for yourself. This "Neckvember," why not focus on an area that is often left out of the aesthetic treatment program – the neck. While most of us tend to target the face for rejuvenation procedures, the neck can also benefit from treatments to tackle signs of aging that often show up on the neck first. 
The Laser & Skin Surgery Center of New York offers a wide range of skin rejuvenation treatments. With more than 100 laser and light devices available, as well as a broad menu of injectables, our board-certified doctors can customize treatments with the precision necessary to produce superior results for our patients in our Manhattan and Southampton offices.
There are various options for turning back the clock on the lower face and neck. The face and neck age in four different ways:
Skin laxity – Over time, our skin loses elasticity and firmness, due to collagen depletion in the underlying derma structure. This leads to facial wrinkles, jowl formation, and bags under the eyes.
Fat – Pads of fat located under the dermal layers also start to separate and sag, creating hollowness under the eyes, nasolabial folds, and jowls. Fat also accumulates in the submental area (under the chin), creating the appearance of a double chin.
Muscle – Muscles also change with time as they lose tone. The platysma muscle in the neck can get loose and create horizontal banding around the neck, while some facial muscles may begin to pull the mouth down at the corners for a perpetual frown.
Bone – Bone can be thought of like a table and the skin is like a tablecloth: while the table begins to shrink, the cloth stays the same. The answer is to restore volume to create a smoother surface to the skin.
The rate of aging varies from person to person, so it's not how old you are, it's how you are old. Many variables can accelerate the aging process, including sun exposure, environmental pollutants, and smoking. In addition to treating specific skin concerns, the staff at the Laser & Skin Surgery Center in New York are committed to giving patients the tools they need to live their best lives.
Say Goodbye to Skin Laxity
Since skin laxity is caused by collagen depletion in the dermal structure, boosting collagen levels is the best way to reverse the process. Both laser and energy devices and injectable biostimulatory fillers as options for increasing collagen production. 
Devices used for skin tightening work by creating micro-trauma to the skin to trigger the body's healing processes. One of those functions is to produce more collagen to support the dermal structure. Devices used for this purpose include: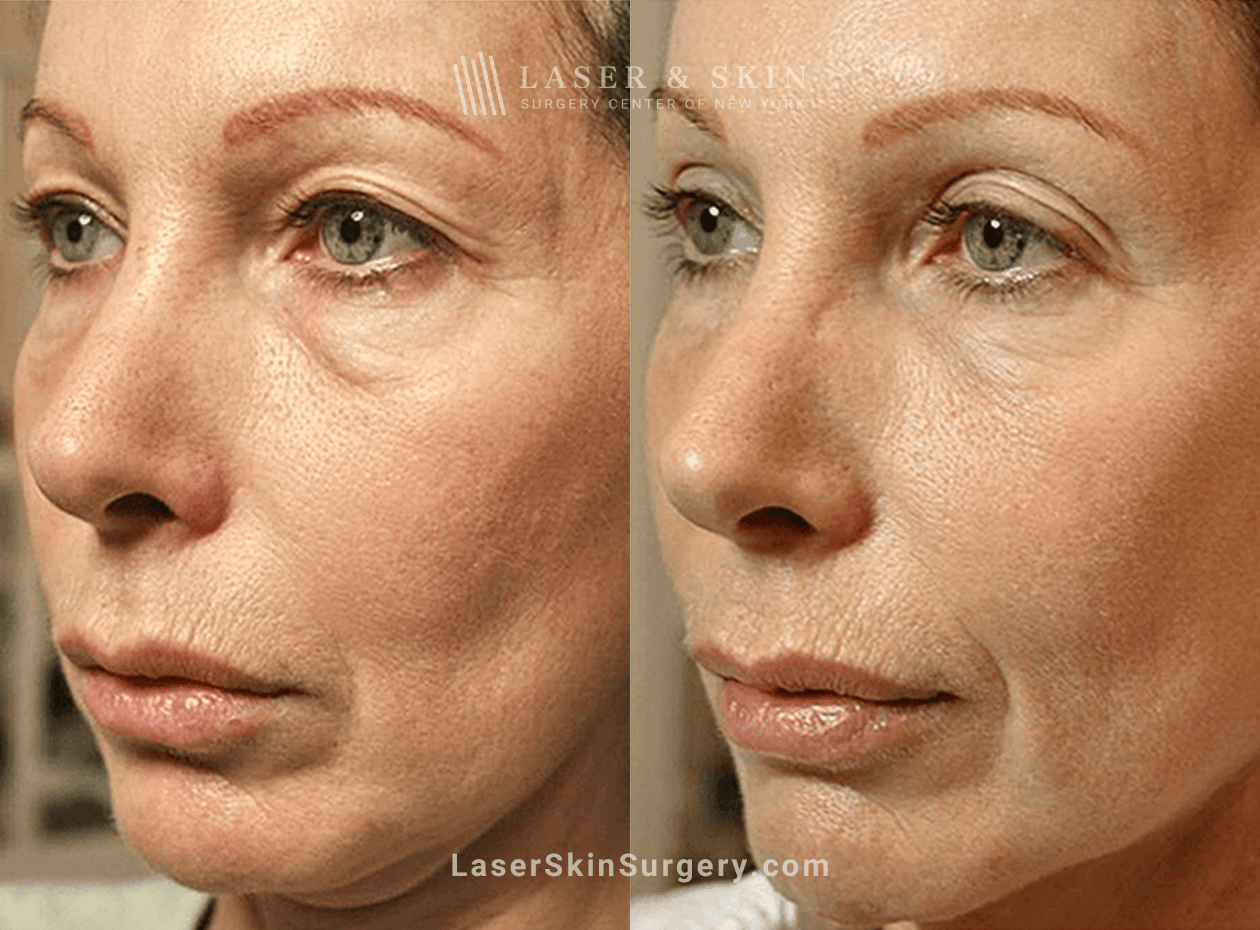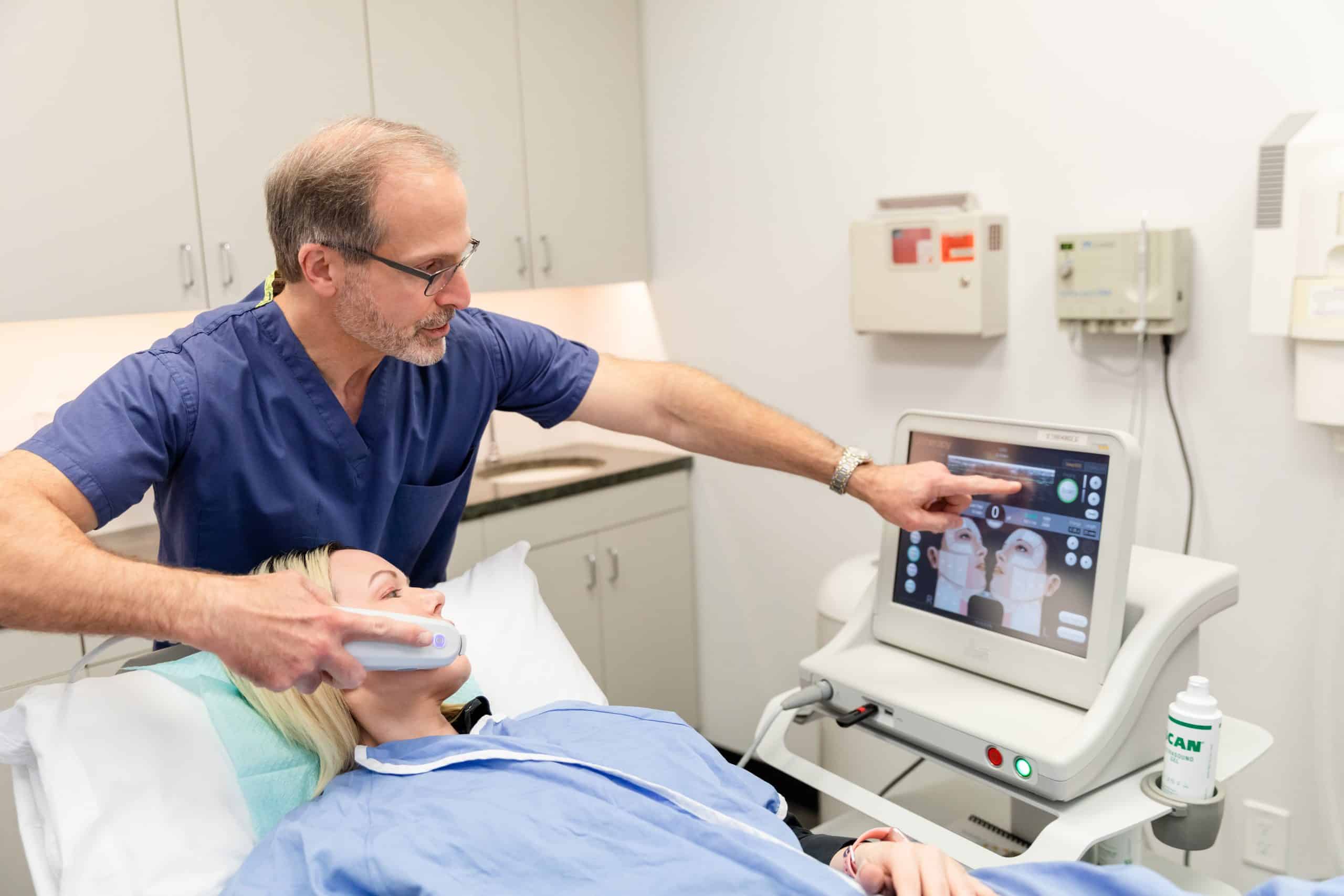 Some injectable fillers are also designed to trigger collagen production for natural, long-lasting improvement. There are two different products that fall into this category:
Radiesse® is composed of calcium hydroxylapatite, a substance that is found in our bones. When injected into the dermal structure, Radiesse forms a type of scaffolding that produces immediate results, while stimulating collagen production to extend those improvements naturally.
Sculptra® contains poly-L-lactic acid, which has been used in medical sutures and other supplies for many years. This ingredient also triggers the body to produce more collagen to create the desired effect. Results from Sculptra take many weeks to develop, but can be very long lasting.
Submental fat is one of the most common concerns for individuals worried about signs of aging in the lower face and neck. Fortunately, there are numerous options for getting rid of this fat and creating a smoother, more youthful contour.
Kybella – This injectable treatment contains deoxycholic acid, which breaks down unwanted fat cells so they can be absorbed by the body. Most patients need at least two treatment sessions and some may require as many as six to see full results. Side effects include swelling for up to a month and superficial numbness off and on. 
CoolSculpting – Cryolipolysis (controlled cooling) was discovered to be a fat reducer when scientists realized that kids who sucked on popsicles had less fat in their cheeks. CoolSculpting is a non-invasive treatment that delivers controlled cooling into the treatment area, targeting fat cells without damaging surrounding skin and tissue. The procedure is particularly effective on the body, but can be used on the chin and neck as well.
Chin Liposuction – This well tolerated procedure requires local anesthesia and just 2-3 incisions to insert microcannulas that remove the unwanted fat. There is minimal bruising after the procedure and most patients are back to activities within 2-3 days. Results are usually evident right away, so patients can receive instant gratification with this treatment.
Like other causes of aging, changes to muscle can also be treated through nonsurgical procedures. Neuromodulators like Botox and Dysport are commonly used to address muscles, relaxing the targeted muscles to smooth away some types of lines and wrinkles. The Nefertiti neck lift addresses "tech neck," which is characterized by horizontal banding that forms around the neck from constantly looking down at phones and other devices. For this treatment, small amounts of a neuromodulator are placed in precise locations along the horizontal crease, targeting the platysma muscle to smooth away the lines.
Muscles that start to pull down on the lower face, leading to a downturned mouth, can also be treated with neuromodulators. The injectable relaxes these muscles, reversing the trend to pull the corners of the mouth down and create a more youthful and happy shape to the mouth. Neuromodulators take just a few minutes to administer and the results typically last 3-4 months.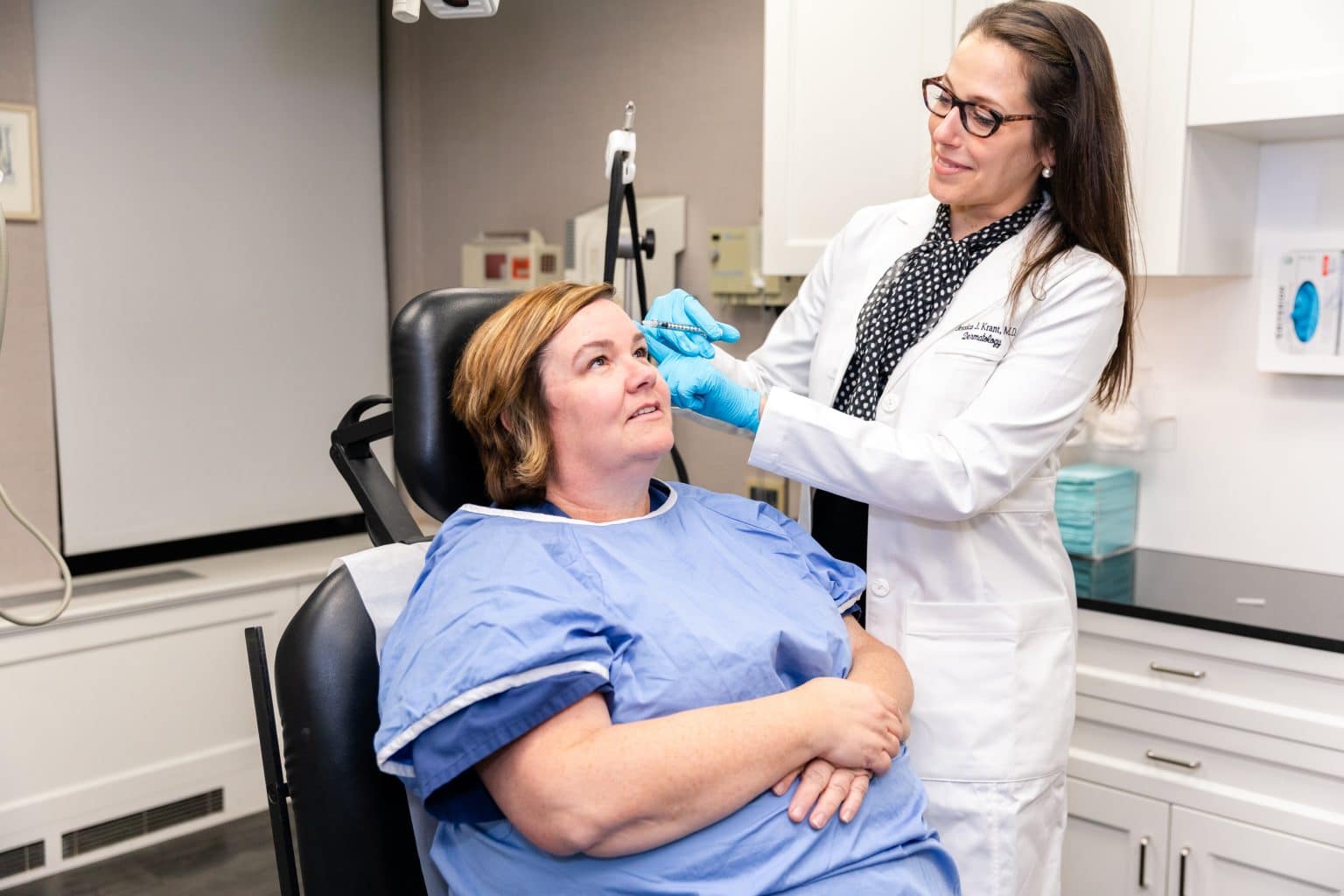 While there is no way to rebuild bone that is lost over time, there are options for restoring volume the bone loss leaves behind. The physicians at Laser & Skin Surgery Center of New York often use injectable fillers for this purpose. HA fillers contain hyaluronic acid and include both Juvéderm and Restylane products. With a variety of fillers to choose from, your doctor can tailor your treatment to your precise needs and goals.
Radiesse and Sculptra are also options for treating the neck and lower face. Our doctors may dilute these fillers when injecting into the neck to improve the texture of the skin and create nice, sharp angles along the jawline and neck.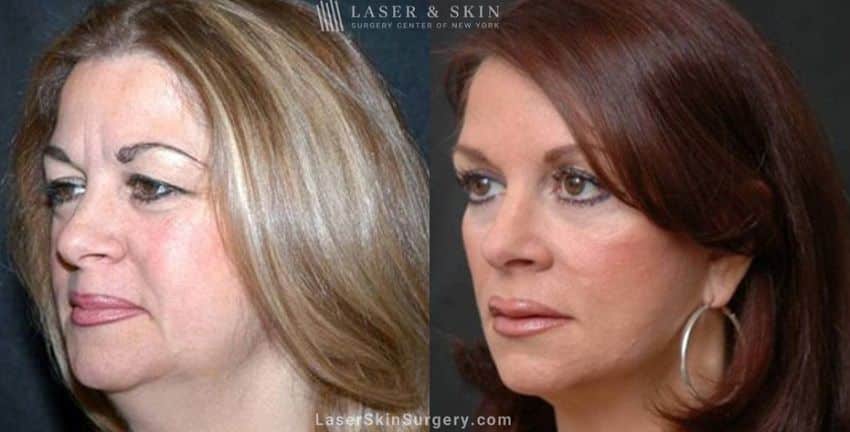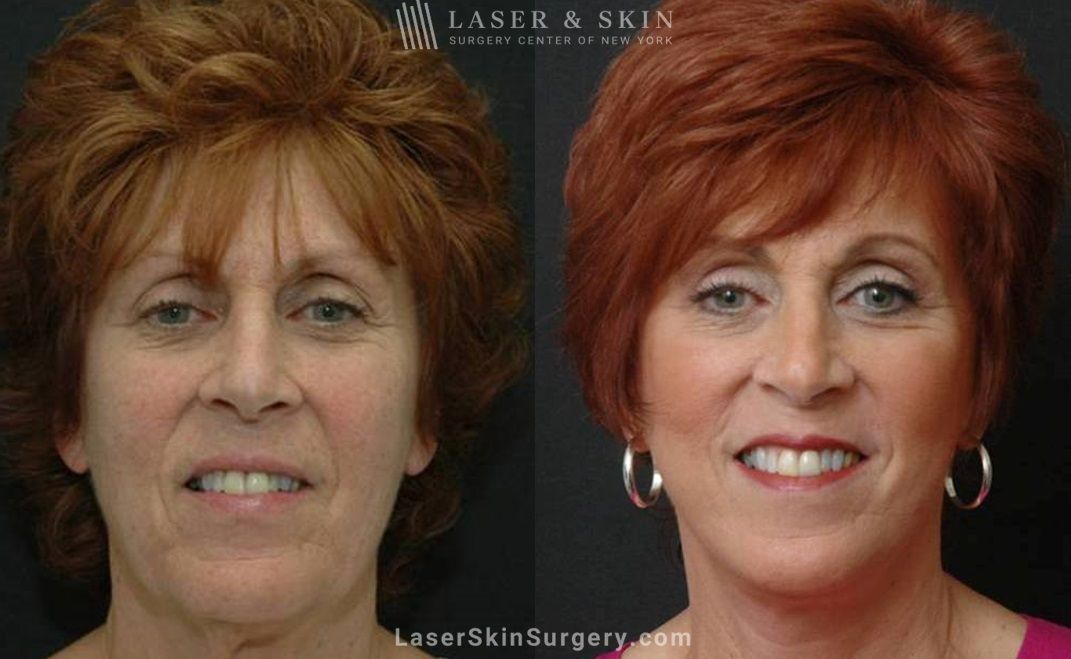 Tackle All These Signs of Aging with Surgery
Non-surgical rejuvenation of the face and neck can be great options for treating mild to moderate aging symptoms, especially for those looking to avoid a long recovery process. However, no non-surgical treatment can address aging symptoms as thoroughly or long-lasting as surgery can. Our board-certified plastic surgeon Dr. Lloyd Hoffman offers face lift and neck lift options, which are often combined for the best results. Neck lifts can address skin, fat, and muscle issues and volume loss in the following ways:
Minimizing or removing submental fat that creates a "double chin"
Tighten loose skin around the front of the neck that can create a "turkey neck"
Define jawline
Minimize horizontal banding around the neck
Increase skin elasticity and diminish wrinkles
Schedule Your Neck Rejuvenation Treatment in New York City
Your aging neck is ready for some TLC, and "Neckvember" is just the time to do it. Contact the Laser & Skin Surgery Center of New York today to schedule your consultation at either our Manhattan or Southampton office and find out how we can help you rejuvenate your appearance in time for the New Year.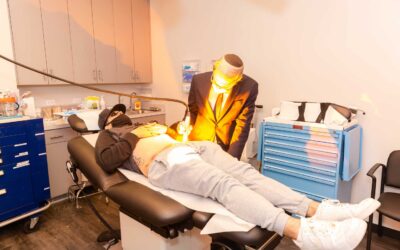 Homepage // Blog / Best treatments for all types of scars explainedOnce a scar forms, it becomes a lasting mark on your skin. Fortunately, the world of cosmetic treatments offers a range of powerful lasers and solutions to minimize their appearance. Selecting the...