Homepage // Blog / 5 Reasons Laser & Skin Surgery Center of New York Should Be Your Go-To Place for Laser Hair Removal
Choosing Your Fractional Laser: What You Need to Know
With so many treatments and devices to choose from, it can be challenging to know which laser can effectively treat your skin concerns and give you the aesthetic you're after. Priorities such as undergoing fewer treatments, having less downtime, and treating multiple problems at once all play into which laser is best for the individual.
At Laser & Skin Surgery Center of New York, we have more laser devices than any other skin care clinic in the country, so we are sure to have a laser treatment that can address your skin concerns. Our board-certified dermatologists are experts in their field, often leading the way with dermatological studies at our Manhattan research center. Most of the fractional lasers in today's market  underwent clinical development with our physicians. We've broken down what you need to know about our most popular fractional laser treatments: Fraxel Repair, Fraxel Dual, Active FX, Deep FX,  Halo, Sciton Contour, Core,  Lase MD, and Clear+Brilliant Touch.
What is a Fractional Laser?
Fractional lasers can be ablative or non-ablative, which means they can treat the upper and/or mid dermis, which is helpful when treating a variety of skin concerns. Fractional lasers treat the skin at a cellular level, which spurs natural processes that reveal healthier outer skin. These devices create micro-injuries in the skin. The skin responds by creating new collagen and replacing the damaged cells with new, healthy ones. While this is a natural process occurring within our bodies throughout life, aging slows its occurrence. Laser treatments accelerate the process, restoring collagen levels and promoting cell renewal to refresh and rejuvenate the skin from the inside out. They can also be used to treat unwanted pigmentation.
Enjoy Versatility with Non Ablative Fractional Lasers
Fraxel Dual, Lase MD, Clear+Brilliant, and Halo are non-ablative lasers that use thermal heat to warm damaged tissue and stimulate new collagen production, revealing new, healthy skin. These lasers are less intense than the Fraxel Repair, so you may need a series of treatments to achieve optimal results. You can get this treatment to address a variety of skin issues, including:
Lines and wrinkles

Scarring

Hyperpigmentation and Hypopigmentation

Sun damage

Enlarged pores
Since this laser is less intense, downtime after the procedure is minimal and side effects typically do not last more than 3-6 days. Side effects might include mild redness, swelling, and flaking.
Get a Quick Glow with Clear+Brilliant Touch and the Lase MD Ultra
The Clear+Brilliant and Lase MD treatment may be the most well-known of these fractional devices, and the choice for many patients to maintain glowing, youthful skin through regular treatment sessions. These devices use laser energy at either 1927 or 1440nm wavelengths for superficial skin resurfacing, heating the skin's surface to boost collagen production. They are less aggressive than the Fraxel Dual or Halo treatments You may want to bring this device into your skincare regimen if you are experiencing:
Early signs of aging (fine lines and wrinkles)

Enlarged pores

Superficial pigmentation including melasma

Dull skin tone

Melasma and post-inflammatory pigmentation
Our board-certified dermatologists in Manhattan and Southampton also offer the latest in C+B technology, with Clear+Brilliant Perméa and Clear+Brilliant Touch. Perméa features a low-power 1927nm wavelength to provide rejuvenation and pigmentation improvement, and it can also treat melasma. The Touch treatment uses both Clear+Brilliant wavelengths, as our doctors switch seamlessly between devices for a more customized, precise treatment. The LaseMD Ultra is available in our Manhattan skin care clinic.
Address Even Severe Concerns with Ablative Fractional Resurfacing
Ablative fractional  lasers (including the Fraxel Repair, Deep Fx, Active Rx, Core and Sciton Contour) are the most aggressive lasers, so they can treat the more advanced and severe skin issues. Recovery may take anywhere from three days to two weeks. Post treatment skin care is required. You could use these lasers to treat:
Lines and wrinkles

Early skin laxity

Uneven skin texture and tone

Many types of scars
Side effects after treatment might include wounding, redness, swelling, and skin crusting. Results from an ablative fractional laser treatment improve over time and can be both dramatic and long-lasting. 
Does a Fractional Laser Treatment Hurt?
When we use fractional lasers to work below the surface, it leaves the outer skin layer relatively untouched. Patients report these treatments are very comfortable. The sensation you will mostly experience is warmth, but these devices also blow cool air on the skin during treatment to counteract their own heat, helping to protect the skin and keep you comfortable.
If we are treating the outer layer of skin with a Fraxel device, swelling, redness, and bruising can occur after a treatment. However, these temporary side effects are not usually associated with Lase MD and Clear+Brilliant treatments. We always offer a topical anesthetic to help minimize discomfort and can add air cooling as needed. Ablative procedures require local anesthesia and IV sedation is offered for full face procedures.
How Long is the Recovery After Treatment?
The recovery time varies from a few hours to more than a week, depending on the choice of laser and the condition being treated.
What Kind of Results Will I Get?
Once your skin heals from your single Fraxel treatment, you'll be able to see initial results, which will likely improve over time. Your skin should feel firmer, and targeted pigment or scarring issues should improve. The Lase MD and  Clear+Brilliant devices require several treatment sessions before reaching optimal results, and your dermatologist will be able to estimate the number of sessions you'll need based on the severity of your skin concerns and the outcome you desire. LaseMD and Clear+Brilliant treatments can leave your skin glowing with a more even tone overall.
Get the Best Fractional Laser Treatments in NYC From Our Skin Care Clinic
Maintaining healthy, beautiful skin requires not just any cosmetic dermatology treatments but the best ones for your unique needs and goals. Contact Laser & Skin Surgery Center of New York today to schedule your consultation in Manhattan or Southampton.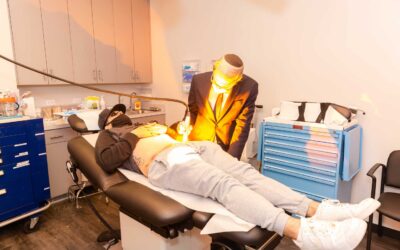 Homepage // Blog / Best treatments for all types of scars explainedOnce a scar forms, it becomes a lasting mark on your skin. Fortunately, the world of cosmetic treatments offers a range of powerful lasers and solutions to minimize their appearance. Selecting the...