Restylane Kysse is the first HA filler for the lips that was created with XpresHAn technology. The unique structure of the filler allows for natural movement of the lips with long-lasting improvement.
Treats:
Thin, wrinkled, or uneven lips
Side Effects:
Possible swelling for 1-2 days
Location:
Primarily used on and around the lips
How Performed:
Filler is injected into the desired areas using a tiny needle or cannula
Preparation:
Topical anesthetic available and/or local nerve blocks
Expected Outcome:
Restoration of volume and improved lip texture
Onset:
Results visible immediately following treatment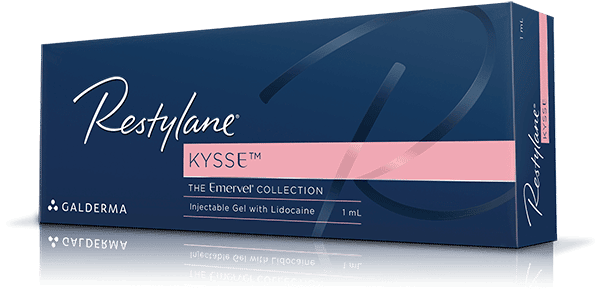 Restylane Kysse is a hyaluronic acid (HA) filler designed specifically for lip plumping and shaping. It contains proprietary cross linking technology that allows for more natural movement of the lips after treatment. The filler tends to last longer than other lip fillers, with improvements extending up to one year.
The board-certified physicians at the Laser & Skin Surgery Center of New York have expertise in all types of injectables. Their experience and knowledge ensure that every treatment is individualized to a patient's precise needs for the best possible result. Our physicians have also participated in many of the clinical trials for these products. We are leaders in the field of cosmetic dermatology and use more fillers than any other practice in the world.
How does Restylane Kysse Work?
Like other dermal fillers, Kysse is made of hyaluronic acid (HA). Although HA is called an acid, it is actually a type of sugar that our bodies make to retain moisture in our skin and other tissues. Over time, HA levels diminish, leading to skin dryness and laxity. 
Galderma developed a proprietary XpresHAn Technology™ that joins the HA strands with a cross-linking substance called BDDE (butanediol diglycidyl ether) to provide both firmness and softness. As a comparison, Restylane Defyne — which is used to fill in deep folds, such as marionette lines — features an 8% cross-link. Restylane Refyne — which is used to fill fine lines, and does not have as much as structure as Defyne — features a 6% cross-link.
The 7% cross-link in Kysse gives it the structure and mobility of Defyne, with the soft and pliable characteristics of Refyne. The result is quite natural-looking and typically more durable than other HA lip fillers.
Kysse's unique structure lets you create fuller lips that feel natural and soft. You can also use Kysse to smooth out the fine lines around your lips, known as the perioral lines. Kysse can offer:
Fuller lips
More shapely lips
Improved lip symmetry
Enhanced lip texture
Longer-lasting results
Another advantage of Kysse is that you need almost 20% less product to achieve similar results to other fillers, which is a benefit for individuals inquiring about filler prices and the duration of their results. To learn more about dermal fillers, visit ncbi.nlm.nih.gov
Do Restylane Kysse Injections Hurt?
Restylane Kysse is injected using a very fine needle or a blunt-tipped cannula. As with other Restylane products we use in our Manhattan and Southamton offices, Kysse contains the anesthetic lidocaine, to enhance your comfort throughout your procedure. Most patients find the procedure to be quick and relatively comfortable. If you are concerned about discomfort during treatment, talk to your doctor about the application of a topical numbing cream before your procedure begins.
Watch our webinar to learn more about injectables, like Botox and fillers.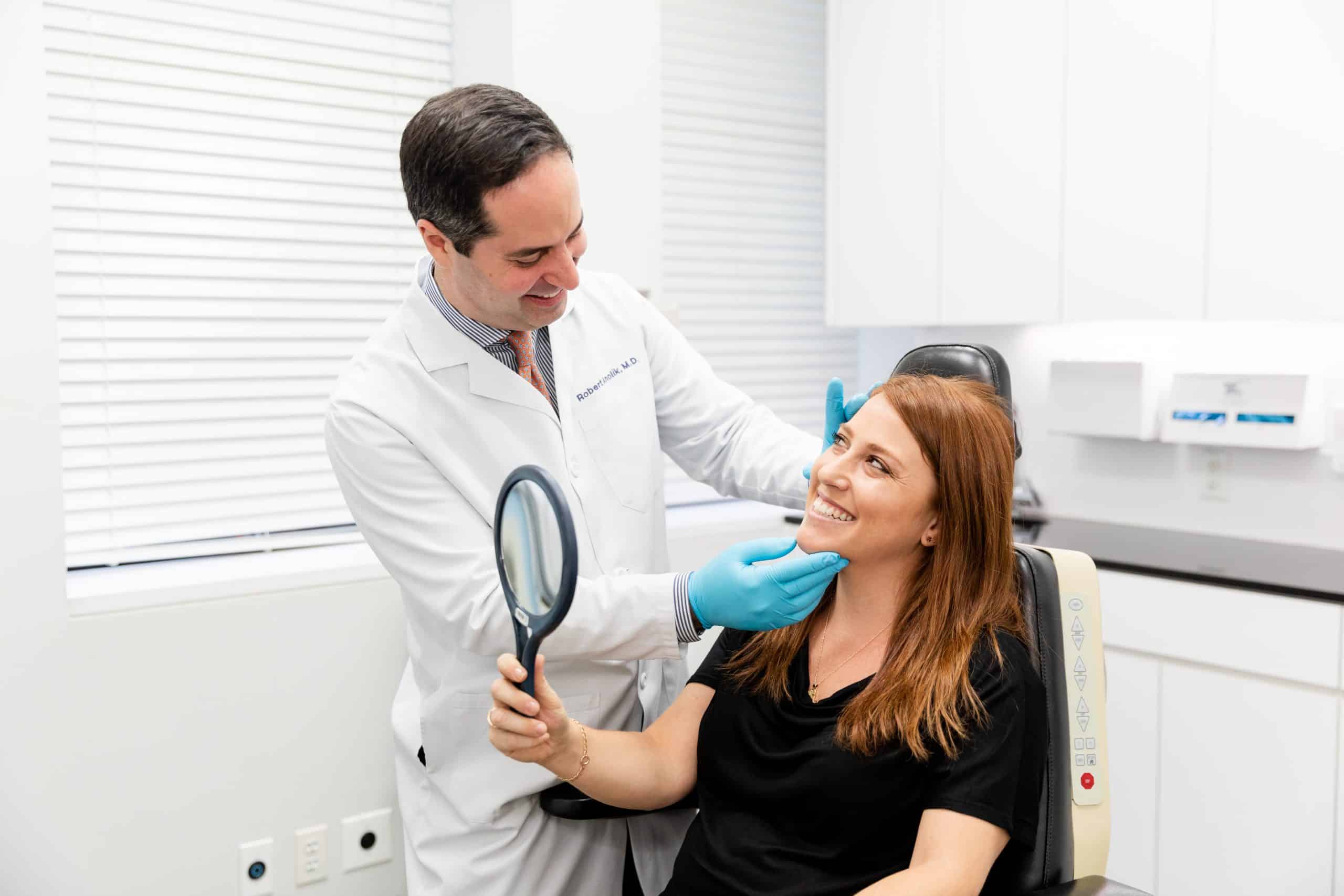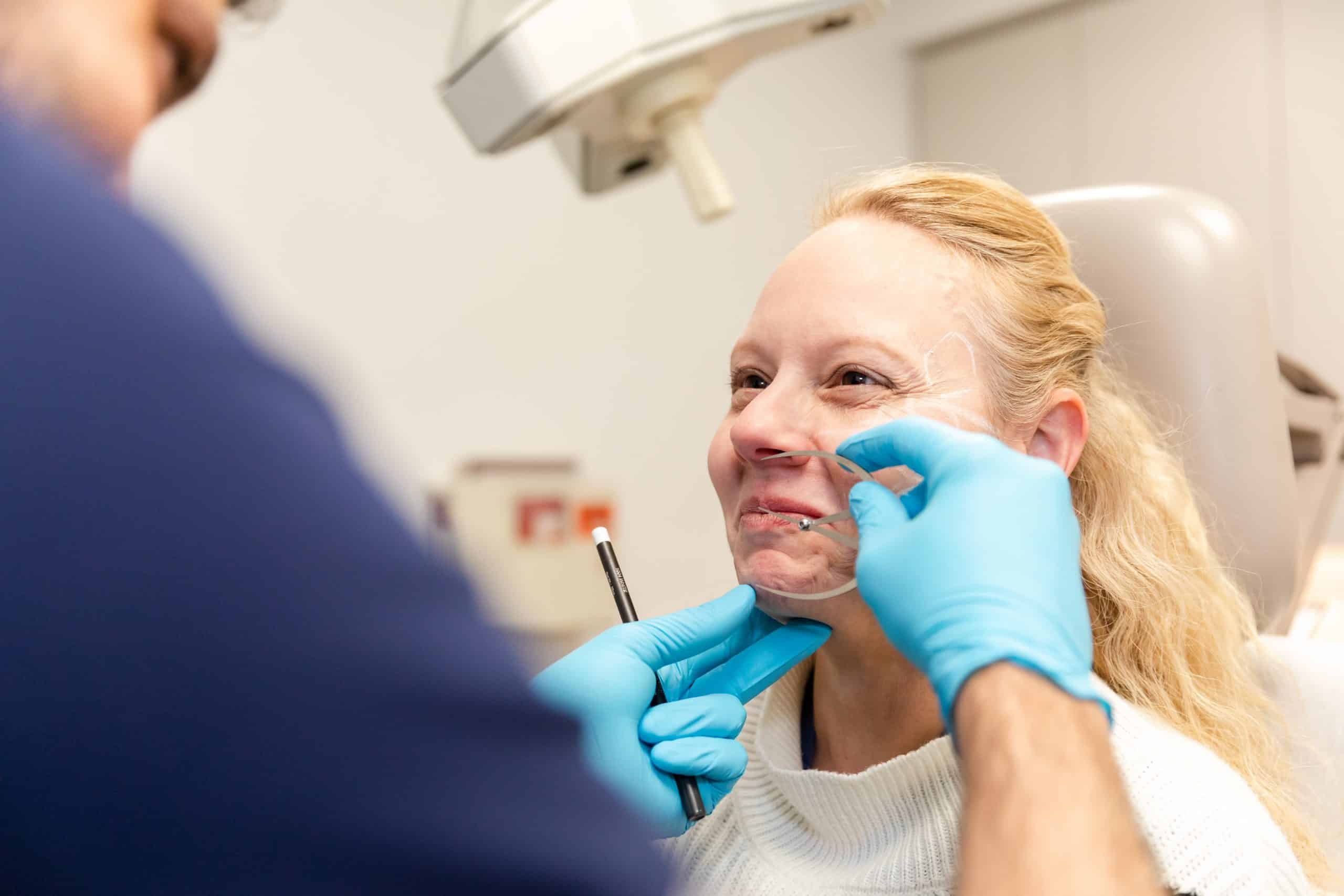 You see the results of your Kysse injections as soon as your treatment is over. You may experience slight swelling after the procedure, but this side effect usually subsides within a day or two. Restylane Kysse has been shown to produce results that last up to one year.
How Long is the Recovery Time After Treatment?
Most patients return to regular activities immediately following their Kysse treatment. Any mild swelling that occurs should not be overly noticeable. Sometimes a bruise occurs because of the needle's contact with the skin. Our doctors also provide options after your procedure, including laser and topical treatments, to minimize bruising.
Restylane Kysse Before and After photos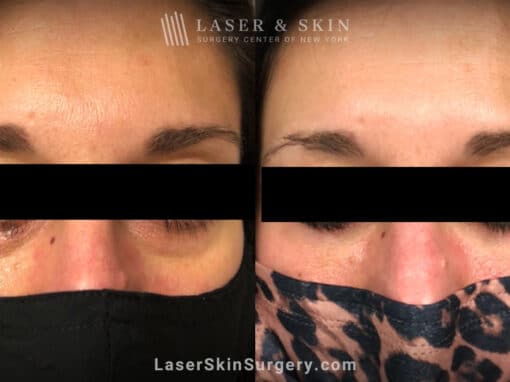 Filler Injections Under the Eye to Add Volume
Disclaimer: Results may vary from patient to patient. Results are not guaranteed.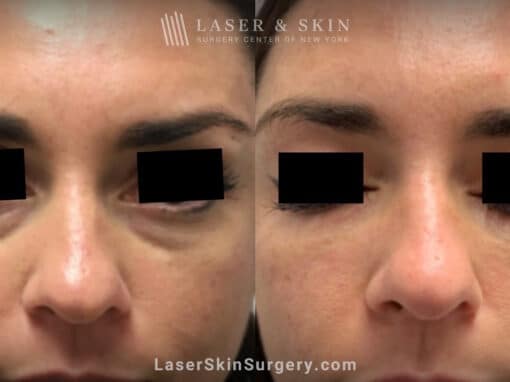 Filler Injections Under the Eye to Treat Discoloration
Disclaimer: Results may vary from patient to patient. Results are not guaranteed.
Q: Is Restylane Kysse Safe?
A: The FDA approved Restylane Kysse in 2020 as a safe and effective treatment for restoring volume to the midface and hands. Numerous clinical studies, including some performed by our own physicians at the Laser & Skin Surgery Center of New York, have demonstrated the safety and efficacy of this product. In addition, it has been used in Europe for many years. 
Q: How Long Do Results Last?
A: You will see immediate improvement after your Restylane Kysse injections. Those results will last from 6-9 months, depending on the treatment area and how quickly your body absorbs the hyaluronic acid. Some patients may see results extend for up to one year. You can maintain your refreshed appearance indefinitely with regularly scheduled treatment sessions.
Q: What Does Restylane Kysse Treat?
A: The most common reason to undergo Restylane Kysse treatment is to add or restore volume, shape and definition to the lips.
Q: Are There Any Side Effects?
A: Side effects from dermal fillers like Restylane Kysse are uncommon and temporary if they do occur. Some patients might experience slight redness, swelling or bruising around the injection sites, which typically subsides within a day or two. This filler tends to cause less swelling than other lip fillers, due to its unique cross-linking technology. 
Q: Will My Lips Look And Feel Unnatural?
A: When treated by a licensed and trained injector, like the board-certified cosmetic dermatologists at the Laser and Skin Surgery Center of New York, you can expect natural results that are not obvious to everyone around you. Because Restylane Kysse features a unique cross-linking technology, this filler produces fuller lips that look and feel completely natural. 
Q: Is Restylane Kysse Right for Me?
A: Restylane Kysse is typically recommended to our patients who want more shape and fullness to the lips. The filler is safe and effective for all skin types and tones. We encourage you to schedule a consultation in our office to find out if Restylane Kysse is the right choice for you.
Scars are often unwanted reminders of medical conditions, injuries, trauma, or surgery. When they are noticeable, they can also lead to significant embarrassment and self-esteem. Fortunately, there are ways to treat scars today that do not involve incisions, anesthesia, and downtime.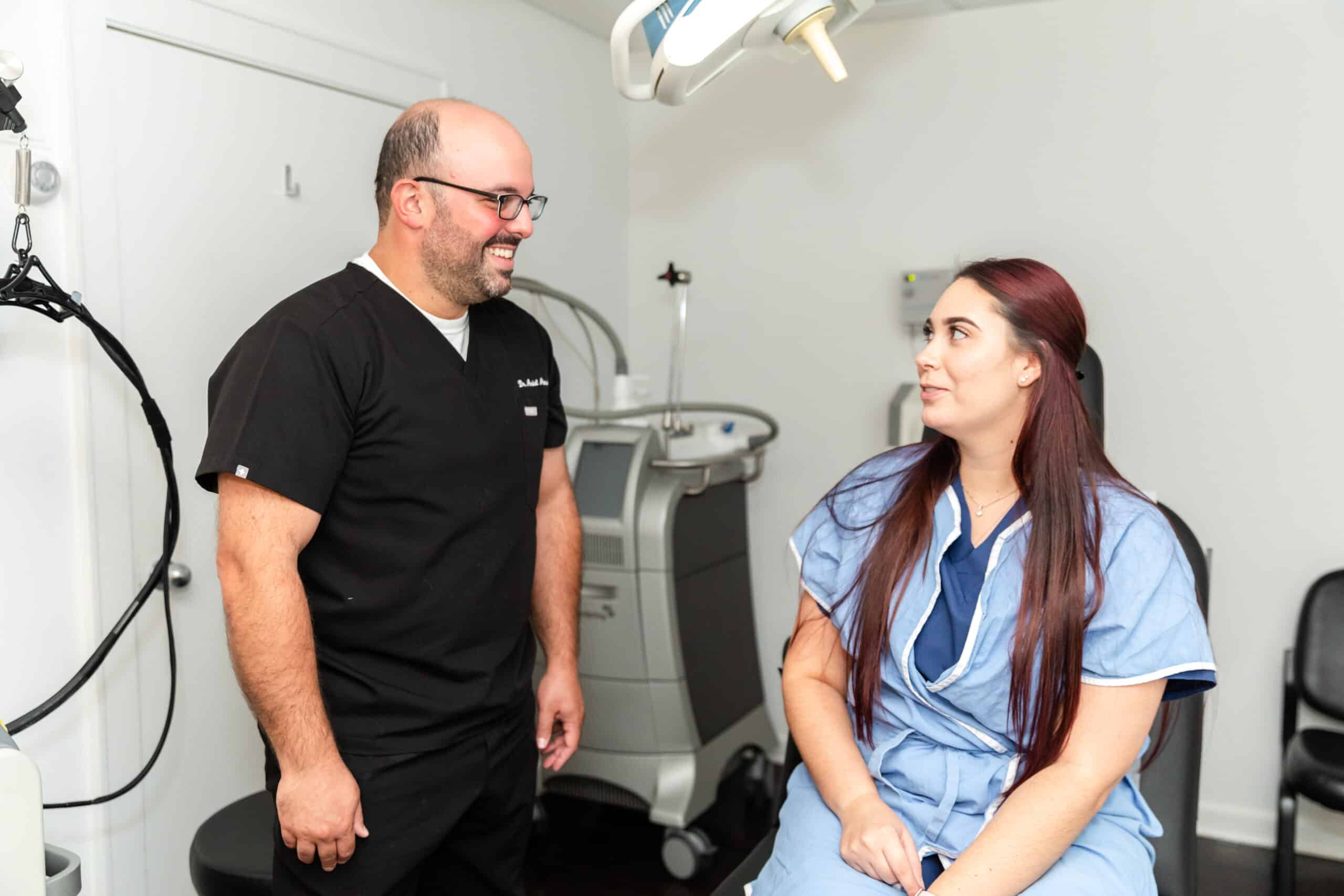 Body contouring addresses stubborn fat, skin laxity, or cellulite. Our board-certified physicians have been involved in clinical trials to develop new technology that provides superior treatment options. We offer treatments for cellulite, skin tightening, and fat reduction.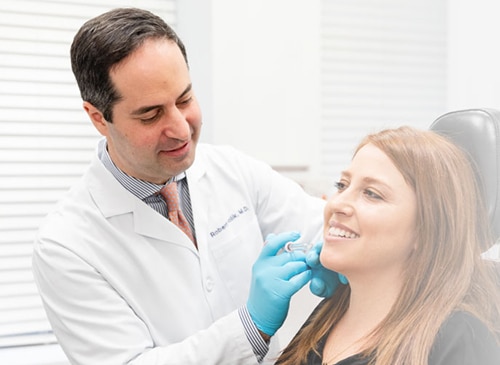 Laser & Skin Surgery Center of New York's filler treatments are always performed by board-certified physicians who have extensive experience with injectables. When you come to us for cosmetic care, you can be confident that you can safely achieve a perfectly natural look.
WHAT you are looking for?
Our 30,000+ sq foot dermatology center in New York is the most comprehensive, state-of-the-art laser and cosmetic skin surgery center in the world. Over the past 30 years we have contributed to the development and testing of many devices, fillers and treatments that are now standard care, so our patients know they are always receiving the most innovative, cutting-edge treatment available.
Pay Online for Patients of Drs. Geronemus, Anolik, Bae & Seidenberg
Pay Online for Patients of Drs. Abraham, Bernstein, Krant, Shelton, Stern, Weiss, Hoffman, Shim, Murphy-Rose, Wilson, and Petratos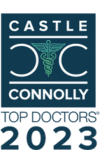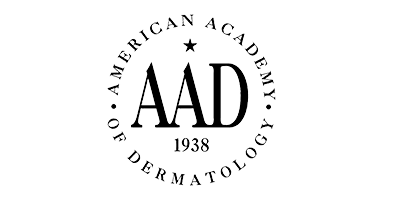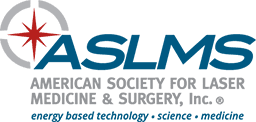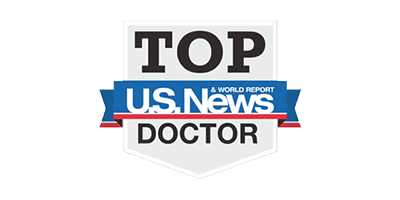 By LASER & SKIN SURGERY CENTER OF NEW YORK® | © 2023 All Rights Reserved. Design & Development by Goldman Marketing Group | Sitemap | Privacy Policy | The information available on this web site is provided for informational purposes only. This information is not intended to replace a medical consultation where a physician's judgment may advise you about specific disorders, conditions and or treatment options. We hope the information will be useful for you to become more educated about your health care decisions. If you are vision-impaired or have some other impairment covered by the Americans with Disabilities Act or a similar law, and you wish to discuss potential accommodations related to using this website, please contact us at (212) 941-5055.
*MDs perform 100% of all medical and cosmetic treatments.