Homepage // Blog / Treatments for Rejuvenating Above Your Mask
Treatments for Rejuvenating Above Your Mask
We may have entered a new year, but one change that isn't happening anytime soon is leaving our homes without masks. At the Laser & Skin Surgery Center of New York, we understand that you want to enjoy and show off the improvements from your cosmetic treatments, and since right now only your upper face is visible to others, we recommend focusing on rejuvenating this area.
At our Manhattan and Southampton skin care clinics, our board-certified dermatologists can customize a treatment plan for your specific needs and goals to give you the best possible results. With more than 100 laser and light devices and cutting-edge techniques, we can rejuvenate and refresh your upper face, no matter your aesthetic concerns.
The area above your mask may seem small, but it contains some of your most important and striking features. The eyes are arguably the most dramatic features of the face, especially when your mouth is being covered, as you have only your eyes to subtly convey emotion to those around you. Your forehead is also a large surface that can be treated for tone, texture, and wrinkles. For your entire upper face, the signs of beauty are:
Clear, even, smooth skin
No wrinkles
Firm and voluminous skin
Proportional contours of the cheeks, forehead, upper nose, and overall face shape
Smooth and light under-eye areas (no bags or discoloration)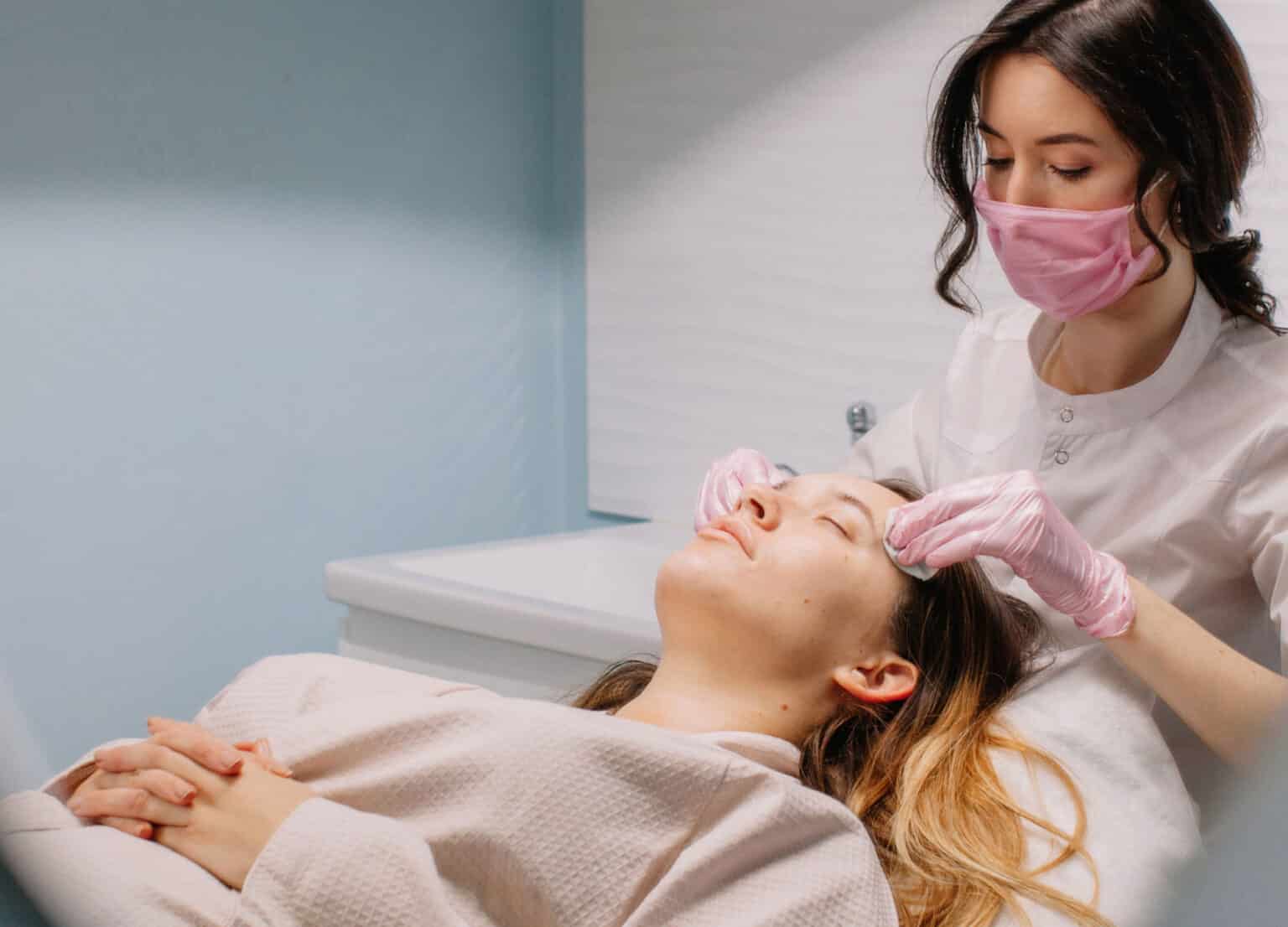 Address the Signs of Aging 
As you age and live your life, certain internal changes occur and external factors affect you, impacting your appearance. Internally, fat pads shrink. This begins in your 30s, and you'll continue to lose a teaspoon of fat each year. This can cause drooping upper eyelids, volume loss in the cheeks and forehead, and hollowing under the eyes. Muscle atrophy or hypertrophy also occurs, and this is why wrinkles and fine lines appear around the eyes and on the forehead. Finally, bone loss and remodeling is why eye sockets get bigger and bones get smaller, leading to a sunken-eye appearance.
Externally, rays from the sun can cause brown spots on your face, bumpy texture, and wrinkles. These UVA and UVB rays also damage your body's natural collagen production. Collagen is what gives your skin it's voluminous, firm, and youthful appearance, so limiting this natural process speeds up aging. The most common signs of aging in the upper face are:
Eyebrow shortening and drooping
Skin laxity (wrinkles and sagging)
Volume loss (caved-in effect)
Diminishing wrinkles is usually at the top of everyone's list, and they can appear all over your upper face. Dynamic wrinkles, or those caused by repeated facial movements, can appear across your forehead, next to your eyes, and between your eyes. At our Manhattan and Southampton offices, we offer several neuromodulator treatments to address these types of wrinkles. The newly FDA-approved RHA Dermal Fillers may also be used to treat dynamic wrinkles. For any other fine lines that you want to erase, we offer many dermal fillers to address your specific concerns. At your consultation, one of our board-certified dermatologists will recommend the best treatment for your goals.
To  learn more about safely reducing wrinkles with injectables, please visit fda.gov. 

Another way to refresh your upper face is to even the tone and texture of your skin. This can include removing brown spots or other areas of discoloration, as well as treating the rest of your skin with laser resurfacing to achieve a balanced look. Melasma, blotchiness, or hyperpigmentation is often found in the upper third of the face, and we offer several treatment options for these concerns.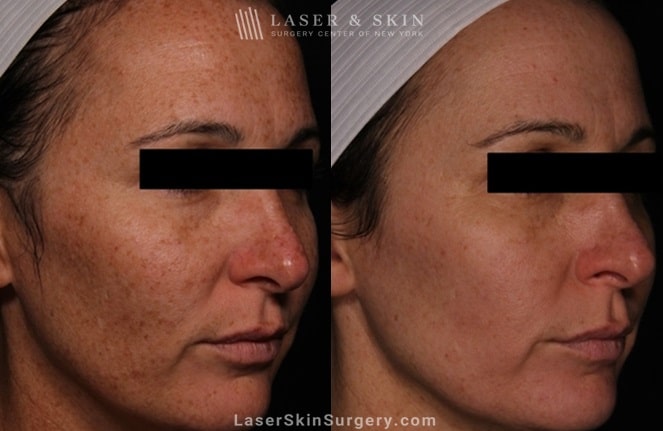 Lasers and light devices can treat common signs like:
Aging skin
Sun damage
Acne scars
Surgical scars
Melasma
Sun spots
With our 100+ laser and light devices—more than almost any skin care clinic in the country—we can select the best device for your particular tone and texture issues. We use fractional and ablative lasers, which can give you varying levels of results and downtime. Fractional lasers often require multiple treatments for complete results, but your recovery could be very short. Ablative lasers, on the other hand, fully refresh your upper face in just one treatment, but you should expect to hide behind your mask and a wide hat for a while as your treated skin heals and becomes more youthful and bright.
As their name suggests, dermal fillers fill in areas of the skin where fat has been lost or lines have appeared. They work well with other treatments, meaning you could combine a dermal filler treatment session with a neuromodulator or laser resurfacing treatment for a complete transformation of the upper face. Common areas of the upper face fillers are used are:
Around the eyes or forehead to treat wrinkles
Tear troughs to brighten dark circles and fill hollowing
Lower eyelids to restore curvature of cheeks, fill hollowing, lessen tear trough
Deep nasal grooves for adding volume which will improve curvature of upper nose
Cheekbones for volume restoration and definition
Temples where volume restoration will frame eyes and enhance facial contour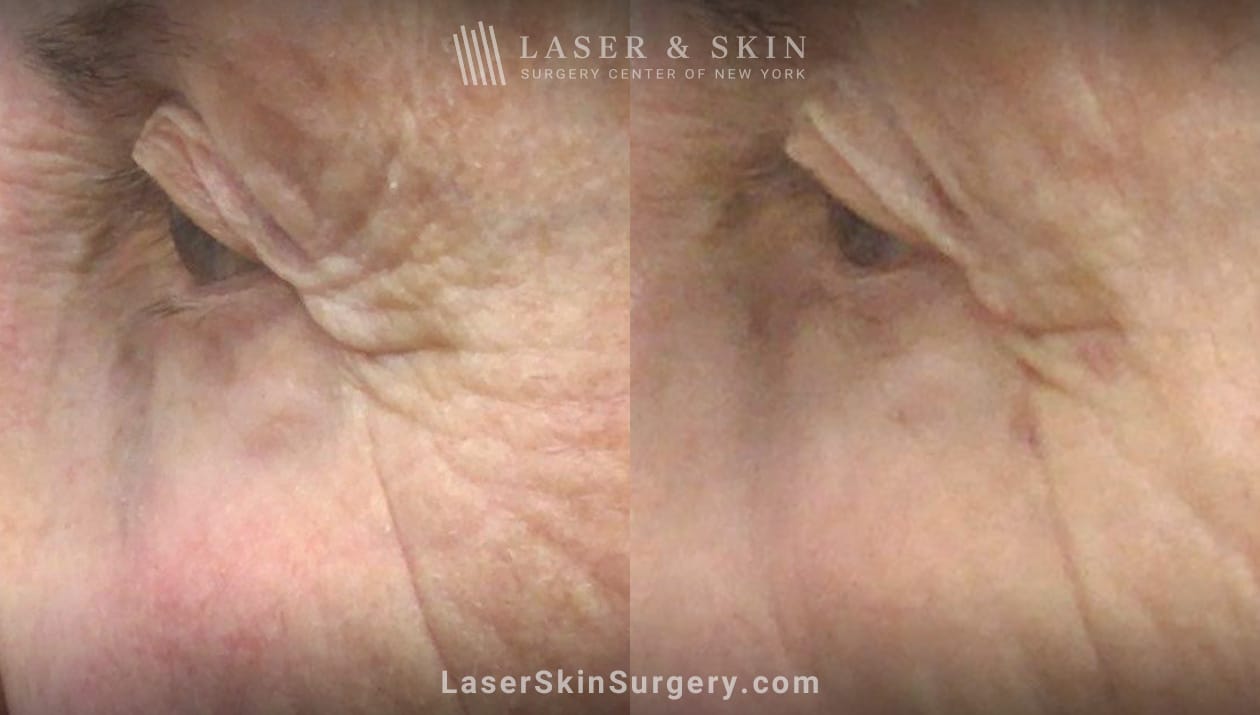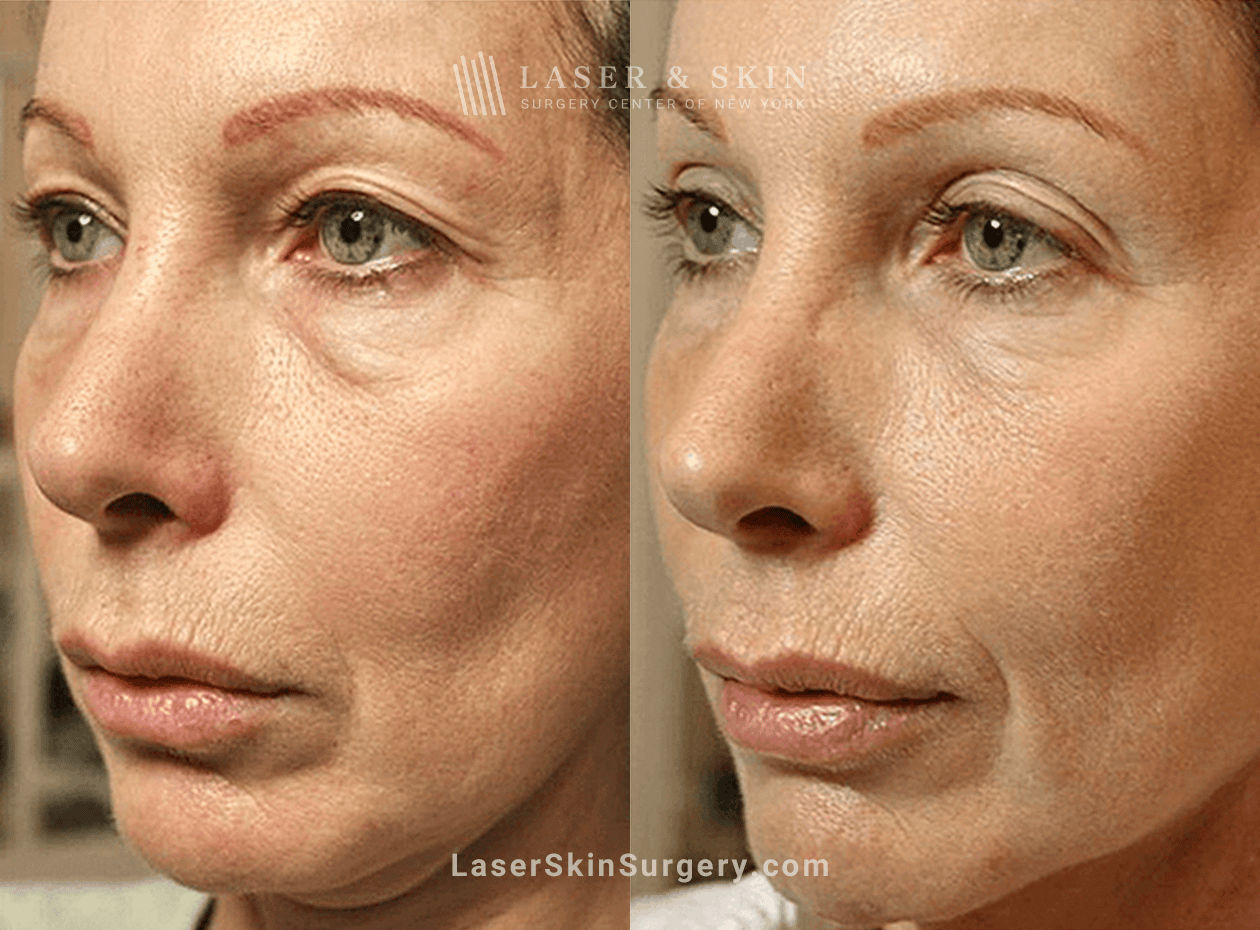 Skin laxity can create a number of cosmetic concerns like jowl formation, hooded eyes, and a heavy brow. These issues—as well as the many others—worsen over time, and they can be treated at any stage with either less invasive or more invasive skin tightening methods depending on the level of correction needed. We offer many treatments for sagging and loose skin at our Manhattan and Southampton offices, including:
If your aging symptoms are more advanced, or you are looking for longer-lasting and more dramatic results, plastic surgery could be your next step. Dr. Lloyd Hoffman, a world-renowned plastic surgeon, provides facial rejuvenation treatments like blepharoplasty and facelifts.
A blepharoplasty can achieve in one procedure more than dermal fillers and laser resurfacing could with several treatments. Dr. Hoffman will examine your facial dynamics to determine how to best refresh your eyes with this procedure. Facelifts can improve not just your upper face, but your entire face. While the healing process is longer than the other treatments discussed above, you'll likely be able to keep your results for at least 10 years.
Schedule An Upper Face Rejuvenation Consultation At Our New York Skin Care Clinic
If you are ready to look your best—even while wearing a mask—schedule a consultation with the Laser & Skin Surgery Center of New York at our Manhattan or Southampton office to determine the best treatments for your budget and goals.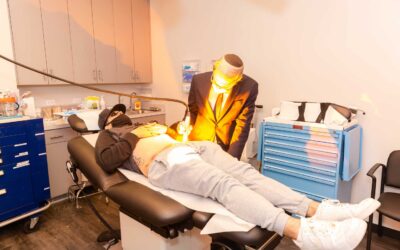 Homepage // Blog / Best treatments for all types of scars explainedOnce a scar forms, it becomes a lasting mark on your skin. Fortunately, the world of cosmetic treatments offers a range of powerful lasers and solutions to minimize their appearance. Selecting the...