Homepage // Blog / The Perfect Skincare Procedures In New York to Get Post-Quarantine
Evolving from quarantine life due to the COVID-19 pandemic is the perfect time to rejuvenate your skin. While you may be behind on some of your touch-up rejuvenation treatments, relying only on skincare products for now, perhaps, you can use this time to plan out a better rejuvenation strategy – one that's made more powerful by incorporating new and exciting techniques, such as more advanced laser procedures that can rebuild the skin (and even improve scars!), or a rejuvenation treatment that combines injectables and lasers to help fight the early signs of aging. Treating over 230,000 patients, the Laser & Skin Surgery Center of New York is a world leader in lasers, skin cancer, and cosmetic dermatology. We strive to provide excellent solutions to your cosmetic conditions with the highest quality of care.
Wrinkle smoothers are one of the most popular treatments today, not just for those who are seeking minimally-invasive procedures with little to no downtime, but also for those who are looking for an effective way to get visible, lasting, and natural-looking results. We often combine laser, radiofrequency, and ultrasound procedures with injectables, often on the same day. Laser treatments include the Fraxel Dual, Fraxel Repair, Erbium, Infini Genius, PicoSure, Lase MD, and Clear + Brilliant amongst others. These devices reduce line while improving skin tone and texture. Injectable products that fall into the category of wrinkle smoothers or neuromodulators include Botox, Dysport, Xeomin, and Jeuveau. These neuromodulators are used to minimize the appearance of wrinkles such as crow's feet, frown lines, and horizontal forehead wrinkles. They work by blocking the signal from the nerve to the muscles, which in effect, will no longer tighten or contract. This allows the wrinkles to relax and soften, giving the appearance of smoother skin.
Dermal filler injections provide a non-surgical way to replace lost volume to help smooth wrinkles, plump the lips, and restore more youthful facial contours. Hyaluronic Acid (HA) fillers, for instance, are made up of the naturally occurring substance that is already found in the skin and helps maintain its hydration and plumpness. Examples of HA fillers include:
There are also other types of dermal fillers that can be used to restore volume in the face. Radiesse (calcium hydroxylapatite particles suspended in a hyaluronic acid gel) and Sculptra (poly-L-lactic acid) gradually replace collagen in the skin to correct shallow-to-deep facial wrinkles and folds, and to contour the face. Since 100% of the Laser & Skin Surgery Center of New York's treatments are performed by board-certified physicians who have extensive experience with injectables, you can be confident that you can safely achieve beautiful yet natural-looking results. To learn more about dermal fillers, visit ncbi.nlm.nih.gov

Kybella, Coolsculpting, and Liposuction
These treatments are designed to address fullness underneath the chin, which gives the appearance of having a double chin. Our physicians participated in the clinical trials of Kybella and Coolsculpting, leading to their FDA approval, making us one of the leading centers in the U.S. to offer these revolutionary treatments.
Ranging from light to deep, a chemical peel is a treatment technique that uses a chemical solution that causes dead skin to slough off, exfoliating the skin to reveal regenerated skin that is healthier, smoother, and less wrinkled. And since there is no one-size-fits-all treatment when it comes to skin rejuvenation treatments, our chemical peels will be customized according to your needs and goals.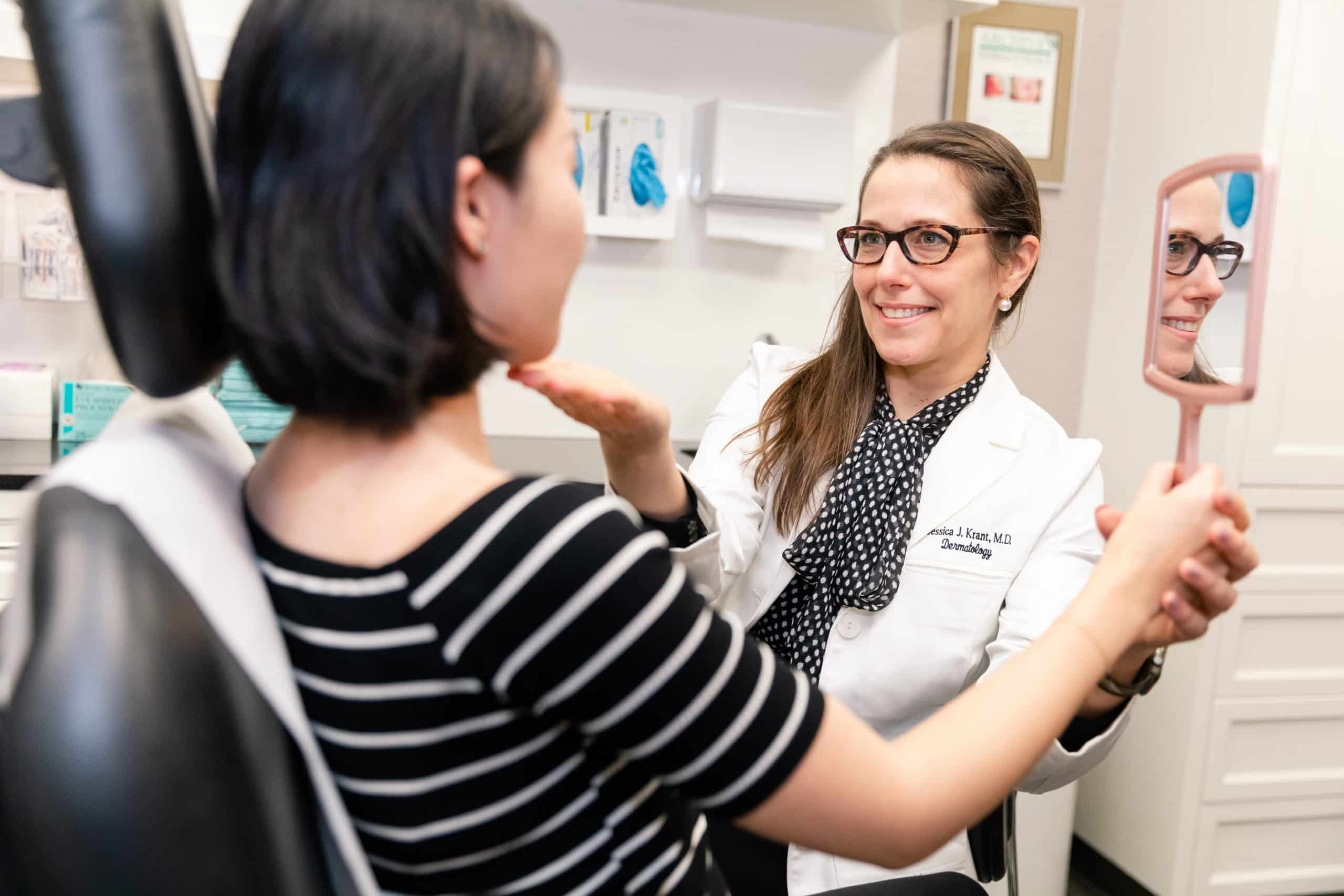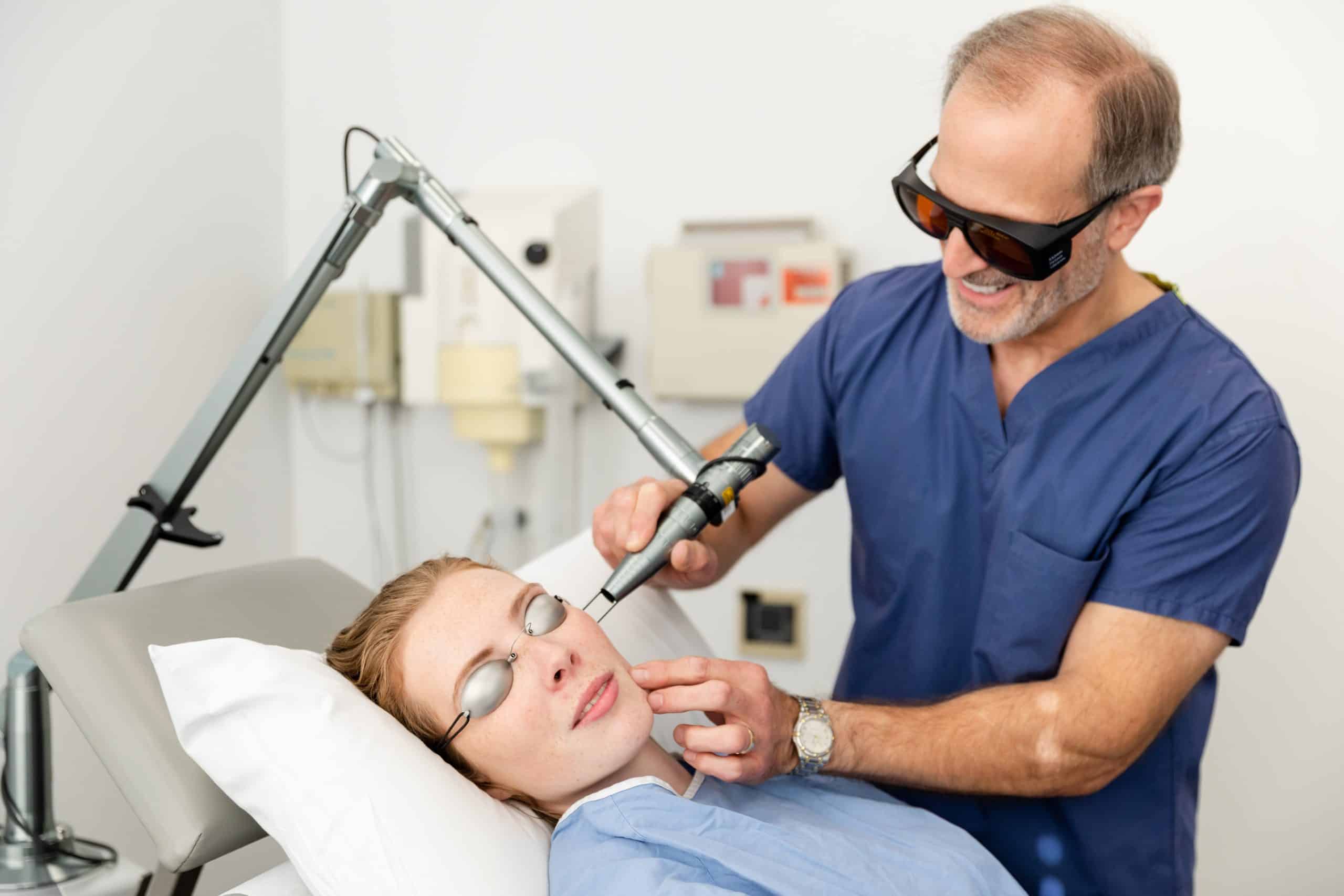 Skin Tightening Treatments
As you age, skin loses its elasticity and firmness, causing skin laxity, which can contribute to aging symptoms such as wrinkles and deep creases, jowl formation, and loss of volume in the midface. At the Laser & Skin Surgery Center of New York, we offer non-surgical methods to reverse sagging of skin, restoring a firmer, more youthful appearance. Examples of our skin tightening treatments include:
Fraxel Repair – a fractional laser that works at a cellular level in the skin to produce long-lasting benefits. It creates micro-channels in the dermal layers of the skin to stimulate the body's regenerative process, particularly collagen production and cell renewal, resulting in tighter skin with improved tone, texture, and pigmentation.
Infini Genius – combines the benefits of advanced radiofrequency energy with microneedling to address the signs of aging. This procedure delivers radiofrequency energy into the lower dermal layers, triggering the body's healing process while boosting collagen production and making the skin smoother, firmer, and more youthful. We are one of the first centers in the country to offer the Infini Genius. Each treatment we perform is customized to the patient's needs, regardless of skin type.
Ultherapy – uses targeted ultrasound energy to treat sagging skin of the face and neck. This non-invasive treatment will gently heat and constrict skin tissue without disrupting the outer dermis. Ultherapy will boost your body's production of collagen, causing firmer, younger-looking skin over time.
Clear + Brilliant & LaseMD
Clear + Brilliant and the LaseMD offer gentle laser treatments that create microscopic treatment zones where damaged skin is replaced with healthier, more youthful dermal layers. This non- invasive fractional laser technology is used for skin rejuvenation, superficial pigmentation, and skin resurfacing, addressing the early signs of aging and helping to prevent them. Skin is renewed with a more consistent skin tone and texture, reduced pore size, improved clarity, and a radiant complexion.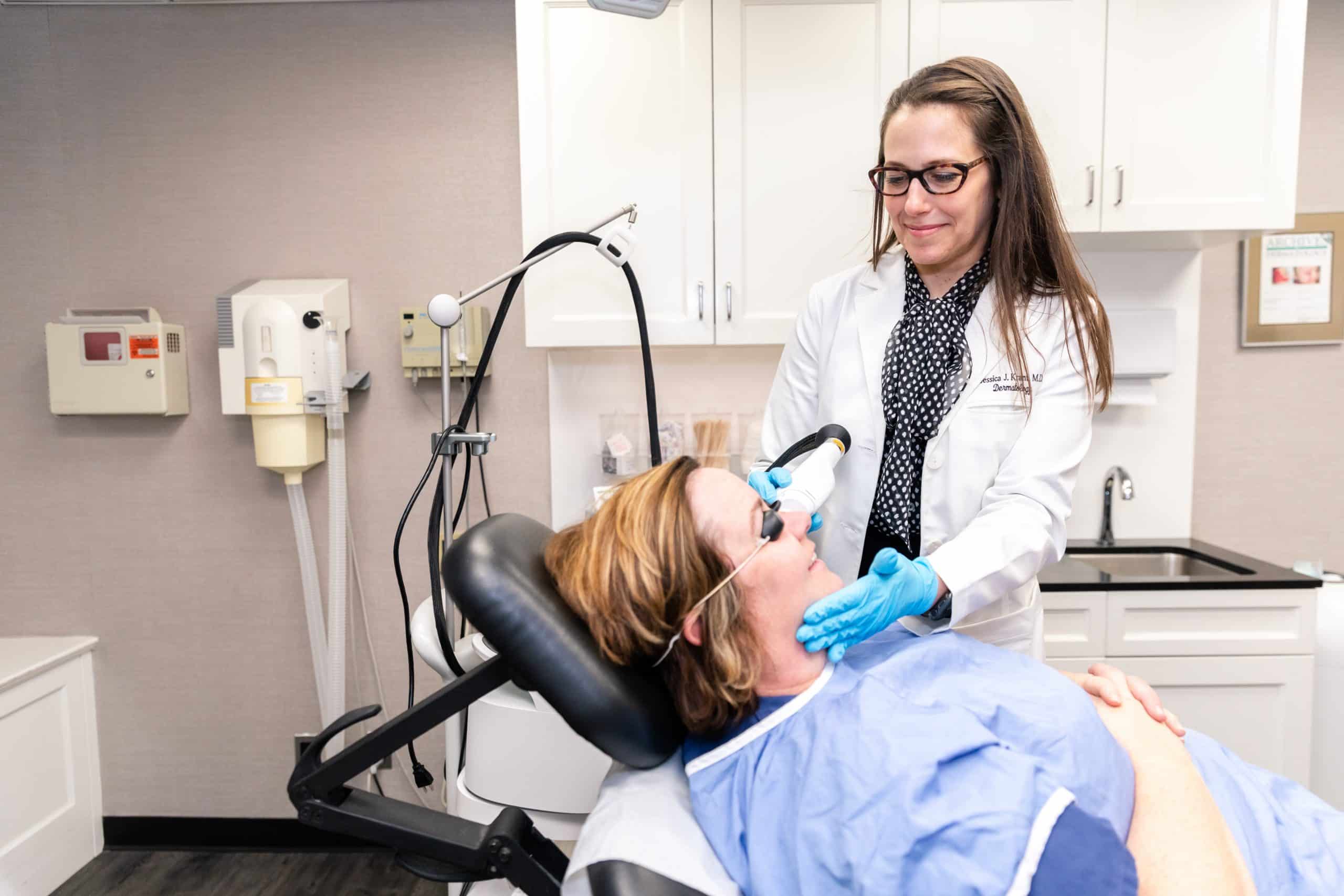 Laser scar treatment at the Laser & Skin Surgery Center of New York makes use of a variety of laser devices to target a scar without damaging the surrounding skin and tissue. Our board-certified physicians are laser experts and precisely know how to match laser devices to our patients to achieve the best results. Scar removal can be performed with laser devices such as Fraxel Dual, Fraxel Repair, Erbium, Infini Genius, Vbeam Perfecta, Excel V, PicoSure, and Ruby.
Schedule A Rejuvenation Treatment Consultation Today
Keep your skin in top condition by staying abreast of advanced cosmetic dermatology treatments and trends. To learn more about our available procedures, contact the Laser & Skin Surgery Center of New York by calling our office today.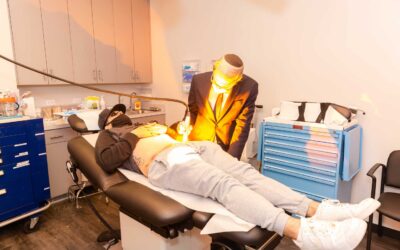 Homepage // Blog / Best treatments for all types of scars explainedOnce a scar forms, it becomes a lasting mark on your skin. Fortunately, the world of cosmetic treatments offers a range of powerful lasers and solutions to minimize their appearance. Selecting the...