The nd:YAG is a Q-switched laser that can be used for anti-aging, skin rejuvenation, and tattoo removal.
Results Duration: Long Lasting
Treats:
Facial lines, skin laxity, tattoos, lentigines, nevus of Ota, café-au-lait, and melasma
Side Effects:
Redness, swelling, itching, and mild scabbing for a few days after treatment
Location:
Primarily used on the face
Follow Up:
Multiple treatments may be needed to achieve an optimal outcome
How Performed:
Handpiece delivers laser energy to achieve the desired result
Preparation:
Topical or local anesthesia administered prior to treatment
Expected Outcome:
Elimination of tattoo or skin lesion, reduction in aging symptoms
Onset:
Results visible after treatment plan is completed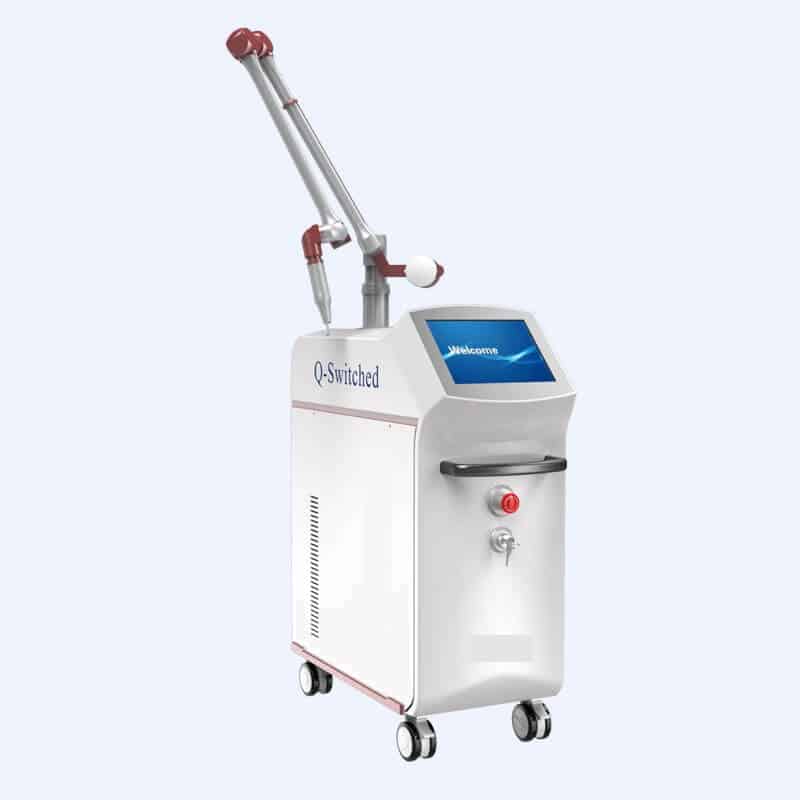 The Q-switched nd:YAG is a laser manufactured by Continuum Biomedical. It has a wavelength of either 585 nm or 1064 nm and is versatile enough to use for aging symptoms, vascular lesions, hyperpigmentation, and tattoo removal. 
The board-certified dermatologists and plastic surgeons at Laser & Skin Surgery Center of New York have an extensive range of laser devices that allow us to customize all our patient's treatments to ensure an optimal outcome. We have the experience and expertise to help you meet all your aesthetic goals with comfortable treatments and minimal downtime in most cases. Our team would be happy to meet with you to discuss your concerns and create a personalized treatment plan to keep you looking and feeling your absolute best.
How does the nd: YAG Laser Work?
This Q-switched laser offers rapid pulses that can effectively shatter ink in tattoos or melanin in some types of skin pigmentation. The laser targets the ink or melanin without harming surrounding skin and tissue, reducing discomfort, side effects, and downtime. Although patients may need a series of treatment sessions to achieve their desired results, the improvements will be long-lasting.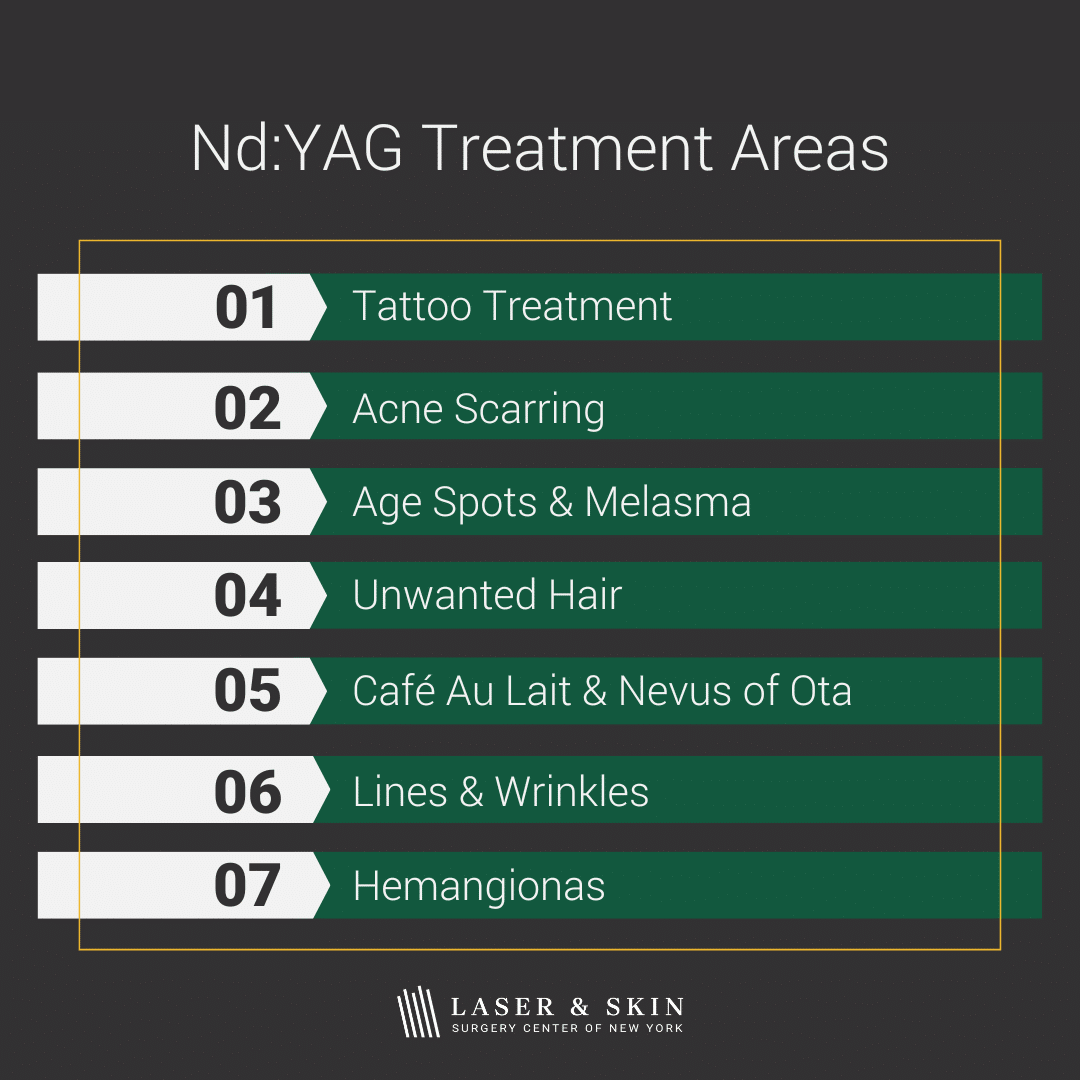 What Can the Nd:YAG Laser treat?
This versatile, rapid pulse laser can be used to address a wide range of concerns, including:
Nd:YAG laser emits highly intense light beams that gently and effectively destroy hair follicles. Its 1064 nm wavelength allows for safe laser hair reduction on all skin types, including darker skin tones.
Benefits of Nd:YAG for Laser Hair Reduction
YAG laser for hair treatment offers several advantages, including:
Is safe to use anywhere, including the face, neck, underarms, chest, back, bikini line, and legs
Treats larger body areas quickly
Reduces hair density
Produces longer-lasting results than other hair treatment methods
Works on all skin types, even darker skin tones
How Long is the Recovery Time After Treatment?
Recovery after an nd:YAG laser treatment is usually minimal. You may experience some mild swelling, redness, itching, or scabbing at the treatment site, but this should not prohibit you from your daily activities.
Nd:YAG vs. Other Lasers for Hair Reduction
What sets YAG lasers for hair treatment apart from other laser treatments, including IPL and Diode lasers, is their safety and efficacy, particularly on darker skin types and tanned skin.
Other lasers for hair treatment target melanin, which is also present in the skin. This can make laser hair treatment unsafe for those with more melanin or darker skin. Nd:YAG laser hair treatment is safe for darker skin tones because of its longer wavelength. It penetrates the skin more deeply without impacting the superficial melanin pigment surrounding the hair follicle, making it a safer alternative for darker skin types. The longer wavelength also targets hair in larger areas of the body, and Nd:YAG is one of the more comfortable laser systems available today.
Can Nd:YAG Hair Reduction Help with Hyperpigmentation?
Yes. the Nd:YAG laser works well on pigmentation. Specific wavelengths of light penetrate the skin and are absorbed preferentially by pigments. The laser targets heat and breaks down these pigments while leaving the top skin surface intact. YAG laser hair treatment for hyperpigmentation produces favorable results, especially when combined with topical treatments.
How Long is the Recovery Time After Treatment?
Recovery after an nd:YAG laser treatment is usually minimal. You may experience some mild swelling, redness, itching, or scabbing at the treatment site, but this should not prohibit you from your daily activities.
Publications
"Laser Lipolysis Utilizing a Novel Nd:Yag Laser." Dermatol Surg. 2006 May.
"Treatment of Atropic Facial Acne Scars with the 1064nm Q-switched Nd:YAG Laser." Arch Dermatol. 2004 Nov.
"Two Randomized, Double Blind Studies Evaluating the S-Caine Peel for Induction of Local Anesthesia Prior to Nd:YAG Laser Therapy for Leg Veins." Dermatol Surg. 2003 Oct.
"Surgical Pearl: Q-switched Nd:YAG laser removal of eyeliner tattoo." J Am Acad Derm 35:101-102, 1996.
"Q-switched ruby vs. Q-switched Nd:YAG laser in treatment of tattoos." Cutis. 1995.
"Treatment of Port-Wine Stains With a Short Pulse Width 532-nm Nd: YAG laser." J Drugs Dermatol. 2013 Jan. 
Real Patients Before and After photos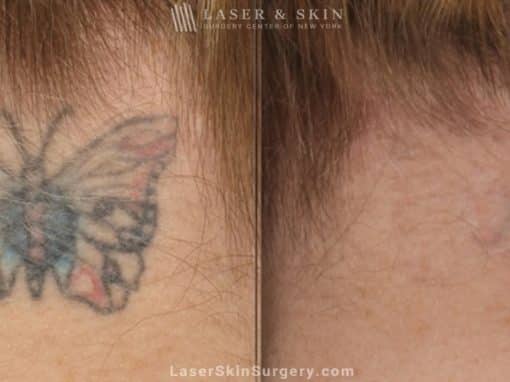 Laser Treatment For Tattoo Removal
Disclaimer: Results may vary from patient to patient. Results are not guaranteed.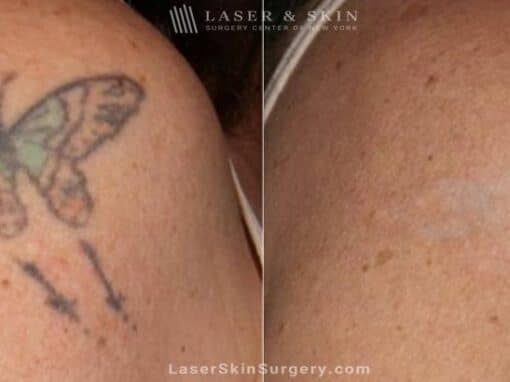 Laser Tattoo Removal
Disclaimer: Results may vary from patient to patient. Results are not guaranteed.
Q: Is The nd:YAG Laser Safe?
A: Yes. These devices have been approved by the FDA for decades and have a long track record of safety and success. Our board-certified physicians have extensive experience using this device and will use their expertise to customize your treatment so it is as safe and effective as possible.
Q: How Many Treatments Will I Need?
A: The number of treatment sessions depends in part on your aesthetic goals. If you are looking for tattoo removal, you will likely need a series of sessions to achieve an optimal outcome. If anti-aging is your goal, you may see satisfying results from one or two appointments. One of our doctors will meet with you in person to assess your specific concerns and desired results. From that discussion, we can create a customized treatment plan that will meet your expectations beautifully. 
Q: How Long Do Results Last?
A: Again, this depends on your aesthetic goals. Treatments to remove tattoos or specific lesions on the skin may offer permanent results. If you are seeking the procedure to address signs of aging, you may need to repeat the procedure periodically to maintain your positive results. 
Q: Are There Any Side Effects?
A: Side effects associated with the nd:YAG laser are usually mild and temporary. You might notice some redness and swelling around the treatment area, which should subside within a day or two. Make sure you protect the treated area from direct sun exposure to avoid potential damage to the skin.
Q: Am I A Good Candidate For nd:YAG Laser Treatments?
A: The nd:YAG laser is a versatile device that can be used to address a host of skin concerns. If you have body ink you would like to eliminate, or hyperpigmentation concerns that are making you self-conscious about your appearance, schedule a consultation with one of our board-certified physicians to find out if the nd:YAG laser is the right treatment for you.
Scars are often unwanted reminders of medical conditions, injuries, trauma, or surgery. When they are noticeable, they can also lead to significant embarrassment and self-esteem. Fortunately, there are ways to treat scars today that do not involve incisions, anesthesia, and downtime.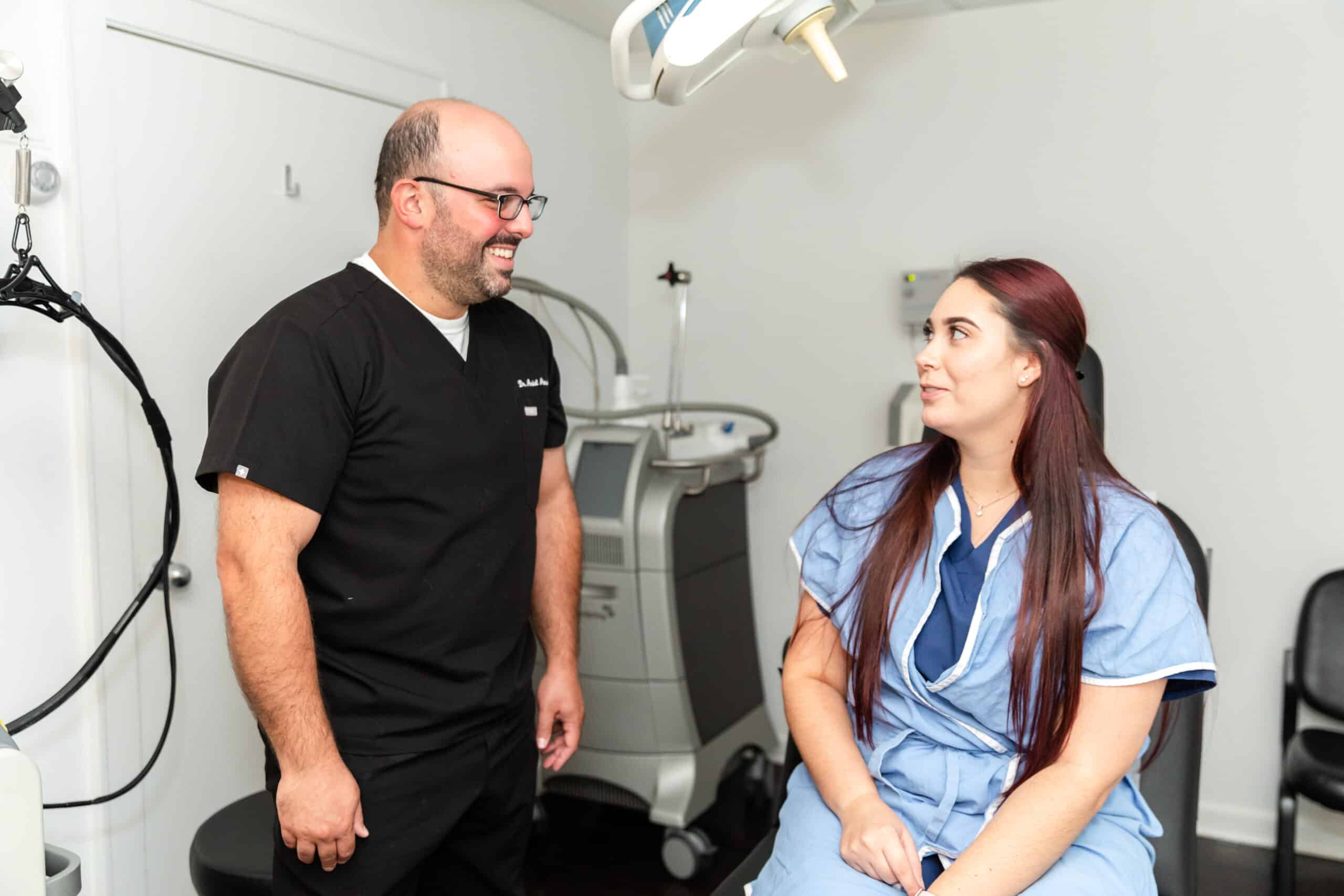 Body contouring addresses stubborn fat, skin laxity, or cellulite. Our board-certified physicians have been involved in clinical trials to develop new technology that provides superior treatment options. We offer treatments for cellulite, skin tightening, and fat reduction.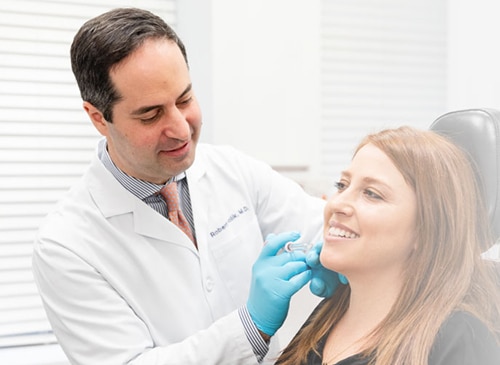 Laser & Skin Surgery Center of New York's filler treatments are always performed by board-certified physicians who have extensive experience with injectables. When you come to us for cosmetic care, you can be confident that you can safely achieve a perfectly natural look.
WHAT you are looking for?
Our 30,000+ sq foot dermatology center in New York is the most comprehensive, state-of-the-art laser and cosmetic skin surgery center in the world. Over the past 30 years we have contributed to the development and testing of many devices, fillers and treatments that are now standard care, so our patients know they are always receiving the most innovative, cutting-edge treatment available.
Pay Online for Patients of Drs. Geronemus, Anolik, Bae & Seidenberg
Pay Online for Patients of Drs. Abraham, Bernstein, Krant, Shelton, Stern, Weiss, Hoffman, Shim, Murphy-Rose, Wilson, and Petratos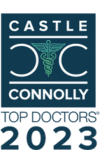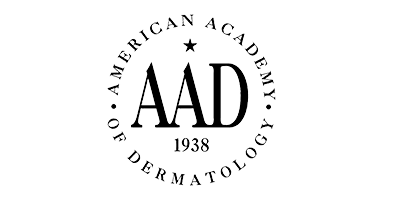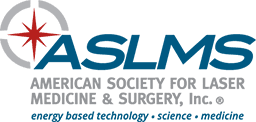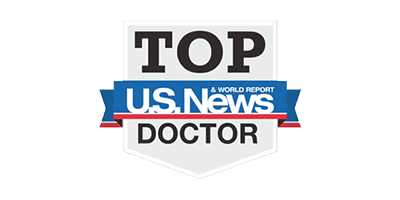 By LASER & SKIN SURGERY CENTER OF NEW YORK® | © 2023 All Rights Reserved. Design & Development by Goldman Marketing Group | Sitemap | Privacy Policy | The information available on this web site is provided for informational purposes only. This information is not intended to replace a medical consultation where a physician's judgment may advise you about specific disorders, conditions and or treatment options. We hope the information will be useful for you to become more educated about your health care decisions. If you are vision-impaired or have some other impairment covered by the Americans with Disabilities Act or a similar law, and you wish to discuss potential accommodations related to using this website, please contact us at (212) 941-5055.
*MDs perform 100% of all medical and cosmetic treatments.