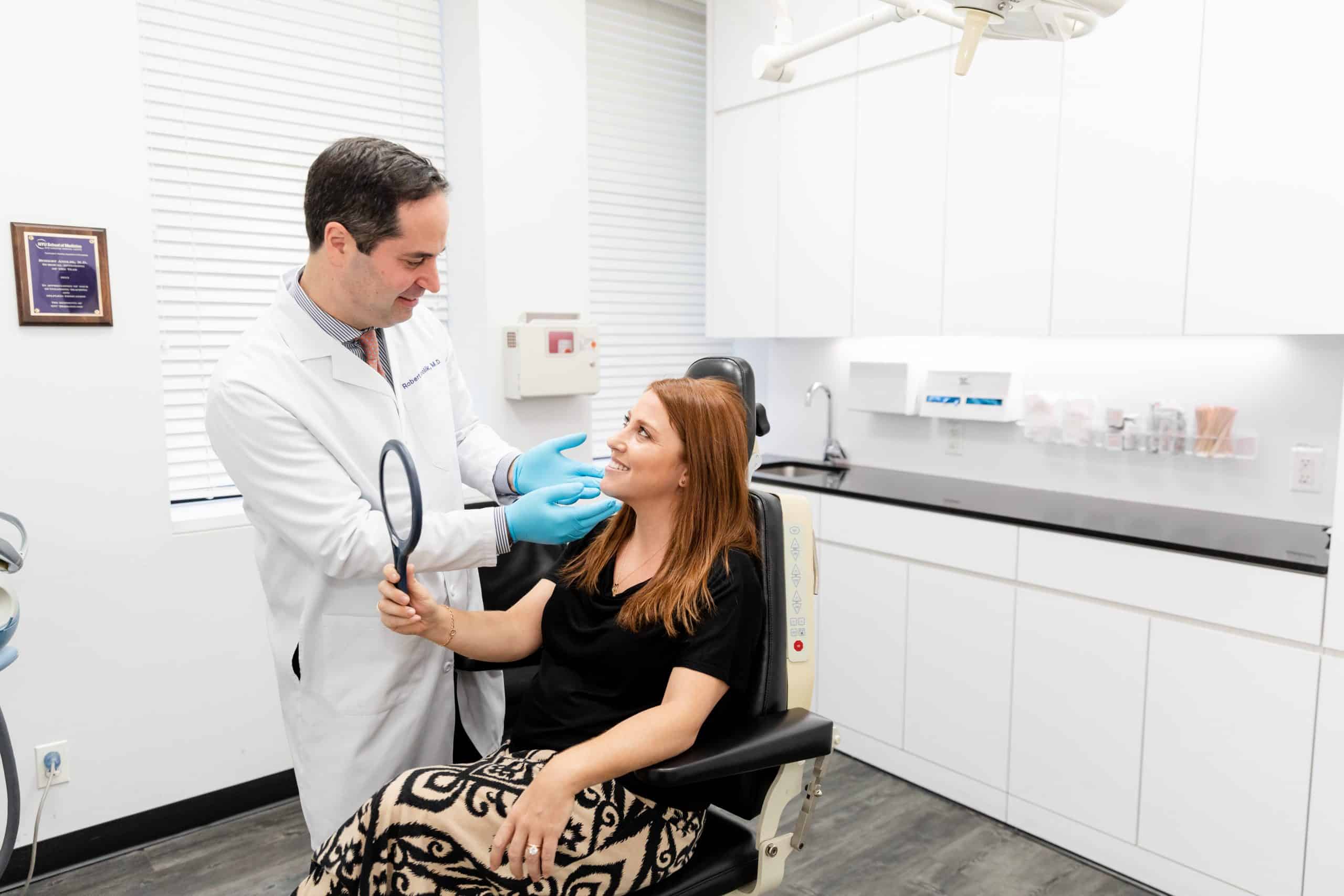 Homepage // Blog / 4 Best Treatments For Under Eye Wrinkles, from Expert Dermatologists
4 Best Treatments For Under Eye Wrinkles, from Expert Dermatologists
Under eye wrinkle treatments focus on improving the skin quality of the lower eyelids. While wrinkles are a natural part of the aging process, various surgical and non-surgical procedures allow patients to refresh their eyes and diminish signs of aging.
Laser & Skin Surgery Center of New York features over 100 lasers and dozens of injectables. Our board-certified dermatologists provide customized treatment options to help patients safely achieve their aesthetic goals.
Below, we share expert advice on how best to treat under eye wrinkles.
How to Treat Under Eye Wrinkles: At Home
Here are tips on how to take care of the skin around your eyes to help reduce wrinkles and other signs of aging:
Apply the right skincare products – use eye creams, moisturizers, and serums that are specifically designed for the eyelids. These products have wrinkle-fighting ingredients, such as retinol, vitamin C, and hyaluronic acid, that keep the skin under the eyes looking smooth and youthful.
Always wear sun protection – apply zinc-based sunscreens and wear sunglasses to help protect the eyes from free radical damage, which causes or worsens signs of aging.
Improve sleeping habits – during sleep, your skin repairs itself by rebuilding collagen, helping to reduce lines under the eyes. Aim to get 7-9 hours of sleep. Sleeping on your back and elevating your head can also increase blood circulation and improve your sleep quality.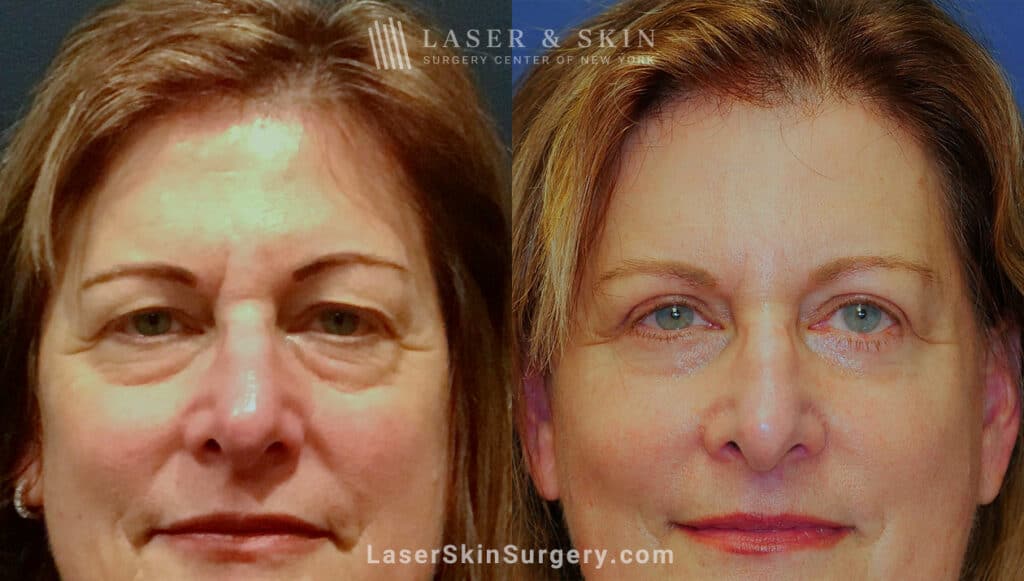 How to Treat Wrinkles Under Eyes: Professional Help
There are several cosmetic treatments available for eye wrinkles. These procedures are more effective and longer-lasting than home remedies, especially when performed by board-certified dermatologists. The following are the four eye wrinkle treatments we offer at Laser & Skin Surgery Center of New York:
Fillers
Hyaluronic acid-based dermal fillers, such as Restylane® and Juvéderm®, are gel-like injectables that plump up under-eye hollows or tear troughs, smooth fine lines and wrinkles, and stimulate collagen production to create a more youthful appearance. By restoring lost volume, the skin gets an instant lift with the reduced appearance of wrinkles.
Botox
Neuromodulators like Botox® work by relaxing the muscles and limiting their ability to contract, which prevents dynamic lines that form when making facial expressions from developing. Botox treats crow's feet, the deeper wrinkles under the eyes, and lines around the forehead.
Oftentimes, it is best to combine Botox and fillers to effectively lift the skin and smooth out wrinkles to rejuvenate the entire eye area.

CO2 Laser Resurfacing
CO2 laser resurfacing is an excellent alternative to surgery. It uses targeted light beams to remove the skin's superficial layers. It also heats the skin's middle layer to stimulate new collagen production. As the skin heals, healthier, firmer, and smoother skin replaces the damaged layers, effectively reducing the appearance of wrinkles.
Blepharoplasty
This surgical procedure removes excess fat pockets and sagging skin to refresh the under-eye area. In addition to reducing the appearance of eye bags, lower blepharoplasty smooths away fine lines and wrinkles to make the skin under the eyes smoother and more youthful looking.
Through incisions placed inside the lid or within the natural eye creases, a surgeon removes pockets of fat and excess skin to create a more contoured and youthful-looking lower lid.
Bothered by under-eye wrinkles? Schedule an appointment
While there are several ways to treat fine lines under the eyes, the best way to determine which treatment is right for you is through a consultation with an expert. To ensure your procedure is safe and effective for the delicate skin around the eyes, always work with an experienced, board-certified dermatologist or plastic surgeon.
At Laser & Skin Surgery Center of New York, we offer both surgical and non-surgical treatment options for addressing lines and wrinkles, refreshing your eyes, and making you look and feel your best.
With a team of qualified board-certified dermatologists and plastic surgeons, we have the knowledge and experience to customize your treatment according to your precise needs and aesthetic goals. We have participated in the research and development of many devices and injectables that are widely used today, so you can rest assured you are receiving the most innovative care available.
Schedule a consultation with Laser & Skin Surgery Center of New York's Manhattan or Southampton office to determine the best under eye wrinkle treatment for you.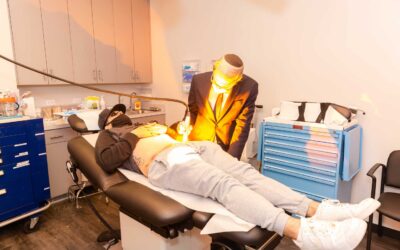 Homepage // Blog / Best treatments for all types of scars explainedOnce a scar forms, it becomes a lasting mark on your skin. Fortunately, the world of cosmetic treatments offers a range of powerful lasers and solutions to minimize their appearance. Selecting the...
Pay Online for Patients of Drs. Geronemus, Anolik, Bae & Seidenberg
Pay Online for Patients of Drs. Abraham, Bernstein, Krant, Shelton, Stern, Weiss, Hoffman, Shim, Murphy-Rose, Wilson, and Petratos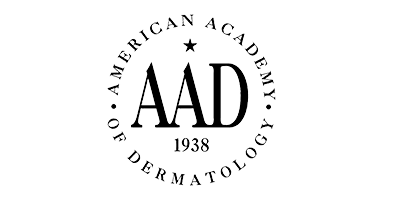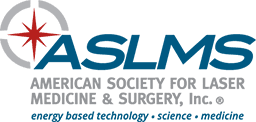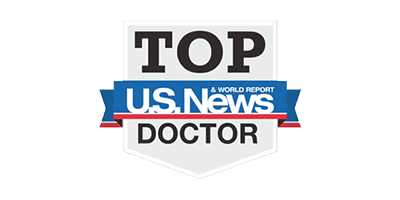 By LASER & SKIN SURGERY CENTER OF NEW YORK® | © 2023 All Rights Reserved. Design & Development by Goldman Marketing Group | Sitemap | Privacy Policy | The information available on this web site is provided for informational purposes only. This information is not intended to replace a medical consultation where a physician's judgment may advise you about specific disorders, conditions and or treatment options. We hope the information will be useful for you to become more educated about your health care decisions. If you are vision-impaired or have some other impairment covered by the Americans with Disabilities Act or a similar law, and you wish to discuss potential accommodations related to using this website, please contact us at (212) 941-5055.
*MDs perform 100% of all medical and cosmetic treatments.
Our board-certified dermatologists in New York City are all fellowship-trained and uniquely trained in lasers and technology, cosmetic and medical dermatology, and skin surgery. Together they are highly acclaimed world experts with thousands of articles published, countless TV and media appearances, and hundreds of years of combined experience.
Our plastic surgeons bring years of experience in helping patients achieve all their aesthetic goals through surgical procedures. Every treatment is fully customized to the precise needs of each patient for results that are natural and beautiful.