Homepage // Blog / Acne and Rosacea
Acne and rosacea are two common skin disorders that affect people of all ages and skin types. While they may often get confused because of similar facial redness and bumps, the conditions are characteristically distinct in the ways they form and how they affect the skin.
The Laser & Skin Surgery Center of New York's board-certified dermatologists have the expertise, experience, and devices necessary to get these conditions under control. One of our award-winning dermatologists, Dr. Roy Seidenberg, conducted a webinar explaining how easy it is to treat acne and rosacea, as well as to manage their symptoms. Below, we share the highlights.
Acne can range from the occasional pimple to extreme, ongoing breakouts that might go on for several years, or even decades.
Acne by the Numbers
Acne is the most common skin disorder in the United States. Approximately 85% of Americans will have acne at some point in their lives. Around 50,000,000 people have acne, while 20,000,000 have significant acne with scarring. The US spends $3 billion in acne medications every year, making acne a significant skin concern.
Acne is especially common among teenagers. However, adult acne is increasing, affecting more women in their 20s and 30s even if they've never had acne before.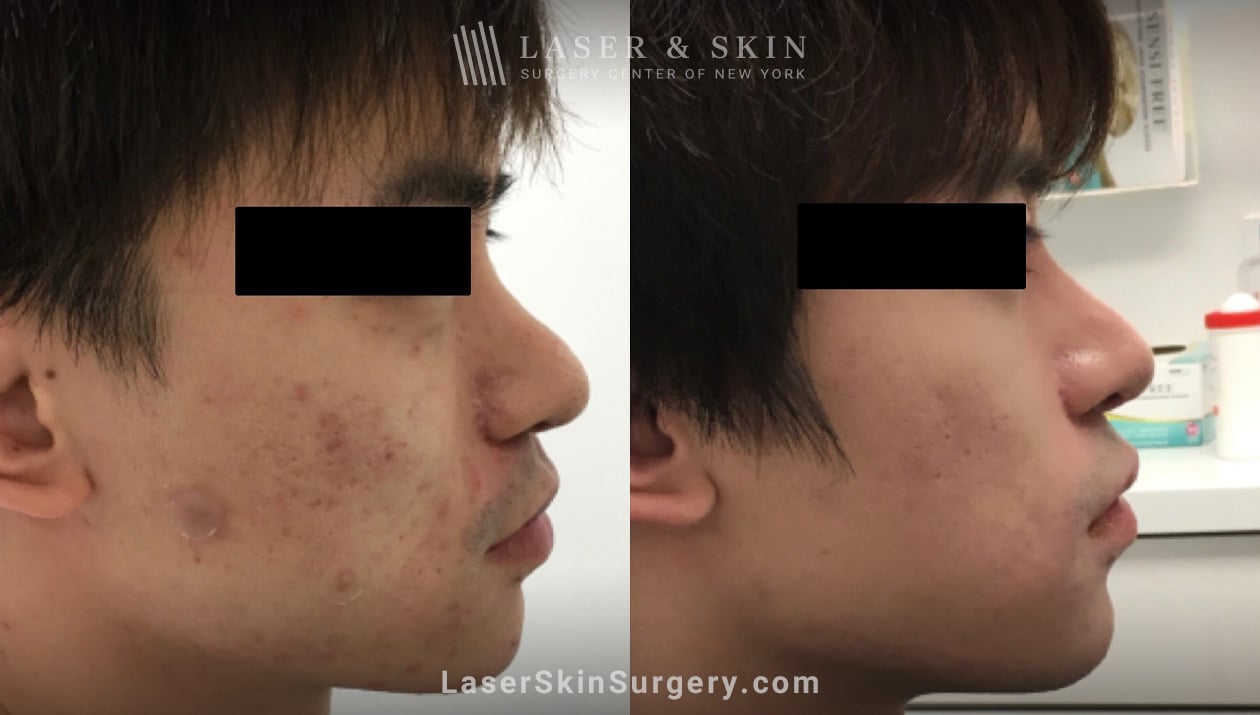 We understand that acne affects more than your skin. We know how even the mildest breakout can negatively impact your psyche, self-confidence, and self-esteem. But is acne making depression and anxiety worse? Or is it the other way around? According to Dr. Seidenberg, it's a little bit of both.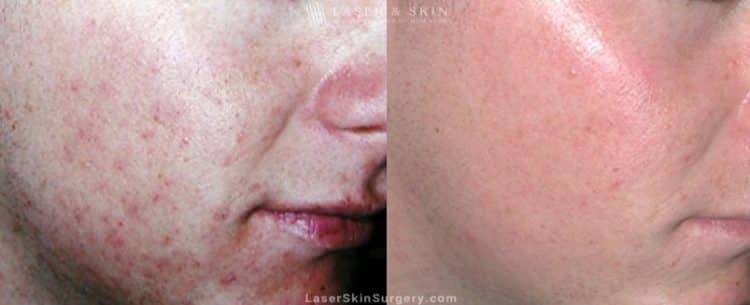 Causes of Acne
Factors that can increase your likelihood of an acne breakout include:
Genetics
Hormones
Stress
Mechanical factors, such as make-up
Diet (e.g., research shows that cow's milk as well as a high-glycemic diet may exacerbate acne)
Myths and Facts about Acne
Like other conditions that plague many people, misconceptions have developed over the years about what causes acne and the best way to treat it. Here are some of the most common acne myths and fast facts that debunk them:
MYTH: Acne is an infection
Acne is not an infection of the skin but an inflammatory condition. It is caused by dead skin cells that collect and clog your pores, sebaceous glands that produce too much oil in the follicles, bacteria (Cutibacterium acnes) build-up in the pores that eat the oil, and white blood cells (pus) coming into the follicle leading to breakouts.
MYTH: Exfoliating is an effective treatment
Exfoliation as an acne treatment is overrated. Over-exfoliation will only lead to increased dryness or irritation.
MYTH: Spot treating is the way to go
While it's very tempting to spot treat, it does not work because the pimple is already there. You need to apply your medication to the whole area daily to prevent breakouts.
MYTH: Medications provide instant results
You have to be patient because acne medications don't work quickly. The skin has to undergo a cellular turnover, which may take anywhere between 3-6 weeks. Birth control pills may take three months to produce results. However, a cortisone injection can make a big pimple heal quickly.
A Progressive Disease
The epidermis goes right down into the hair follicle, so it's all continuous right down to the hair shaft. Every single hair follicle has its own tiny little nerves, muscle, oil gland, artery, and blood vessel, and the hair follicle goes deep.
We typically shed our skin, which is composed of keratin, similar to our hair and nails. The skin we shed goes out into the air as dust. If the skin in the follicle doesn't grow ("keratinize") properly in the follicle, you get a little plug. The oil gland releases sebum, which accumulates and along with bacteria build-up, results in the following types of acne lesions:
Early comedones – non-inflammatory acne (whiteheads and blackheads)
Later comedones – accumulation of shed keratin and sebum
Papules – small, red, and raised bumps, may be tender but often are not
Pustules – small, red pimples containing white or yellow pus, can be tender
Nodulocystic Acne – larger, tender inflamed, often painful lumps beneath the skin's surface
Acne Treatments
Some patients respond quite well to topical or oral medications for managing their acne.
Topical medications include:
Retinoids (Retin-A, Differin, EpiDuo, Tazorac) [also have anti-aging properties]
Benzoyl peroxide
Azelaic acid (Finacea, Azelex)
Minocycline (Amzeeq)
Clascoterone (WinLevi)
Oral medications include:
Tetracycline antibiotics (Tetracycline, Doxycycline, Minocycline, seracycline)
Hormone (androgen) blockers (Spironolactone)
OCPs
Isotretinoin (Accutane) – requires ongoing monitoring while on the medication
Procedures to Treat Acne
We offer the following acne treatments in our Manhattan and Southampton offices:
Cortisone injections/acne surgery – used for shrinking lesions and accelerating healing
Chemical peels – control acne by comedolytic opening of white/blackheads
Photodynamic therapy (PDT) – utilizes light therapy to kill bacteria and shrink oil glands
The board-certified dermatologists and laser experts at the Laser & Skin Surgery Center of New York also offer a variety of lasers that can address even the most severe acne breakouts. With more than 100 laser and light devices and cutting-edge techniques, we can customize your treatment to produce the best possible results. Options include:
We also offer a new technique that combines the Excel V with the Nd:YAG in a single treatment to further enhance your results.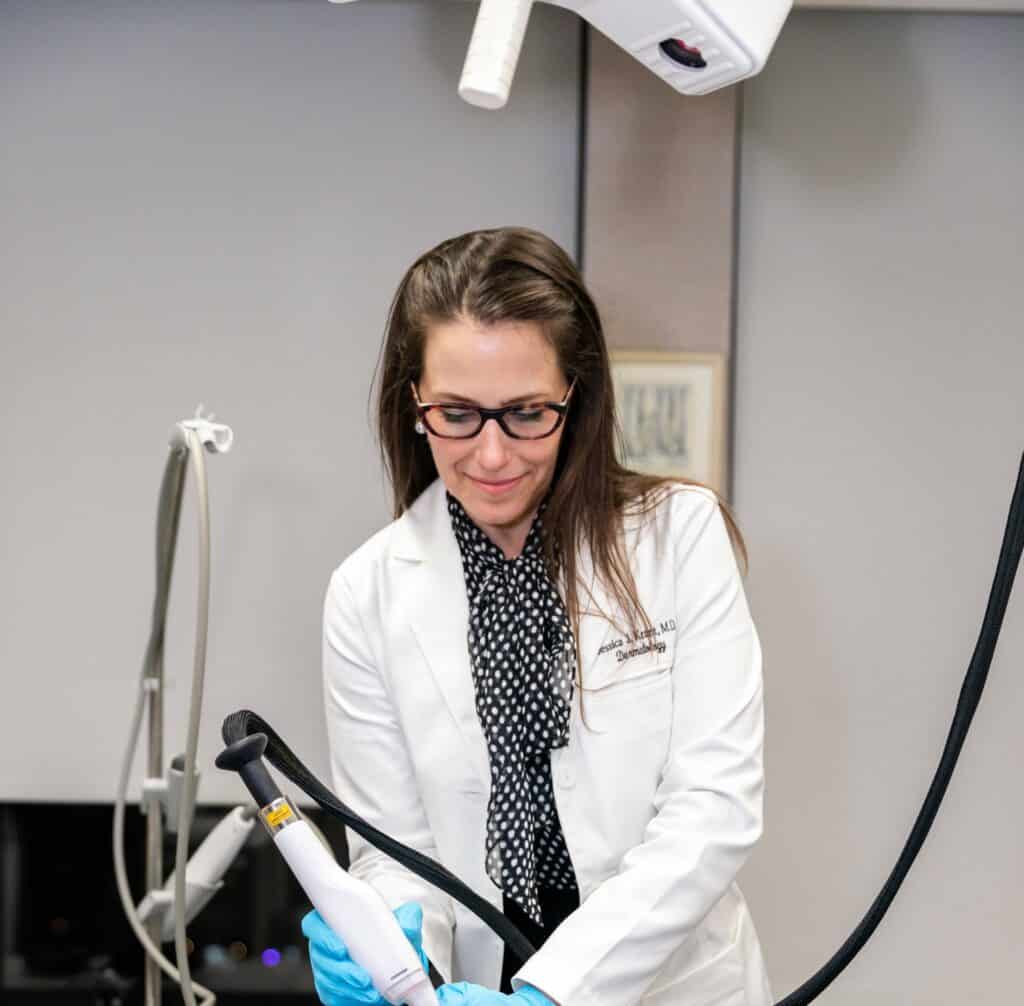 Rosacea may not be a serious medical skin condition, but it can make you feel self-conscious whenever your skin flares up. It may also worsen and lead irreversible changes if left untreated.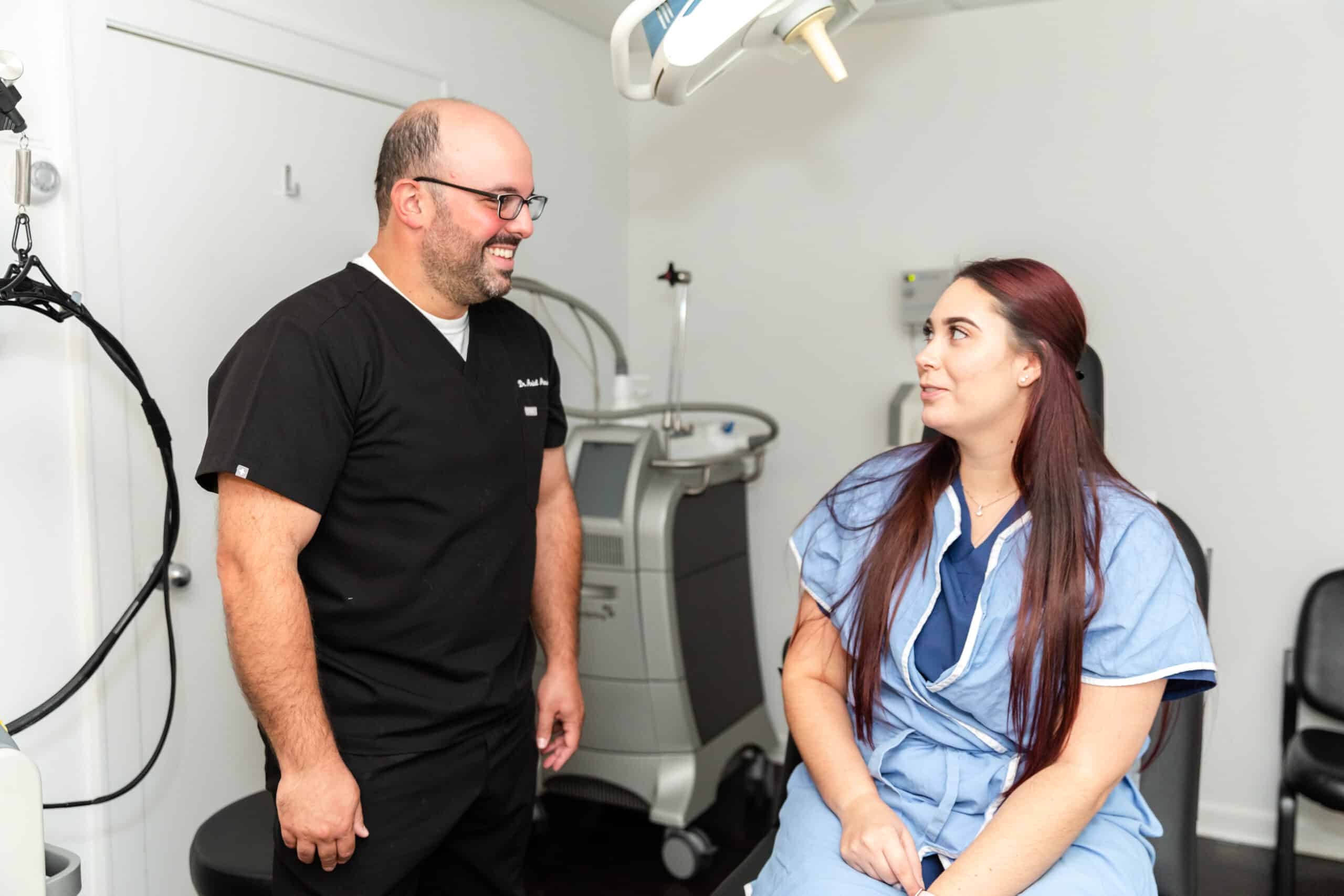 What is Rosacea?
Rosacea is a common, chronic but variable, inflammatory skin condition that causes redness, flushing, enlarged blood vessels as well as acne-like pimples and pustules.
Certain factors might increase the risk of a rosacea flare-up, including:
Sun exposure
Emotional stress
Hot weather
Wind
Heavy exercise
Alcohol consumption
Hot baths
Cold weather
Spicy foods
Face masks
Certain skincare products
Heated beverages
Certain cosmetics
Subtypes of Rosacea
While chronic facial redness is the most common trait associated with rosacea, this is only one symptom of one type of rosacea. There are 4 subtypes of rosacea:
Subtype 1: Facial redness (erythematotelangiectatic rosacea)
Flushing and persistent redness
Visible blood vessels may also appear
Subtype 2: Bumps and pimples (papulopustular rosacea)
Persistent facial redness with bumps or pimples
Often seen following or with subtype 1
Subtype 3: Skin thickening (phymatous rosacea)
Skin thickening and enlargement
Usually appears around the nose (known as rhinophyma)
Subtype 4: Eye irritation (ocular rosacea)
Styes
Irritation, burning, or stinging
Rosacea Treatments
Like acne, rosacea treatments might include topical or oral medications.
Topical medications include:
Ivermectin (Soolantra)
Azaleic acid (Finacea, Azelex)
Minocycline (Zilxi)
Metronidazole
Sulfa-based
Oral medications include:
Low-dose Doxycycline – it's anti-inflammatory, but not an antibiotic
Tetracycline Antibiotics (Tetracycline, Doxycycline, Minocycline, Seracycline)
Isotretinoin (Accutane) – used less frequently for rosacea than acne
Laser Procedures to Treat Rosacea
Because rosacea is a chronic condition, it requires periodic treatments to keep symptoms in check. We offer a variety of laser treatments in our Manhattan and Southampton offices, using topical and oral products as an adjunctive therapy to reduce the appearance of rosacea. We consider lasers as the best treatment for facial redness, and essentially the only treatment for enlarged blood vessels. Options include: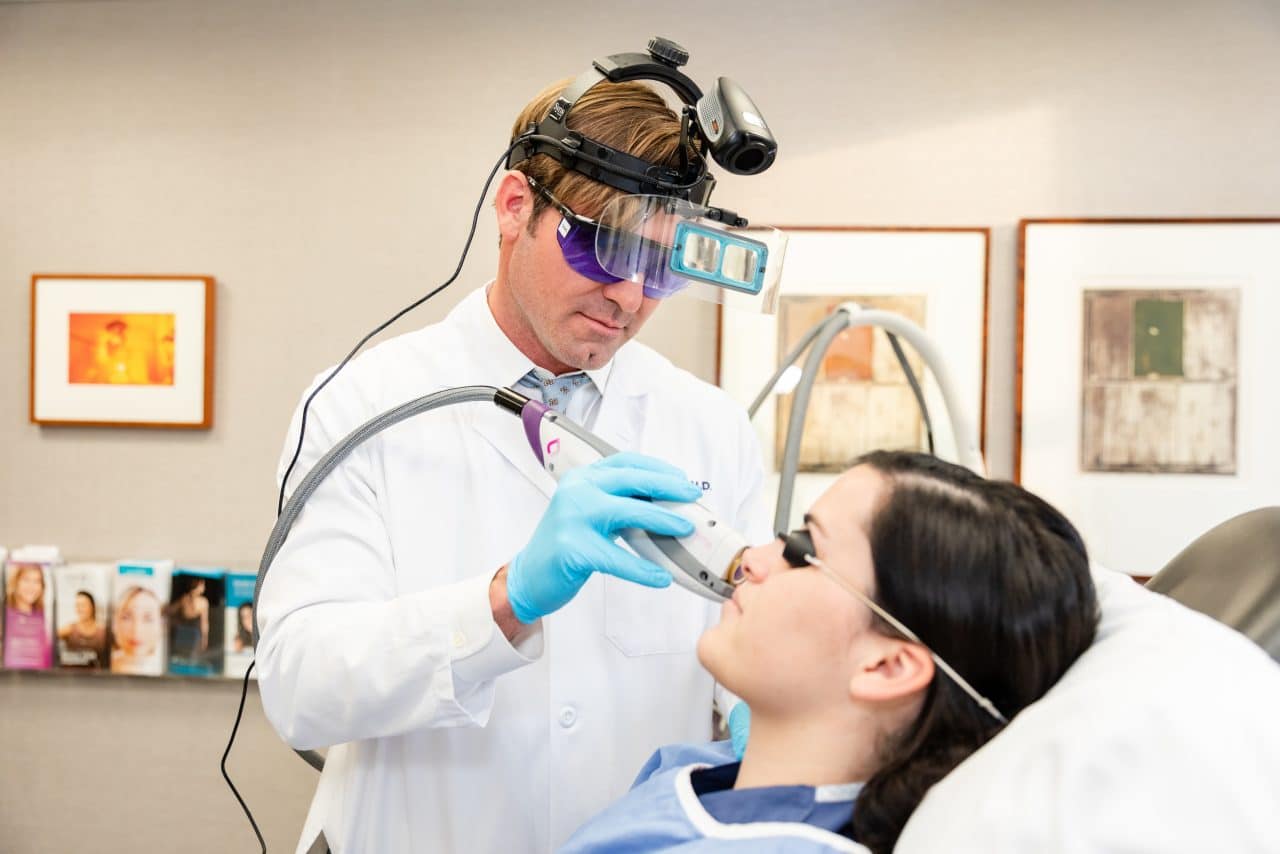 Schedule Your Acne or Rosacea Treatment WITH A DERMATOLOGIST Today
You don't have to suffer from acne or rosacea forever. By being aware of their causes and triggers and devising the best treatment plan with your dermatologist, you can reverse or prevent symptoms. The board-certified physicians at Laser & Skin Surgery Center of New York are world-renowned for their expertise in cosmetic treatments using the most effective techniques and treatments available today. To learn more, contact our Manhattan and Southampton, New York offices.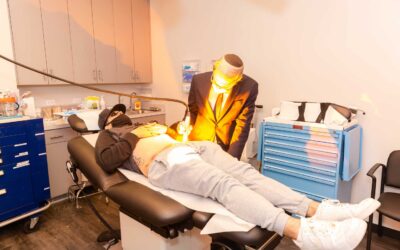 Homepage // Blog / Best treatments for all types of scars explainedOnce a scar forms, it becomes a lasting mark on your skin. Fortunately, the world of cosmetic treatments offers a range of powerful lasers and solutions to minimize their appearance. Selecting the...
Pay Online for Patients of Drs. Geronemus, Anolik, Bae & Seidenberg
Pay Online for Patients of Drs. Abraham, Bernstein, Krant, Shelton, Stern, Weiss, Hoffman, Shim, Murphy-Rose, Wilson, and Petratos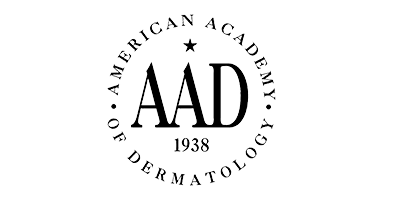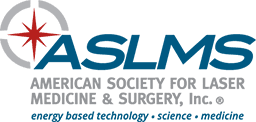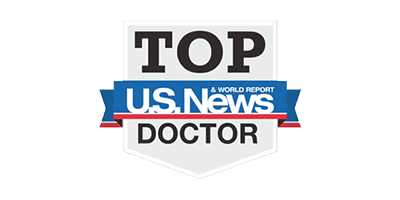 By LASER & SKIN SURGERY CENTER OF NEW YORK® | © 2023 All Rights Reserved. Design & Development by Goldman Marketing Group | Sitemap | Privacy Policy | The information available on this web site is provided for informational purposes only. This information is not intended to replace a medical consultation where a physician's judgment may advise you about specific disorders, conditions and or treatment options. We hope the information will be useful for you to become more educated about your health care decisions. If you are vision-impaired or have some other impairment covered by the Americans with Disabilities Act or a similar law, and you wish to discuss potential accommodations related to using this website, please contact us at (212) 941-5055.
*MDs perform 100% of all medical and cosmetic treatments.
Our board-certified dermatologists in New York City are all fellowship-trained and uniquely trained in lasers and technology, cosmetic and medical dermatology, and skin surgery. Together they are highly acclaimed world experts with thousands of articles published, countless TV and media appearances, and hundreds of years of combined experience.
Our plastic surgeons bring years of experience in helping patients achieve all their aesthetic goals through surgical procedures. Every treatment is fully customized to the precise needs of each patient for results that are natural and beautiful.