Homepage // Blog / Introduction to Masseter Botox 
Introduction to Masseter Botox: What It Is, How It Works, and What to Expect
Masseter Botox® is a treatment that targets the masseter (chewing) muscle to create a more aesthetically-pleasing jawline contour.
Botox is popularly known as a wrinkle-smoothing injectable, often used to minimize the appearance of crow's feet and forehead lines. It works by limiting activity in active facial muscles, smoothing away wrinkles caused by muscle contractions. Botox in masseter muscle also softens the look of a square jawline to produce a slimmer, more refined face shape.
100% of Laser & Skin Surgery Center of New York's treatments are performed by board-certified dermatologists who have extensive experience with injectables, including Botox. When you come to us for cosmetic care, you can be confident that you can safely achieve a perfectly natural look.
What Is Masseter Botox and What Does It Do?
The masseter muscle is a powerful facial muscle that wraps around the jawbone, connecting your lower jaw to your cheek. Its job is to help open and close the jaw while you're chewing and talking. 
When this muscle becomes enlarged – typically in individuals who habitually clench and grind their teeth – it can transform an oval face shape into one that is square and masculine. It may also cause one side of the jaw to appear more prominent than the other, causing facial asymmetry. 
When Botox is injected into the masseter muscle, it will temporarily block nerve signals to the muscle. The muscle relaxes and shrinks, changing the shape of an overly square face into a more feminine V-shape. 
In addition to contouring the jawline, masseter Botox may reduce discomfort caused by persistent grinding and clenching. This will benefit those who suffer from headaches and other symptoms due to an overactive masseter muscle.
How Does It Work and How Long Does It Last?
Botox blocks nerve signals to the masseter to relax it and limit its movement. You will still be able to move your jaw to chew, talk, and make normal facial expressions. Once the muscle relaxes, it can shrink back to a smaller size, improving facial proportions and balance by creating a slimmer and more tapered jawline. 
For women, the treatment can produce that coveted V-shape that exudes femininity. Botox to the masseter muscle can also help relieve TMJ (temporomandibular joint disorder) symptoms such as jaw pain, difficulty in chewing, and lock jaw.
Masseter Botox results can last for 3-4 months. To maintain your results, you will need touch-up treatments. Some patients find that by having regular treatments, they can begin extending the time between touch-up treatments over time.
What Are the Side Effects Associated with Masseter Botox?
Masseter Botox treatments are generally considered safe. However, temporary side effects can occur, such as:
Bruising
Swelling at the injection site
Headaches
A crooked smile
Uneven appearance
You can significantly reduce your risk for side effects and ensure optimal results by working with an experienced, board-certified dermatologist.
What To Expect After Getting Masseter Botox Injections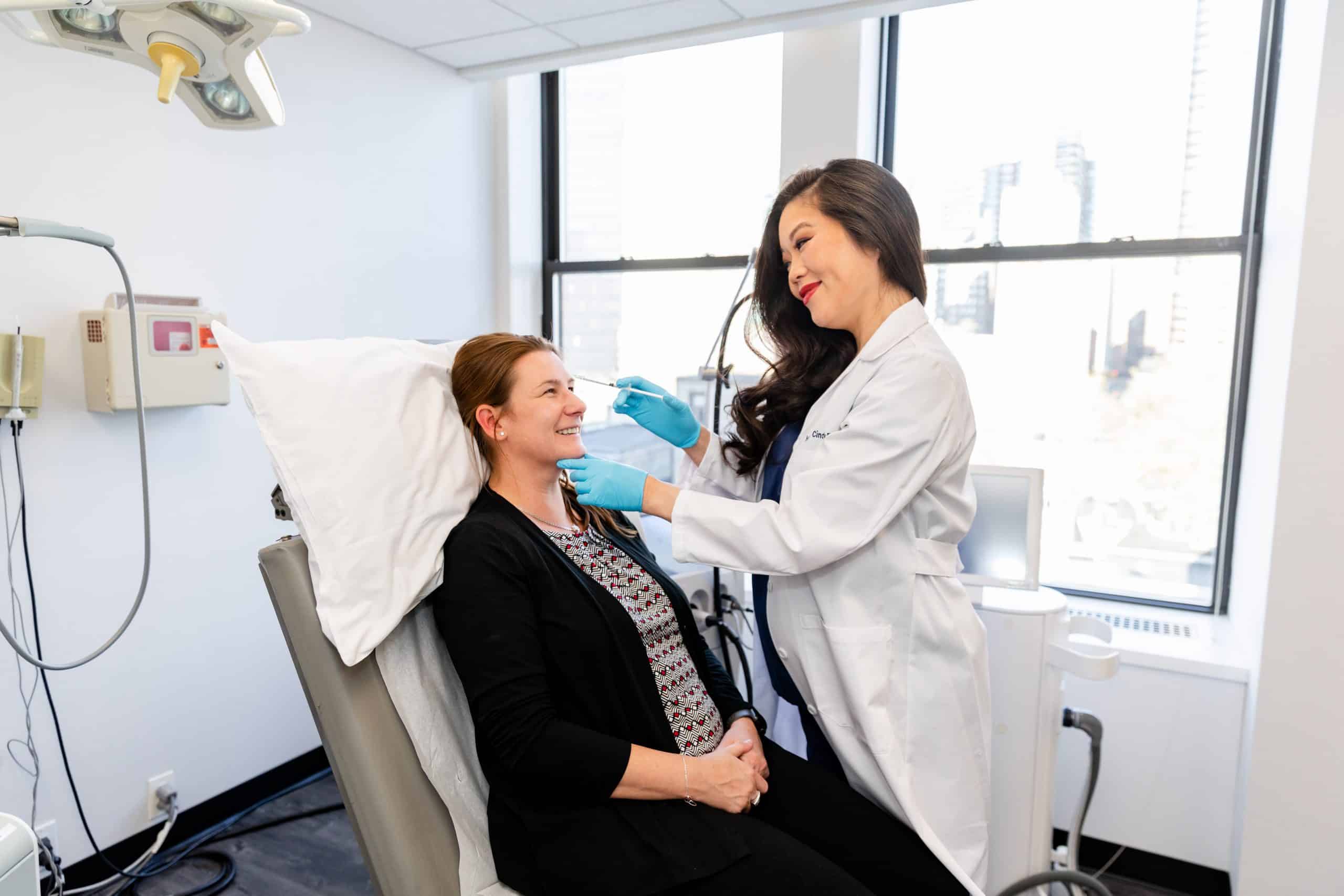 Masseter Botox injections to the jawline require no downtime. After your treatment, you can resume your usual activities. 
It is recommended to avoid the following for the first 24 hours following treatment:
Rubbing or placing pressure on the injection sites
Bending or lying down (for the first 4 hours)
Exercising or other strenuous activities 
These activities might promote swelling or bruising. They can also lead to Botox migration to other parts of the face. It is best to allow the injectable to settle for the first day to ensure an optimal outcome.
Some people start seeing results within 1 to 3 days, and you can expect to see full results in about 1-2 weeks.
How Much Does It Cost on Average?
The actual masseter Botox cost varies depending on factors like where you live, how much Botox you need, and your injector's qualifications. You can determine the total cost of your treatment during your consultation. Keep in mind that you can't put a price on experience and expertise, so always seek treatments from the most qualified injectors to ensure a safe and successful procedure.
Is It Covered by Insurance?
Botox Cosmetic treatments are considered elective procedures that are ineligible for insurance coverage. 
Questions About Masseter Botox? Contact us at Laser & Skin Surgery Center of New York Today!
Masseter Botox is an effective way to subtly contour the jawline for a more aesthetically-pleasing facial shape. Contact us to schedule a consultation and learn more about masseter Botox and our other jaw sculpting treatments.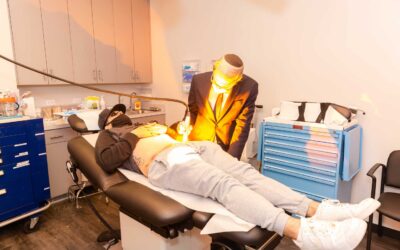 Homepage // Blog / Best treatments for all types of scars explainedOnce a scar forms, it becomes a lasting mark on your skin. Fortunately, the world of cosmetic treatments offers a range of powerful lasers and solutions to minimize their appearance. Selecting the...
Pay Online for Patients of Drs. Geronemus, Anolik, Bae & Seidenberg
Pay Online for Patients of Drs. Abraham, Bernstein, Krant, Shelton, Stern, Weiss, Hoffman, Shim, Murphy-Rose, Wilson, and Petratos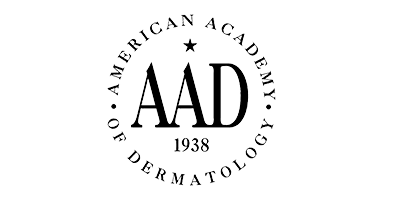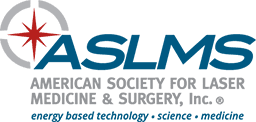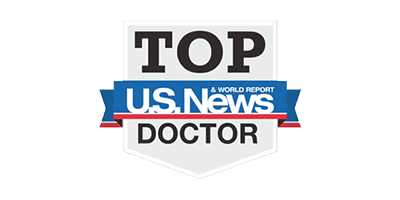 By LASER & SKIN SURGERY CENTER OF NEW YORK® | © 2023 All Rights Reserved. Design & Development by Goldman Marketing Group | Sitemap | Privacy Policy | The information available on this web site is provided for informational purposes only. This information is not intended to replace a medical consultation where a physician's judgment may advise you about specific disorders, conditions and or treatment options. We hope the information will be useful for you to become more educated about your health care decisions. If you are vision-impaired or have some other impairment covered by the Americans with Disabilities Act or a similar law, and you wish to discuss potential accommodations related to using this website, please contact us at (212) 941-5055.
*MDs perform 100% of all medical and cosmetic treatments.
Our board-certified dermatologists in New York City are all fellowship-trained and uniquely trained in lasers and technology, cosmetic and medical dermatology, and skin surgery. Together they are highly acclaimed world experts with thousands of articles published, countless TV and media appearances, and hundreds of years of combined experience.
Our plastic surgeons bring years of experience in helping patients achieve all their aesthetic goals through surgical procedures. Every treatment is fully customized to the precise needs of each patient for results that are natural and beautiful.