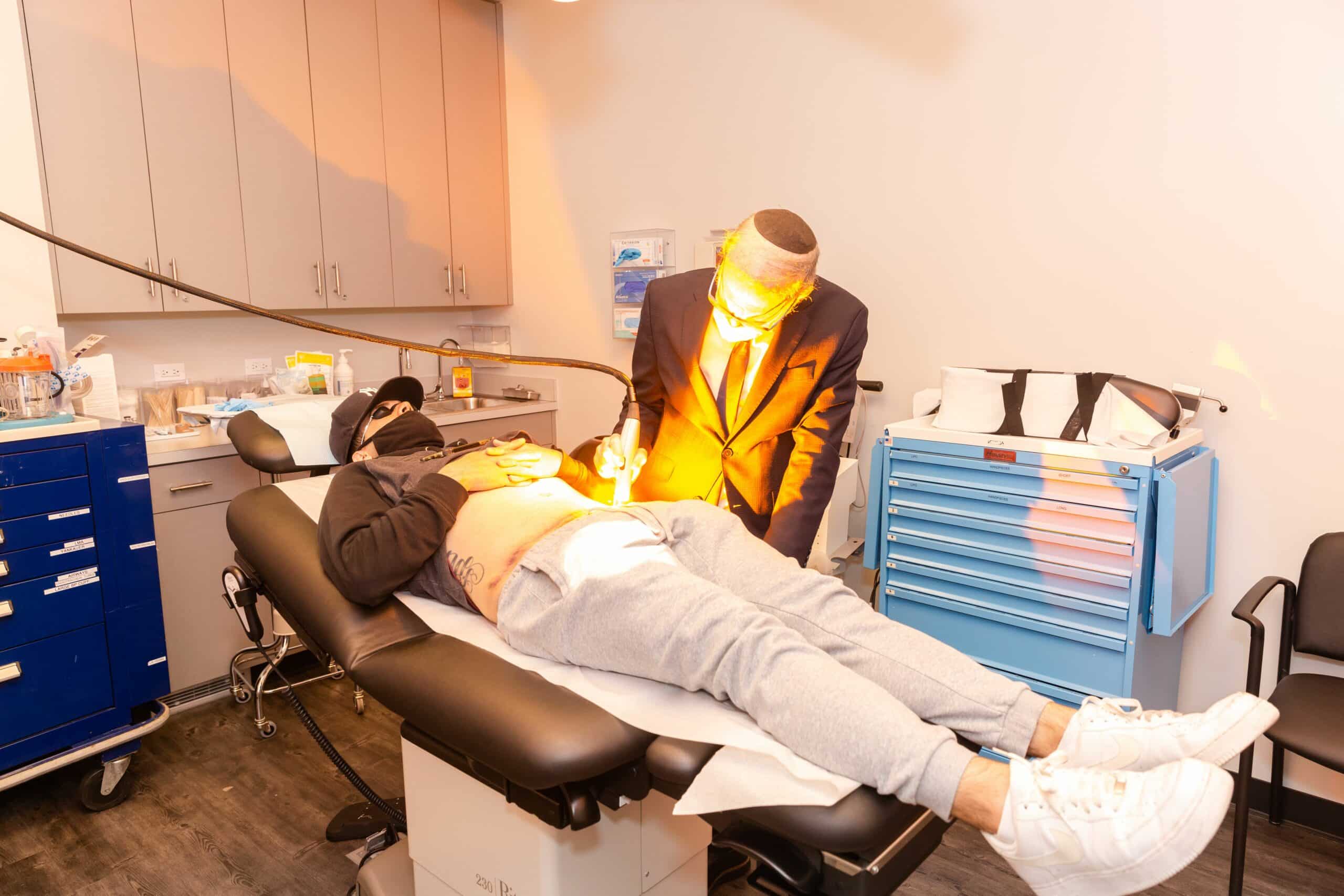 Homepage // Blog / Best treatments for all types of scars explained
Best treatments for all types of scars explained
Once a scar forms, it becomes a lasting mark on your skin. Fortunately, the world of cosmetic treatments offers a range of powerful lasers and solutions to minimize their appearance. Selecting the ideal scar treatment hinges on the specific type of scar you're dealing with.
Laser & Skin Surgery Center of New York is a renowned dermatology center with board-certified dermatologists and plastic surgeons who can customize the best treatment plan for scars. They are also uniquely trained in lasers and energy technology and can target scars with precision for the best possible results.
How to Treat Most Scars?
While scar treatments depend on the type of scar you have, your dermatologist will most likely include lasers or energy-based devices in your treatment plan. These devices can treat scars effectively without relying on invasive techniques.
Laser Therapy
These treatments use focused beams of light to either remove the skin's outer layer or stimulate collagen production, allowing new skin cells to cover the scar's damaged cells. Lasers improve the appearance of scars by reducing their size and shape and blending their pigmentation with that of surrounding healthy tissue.
Ultrasound Therapy
The waves generated by ultrasound energy cause tiny vibrations in the scar and promote healing. Throughout the healing process, collagen levels increase and improve the scar's appearance. In addition to treating scars, ultrasound energy tightens and lifts the skin for an overall improvement in its appearance.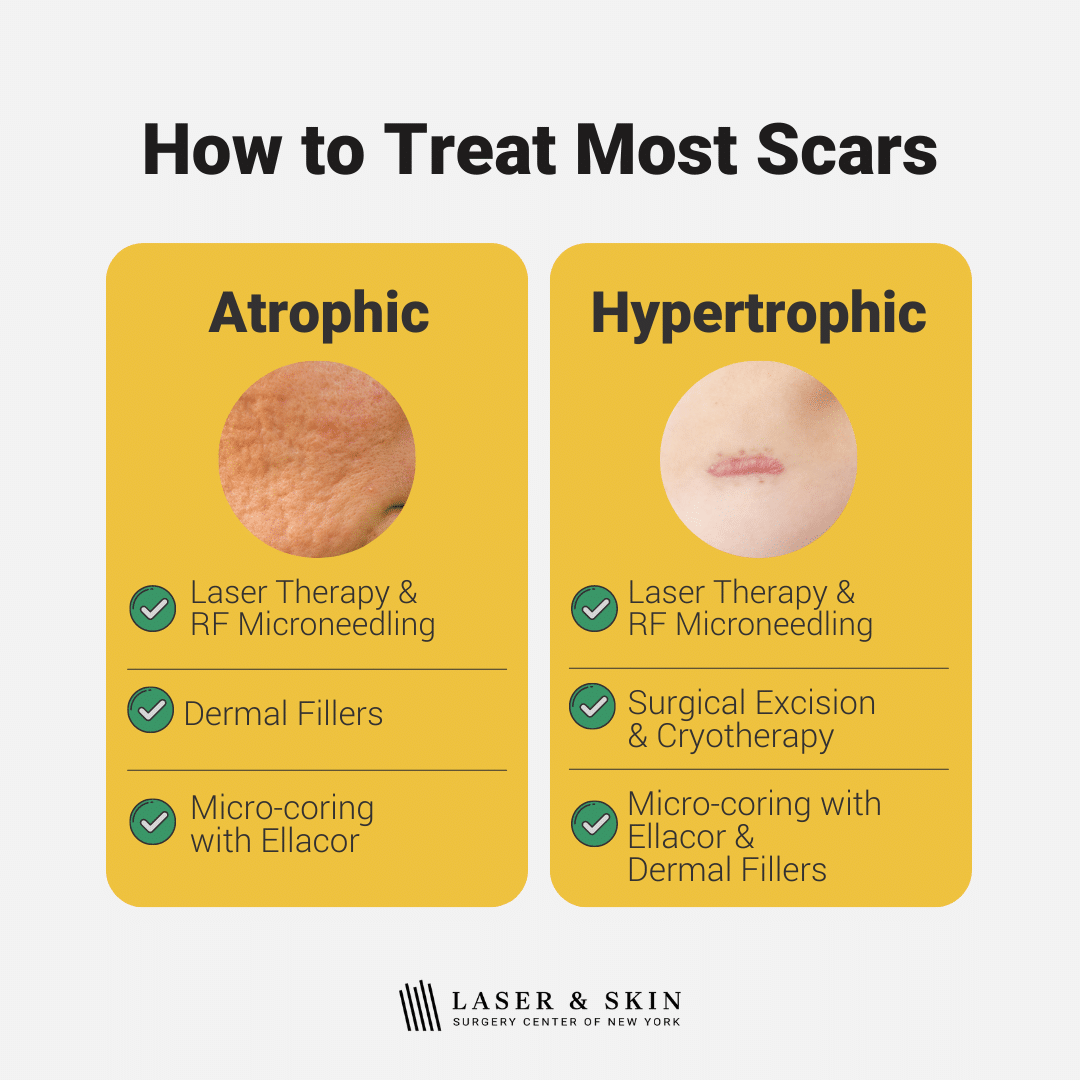 Radiofrequency (RF) microneedling
This treatment creates micro-wounds in the skin while delivering RF energy to promote healing for smoother, clearer skin.
Micro-coring
Ellacor is a first-of-its-kind device that removes micro-cores of tissue to firm and tighten the skin without scarring, which can help minimize the appearance of scars.
Surgery
With an experienced team of board-certified plastic surgeons, we can surgically treat unwanted scarring.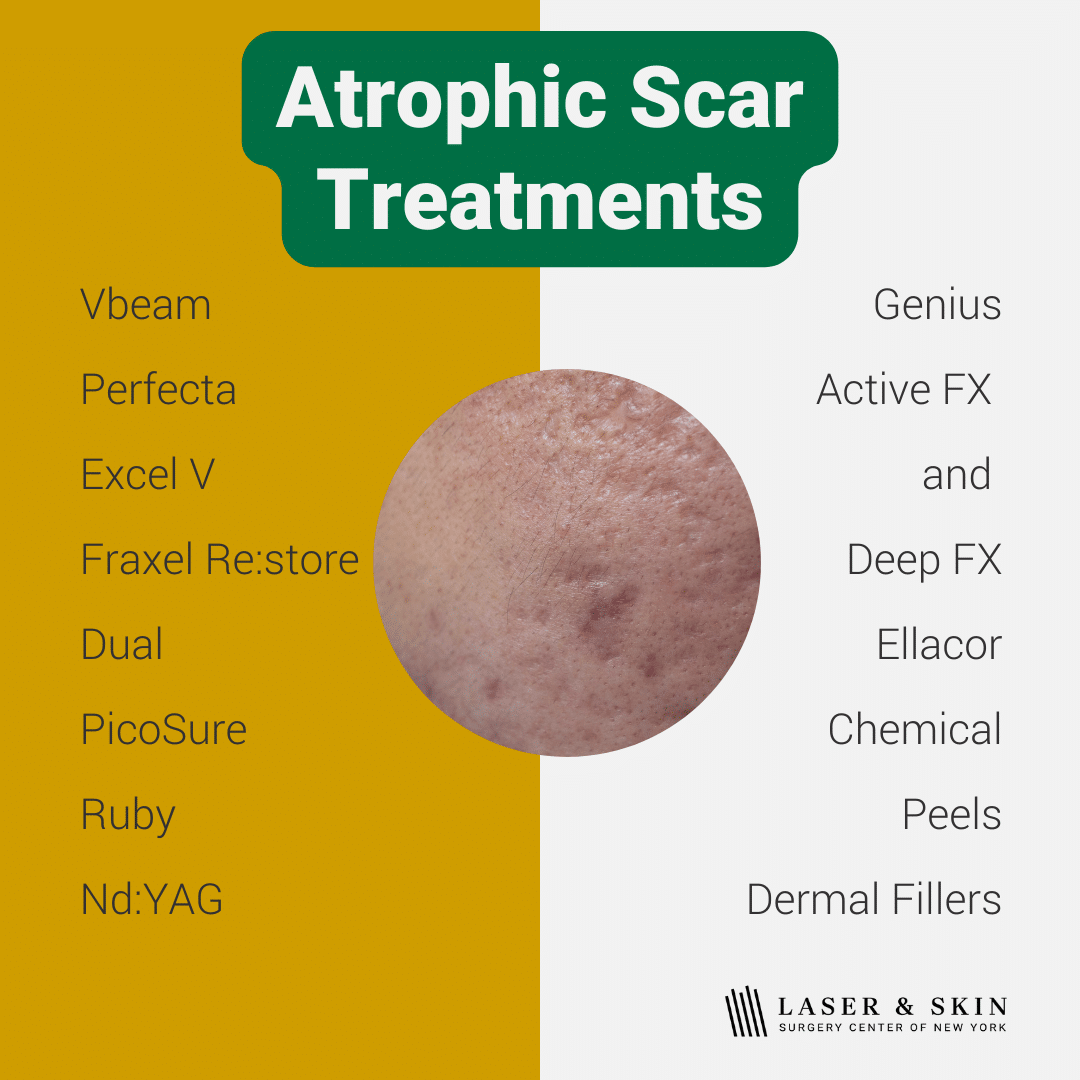 How to treat sunken (atrophic) scars?
Laser resurfacing is an effective treatment for atrophic scars and is more effective than other modalities. There are two types of laser treatments that your dermatologist may recommend: ablative and non-ablative lasers.
Ablative lasers remove the scar's outer layer and trigger collagen production. CO2 lasers like Erbium YAG can help treat atrophic scars.
Non-ablative lasers don't remove skin tissue but work to stimulate new collagen formation and tighten the skin, which causes the atrophic scar to rise to the surface and produce a smoother-looking appearance. Examples of non-ablative lasers are pulsed-dye lasers and Nd:YAG.
At Laser & Skin Surgery Center of New York, atrophic scar treatment may include any of the following devices:
Other scar treatment options include:
Dermal fillers – raise the indented scars to match the surrounding skin. Fillers provide immediate results and, over time, improve volume and the scar's appearance.
Chemical peels – acids like glycolic acid and salicylic acid cause the skin to peel and reveal fresh, healthy skin underneath.
How to treat raised (hypertrophic) scars?
Pulsed-dye lasers (PDL) like the Vbeam Perfecta can target blood inside the vein without affecting the surrounding tissue to treat raised acne scars and other hypertrophic lesions. Hypertrophic scars tend to have more blood vessels than their surrounding skin, making PDL an ideal treatment option.
PDL treatment helps lighten the red or pink color of the scar, reduce pain and itchiness, flatten the appearance of hypertrophic scars.
Other laser options:
Excel V
Fraxel Re:store Dual
PicoSure
Ruby
Nd:YAG
Genius
Active FX and Deep FX
Ellacor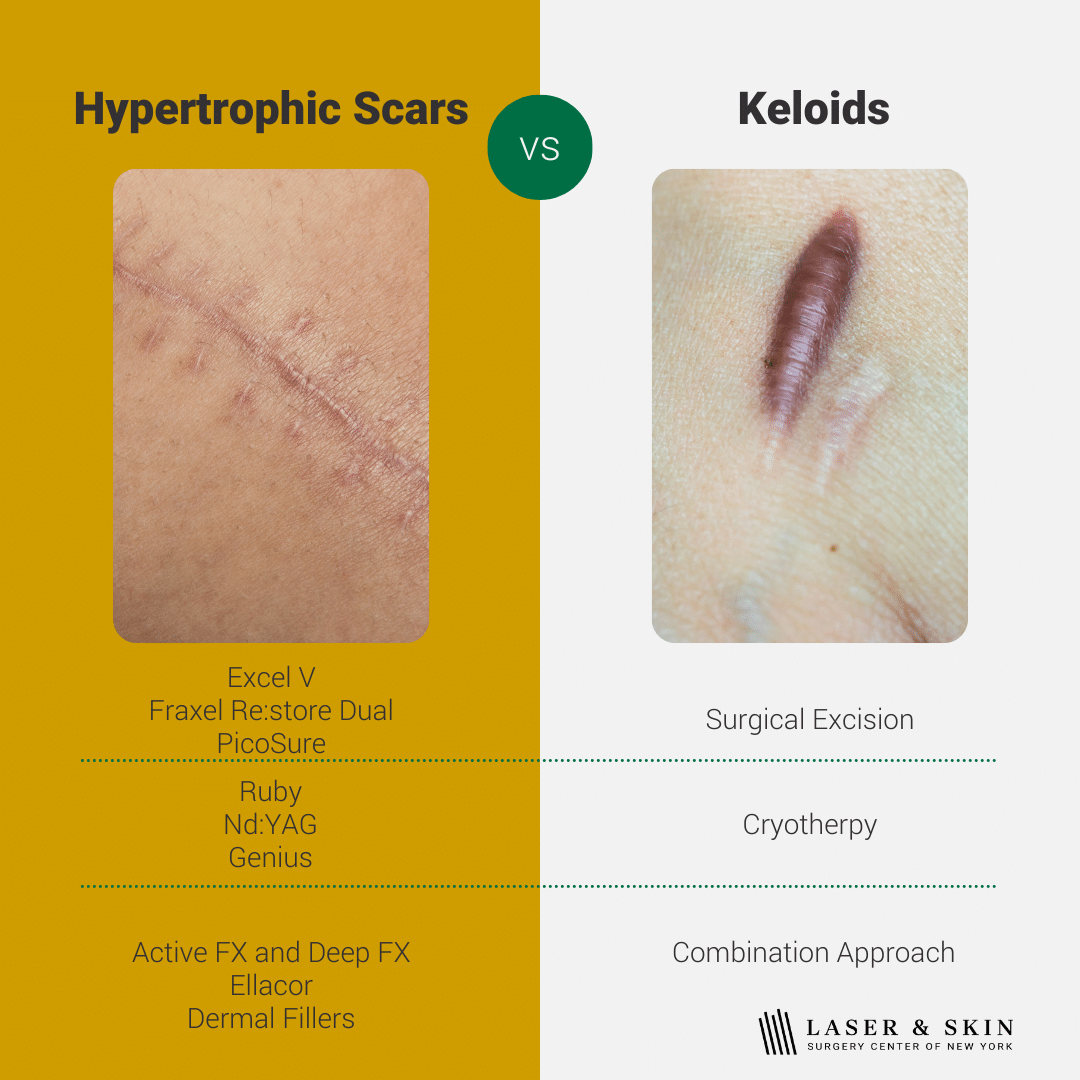 For more severe cases, treatments to consider include:
Surgical excision – big scars can be cut out, repositioned, and closed with stitches so it becomes less noticeable once it heals.
Cryotherapy – liquid nitrogen is used to freeze and destroy scar tissue to help flatten the hypertrophic scar.
Dermal fillers – can plump up the skin for a more even surface, reducing the appearance of raised scars.
How to treat keloid scars?
Keloids can be difficult to treat and require skill from a board-certified dermatologist or plastic surgeon.
Keloid treatments typically include:
Surgical excision – a keloid scar can be treated and reclosed with incisions, resulting in a thinner and less noticeable scar.
Cryotherapy – extreme cold using liquid nitrogen freezes and destroys the scar.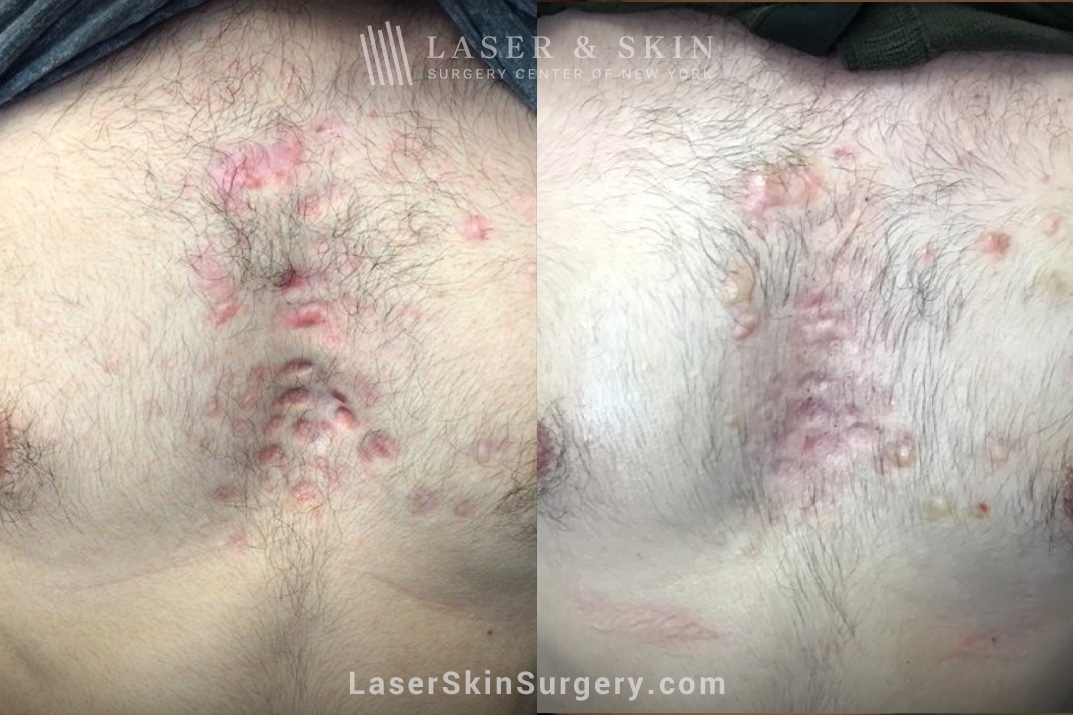 How to Treat Acne Scars?
Typically, a combination of skin-rejuvenating procedures, including laser therapy, performed by a board-certified dermatologist, produces the best results for acne scar treatment.
Laser & Skin Surgery Center of New York offers excellent treatments for acne scarring, including pitted acne scars. Most patients experience significant improvement with laser treatments using:
Non-ablative lasers:
Fraxel Dual
LaseMD
Clear + Brilliant
PicoSure
Active FX and Deep FX
Nd:YAG
Pulsed-dye laser
Ablative lasers:
Other treatment options:
Chemical Peels
Genius
Ellacor
Dermal fillers
Schedule your scar treatment in New York
Laser & Skin Surgery Center of New York is a prestigious dermatology and plastic surgery practice with its own in-house research department.
We provide high-quality medical and cosmetic care to a comprehensive array of skin conditions and offer a wide range of procedures, including scar treatment. Contact us to schedule a consultation and learn more about the best ways to treat scars.
Homepage // Blog / Expert dermatologists answer the most popular questions about laser skin resurfacingLaser skin resurfacing procedures can seem overwhelming for first-time patients. With various lasers and devices, brands, potential side effects, and treatment...
Pay Online for Patients of Drs. Geronemus, Anolik, Bae & Seidenberg
Pay Online for Patients of Drs. Abraham, Bernstein, Krant, Shelton, Stern, Weiss, Hoffman, Shim, Murphy-Rose, Wilson, and Petratos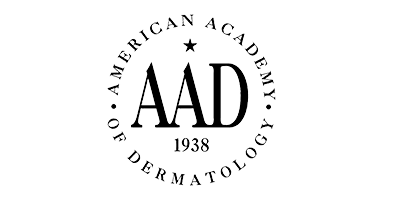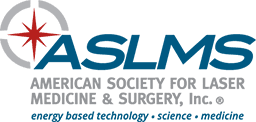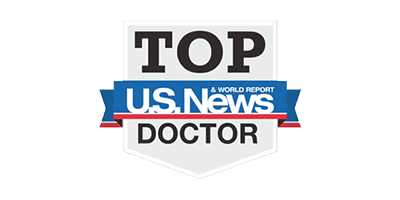 By LASER & SKIN SURGERY CENTER OF NEW YORK® | © 2023 All Rights Reserved. Design & Development by Goldman Marketing Group | Sitemap | Privacy Policy | The information available on this web site is provided for informational purposes only. This information is not intended to replace a medical consultation where a physician's judgment may advise you about specific disorders, conditions and or treatment options. We hope the information will be useful for you to become more educated about your health care decisions. If you are vision-impaired or have some other impairment covered by the Americans with Disabilities Act or a similar law, and you wish to discuss potential accommodations related to using this website, please contact us at (212) 941-5055.
*MDs perform 100% of all medical and cosmetic treatments.
Our board-certified dermatologists in New York City are all fellowship-trained and uniquely trained in lasers and technology, cosmetic and medical dermatology, and skin surgery. Together they are highly acclaimed world experts with thousands of articles published, countless TV and media appearances, and hundreds of years of combined experience.
Our plastic surgeons bring years of experience in helping patients achieve all their aesthetic goals through surgical procedures. Every treatment is fully customized to the precise needs of each patient for results that are natural and beautiful.