Wrinkles are creases or folds in the skin caused by aging, facial expressions, and lifestyle habits.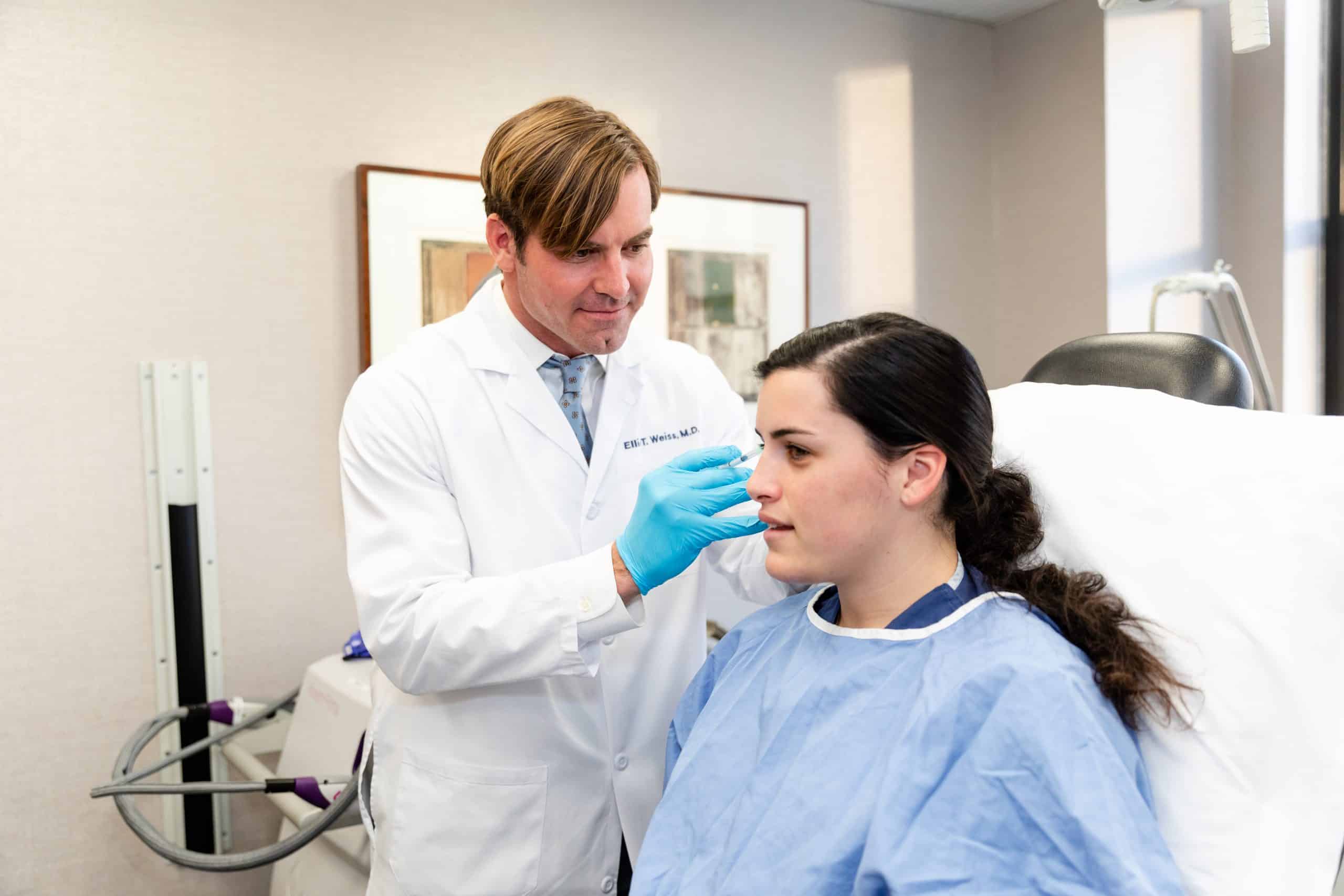 Our physicians at Laser & Skin Surgery Center of New York approach facial wrinkles and crepe-like skin with expertise in every modern approach. Our strategies include laser resurfacing to build collagen, dermal fillers to correct lost youthful volume and Botox®, Dysport®, or Xeomin® for the treatment of wrinkles that result from excessive muscle contraction. Wrinkle treatment is a safe and effective way for more youthful-looking skin.
The dermatologists at our center are world-renowned experts in skin rejuvenation utilizing laser skin resurfacing, chemical peels, injectable fillers, and Botox for a natural and non-surgical approach to achieve a smooth skin texture with a more youthful appearance. For more severe symptoms, our board-certified plastic surgeons are ready to provide surgical treatments that produce natural, durable, and beautiful results. 
what does a treatment plan look like?
After an initial consultation with a patient, our dermatologists decide on a treatment plan consisting of a combination of lasers, injectables, chemical peels, and Botox® or Dysport® that will look best on the patient. 
Laser resurfacing can effectively reduce or eliminate many wrinkles while improving the tone and texture of the skin. The choice of laser system is tailored to the needs of the patient.
For more advanced aging symptoms, our board-certified plastic surgeons offer customizable treatment options that produce long-lasting results that can turn back the clock 5-10 years for some patients. 
what treatments are available?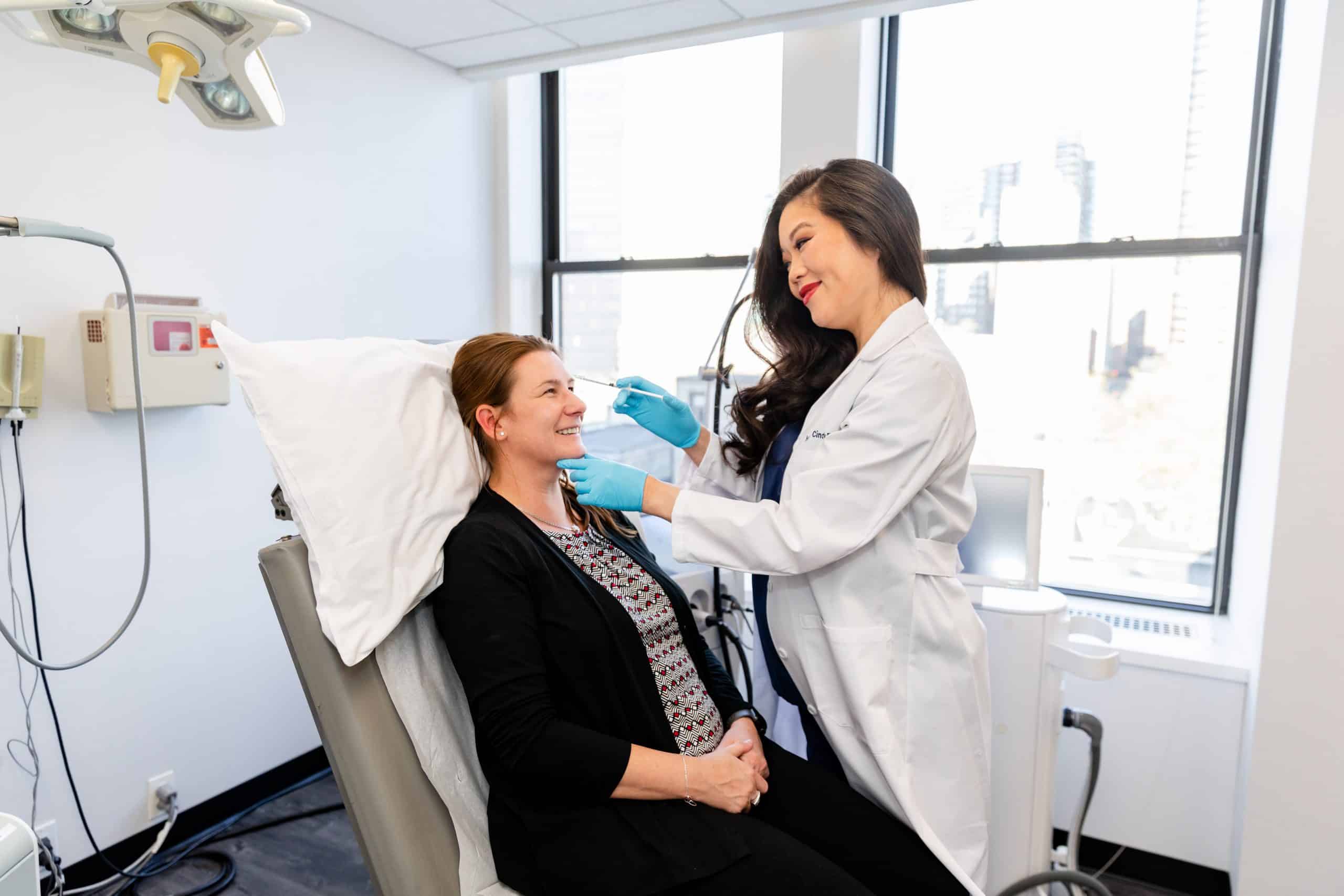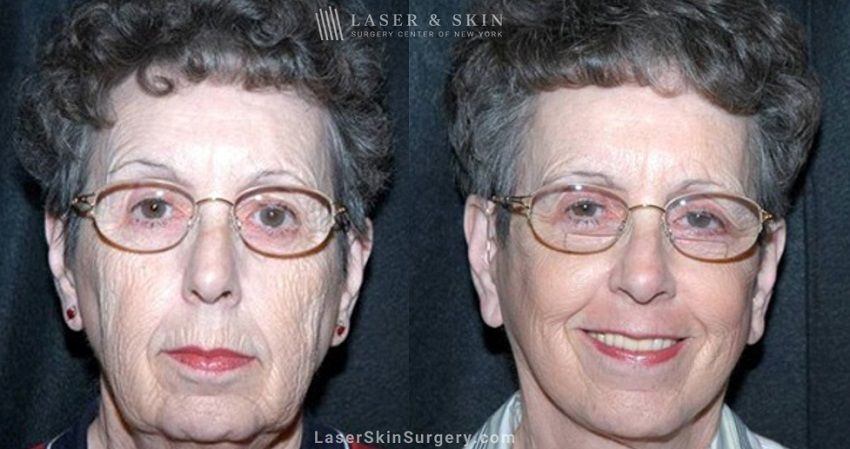 surgical treatment options
 When lines become too deep or are accompanied by significant skin laxity, surgery may become the best option. Our board-certified surgeons in New York offer the following treatment options for lines and wrinkles:
To learn more about facial plastic surgery, visit ncbi.nlm.nih.gov
Real Patients Before and After photos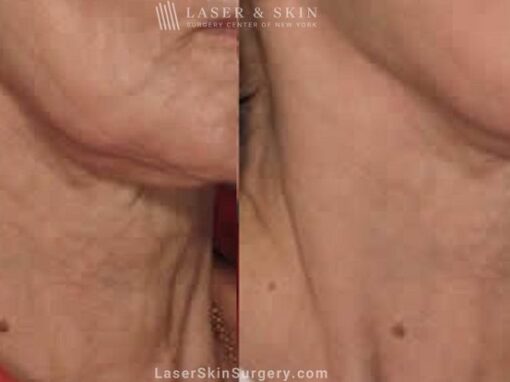 Fraxel laser used to rejuvenate the skin on the neck
Disclaimer: Results may vary from patient to patient. Results are not guaranteed.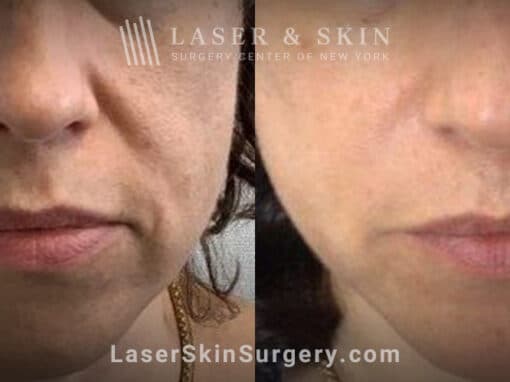 Laser treatment for nasolabial folds
Disclaimer: Results may vary from patient to patient. Results are not guaranteed.
Q: What Is The Best Treatment For Reducing Wrinkles?
A: There is not one single "best" treatment for reducing the appearance of wrinkles. Dermatologists come up with varying treatment plans based on the individual's case of wrinkles and fine lines. One treatment plan might not be the best plan for someone else. To find out what would be the best treatment plan for you, schedule a consultation with one of our doctors. 
Q: Which Type of Doctor Can Perform These Treatments?
A: You should always have a board-certified dermatologist or cosmetic surgeon perform your wrinkle treatment. The doctors at the Laser and Skin Surgery Center of New York can provide you with the knowledge and skill needed to help you achieve your aesthetic goals. 
Q: How Much Does Treatment Cost?
A: Since every treatment plan depends on the condition of the patient's skin and his/her aesthetic goals, there is no standard price for treatment. Once you have an initial consultation, a specialist will be able to give you an approximate cost of treatment.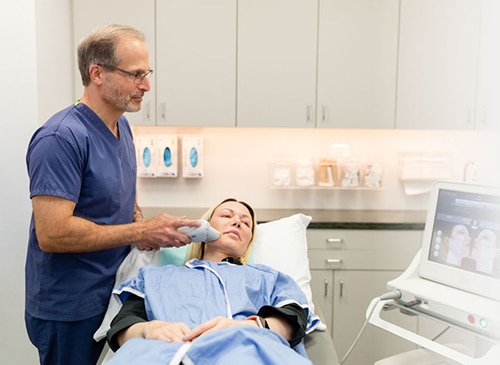 The skin's underlying structure degrades over time, leading to skin laxity and sagging skin. Collagen, the essential protein in our skin, begins to decline as early as our 20s, leaving skin without support from within. Restoring collagen helps to restore the skin's youthful vitality.
Wrinkles are a common and unwanted sign of aging. As you age, your body produces less collagen, creating saggy and wrinkly looking skin. Our customized strategies to combat wrinkles include laser resurfacing, dermal fillers, and wrinkle relaxers.
Age spots and brown spots (also known as sunspots, liver spots, and lentigines) are a consequence of aging and sun exposure. The most effective treatment for eliminating these spots and other skin pigmentation is laser therapy, which usually includes little to no downtime after treatment. 
WHAT you are looking for?
Our 30,000+ sq foot dermatology center in New York is the most comprehensive, state-of-the-art laser and cosmetic skin surgery center in the world. Over the past 30 years we have contributed to the development and testing of many devices, fillers and treatments that are now standard care, so our patients know they are always receiving the most innovative, cutting-edge treatment available.
Pay Online for Patients of Drs. Geronemus, Anolik, Bae & Seidenberg
Pay Online for Patients of Drs. Abraham, Bernstein, Krant, Shelton, Stern, Weiss, Hoffman, Shim, Murphy-Rose, Wilson, and Petratos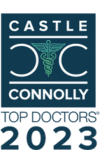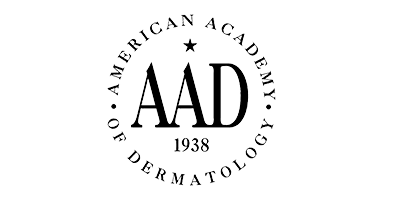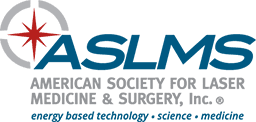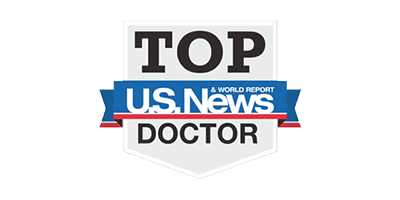 By LASER & SKIN SURGERY CENTER OF NEW YORK® | © 2023 All Rights Reserved. Design & Development by Goldman Marketing Group | Sitemap | Privacy Policy | The information available on this web site is provided for informational purposes only. This information is not intended to replace a medical consultation where a physician's judgment may advise you about specific disorders, conditions and or treatment options. We hope the information will be useful for you to become more educated about your health care decisions. If you are vision-impaired or have some other impairment covered by the Americans with Disabilities Act or a similar law, and you wish to discuss potential accommodations related to using this website, please contact us at (212) 941-5055.
*MDs perform 100% of all medical and cosmetic treatments.