Qwo® is the first injectable treatment to address the skin dimpling that leads to cellulite.
Results Duration: 3+ years, may be permanent
Side Effects:
Bruising and slight swelling at the injection sites
Location:
Primarily used on the buttocks
Follow Up:
A series of 3 treatments, spaced 21 days apart, is needed for optimal results
How Performed:
Injections are made into the treatment area
Preparation:
Topical anesthetic is available
Expected Outcome:
Reduction in dimpling associated with cellulite
Onset:
Improvements can be seen 3 weeks after the first treatment, but full results won't become evident until the treatment plan is completed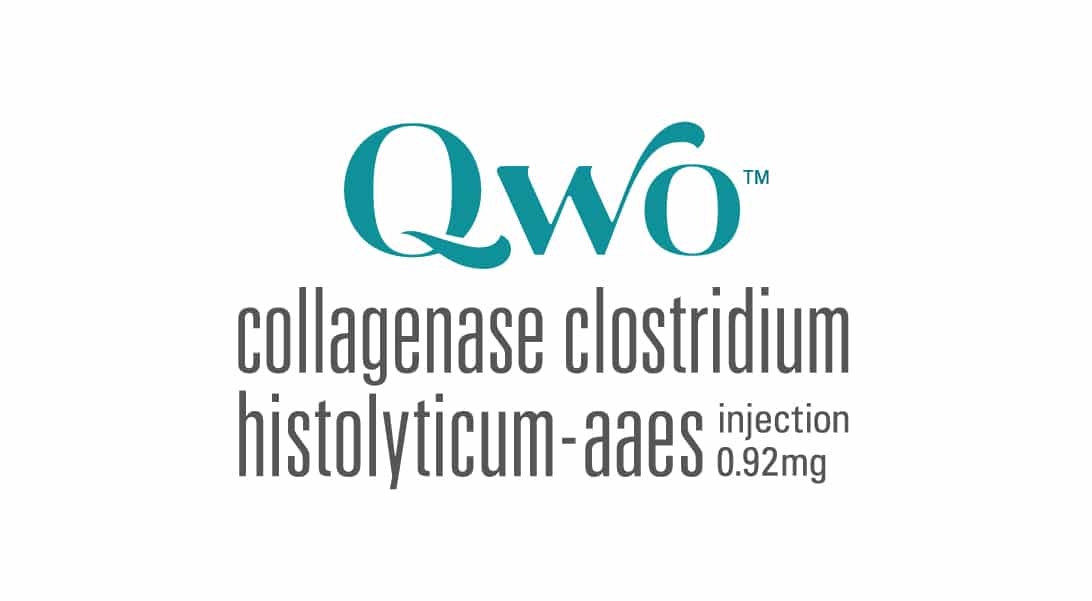 Qwo, developed by Endo International, is the first injectable treatment approved by the FDA for treating cellulite by targeting the fibrous bands beneath the skin's surface that lead to the dimpled effect. Our board certified dermatologists at Laser Skin & Surgery Center of New York are one of the first to offer this revolutionary treatment to our New York City patients.
Cellulite is a concern that affects women of all sizes and shapes. The cottage cheese or orange peel effect is not a significant medical concern, but it can substantially impact a woman's self-confidence and self-esteem. If you are avoiding shorts or bathing suits because of cellulite, help is available at Laser Skin & Surgery Center of New York.
If cellulite is affecting your appearance, you are not alone. It is a widespread issue that affects up to 90% of women at some point in their lives, but there are few effective, long-lasting treatments available.
How Qwo Works on Cellulite
Fibrous septae is one of the primary culprits in cellulite formation. Septae are connective tissues that connect the dermis to the underlying muscle fascia. The bands of the septae can begin to tighten over time, drawing the skin inward and leading to the dimpling that is characteristic of cellulite. As the skin pulls in, fat just under the surface can begin to protrude, exacerbating the cottage cheese effect.
Qwo is composed of the active ingredient collagenase clostridium histolyticum-aaes, which targets collagen to release the septae enzymatically. As the fibrous bands are released, the skin becomes smoother on the surface to dramatically reduce the appearance of cellulite. The enzymes in Qwo break down the collagen buildup that creates the tightening, without the need for anesthetic or downtime afterward. Other cellulite treatments also target the fibers but do so using a blade or laser that results in more trauma to the skin and surrounding tissue.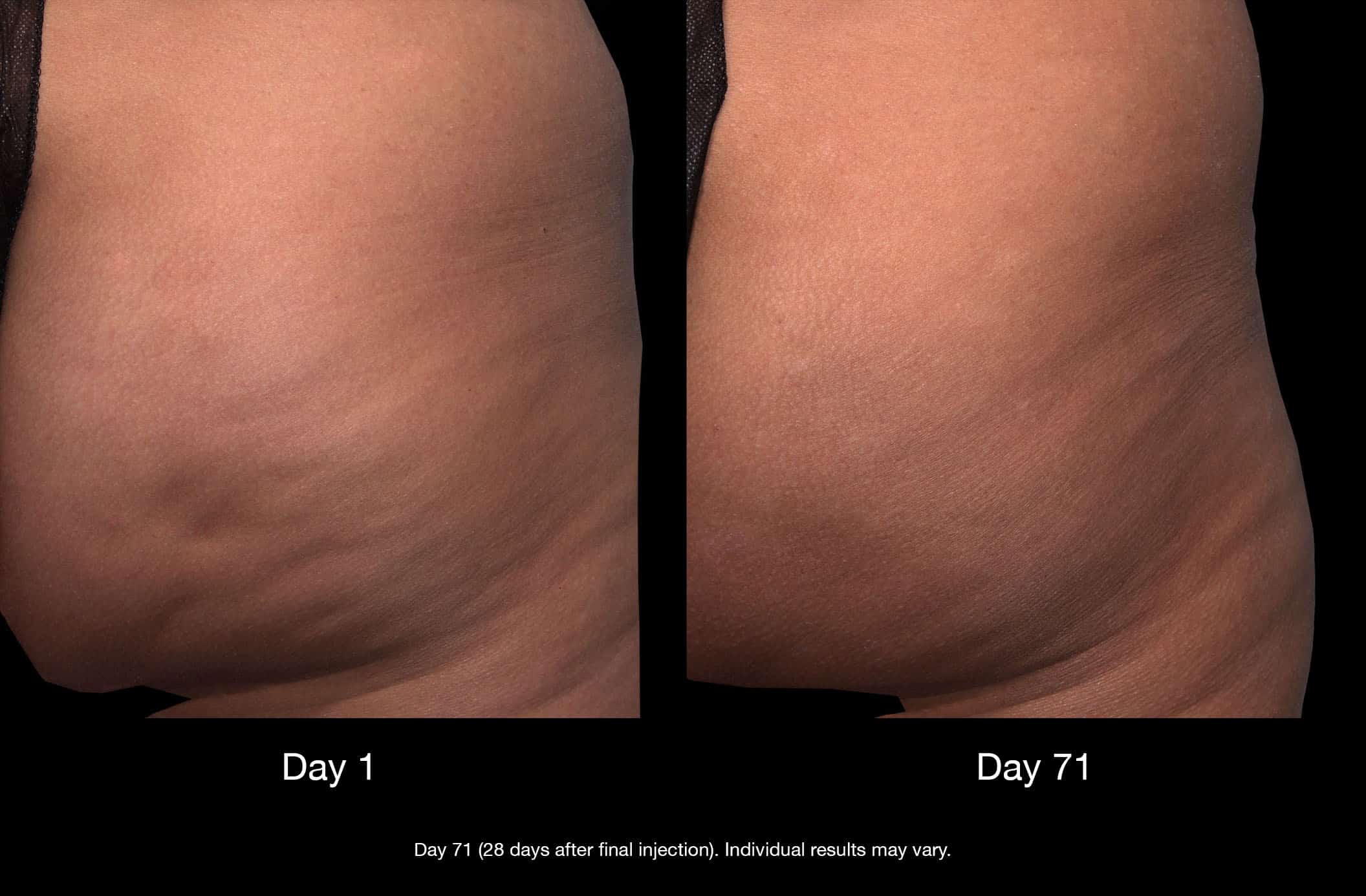 Qwo offers numerous benefits for patients looking for a non-invasive method of treating cellulite, including:
Quick treatment that does not require anesthesia or downtime
Dramatic improvement in the appearance of cellulite for greater confidence
Thoroughly researched through the largest set of clinical trials for cellulite treatment in the US
Targets the root cause of cellulite for long-lasting results
First injectable treatment to address cellulite in the buttocks
Effective on all skin tones and types
While Qwo is a revolutionary treatment for cellulite, it is not the only procedure we perform for this concern. Our board-certified dermatologists customize treatments for patients to ensure the procedure done is the best choice for a patient's precise needs and goals. During your consultation at our Manhattan or Southampton office, we can help you design a tailored treatment plan to ensure the best possible results. In some cases, a combination approach may produce the most dramatic results for you.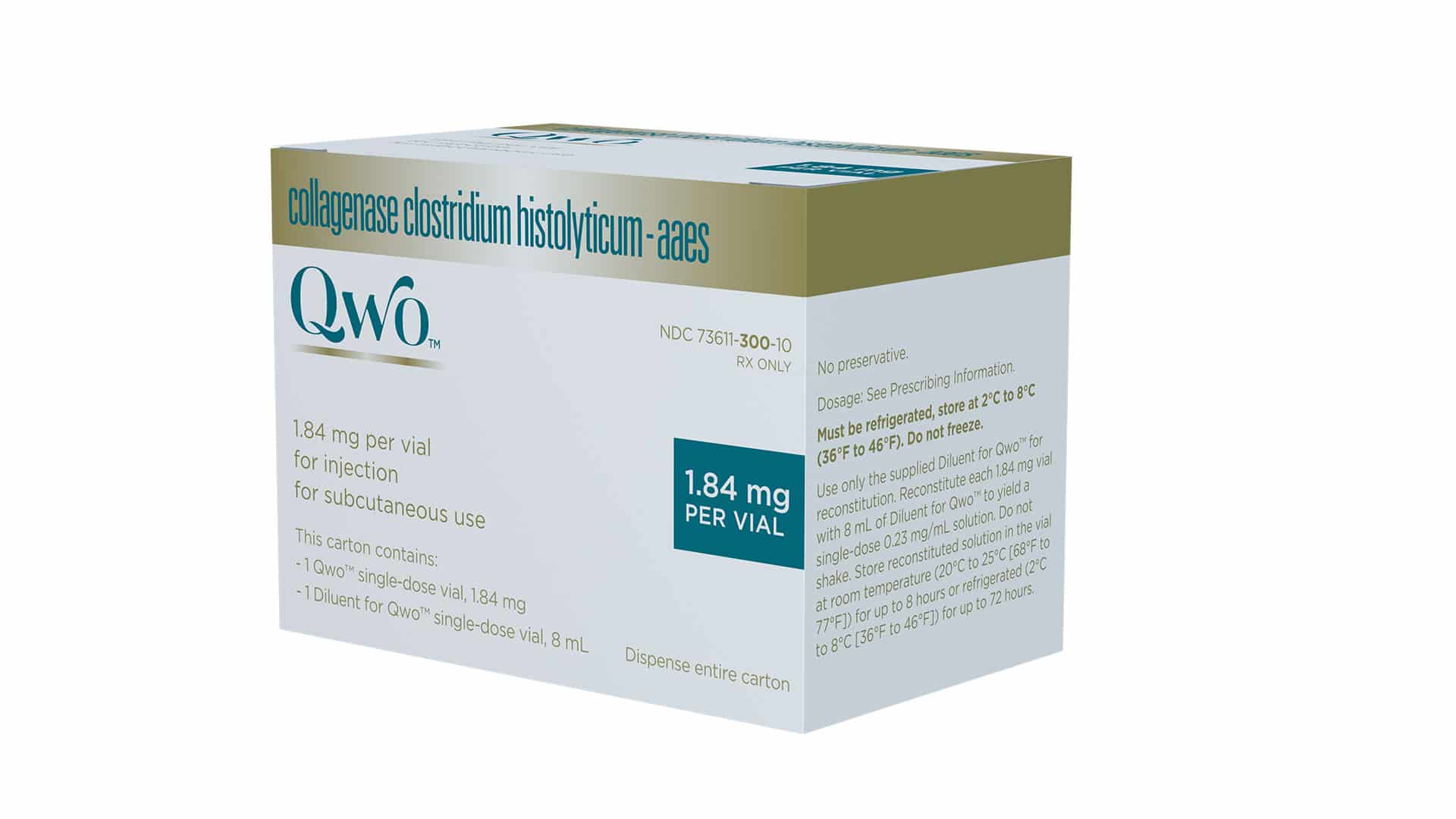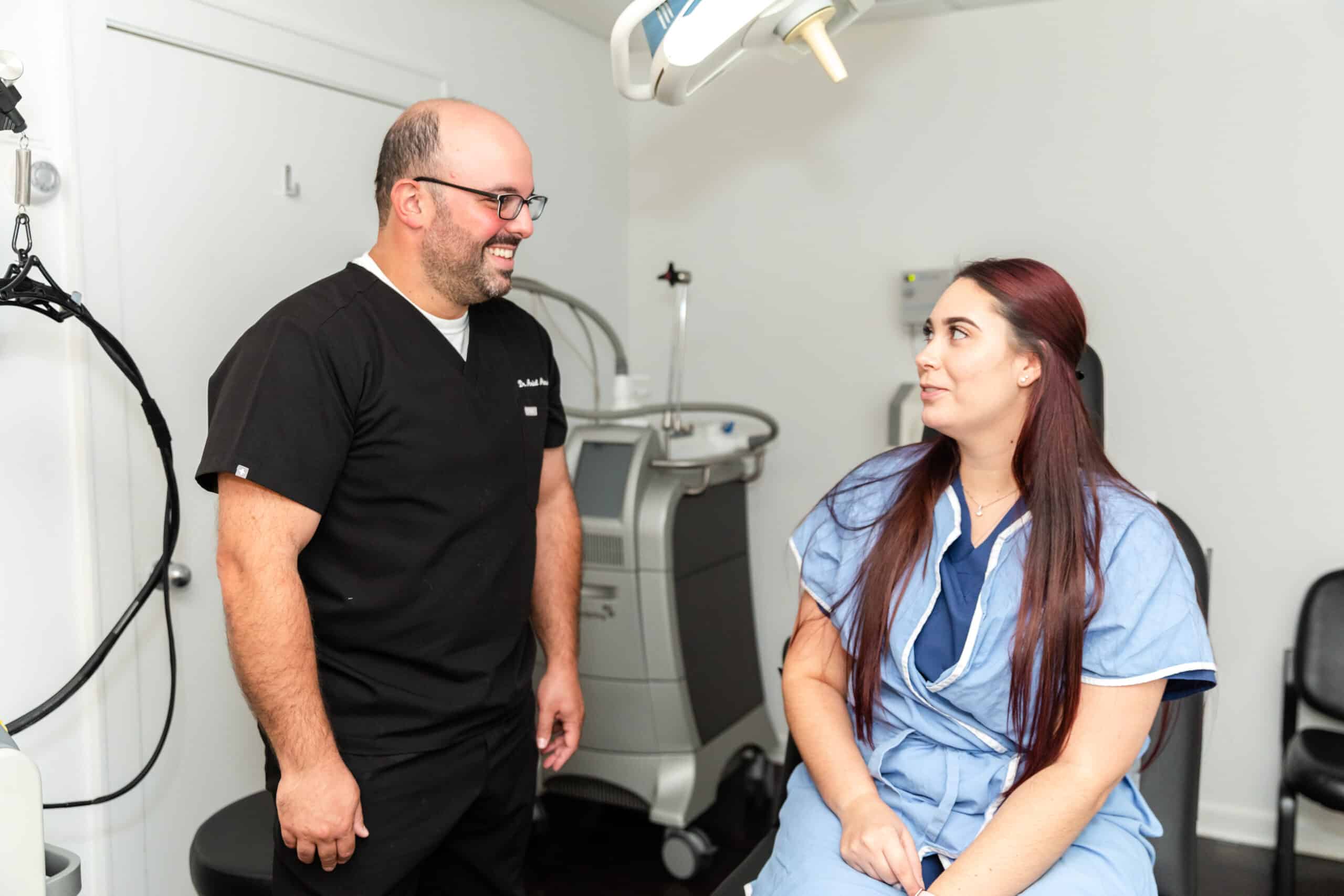 Because Qwo is administered by injection, discomfort during and after treatment is typically minimal. Patients may experience one or more of the following side effects temporarily after treatment: 
Bruising or mild swelling around the injection site
Tenderness or hardening around the treatment area
Temporary redness or discoloration 
Warmth in the treatment area near injection sites
Side effects should subside within a week or two. None should be severe enough to keep you from returning to your daily routine immediately following your procedure.
Qwo offers the best results when performed in a series of three treatment sessions, spaced 21 days apart. Some patients begin to see improvement after the first treatment, but the full results will most likely become evident in the weeks following the last treatment session as the active ingredient works to dissolve the collagen buildup and release the fibrous strands. Once we achieve those results, they can last for many years and may even be permanent.
Patients have virtually no downtime after their Qwo treatments. Mild bruising or swelling around the injection sites can occur and may persist for up to two weeks. However, these side effects should not keep you from your regular activities. We do advise patients to schedule accordingly, as bruising may be visible for a week or two after treatment.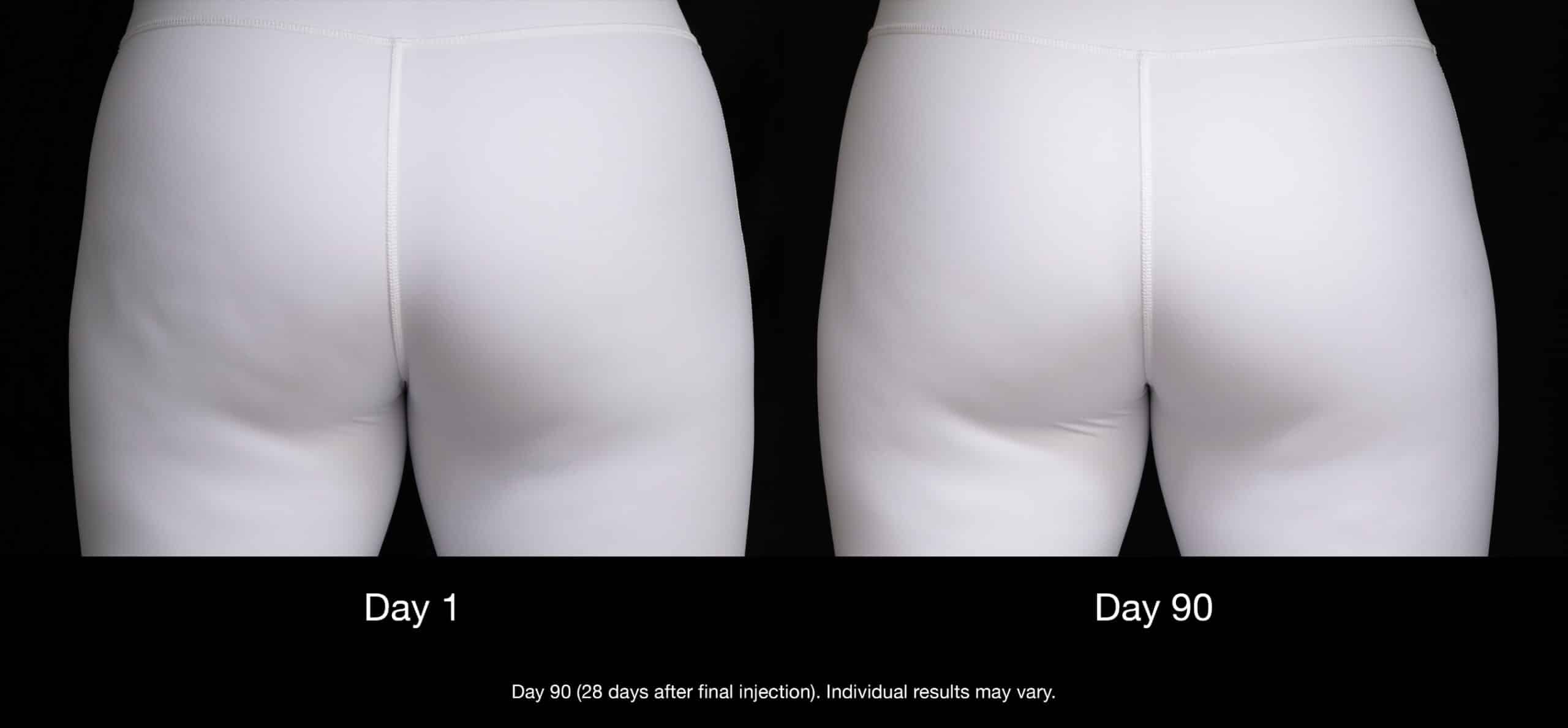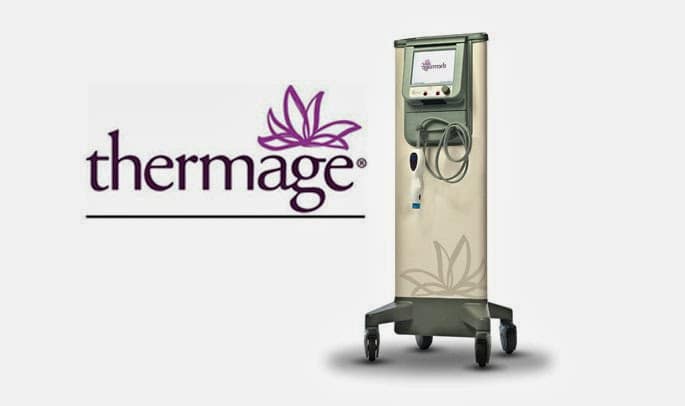 Other Cellulite Treatment Options
At our Manhattan and Southampton offices, we offer other treatments for cellulite, which include:
Cellfina™: the first FDA-cleared minimally invasive procedure clinically proven to clear the underlying causes of cellulite. It works by targeting the fibrous bands under the dimpled areas of skin that cause cellulite. Releasing these bands reduces the appearance of cellulite on the buttocks and thighs, with results that last for up to a year.
Thermage ® CPT: uses radiofrequency energy to temporarily reduce the appearance of cellulite. It works by heating the deeper dermal layers to encourage collagen production, which makes the skin look firmer and tighter, improving the overall texture of the skin.

RESONIC™: newly FDA-cleared device for the temporary improvement of cellulite. Our practice will be among the first in the world to offer this treatment.
Schedule Your Cellulite Consultation Today
If you would like to address your cellulite with Qwo or another treatment we offer, contact us today to schedule your consultation at our Manhattan or Southampton office.
Scars are often unwanted reminders of medical conditions, injuries, trauma, or surgery. When they are noticeable, they can also lead to significant embarrassment and self-esteem. Fortunately, there are ways to treat scars today that do not involve incisions, anesthesia, and downtime.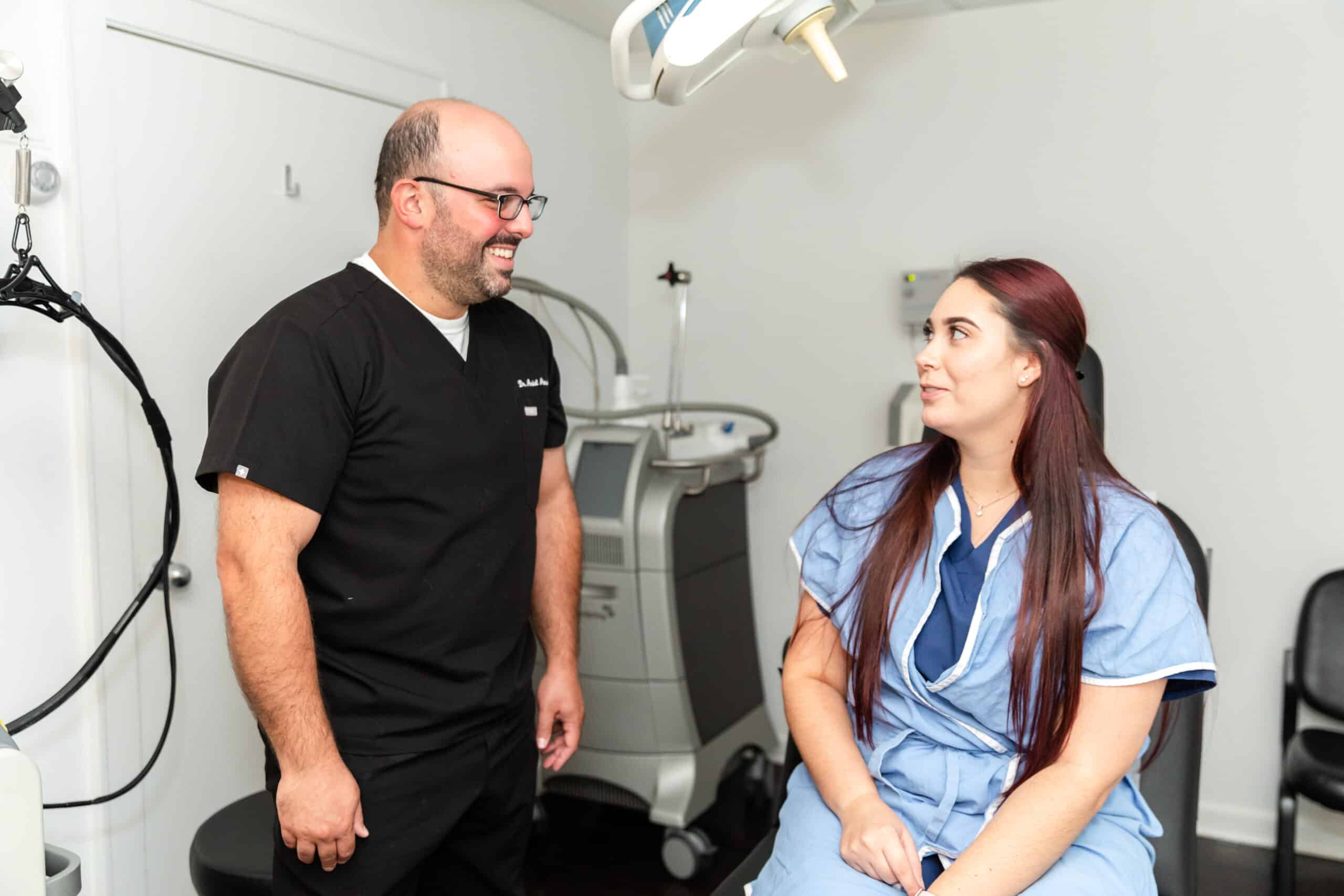 Body contouring addresses stubborn fat, skin laxity, or cellulite. Our board-certified physicians have been involved in clinical trials to develop new technology that provides superior treatment options. We offer treatments for cellulite, skin tightening, and fat reduction.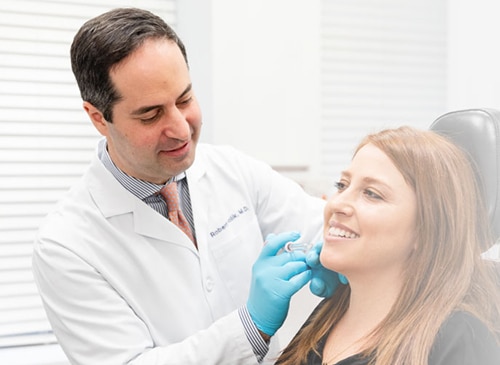 Laser & Skin Surgery Center of New York's filler treatments are always performed by board-certified physicians who have extensive experience with injectables. When you come to us for cosmetic care, you can be confident that you can safely achieve a perfectly natural look.
WHAT you are looking for?
Our 30,000+ sq foot dermatology center in New York is the most comprehensive, state-of-the-art laser and cosmetic skin surgery center in the world. Over the past 30 years we have contributed to the development and testing of many devices, fillers and treatments that are now standard care, so our patients know they are always receiving the most innovative, cutting-edge treatment available.
Pay Online for Patients of Drs. Geronemus, Anolik, Bae & Seidenberg
Pay Online for Patients of Drs. Abraham, Bernstein, Krant, Shelton, Stern, Weiss, Hoffman, Shim, Brown, Murphy-Rose, Wilson, and Petratos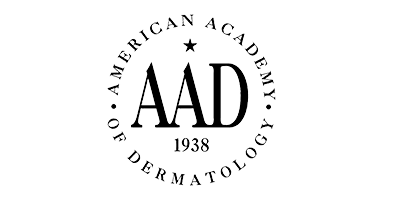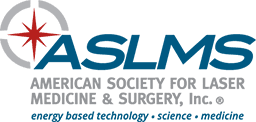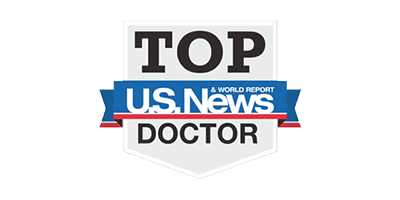 By LASER & SKIN SURGERY CENTER OF NEW YORK® | © 2022 All Rights Reserved. Design & Development by Goldman Marketing Group | Sitemap | Privacy Policy | The information available on this web site is provided for informational purposes only. This information is not intended to replace a medical consultation where a physician's judgment may advise you about specific disorders, conditions and or treatment options. We hope the information will be useful for you to become more educated about your health care decisions. If you are vision-impaired or have some other impairment covered by the Americans with Disabilities Act or a similar law, and you wish to discuss potential accommodations related to using this website, please contact us at (212) 941-5055.
*MDs perform 100% of all medical and cosmetic treatments.